For the outdoor family, we have a great list of the best hikes in Utah for families. Families can benefit a lot from hiking together. To name a few, it builds relationships, promotes excellent physical health, and creates a positive awareness and an appreciation for nature. It's also an excellent way to learn new skills together, like how to read a map, use a compass, select the right tent, start a fire, etc. Whatever your goal is, if you are in or visiting Utah, you're in luck! The state is abundant in family-friendly trails.
Here are our picks for the best hikes in Utah for families:
Disclosure: This blog contains affiliate links. We receive a commission if you purchase through them. I'll only recommend and share products that I use and love myself. Thanks!
#1 The Watchman at Zion National Park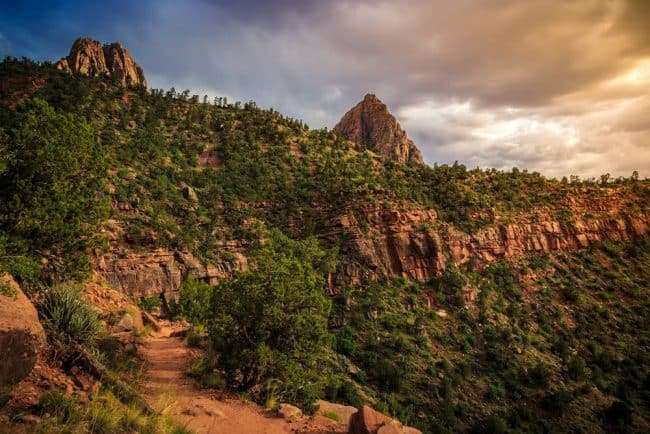 You can't miss out on Zion when you're in Utah, even if it's just an easy trail like The Watchman. The trail is about 2 miles out and back, starting near the Zion Canyon Visitor Center and ending at the viewpoint of the Watchman. It also has an optional loop at the end, which is less than a mile long.
Being one of Zion's classic trails, it can get quite packed. There are also some programs for kids that run along this trail. Still, it's a good pathway to start with if you have young children in the family. Make sure you pack water, wear light clothes, bring a hat and sunglasses because the trail has full sun exposure. In the summer, it can get so hot that you might want to hike early in the day or towards sunset.
Trail Features
Viewpoint of the Watchman
Along the Virgin River
Views of Bridge Mountain
Overhanging cliffs
Views of the Towers of the Virgin
Hiking essentials:
Water because there isn't any drinking water along the trail.
Sunscreen and hat because the trail is under full sun exposure.
Snacks
#2 Cecret Lake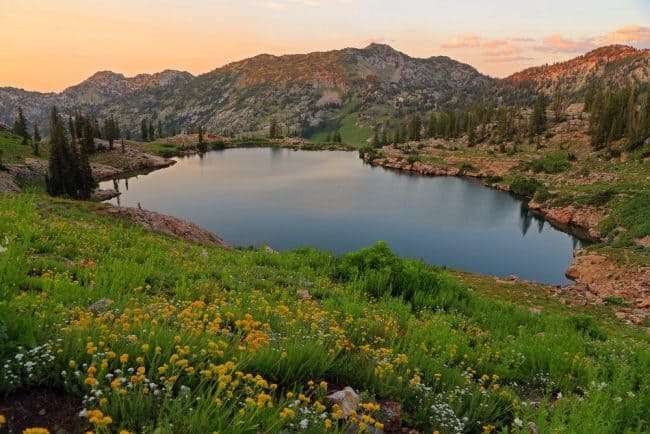 Despite the name, Cecret Lake is not-so-secret. You'd wish it was, though, because the lake, the wildflowers, and the view is just incredible. So, even if you're sharing it with many other people, it's still very worth it.
The lake is in Albion Basin and the trail is very short (less than 2 miles out and back). It starts from the Albion Basin Campground, crosses through a footbridge, before it takes you to a meadow, then up a rocky slope with a view of the lake.
Many visitors come around July-August because that's when the wildflowers are in full bloom. October is also a good time to hike when the greens have turned orange and red. The trail is easy but challenging enough for children to give them a sense of accomplishment.
Trail Features
Cecret Lake
Wildflowers (July-August)
Colorful leaves (Autumn)
Mountainous backdrop
Water and snacks
Sunblock and hat
Picnic mat you want to stay for a while to enjoy the view. You can even wait for the sunset – it's breathtaking!
#3 Canyon Nature Trail in American Fork Canyon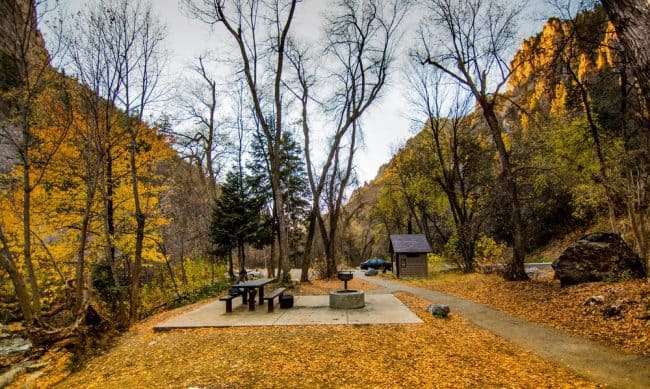 The Canyon Nature Trail is a very simple and short trail in the American Fork Canyon. It's only 0.2 miles long and less than half an hour of hiking. It can be longer if you or your little explorer decide to stop to look around. The end of the trail is a picnic area with some fire pits.
A word of caution when hiking this trail – the river's current is pretty strong. It can quickly sweep away anything or anyone that falls in. That said, always keep an eye out for your kids.
Trail Features
Hiking Essentials
Nothing in particular but if you want, you can pack lunch or for a picnic.
#4 Mossy Cave in Bryce Canyon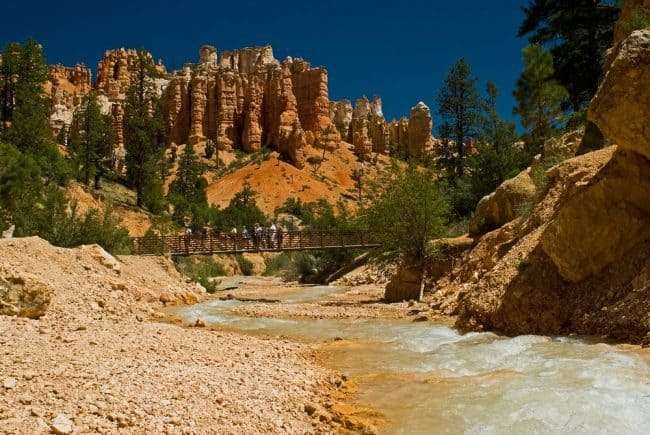 Bryce Canyon is another well-known spot Utah that has multiple trails for all kinds of hikers. The trail to Mossy Cave is one that's suitable for families with children. It's less than a mile out and back, but uphill for most of it. Still, it's a reasonably easy that a 3-year-old can do without assistance.
The trail is along a stream and passes through a few bridges before reaching the 25-foot waterfall. There's also a bridge that offers an excellent viewpoint of the waterfall from about 300 feet away. At some point, the trail forks with one way leading to the top of the falls and the other leads to the Mossy Cave. You can go to both, but there may be some time during the year when the trails are blocked.
Trail Features
Mossy Cave
A stream and waterfall
Hiking Essentials
Hats and sunblock
Water and snacks
#5 Donut Falls in Big Cottonwood Canyon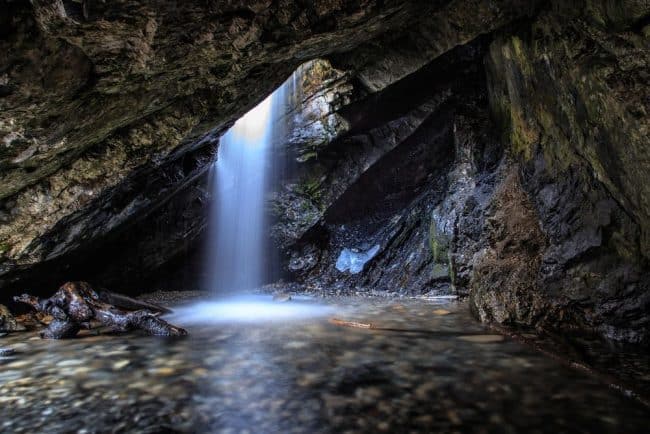 Donut Falls is one of the common starting points for most outdoor-loving Utahns. The waterfall got its name from its shape – the water comes through a round hole. It's a pretty catchy name, so it's a big hit for the children. The trail is easy enough for kids to hike and for parents to hike with a child on their back. Older kids and teenagers will find it pretty easy and can even do go scrambling on some parts of the trail.
The best time to hike the trail is in summer or in fall (whichever you prefer). It's popular in the period of July through August, when the wildflowers bloom. In Autumn, it's pretty cozy and colorful. The trail follows
Trail Features
Wildflowers (July-August)
Donut waterfall
Pit toilet at the trailhead.
Hiking Essentials
Water
Hiking sandals with great traction. Expect to get your feet wet.
Conclusion
The aforementioned is barely scratching the surface – there are hundreds of family-friendly trails in Utah. But I hope this list of the best hikes in Utah for families helps you find something you can start with. If you want to set off and explore all 5 Utah National Parks, you'll find this Utah Road Trip guide very helpful. Wherever you decided to visit and hike, make sure you know what to expect from and what to bring to the trail. Not all trails will have drinking water or toilets along the way, so keep that in mind. Grab your favorite refillable water bottle or Hydro Flask. Think ahead about what your child can or can't do to avoid yourself the trouble.
What do you think about these trails? Do you have any trail you'd like to recommend? We'd love to hear from you. Please use the comment section below.
Author Bio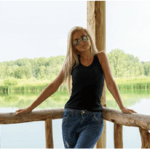 Louise is the founder of TheAdventureLand.com, where she and her associate's blog about Outdoor experiences, tips & tricks that will help you have an exciting adventure. She is also a tour guide of travel company where she learned many things about wilderness. "Let's pack our bags and explore the world!".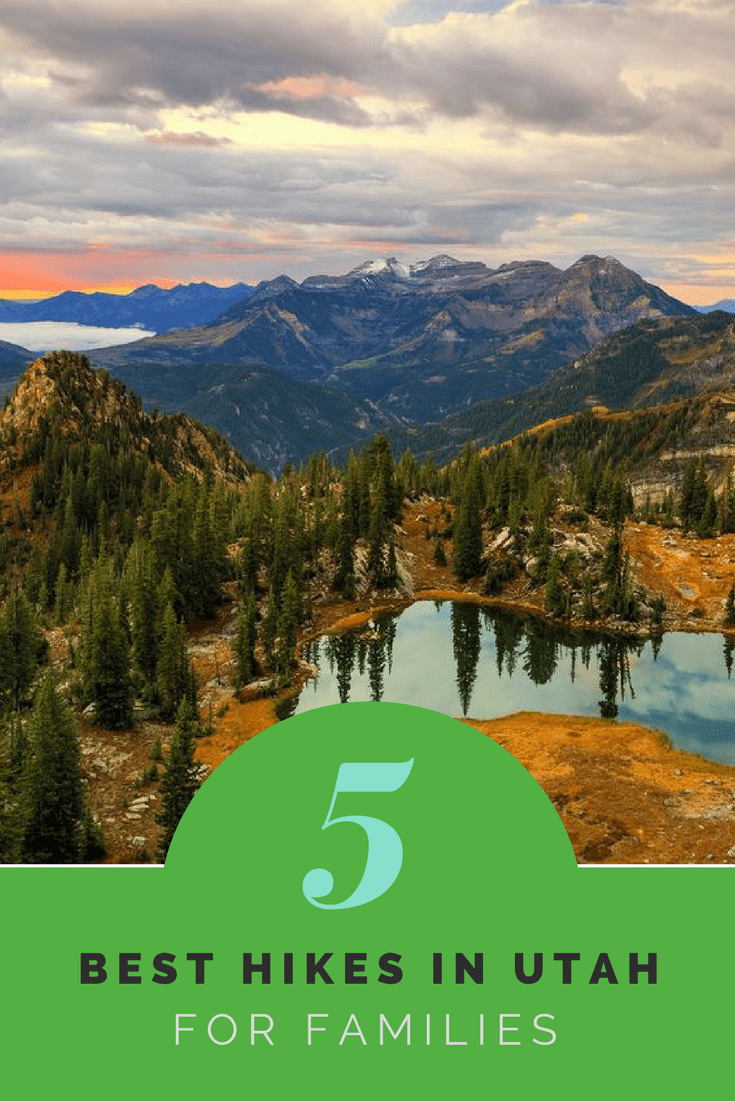 SaveSaveSaveSave
SaveSave