Looking for the best airfare deals? You're not alone. With airline ticket prices climbing again, everyone is looking for ways to save on flights. One way to get money-saving travel deals, without spending hours searching online, is by using a cheap flight alert service like Dollar Flight Club. I have used DFC since 2019 and have saved hundreds of my flights. Let me share my review of this budget-friendly travel service that will save you money too!
Update: For a limited time you can sign up for free or save 70% off the premium subscription ($20 for the first year)!!
What is Dollar Flight Club?
Dollar Flight Club is a low-cost, online flight alert service that can help you save money on airfare. (Note: There is a free version, but I HIGHLY recommend the paid premium version. But I'll get to that in a minute.) The service alerts you when the prices/fares drop from your selected departure airports and helps you find flights with available seats at the best price.
I have been using this flight deal alert service since 2019 and it's saved me hundreds of dollars. On average, members save 50-90% on flights. That equates to savings of over $500 on average PER ticket. Here's a sample of roundtrip flights deals DFC found for members.
How Does Dollar Flight Club Work?
A team of flight deal finders use technology and historical data to find the best fares. There are two levels of service; free and premium. With both levels, members select the airport(s) they want to depart from, whether they want domestic and/or international alerts, and three of their dream locations. Then when fare prices drop, they receive flight club email alerts or app notifications. These fares often don't last long, so getting this alert helps ensure you get in on the deals. Members can then book through Skyscanner or Google immediately, so you don't miss out on the savings.
This service eliminates the need to constantly search Google Flights. It's always on, so you don't have to be. I like that the alerts are specific to the airports I select. I have the premium version and so I have 4 airports selected. Unlike some other deal alert services, I don't get a long list of departure airports all across the country. I only get the deals for MY airport(s).
The company's goal is to help people save time and money so they can travel more. Plus their weekly emails are filled with travel ideas from hiking and camping in Zion Nation Park (southern Utah) to Iceland ( complete with tips to visit the Land of Fire & Ice on a budget).
Is the savings with dollar flight club legit? Yes they are completely legitimate. I have been a premium member since 2019 and the deals are real. I have saved money and so will you.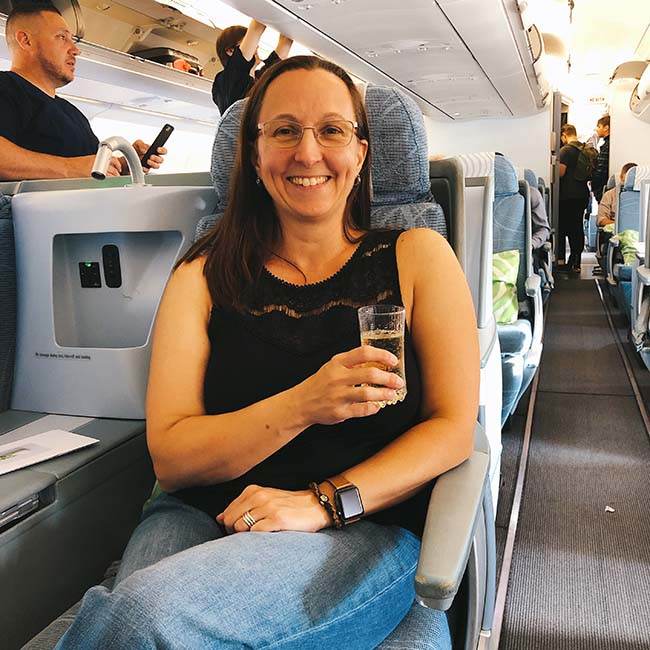 What's the Difference Between Free and Premium Levels?
There are three levels to Dollar Flight Club; Free, Premium, and Premium Plus+.
Free Tier – Members get:
Select 1 departure Airport
A limited number of discounted fares – 3 deals a week max
Ads in their flight deal alert emails
International flights only
Premium Tier – Members get:
Domestic Flight Deals
Early access to deal alerts – before free members
Ad-free emails
Select up to 4 departure airports – helps to find the best deals
More deal alerts – Up to 7 deals a week per airport
Product and Service Partner Perks Discounts
Cost $69/year – For limited time – $20 for the first year!
Premium Plus+ – Members get:
Everything on Premium
Flight deal alerts on business and first-class flights
4x more deals than Premium
Exclusive discount codes that are automatically applied with no additional work
Discount on Mobile Passport (20% off)
Cost $99/year
How Do I Sign Up for Dollar Flight Club?
Signing up is free and can be done in a few easy steps.
Sign up here for the free level membership. Everyone starts here by default and you get the benefits listed above under the free tier.
After you sign up, you can upgrade to the premium or premium plus+ level or try the free 14-day trial for the premium membership.
How Do I Book Cheap Flights with Dollar Flight Club?
One of the drawbacks to DFC is that you can not book directly from deal alert emails or app notifications. But DFC does make the booking process as easy as possible.
Open your deal alert email or push notification and click the "log in & book" button. This will take you to the deal on the DFC website.
The deal will include information on the departure and arrival airports, dates, and fares. This is a price alert from Oklahoma City to Anchorage. Normally this trip is $800 and DFC found it for $271 round trip on United Airlines.
3. From there you can view on Google Flights and find the best combination of dates and times for your family.
4. Check out will be on Google Flights. So, you'll need a credit card to pay for your tickets. If you want to maximize your savings, take advance of travel rewards credit cards like I do and earn points or miles for future travel.
Is the Premium Membership Worth the Money?
Given the cost of the membership and what you will save in airline costs, the premium membership is definitey worth the $69 a year. You will recoup your membership fee in one trip.
The travel deals you receive are pertinent to the airports you fly out of.
If you are a frequent flyer, you will save thousands.
You can try the premium membership for free for days. It's risk free
The travel partner discounts on hotels, luggage, wifi, services, etc save you more money.
We can't wait to see where you want to travel next! Dollar Flight Club is the easiest way to get cheap flight deals. Whether you're looking for cheap flights or just want to be alerted about deals as they come up, DFC can help! My membership has saved me hundreds of dollars already and it's super easy to use.
Start your free membership today and see if this budget-friendly travel service will work well with your needs too!
Looking for more travel inspiration? Take a look at these…