Hiking is a great family-friendly activity that gets you out into nature. With the right kids hiking boots, children of any age can hit the trails with you and have a GREAT time. Plus, hiking is the perfect way to introduce some exercise into their routine, too!
Having the Right Kids Hiking Footwear is KEY!
Even the littlest road warriors can hit the trail for a family hike. As long as you choose the right trail and wear the right gear (aka kids hiking footwear/shoes), there's pretty much nothing that should get in the way of your kids enjoying a family adventure hiking.
Comfort is one of the most crucial things to consider when planning to hike with your kids. Their hiking clothes and their choice of footwear is a major factor that can make or break your hiking trip. The last thing you want is ill-fitting shoes that cause your kids to develop blisters. That is NEVER fun!
In this article, we will walk you through the process of how to choose the right boots for your kids. The best hiking boots for your child(ren) are those that check off all these factors below.
Pin This For Later……
Comfort, Comfort, Comfort
This should be your number one priority when choosing the best children's boots for hiking. Unlike adults who have already fully developed feet, your kid's foot shape, arch, and size can dramatically shift as they grow. This makes it a little trickier to choose the right pair of hiking boots. The best practice is to check your child's previous shoes to get a good idea of their general foot shape and how they wear out the shoe.
Does your child complain about their shoes being a little cramped on the toes? Then it's recommended that you go for hiking boots that have a wider toe box design rather than a more pointed one. There are several hiking boot brands that are designed to have wider space for the toes. It's best to do some research or at least ask for advice from a professional shoe salesman at the store.
Kids hiking boots for those with wide feet:
The arch of the kids hiking footwear should also be considered. All of us have different sole shapes and instep height. A pair of boots with an arched bed can be pretty uncomfortable if your kid is flat-footed. For those with a high arch, some shoe designs may be restrictive. Again, you can refer to your child's other pairs of footwear to be sure of the best design for their foot shape.
Related: Find The Best Family Friendly Hikes in Utah
Hiking Footwear Midsoles
The midsoles, or the area between a boot's outsole and inner sole, is important because it provides shock absorption and cushioning to the feet. Choosing the best midsole material for your kids is essential because this is the part that usually causes injuries (like blisters) if they're not the perfect fit for a particular foot shape. Ethylene-Vinyl Acetate (EVA) and Polyurethane (PU) are generally great options for midsoles. EVA is softer and easier to lift so it is ideal for shorter, flat hikes, while PU is tougher and is great for longer use.
Hiking Boot Outsoles
Your choice of kids' hiking boots should be specific to the type of trails you are planning to take on. Hiking boots are generally designed with basic traction patterns which can suffice if you're only aiming to hike on flat surfaces, but it's a different story altogether if your adventure will require a bit of climbing or your child does more trail running.
These are our favorite kids trail running shoes:
Check the lug pattern on the outsole of the boots to see if they're the right type for the terrain you are going to traverse. Widely spaced ones have good control and are better used on muddy terrains, while thicker and deeper-carved lugs provide the best grip. If you're only going to walk on a flat surface, then rubber is a pretty safe choice.
The heel type should also be considered. A defined heel (you can check this by observing the difference between the forefoot and the arch) is great in reducing the chances of your kids slipping when they're climbing steep inclines.
Insulation
This factor mostly applies if you're searching for a great pair of winter hiking boots for your kids. Look for hiking boots that have materials like fleece on the inside, preferably with not so breathable uppers that can keep the heat sealed in.
Favorite insulated boys hiking boots include:
Related: Get 10 Tips for Taking the Kids Winter Hiking
Favorite insulated girls hiking boots include:
The opposite, however, applies if you're searching for summer hiking boots. Instead of going for heavy uppers, choose a pair that has increased breathability to keep your child from feeling too hot. This will also help a lot in reducing the chances of them sweating through their shoes (which, we all know, is pretty uncomfortable) during their hike.
Related: Cool Camping Gadgets and Gift Ideas
Boot Closure Design
Most of us go for boots that have a laced up design, but kids' hiking boots have other closure options that you can consider depending on their demand for comfort. For example, some pairs come with bungee-lace closures that automatically tighten around the feet. This design can help secure the shoes around your child's feet better while also allowing them to easily take it off after the hike. Knot-free designs are best for kids because they wouldn't be bothered to re-tie their shoelaces again and again while in the middle of a hike. If you're looking for a more flexible closure system that your child can easily adjust, however, then go for hiking shoes that come with Velcro straps instead.
Kids Waterproof Hiking Boots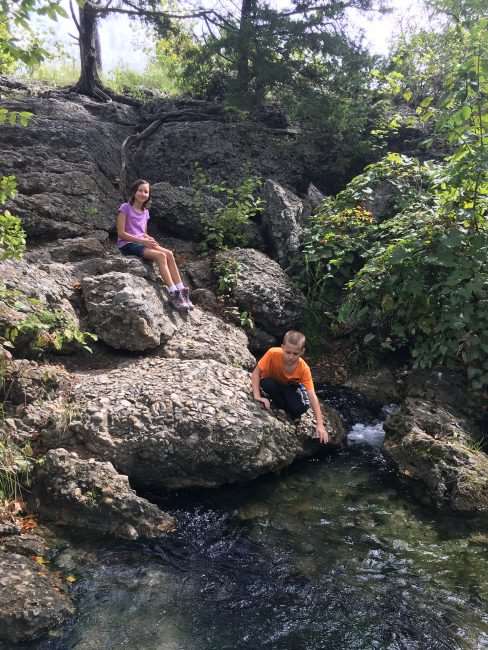 Imagine having to finish a hike in disgusting wet shoes. Irritating, right? Now imagine if your child⁠—who we presume have a little less patience than you have⁠—has to go through the same. It can be disastrous.
It's best to consider the waterproofing factor of the hiking boots for your kids regardless of whether you're going to be wading in water or not. Durability of the waterproof membrane is of utmost importance because there are some models with coating that easily wash off after a few trips. If you're expecting to hike in terrains that will require a dip here and there, go for boots with fast-drying and hydrophobic materials at the very least.
Our favorite kids waterproof hiking boots:
Material
Similar to choosing adult hiking boots, the solid build quality of your kid's boots is also something you should factor in. Suede leather is a great choice because it hits the sweet spot between durability and breathability, though you have to make sure that the material isn't too tough or grainy to cause blisters or chafing during long walks. It's also best to consider a pair with rubber materials and reinforced toe caps that can help prolong the shelf life of shoes.
The Question Of Size
Here's one question you will probably find yourself mulling over while in the middle of the shoe aisle: since your child's feet are still growing, would it be better to go for a pair that is a size or two bigger so they can still use it a few years down the road?
While it is understandable that you want to get value for your money, it's best to prioritize the comfort level of your kid⁠—meaning that you should get the right size or just a half size up for their boots. It is difficult to go for a hike with shoes that are too big and wobbly, even if you do throw in some thick socks (which, by the way, can also make your child feel too hot) to fill up the size gap. Believe us, the extra cost you'll have to shell out for new boots in the future is worth every penny of the present comfort you'll give your child.
Everyone going on an adventure should be equipped with the right gear. Use this guide as a checklist in finding the right boots for your kids and you'll be sure to have a breezy hiking trip as a family.
About our guest author: Sarah Hates is a contributor at bootbomb.com, a blog about hiking and sharing the best outdoor gears and footwear for hiking enthusiasts.