Taking a vacation isn't solely about the destination. The journey is important too! Recently I flew Finnair business class from Chicago to Helsinki and then took a Finnair economy class on the return flight. Flying business class is certainly a luxurious way to travel. But is it worth the added cost? I offer up these Finnair reviews based on my experience. Find out what I recommend and how you can get a FREE stopover in Helsinki for up to (5) five days.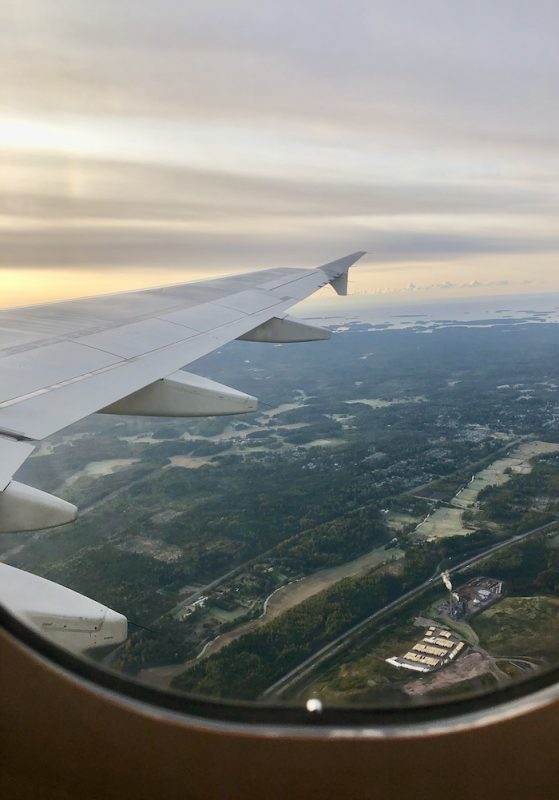 I partnered with Visit Finland and Finnair for my first trip to Helsinki and Rovaniemi (September 2019). Finnair provided the flights to Finland and also Rovaniemi. Be sure to check out my Finland trip stories plus a few from fellow Tortugas Travel Tribe members (the same group of travel writers I went to Costa Rica with and the group I hope to travel with more and more).
There are definitely advantages to upgrading. Below I offer up comparisons on the flight amenities for each class and offer my Finnair reviews for long haul flights to/from Chicago to Helsinki. In the end, you be the judge! Let's start with the similarities, basic information, and cost.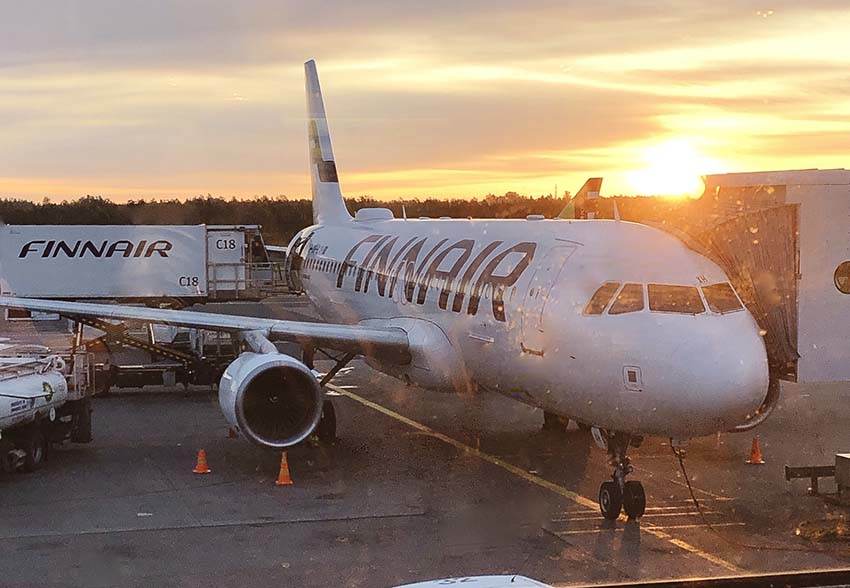 Non-Stop Finnair Flights to/from Chicago – Helsinki
Before I get into the flight experiences, let me start with the flights details themselves. The Chicago to Helsinki flight was just under 9 hours. We departed in the early evening (5:35pm CST), flew overnight, and landed in Helsinki at 10am local time. So provided you got some sleep on the plan, you start your first day running enjoying Helsinki.
The return flight from Helsinki to Chicago was a few minutes longer at 9.5 hours. We took off at 1:55pm local time, flew during daylight, and landed in Chicago at 3:20 pm CST. Both flights were aboard an Airbus A330. Each flight was smooth and uneventful (which is how every flight should be). Two meals and complimentary beverages were served on each flight and there was in-flight entertainment.
Note: Finnair offers direct North American routes to Helsinki on select days from Chicago (ORD), Los Angeles (LAX), San Francisco (SFO), Miami (MIA), and New York (JFK). Standard fares to/from Chicago start at $500 for economy and $3700 for business.
FREE 5 Day Stopover in Helsinki with Finnair
I really want to mention this here before I go any further! You may already know that IcelandAir offers travelers a free stopover in Reykjavik. But they aren't the only airline offering free stopovers to Nordic capitals! Finnair is Finland's largest airline and they offer one too! I didn't know this until the end of my trip. I wish I had known beforehand. You can schedule a FREE stopover in Helsinki for up to 5 days on any round trip Finnair flight. They fly to over 80 destinations worldwide, so you can visit Finland as the only destination or as part of a larger trip. Visit this Finnair's website to learn how to schedule the stopover.
Pre-Flight Experience
Three of the biggest perks to enjoy flying business class come before you ever leave the ground. This includes priority check-in with more free luggage allowances, priority boarding, and complimentary lounge access.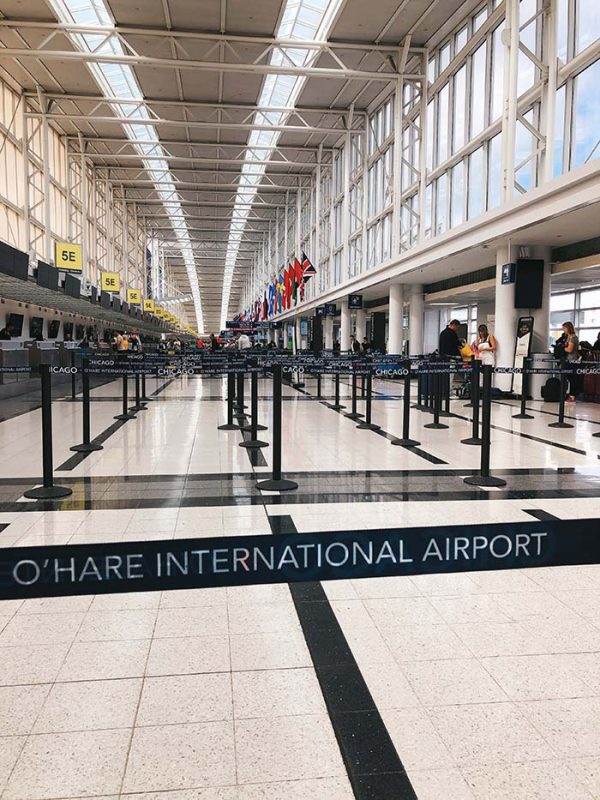 Business-class ticket holder have a dedicated Business Class Check-In line at Chicago's O'Hare airport and other Finnair departure airports. There they quickly expedite your check-in and get you on your way. I already selected my assigned seat via the mobile app, so the agent simply reviewed my information, checked my bag, and directed me to security's priority lane. I have TSA Pre-Check and found that line shorter, so I headed that way.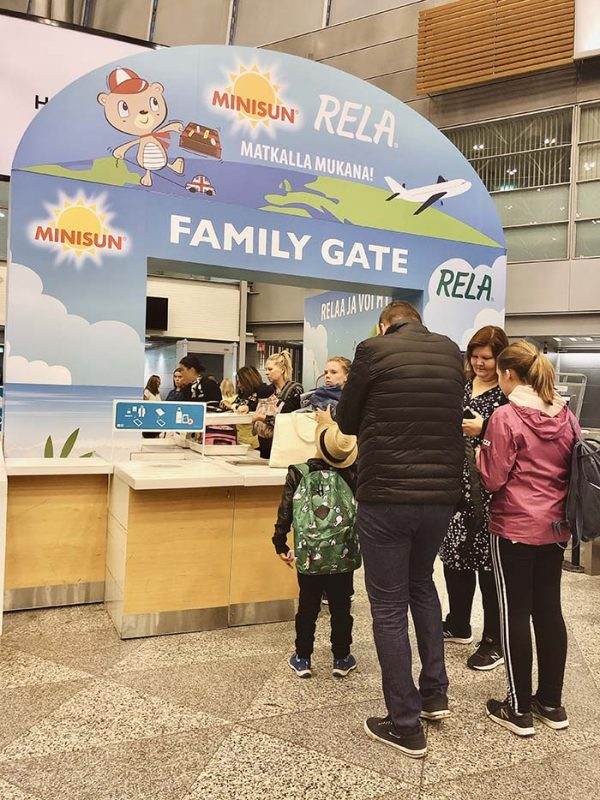 General check-in can be done via the mobile app or in person. In Helsinki, families have their own special security gate to them more time to go through screening.
Baggage Allowance
For flights to and from the United States, all passengers are allowed to check one bag (up to 50 lbs.), plus have one carry on bag and a personal item for free. Unlike flying within the states, European flights have weight restrictions on carry-on bags. Economy class passengers have a weight limit for their carry on bags of 17.5 lbs total.
Business-class travelers can check an additional bag (total of two checked bags) with higher weight limits for free. Their checked bags allowance is 70 lbs per bag and their carry on allowance increases from 17.5lbs to 22 pounds total. See the Finnair website for more details on extra baggage fees and size dimensions.
Airport Lounge Access
Lounge access is complimentary for Finnair Business Class customers. In Chicago, you can choose one of the oneworld Alliance partner lounges as they do not have a dedicated lounge. Chicago's International Terminal 5 offered a small Air France/KLM lounge with complimentary food and beverages, alcoholic beverages, comfortable seating, and power outlets.
Note: Due to airport construction at the time, Terminal 5 was accessible only by bus and not exactly easy to access. I choose this lounge for the convenience, but other lounges like the American Airlines Admiral Club or British Airways Terraces Lounge in other terminals would be a better choice. If you are flying economy, you can purchase lounge access at select locations.
In the Helsinki Airport, Finnair has two dedicated lounges; one for Schengen (within Finland and Europe bound) flights and another for Non-Schengen (US and Asia bound) Flights. The Schengen lounge is the larger one of the two lounges. Both offer a relaxing space, comfortable seating, ample power outlets, hot showers, food and beverages served all day and hot meals served at breakfast and dinner. Finns love a good sauna, so it's only natural to find one in a Finnair lounge. You'll find it in the Non-Schengen lounge only. So as you prepare to head home, you can visit this lounge and get in that final sauna before boarding your flight.
Boarding & In-Flight Experience
If you want to be pampered, opt for the upgrade into business-class. Priority boarding means you are granted the ability to be first on and get settled. Plus there is complimentary champagne to begin your journey.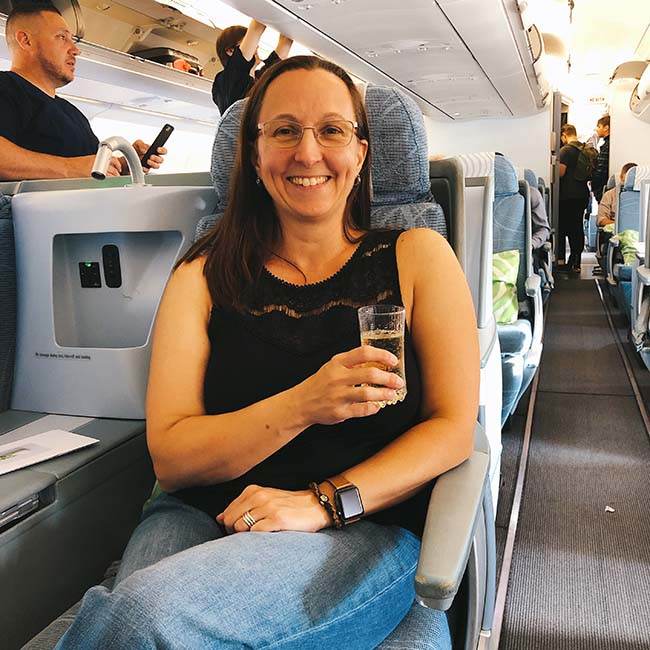 Our cabin was laid out so that each row has six seats in total; three sets each containing two seats. I opted for a center section, so I had one person next to me and the aisle on the other.
When I arrived at my seat, I had my own small pillow with pillowcase, duvet, a bottle of water, menus, noise-canceling headphones, and specially designed Marimekko slippers and amenity kit. Marimekko is a Finnish design house whose patterns feature big, bold colors. The amenity kit includes earplugs in a plastic case, eye mask, trial-sized body moisturizer, lip balm, toothbrush and trial-sized toothpaste, and the canvas bag. It's quite a nice bag and I still use it today.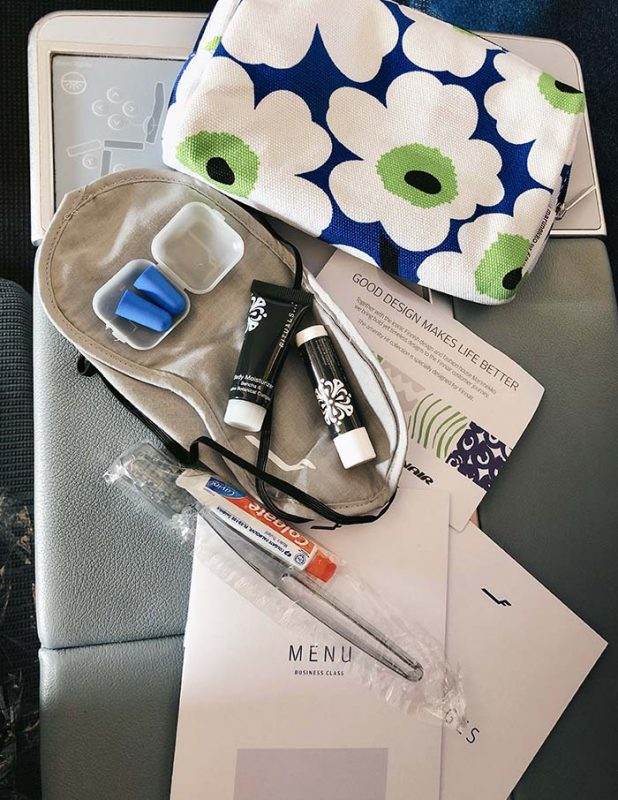 These seats are comfortable and fold completely flat when you are ready to sleep. The feature I most enjoyed was the back massager. Yes, a massager! At the push of a button, rollers gently kneaded my back. The pressure was light, but it was still glorious. Each seating area has ample storage, adjustable reading light, flatscreen monitor for entertainment with remote control, and several electric outlets. Flight attendants were assigned to a small number of passengers and saw to their requests.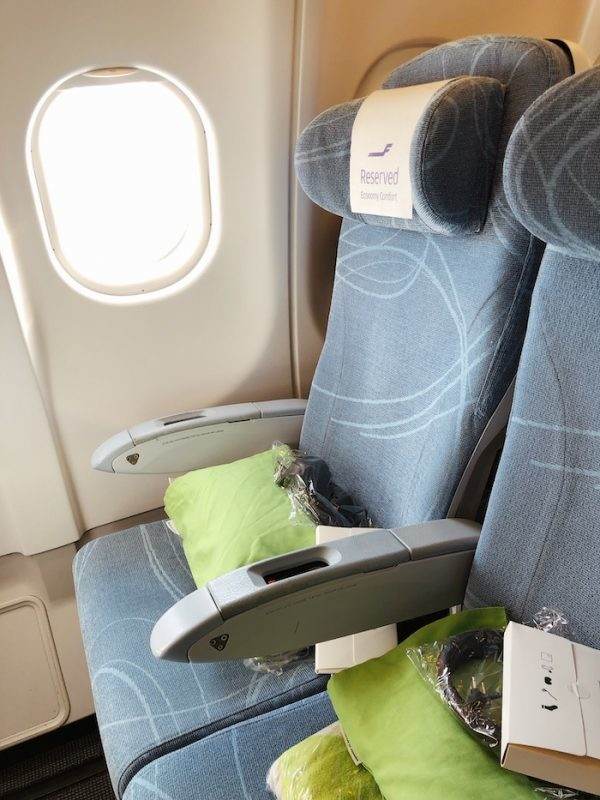 When flying basic economy, where are none of the frills and amenities I enjoyed on the first flight, except the pillow. Economy comfort does provide a few extras like the duvet and noise-canceling headphones. On the return flight, I had a window seat with one other passenger next to me. It was similar to any other economy flight experience. I found staff was still courteous and the seats were comfortable enough (but sadly without the massager). Being 5'2", I still had legroom in economy seating and my knees didn't hit the seat in front of me.
In-Flight Food Experience
The culinary experience between the flights was vastly different. Business class passengers are treated to a gourmet experience with an amuse bouche, white linen tablecloths, cutlery, stoneware plates, and glassware. Menus are curated by Chef David Posey who creates modern versions of traditional Nordic cuisine.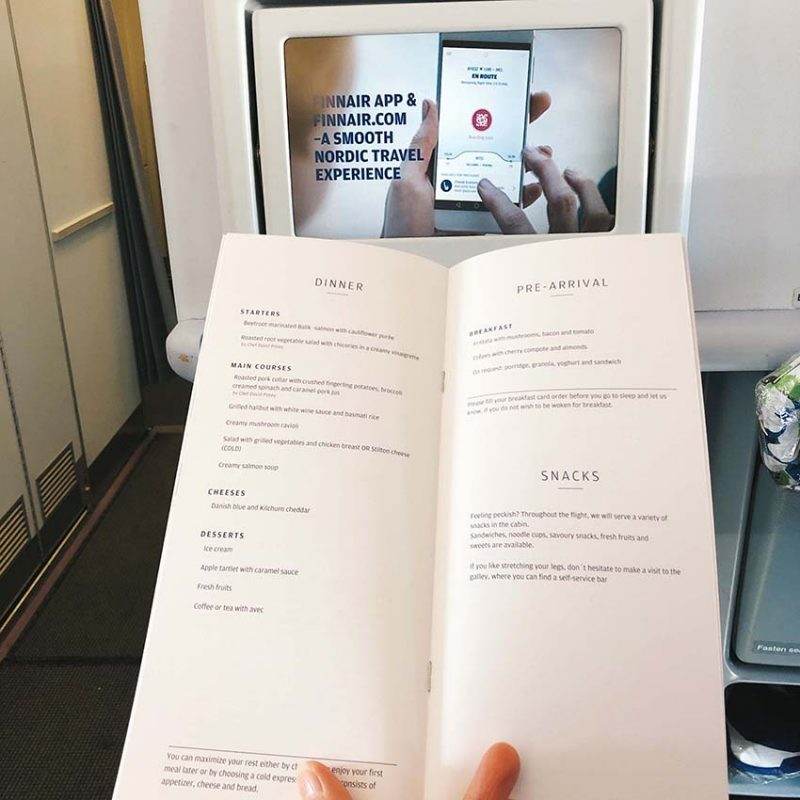 Dinner was 4 course meal; choice of 2 starters, choice of 5 entrees, cheese plate, and dessert. Breakfast was a choice of three options. In between, you had the option to select snacks from the self-service bar that included fresh fruit, sweets, and savory snacks. All the meals as well as all beverages were complimentary.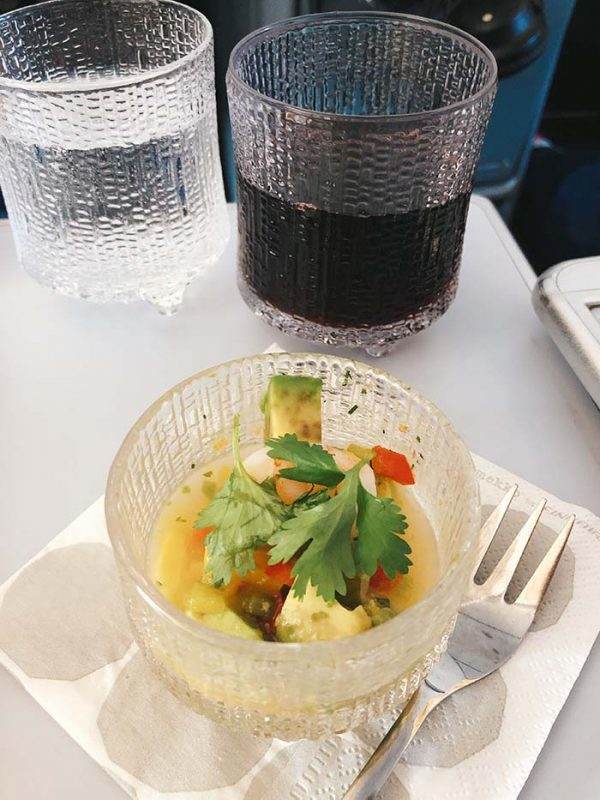 On the business flight I actually wanted to stay up so that I could enjoy every bite. Prior to the trip, I was able to access the food menus via the app and make my selections. For dinner, I opted for the roasted pork collar with crushed fingerling potatoes, broccoli, creamed spinach, and caramel pork jus. The flight attendant recommended a red wine from the wine list to par with it and it was delicious! For breakfast, I had my first experience with blueberry juice. Finns love their berries and blueberry juice is as common as orange juice in the states. I had several glasses.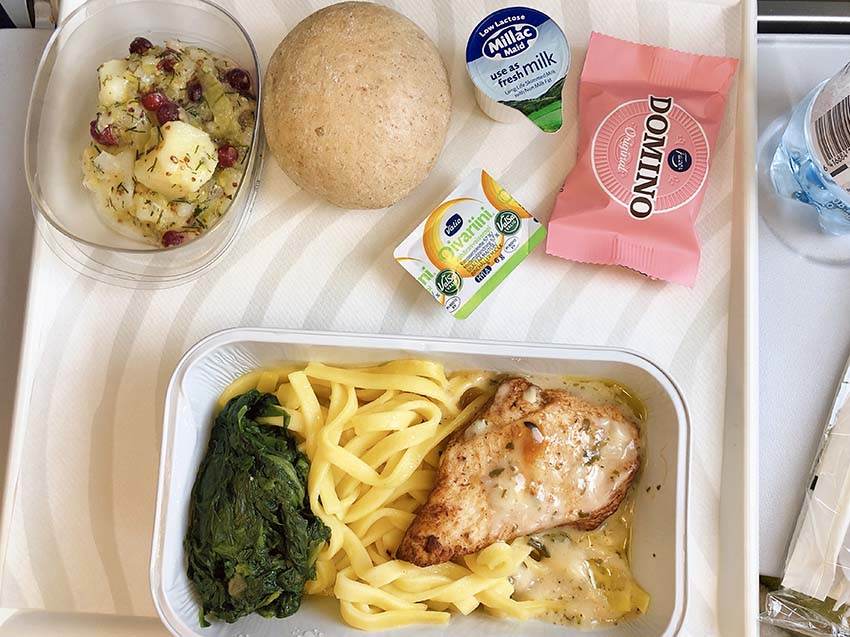 In economy class, food was good and there were opportunities to upgrade your meals. I opted for the basic meal. Dinner was a chicken pasta with sautéed spinach, Finnish potato salad, and bread. One complimentary beer or glass of wine was provided with dinner. I choose the red wine but found it not to my liking. Pre-arrival was a cheesy pasta similar to macaroni and cheese with butternut squash, bread roll, and a muffin. I choose coffee with my 2nd meal.
In-Flight Entertainment
All passengers enjoyed complimentary movies, TV, music, and games while in flight. There was quite the selection, but I opted for sleep instead of watching movies on my flights. Everyone has access to the Nordic Sky Portal from their phone. There you can find audio books (English, Finnish, and Swedish languages), digital magazines, newspapers, purchase internet access, and shop from the duty-free store. Business class passengers are provided one hour for internet no charge.
My Only Other Business Class Flight Experience
Up until this trip to Finland, I have only flown Business Class once before. When I was MUCH, much, much younger ( I think I was like 9 or 10), I took a long haul flight from LAX to Amsterdam. We started in San Diego and when our flight into LAX was delayed, the only seats available when we landed were in Business Class. The only thing I remember were these small chocolates in the shape of wooden clogs. Isn't it funny the things you remember as a child?
So in the beginning, I posed the question "Is the Upgrade Worth the Extra Money?" If you value experiences over price, then I will ALWAYS say yes. The food and the flat lay seats with back massagers made for a most enjoyable experience. If you value price, economy tickets are the more budget friendly option. However, know that there are numerous ways to pay less for a first-class or business ticket. Ultimately the decision is yours. What kind of adventure do you want to have?
Thank you again to Finnair and Visit Finland for providing complimentary airline tickets, lodging, and attractions for research purposes. All opinions, as always are my own.