Looking for fun things to do in the Twin Cities? Well, Minneapolis and St. Paul, Minnesota are filled with great places to explore with the kids. Nearby Bloomington has some great ones too! It just so happens that many of these fun things, as an added bonus, don't break the bank either. That means you do more with less and save your money for other things. Like MORE travel or adventure!
Fun Things to do in the Twin Cities with Kids
I was recently on a sponsored press trip to the Twin Cities with Roseville Visitors Association, Bloomington Convention & Visitors Bureau, Visit St. Paul, and Meet Minneapolis Convention & Visitors Association. It was my first trip to Minnesota and I found so many fun places to explore. Here is my top ten list of things to do in the Twin Cities with kids. It's not an exhaustive list but the ones I would highly recommend for under $10 per person.
Walker Art's Minneapolis Sculpture Garden
Part city park, part sculpture garden, it's the perfect example of why Minneapolis is called "City by Nature". The garden is free to visit and is located just across the street from the Walker Art Center.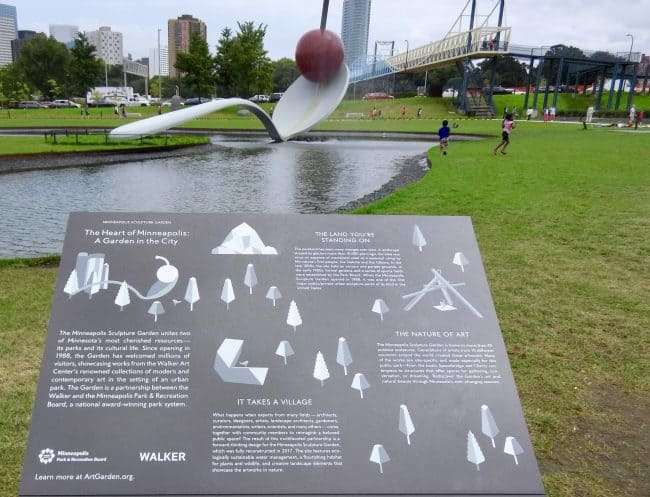 Stroll the park's 19 acres and view 40 sculptures including the famous Stonebridge ad Cherry and the Blue Rooster. Download the Interactive Garden Map to experience the garden in a way you may not expect.
Take a stroll to see Minnehaha Falls
The Minnehaha Falls Regional Park is a expansive green space in the heart of Minneapolis. The crowning jewel is the 53 foot tall waterfall.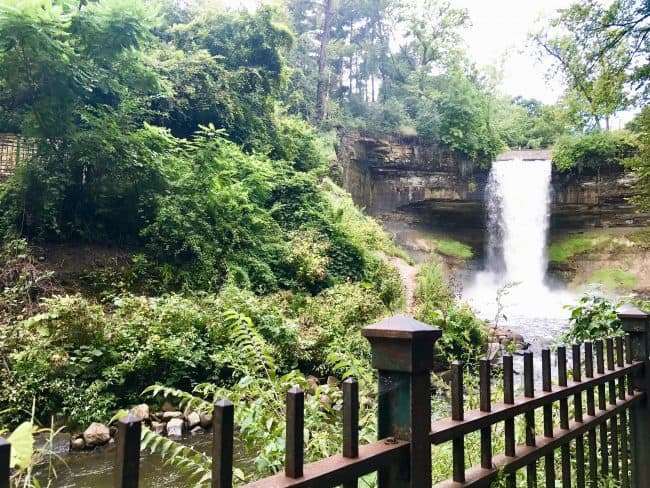 The water flows through the park which provides plenty of walking trails, park area, and more. It's a great getaway in the city.
The Mississippi National River and Recreation Area
Did you know there's a national park in St. Paul? Actually it's a national recreation area. But, YES there is! Just inside the Science Museum of Minnesota you'll find interactive exhibits at the Mississippi River Visitor Center.
Learn more about the river's biology, history, and more. Don't miss the flying simulator.
Take a Nice Ride
Why explore on 2 feet when you can explore on two wheels. Find one of Minnesota's bike-sharing program's Nice Ride kiosks all around the city and go for a ride.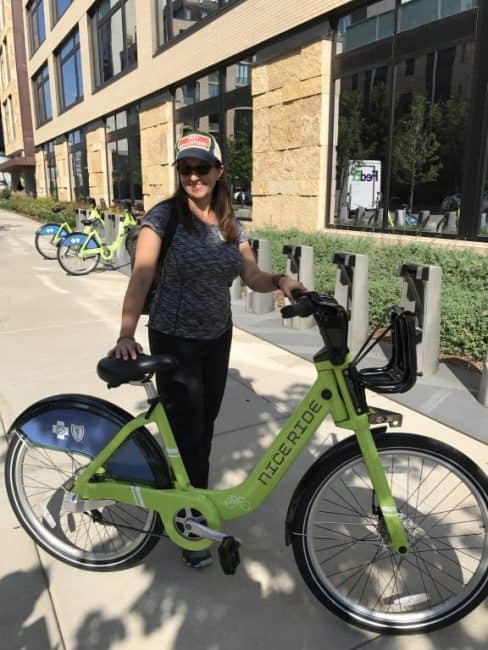 You can cruise along the river, downtown, or anywhere you like. Cost is $3 per half hour or $6 for a 24 hour pass
Visit Stone Arch Bridge and Mill Ruins Park
Minneapolis is also known as Mill City because it once was home to the world's largest flour mill. The site of that mill is now home to the Mill City Museum.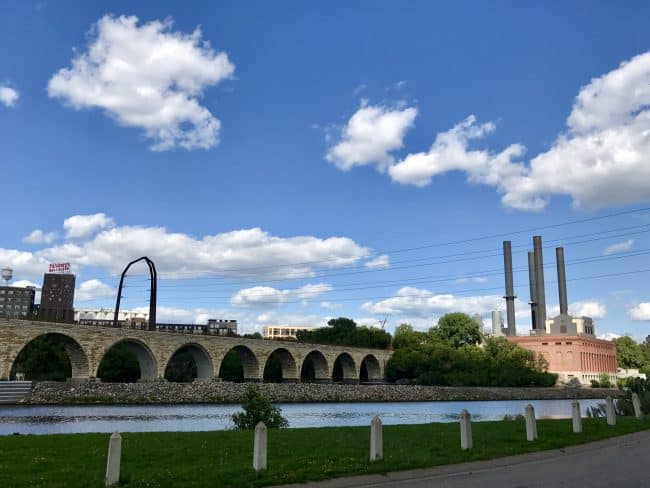 The area around this area is a great place to visit. The Park trails will take you past the ruins of the old mill (now museum) and other are landmarks. The bridge is in this same area and is one of the city's iconic spots.
Landmark Center Tour
Chicago isn't the only town with gangster history. The historic Landmark Center in St. Paul was once a federal courthouse that saw the likes of "Ma' Barker and Alvin "Creepy" Karpis. The building also once housed a post office.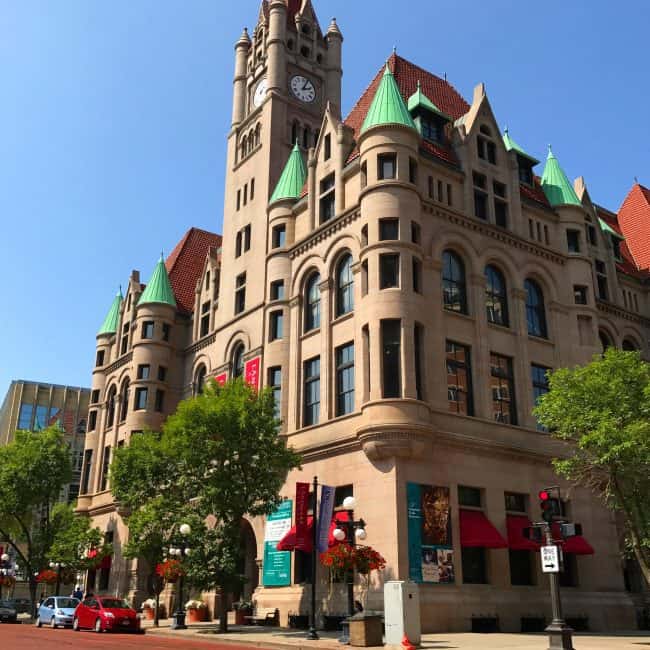 Today you can visit the building and learn more on one of the free weekly tours or schedule a special Gangster Tour for $6 per person. The center also houses free museums and exhibits like the American Association of Woodturners Gallery and the Schubert Club Museum dedicated to instruments.
Visit with the Peanuts & F. Scott Fitzgerald
Rice Park directly across from the Landmark Center is the home to F. Scott Fitzgerald and Charles Schultz's beloved Peanuts. Well their statutes anyway.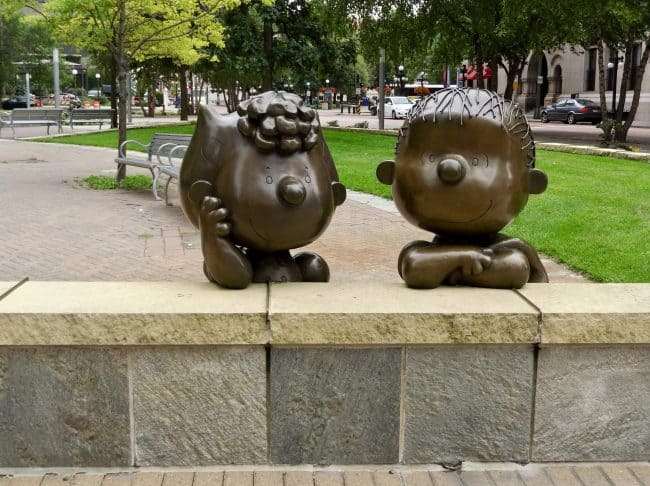 Snap a picture with Charlie Brown Lucy, or Snoopy. If you find yourself here at lunch time, the food trucks that frequent the area are definitely worth a stop.
Como Park Zoo and Conservatory
The Como Park Zoo is one of the last remaining free zoos in the United States. It's easy to see why this is one of Minnesota's most visited attractions. The kids will love to visit the polar bears and penguins. Take in a sea lion show or take in one of keeper chats.
Be sure to stop by and see the new zoo babies. The zoo has welcomed the several new additions including a Western Lowland Gorilla and Reticulated Giraffe.
Admission is free but a $2-$3 donation is suggested.
Stroll Through the Mall Of America
You can't have a list of things to do in the Twin Cities without a trip here. After all, it is the largest mall in the states complete with indoor amusement park Nickelodeon Universe.
There are ALL kinds of shops, restaurants, and attractions. The attractions are paid, but there are plenty of art exhibits and events happening here.
If you are a Prince fan, be sure to visit the Hard Rock Cafe to view the exhibit dedicated to the artist. If you are hungry, the mall has come great restaurants too!
Explore Lake Calhoun
This SW Minneapolis lake is a favorite to go kayaking, SUPing, or boating on.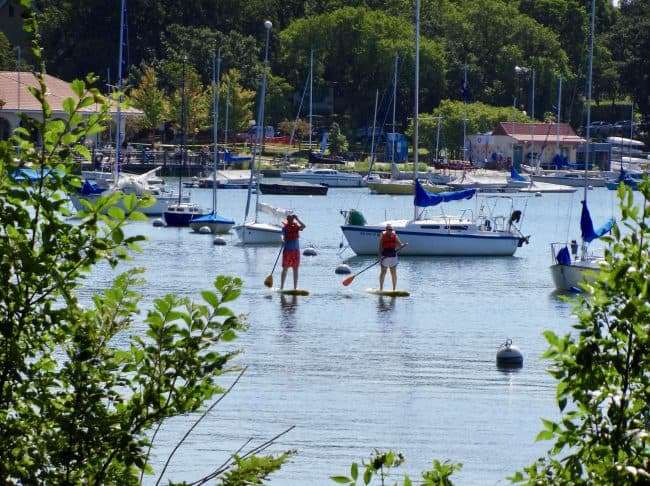 A a warm day, you'll often see sailboats on the lake. Enjoy a stroll along one of the lake's many trails or bring your kayak or canoe for a paddle.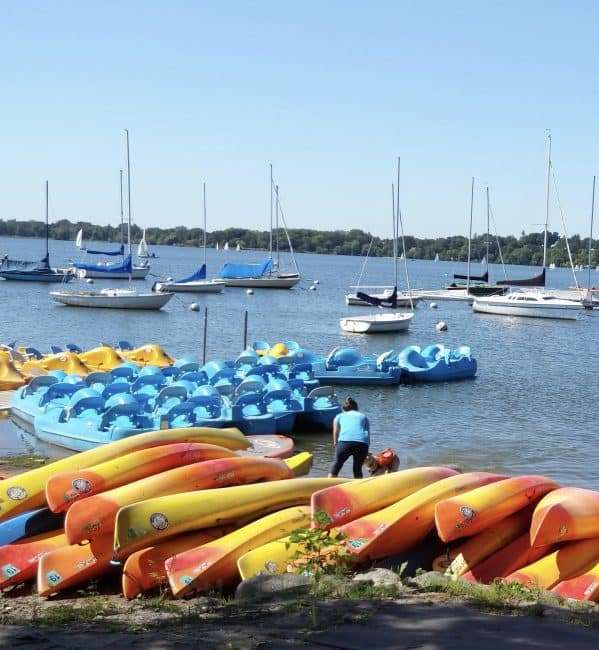 If you don't have one you can rent one from Wheel Fun RentalsWheel Fun Rentals. If you want to splurge a little, the double paddle boats are GREAT fun!
Can Can Wonderland
This entertainment venue is one of a kind. Designed by local artists, Can Can Wonderland is equal parts art, entertainment, and recreation. Be sure to check out the unique miniature golf course and Boardwalk Arcade.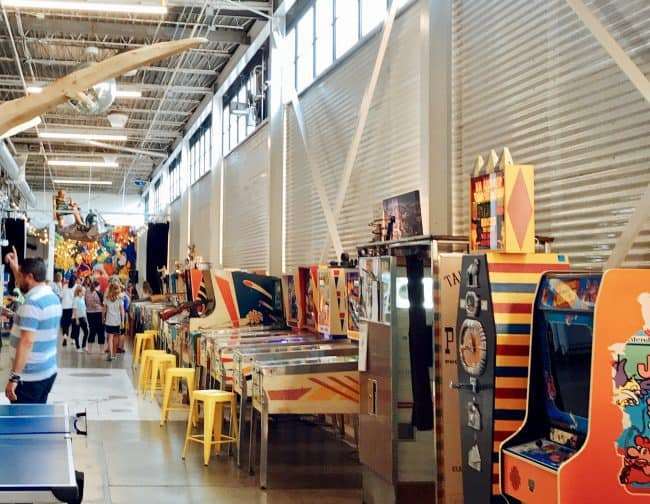 In the arcade you'll find vintage arcade games, pinball, and table games like ping pong. You can spend all the quarters you want or opt for a free game of ping pong. The food, cocktails, and soda shop drinks are not to be missed either.
During my recent stay in the Twin Cities area, I stayed at the Courtyard by Marriott in Roseville, MN. It's a great place to stay because it's only a 10 minute drive to Minneapolis and St. Paul. It's right off the highway and provides easy access to any of these things to do in the Twin Cities and surrounding areas. If you want to stay on the northwest side of Minneapolis, look at the Holiday Inn Maple Grove. It has an indoor water park and is less than 20 minutes from downtown Minneapolis.
Disclaimer: Thank you to the Roseville Visitors Association, Bloomington Convention & Visitors Bureau, Visit St. Paul, and Meet Minneapolis Convention & Visitors Association for the accommodations, dining and attractions tickets. All opinions are my own and are based on my recent visit to the Twin Cities area.
SaveSaveSaveSaveSaveSaveSaveSave
SaveSave
SaveSave
SaveSave