If you're a chocolate lover you are in the right place! This month, a group of food bloggers decided to doing something fun and yummy together. We were easy paired up with another food blogger and we had to choose one recipe to make from that website. I had a hard time deciding what to make at Plate Ate Six. Nancy's website has some amazing recipes to make.In addition to her cooking, she shares her travels too. She a Brit that currently lives in Shanghai. She shares some amazing adventures.   Please take a moment and check out her site.
Initially, I had my heart set on her Spicy Thai pomelo salad with a hot, sweet & sour dressing, but then I saw Nancy's recipe for Fake Chocolate. Shout the front door! We have a winner!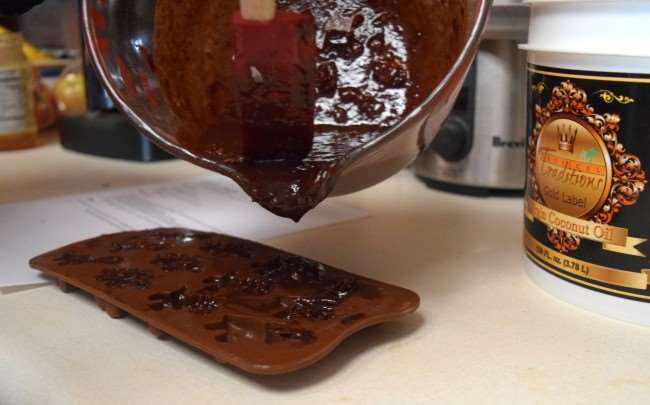 Fake Chocolate is an amazing treat that is paleo, gluten free, and contains no refined sugars. This is made with 3 basic, real food ingredients; maple syrup, cocoa powder, and coconut oil. You simple mix them together, add any extra mix ins you like and refrigerate. That's it!  I'm sure you have these three things in your kitchen right now.
Fake Chocolate is luscious dark chocolate. The bad news is you can whip this up anytime and be enjoying it in about 40 minutes if you follow the directions or 15 minutes if you set the chocolate in the freezer to set. So you can make chocolate whenever the cravings hit. All I can say to that is, "You're Welcome."  Just promise me you'll enjoy every luscious bite.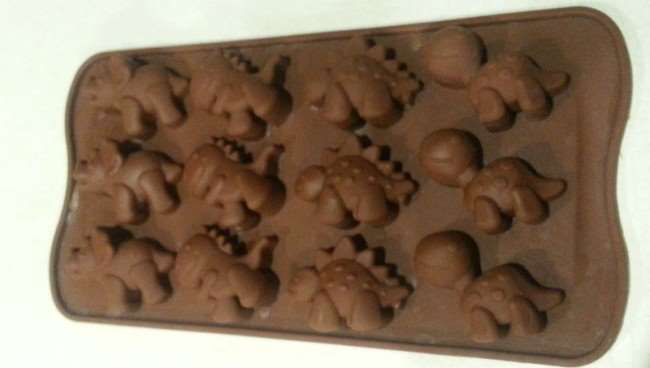 Don't you love this mold? I bought this dinosaur silicone mold months ago. My kids love this mold. It creates really fun shapes. For this recipe, I recommend a silicone mold like this or silicone muffins cups. If you don't have those, you can use any baking sheet. Just line it with waxed paper before getting started.
You can customize your chocolate with mix ins. My favorite was the shredded coconut and almond extract. I list a few ideas in the recipe, but you can create your own version. What would you add?

Calling All Chocolate Lovers! Here's Fake Chocolate
A quick version of chocolate with just three ingredients. You can add any combination of mix ins you like. I like the shredded coconut and almond extract the best.

Prep Time 5 minutes

Cook Time 2 minutes

Total Time 7 minutes
Ingredients
1/2 cup melted coconut oil
1/2 cup cocoa powder
1/2 cup maple syrup
Mix in Ideas (Choice one)
1/2 cup shredded coconut and 1/2 teaspoon almond extract
1/2 cup dried fruits and nuts of your choice, chopped
1/2 teaspoon of vanilla extract
Sea salt
Instructions
In a bowl, mix together the melted coconut oil and maple syrup with a wooden spoon or spatula.
Add in the cocoa powder and stir well. Press out any lumps against the side of the bowl.
Add in your mix ins, if using.
Pour into silicone molds or a wax paper lined tray. If chocolate starts to go dull in appearance (cold too much), warm in a microwave for 5-10 seconds at 50% power in a microwave or over a double boiler.
Set chocolate molds in the refrigerator and chill for 30 minutes or set in the freezer for 10 minutes.
There you have it, Fake Chocolate. You'll love/hate how easy this is to make. You'll no longer have an excuse to deny your chocolate cravings. But since this has without refined sugars or added artificial ingredients, you could almost call it healthy. Enjoy!
 Original Recipe comes from Plus Ate Six