Getting your kids to want to eat healthy isn't always easy. It's a struggle in our house as I'm sure it is in yours too. One of the easiest ways to minimize that struggle is to get the kids in the kitchen to help cook meals and snacks. When they are involved, they are more apt to try new foods and are less resistant to eating their vegetables. Sun Basket recently debuted Family Meal Recipes to help families eat healthier and get in the kitchen together.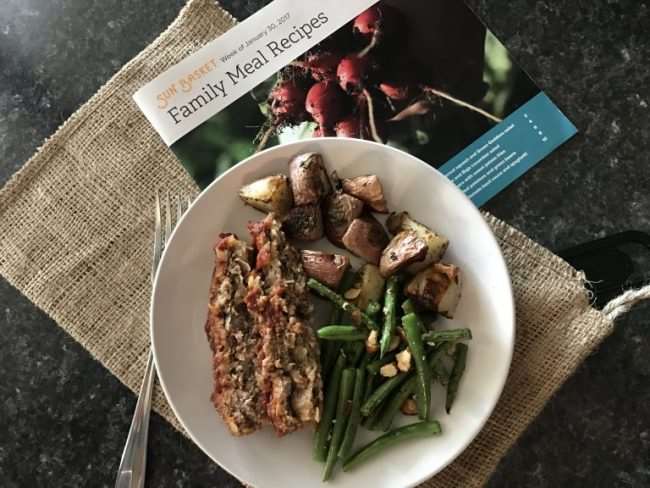 Disclosure: This blog contains affiliate links. They help pay for the coffee that keeps us turning out adventures week after week. I'll only recommend and share products that I use and love myself. Thanks!
Healthy Family Meal Recipes
Sun Basket asked me to try out their new healthy family meal recipes and share my thoughts here. Our travel and school schedule has been a little hectic, so I opted to receive 2 recipes on two different weeks, one before my trip to Disney World and one after. In total we tried 4 different healthy family meal recipes that included:
Falafel pita pockets with lemon-yogurt sauce
Chicken cutlets with rice pilaf and Waldorf salad
Fish tacos with avocado, Baja cucumber salad, and mint-yogurt sauce
BBQ meatloaf with roasted potatoes and green beans
Delivery + Busy Family = Easy & Healthy
Take a look at what was included in the 2nd delivery we received. I shared it on our Facebook Page, Little Family Adventure.
I will say it was really nice to have grocery deliveries both before and after our Disney trip. Both deliveries helped me stay on task with cooking healthy meals instead of opting for quicker fast food options. Upon our return, that 2nd delivery really helped take the stress out of going grocery shopping right away.
Class versus Family Plan
In the past, Sun Basket offered only a classic plan that included 5 meals (Paleo, gluten free, etc.) with your choice of 3 recipes with 2 or 4 servings. Now the Family Plan offers more variety for families at a lower cost. The Family plan offers a choice of 2 or 4 recipes that each serve 4 people for $9.99 per serving.
Family plan recipes offer a variety of meal options to suit both children's and adult palettes. Although there aren't as many recipe options each week as the classic plan, families will find meals they will enjoy that can be gluten free, soy free, and vegetarian.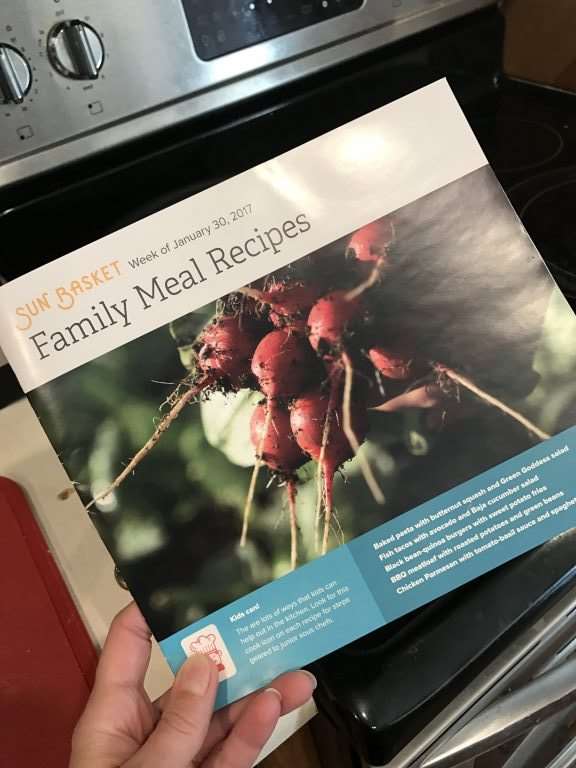 I can't speak to the classic recipes you receive in each weekly delivery, but the family plan recipes are all included in a handy multi-page booklet. Each week I received 5 different recipes that our family could make each with tips to get the children involved and a fun fact or joke for the kids (like the one below).
"Why did the dinosaur cross the road? Because chickens didn't exist."
Pros:
Each of the family meal recipes we tried with delicious. Our family was familiar with almost all of the ingredients used, but there were a few like harissa that were new. The Chicken cutlet with rice pilaf and Waldorf salad was a little different from what we would normally eat because the recipe called for us to add the Waldorf salad on top of the cooked chicken and rice. It was good but not something I would have considered normally.
Ingredients are packaged individually and then sorted by recipe. Each recipe has all the ingredients, except the protein, packed in a brown paper sack. The proteins are packaged separately to avoid cross contamination. I love that Sun Basket uses organic and non-GMO food ingredients. Everything is clearly labelled and the box indicated where the products originated from (a big plus!!).
Unlike other food/meal delivery services, Sun Basket uses recyclable packaging. Instead of a styrofoam cooler, Sun Basket used a plastic fiber roll made from recycled PET bottles. It's clearly labeled as recycled and added to the weekly recyclable bin. The ice packs are non toxic and made with a mixture of cotton and water. My delivery was kept at the ideal temperature.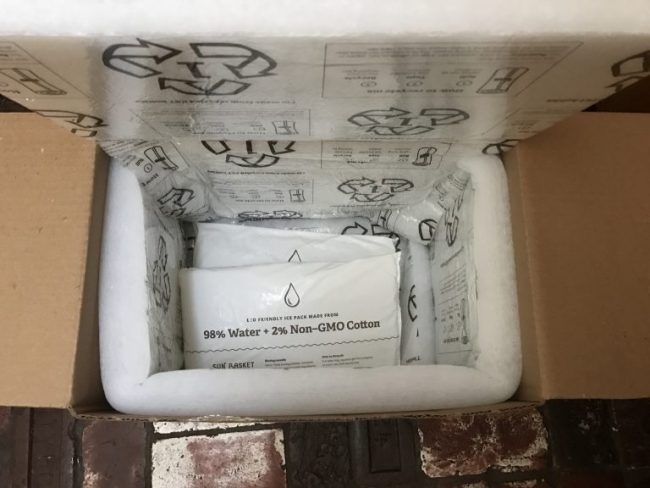 Needs Improvement:
Although you receive the recipes for each meal, recreating the dish later on is more challenging. Sun Basket sends seasoning packets with a combine of spices or ingredients. For example, the seasoning blend for the fish tacos and the BBQ sauce for the meatloaf. The recipe indicates what the blend contains but not the amounts. The online recipes also don't mention the ingredient measurements. So if you wanted to recreate the recipe, you will have to guess at the amounts.
Overall, I was really pleased with the Sun Basket Family Meal plan. My kids got in the kitchen with me to cook. As always, we had a great time together in the kitchen. There were clean plates every night, so that counts as a success in my book. I liked the meals so much that I became an affiliate for Sun Basket. You can try Sun Basket yourself and save $30 off your first order. Click the image below for more information.
I received 4 complimentary meals for this review. All opinions expressed are my own.