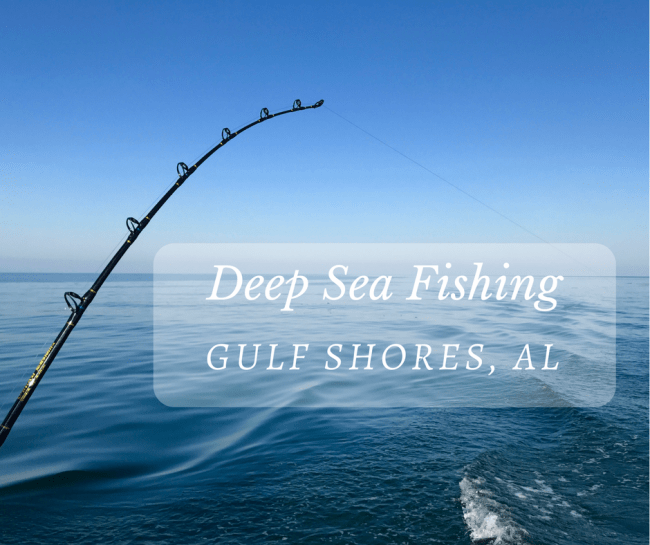 Crossing Deep Sea Fishing Off My Bucket List
I've always wanted to go deep sea fishing. On a recent press trip with Gulf Shores and Orange Beach Tourism, I was finally able to go out into the Gulf of Mexico and go fishing. Growing up in Southern California, my dad usually went out about once a year and he'd came back with tons of albacore tuna. He promised that one day he'd take me. But unfortunately, he passed away before we could go.
On a gorgeous day in early May, a small group of us headed out bright and early with Ocean Ox Charters. We'd set out into the Gulf of Mexico for an epic day on the water!
The Early Bird Catches the Worm, I Mean Fish
Well in this case, the early riser catches fish and is treated to a phenomenal sunrise. On fishing day, I had to be ready to catch my ride to the marina at 5am. Normally, I would be dragging that early, but on this day, I was up and ready with a LARGE mug of coffee in hand.
I knew this was going to be a history making day. If nothing else, I'd be crossing something off my bucket list. Luckily, the marina was a short drive from the condo. The sunrise that awaited us was gorgeous. The day would turn out to be perfect day with calm seas, no wind, and warm temperatures. I will say that I was a little fearful about getting seasick after my Disney Cruise in February. But you couldn't of asked for a more beautiful day to be out.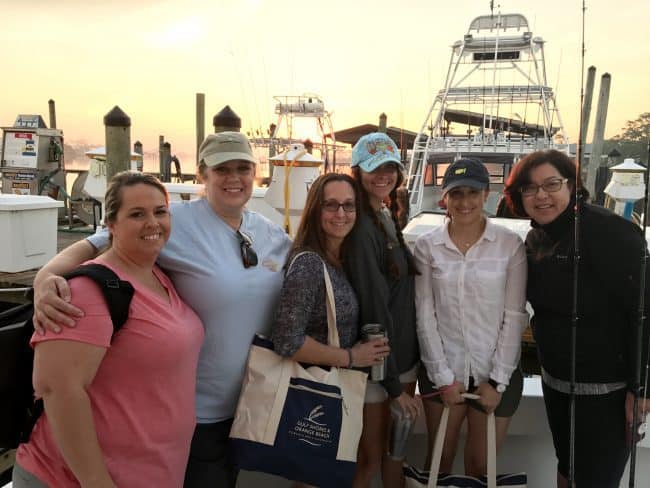 This is our motley crew of fisher-women. Left to right: Eva and Kay from the Gulf Shores Orange Beach Tourism, me (note the big cup of coffee, Mandy from A Cupful, Jamie from Jaime Says, and Margarita from Downshifting Pro.
Fishing with Ocean Ox Charter
Finding a great charter and crew is key to a successful trip. You want to catch fish and that all comes down to the crew you go out with. Capt. Jimmy and his crew were took great care of us. They took us out to where the fish were and every time we dropped our hooks, there was a fish on the line within seconds!
Captain Jimmy and his crew took time to talk to us about conservation, responsible fishing, and more. One of the things we talked a lot about was Red Snapper. This year, the Gulf's Red Snapper season is really, really short and the fishing community isn't happy about it. While we were out, our group caught snapper again, and again, and again.
But since we weren't out during Red Snapper season, all the snapper in the pictures below had to be thrown back as well as the Amber Jack and a few others. I didn't catch a snapper, but I did catch a Mahi Mahi. For safety reasons, the crew handled all the fish for us, baited the hooks, and took care of cleaning the fish once we were back on shore.
Jaime (second row on the left) caught several Red Snapper and earned the nickname of "Fish Whisperer". The largest one she caught was estimated to be over 20 pounds.
I may not of caught a HUGE fish, but I did catch a Mahi Mahi (shown on the left) and a Remora that was thrown back.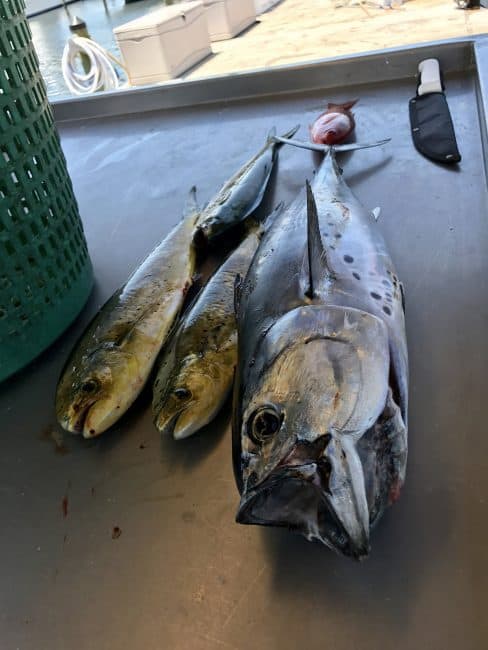 It became lunch in the form of fish tacos at Shipp's Harbour Grill.
Related: Check out these other Orange Beach and Gulf Shores Restaurants.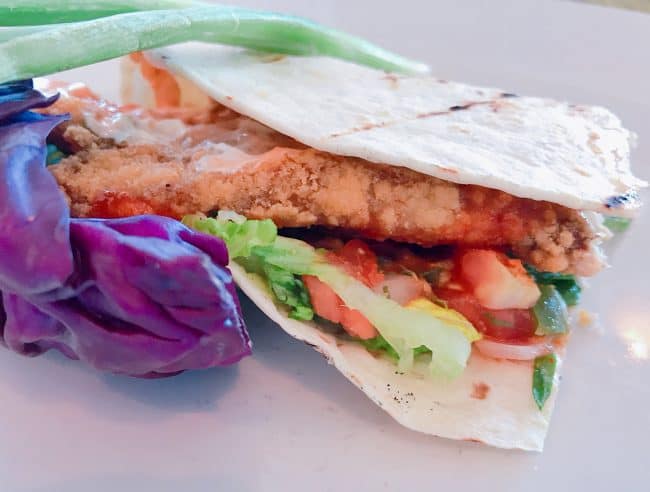 In addition to great fishing we also saw dolphins. The ladies on our group were thrilled, but Captain Jimmy had to mention that this wasn't a dolphin cruise and seeing dolphins wasn't a good thing. Dolphins in the area mean fish don't bite. But Captain Jimmy obliged us and allowed us all on the bow to see a huge pod of dolphins surround us and come up close.
My bucket list is one item shorter. But even before we made it back to shore, I wanted to go back out. Fishing can be addictive because you never know what you'll catch. It's always a new adventure. This was just one of the many things I did while I was in Gulf Shores. Check out my 3 day itinerary for enjoying Gulf Shores. Go out with your family, with the girls for a weekend trip, or grab a group of friends and head out to the Gulf for your own adventure.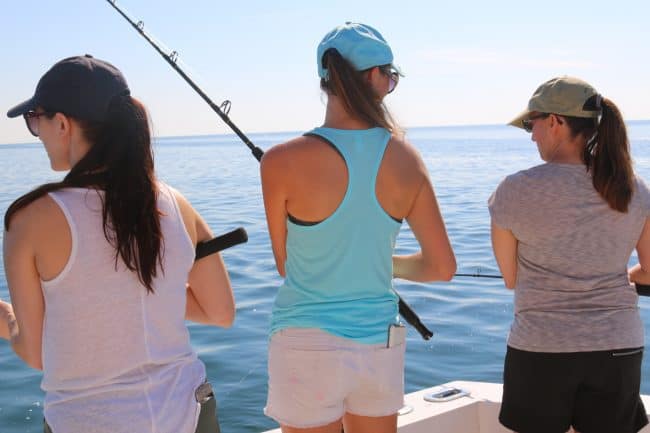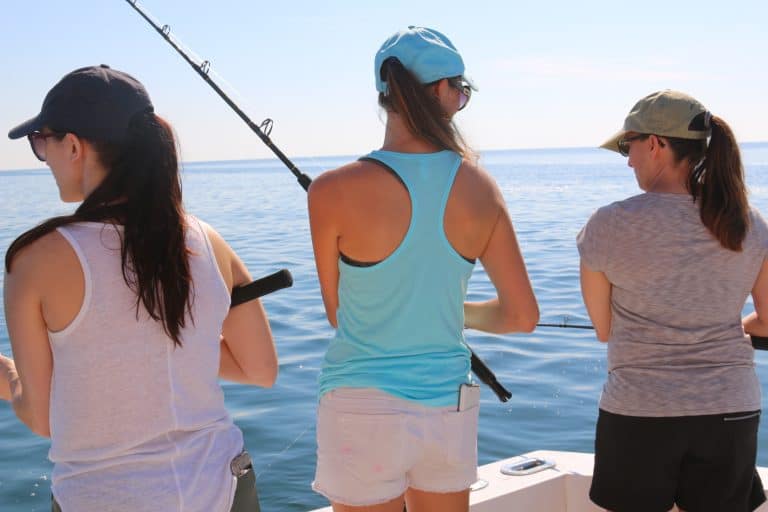 If you want to go out in the Gulf, I highly recommend Captain Jimmy and Ocean Ox Charters. Find them here. Thanks to Gulf Shores and Orange Beach Tourism, as well as Ocean Ox Charters for taking us out fishing. All opinions are my own and based on my personal experiences.
SaveSave