Whether you are vacationing in the gulf coast area, live nearby, or are just passing through, you want to find great food you can enjoy and tell your friends about. I was just in Gulf Shores and found these 5 Gulf Shores restaurants that give new meaning to the term "Sea to Table" dining. These local eateries are serving healthier fare with local ingredients from both land and sea.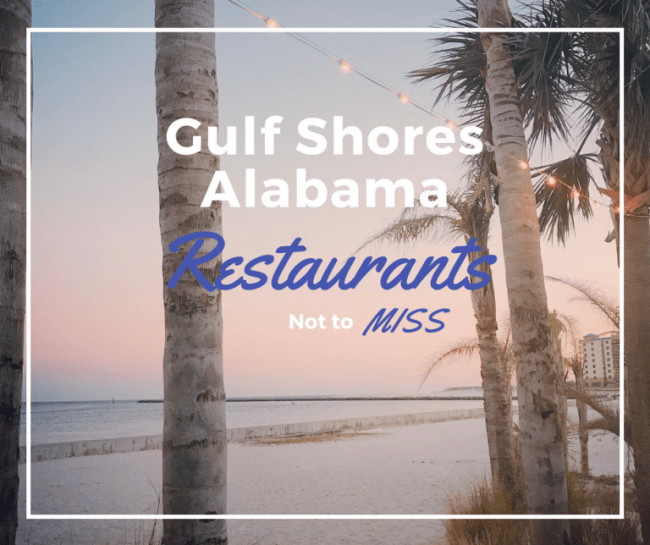 This May, I went down to Gulf Shores and Orange Beach, Alabama for some fun in the sun and much needed beach time. I had such a great time, but I didn't quite know how to start telling you about all the great things there. Since I love to travel by my stomach, I thought it would be perfect to start there and begin with food. I don't think you'll mind because these 5 Gulf Shores restaurants are serving up some of the best local seafood, produce, and bites in the area. From casual coffee houses to upscale dining, I found it all in Gulf Shores and Orange Beach. You will too!
Having grown up in Southern California and then moving to coastal North Carolina after college, I spent a lot of time at the beach. Honestly, I think any day at the beach is a great day but it had been so long since I'd felt sand between my toes. I'd never been to a gulf beach and now I will admit that before my visit, I was a little hesitate about visiting areas around the Gulf of Mexico. I hadn't heard anything bad, but it just wasn't the ocean.
Let me just tell you, that I loved my visit to Gulf Shores and Orange Beach. The people are warm and welcoming, the sugar white sand beaches were to die for, but the food….. Oh my goodness…. I will return again and again just for the food. Since I was in the area for a press trip, I was treated to some of the best local restaurants in the area. There was seafood….. YES, loads and loads of fresh, local seafood. Grilled, blackened, raw sashimi …… You get the idea. I want to tell you about 5 Gulf Shores restaurants are I absolutely loved and would recommend to anyone when they are in the area. I'd even encourage you to make this trip just to enjoy these local eateries.
Let's start with breakfast and coffee. Most of my adventures are fueled with caffeine. So let's start here…..
The Southern Grind Coffee House
This locally owned coffee shop serves morning essentials like fresh hot java, breakfast entrees, and pastries. But it's also a great place for lunch and dinner. During my visit to Gulf Shores, I was with a group of fellow travel writers, podcasters, and videographers.
On our first morning, it was a great spot to sit with locals like the Nature Tourism Specialist, Chandra Wright of the Mississippi-Alabama Sea Grant Consortium and talk about the area. You can grab your coffee to go or eat inside this quaint shop.
Owners Jaime and Jimmy have created a special oasis on The Wharf for guests. Their menu and coffee is spot on! But be warned that you may go in for the coffee but come out with a little something for the house. Jaime has an interior design background and in the shop area of the store, you can find her hand-painted home decor and other one-of-a kind gifts.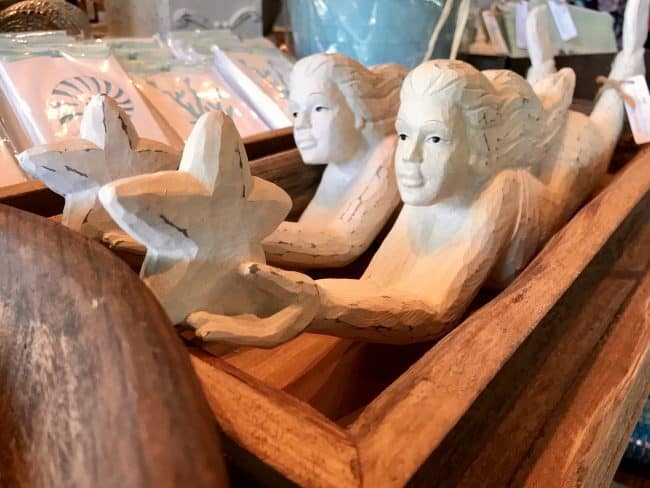 I'd recommend everything from the latte to the french toast. If I was a little more adventurous, I would have had a scoop gelato for breakfast. Why not? When you are on vacation, vacation calories don't count. Right?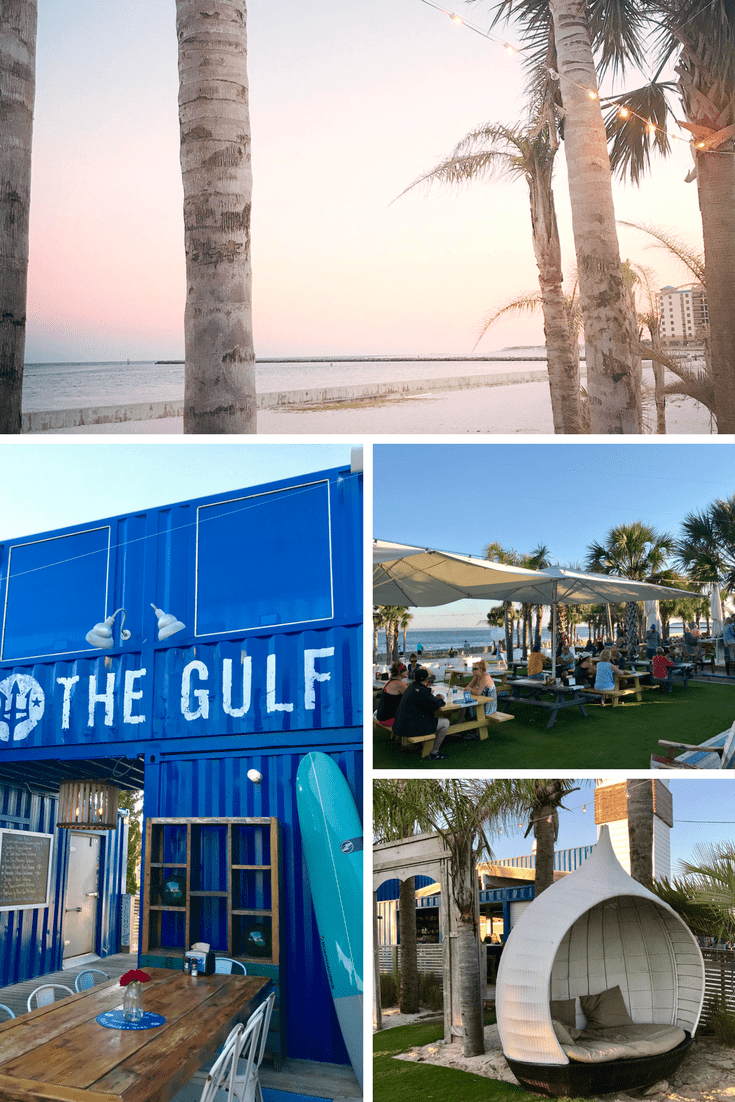 I can't think of a better place to have dinner than overlooking Perdido Beach. This outdoor restaurant is serving up locally inspired food. The kitchens, yes kitchens plural, are housed in stacked metal shipping containers. Very fun!! Guests can order tacos, fresh fish, salads, sandwiches, and craft cocktails from one of the kitchens/bars and then find a spot in the outdoor seating area. Choose a picnic table, chair, or couch on the beach to enjoy your meal.
The relaxed atmosphere is perfect for families.  The kids can play in the sand and adults can hang out and eat, or lounge on one of the sitting areas with friends. In the evening, you may even see the U.S. Navy Blue Angels planes zoom by as they fly along the beach from Pensacola.
It's also a pet friendly restaurants where guests can bring their 4 legged pooches too. There is even a resident cat that can be found longing around.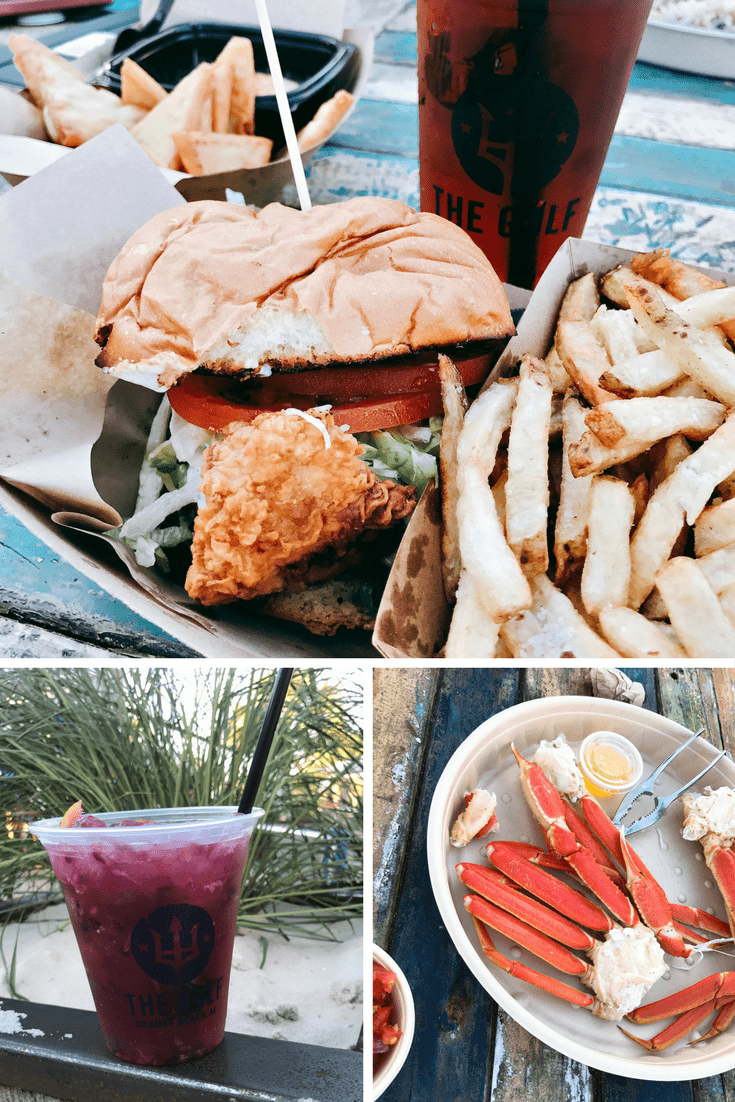 What I Had and Would Highly Recommend:
Berry Mojito
Fried Grouper Sandwich with house made lemon dill sauce and served on a brioche bun and a side of hand cut fries
Hummus with warm pita chips
Normally, I don't order fried food, but locals recommended the fried grouper sandwich. It was delicious and full of flavor. The sandwich itself was huge. I should have placed someone in the picture to show scale. But let's just say, you won't be hungry after this.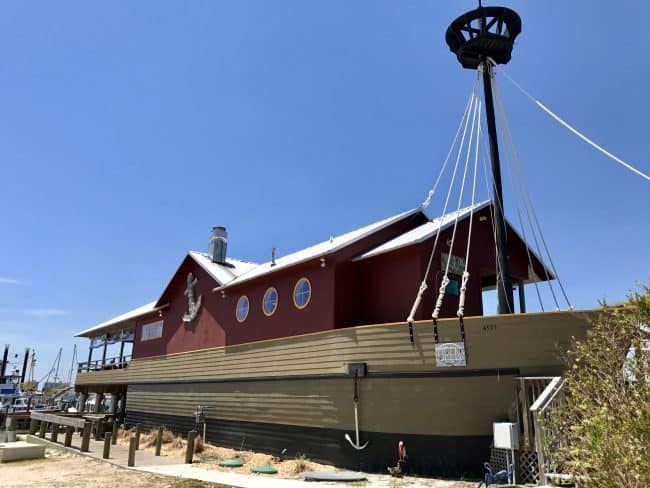 Sit out on the deck of this boat themed bar and grill for gorgeous views of Terry Cove and Hudson Marina to enjoy great food and drinks. Chef Jonathan Kastner has created a small, scratch-made menu with fresh local ingredients. But don't let the size of the menu fool you. Everything is FANTASTIC!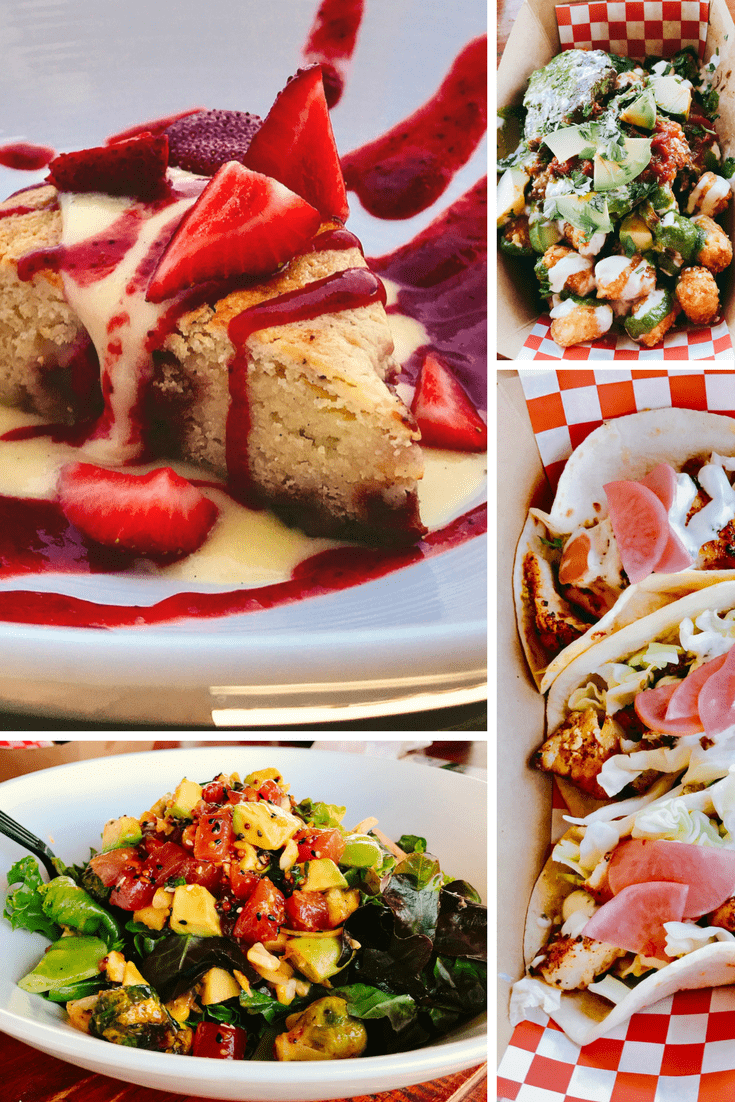 Must Try:
Tuna Poke Bowl + Spring Vegetable Salad
Short Rib Nachos
Fish Tacos
I was starving after a morning of exploring the Backcountry trails. Our server recommended I combine two entrees (Tuna Poke Bowl + Spring Vegetable Salad) for a more filling meal. The salad that came out was definitely enough to satiate the most ravenous of explorers and could easily be split between 2 people.
The poke bowl featured fresh Gulf tuna, sesame, avocado, seaweed, honey, macadamia nuts, and soy pickled mustard seeds. Served with togarashi and lime dusted pork skins. The salad wasn't just greens, but featured seasonal raw, roasted, and pickled vegetables all tossed in a charred tomato vinaigrette.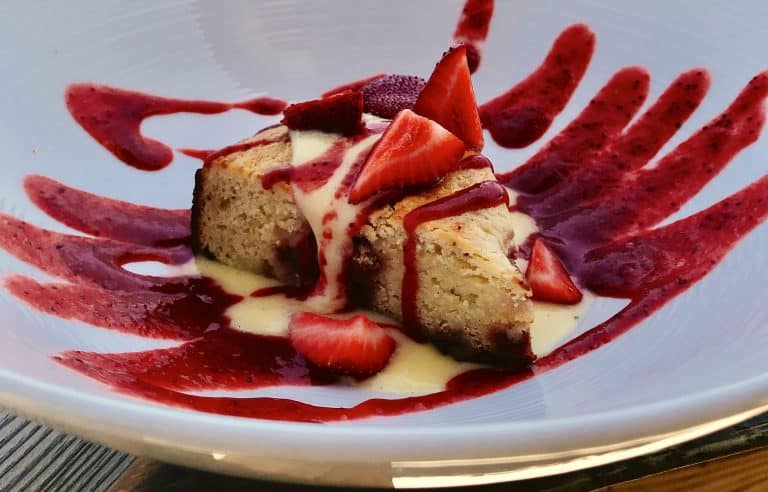 Whatever you decide to order, save room for dessert. The Ricotta cake with fresh Louisiana strawberries is to die for! Actually order two, one to eat there and one to take home!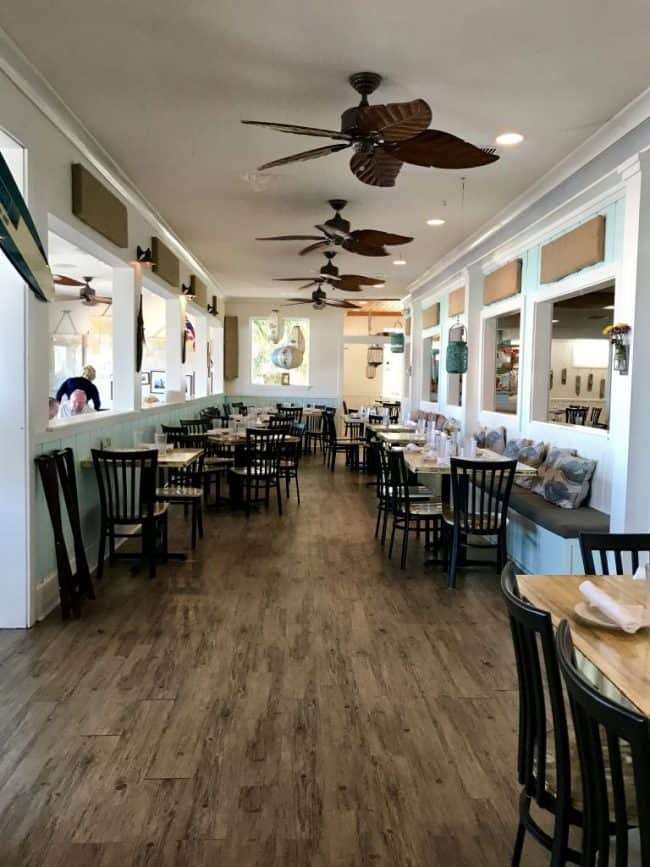 Shipp's is another restaurant overlooking the water. Owners, Regina and Matt Shipp, created this welcoming coastal restaurant in Sportman Marina over 20 years ago. Their menu features local produce and seafood and is one of only a handful of "Hook and Cook" restaurants in the area. That means if you catch it, you can bring it in to them where the chefs will create a delicious entree one of three ways.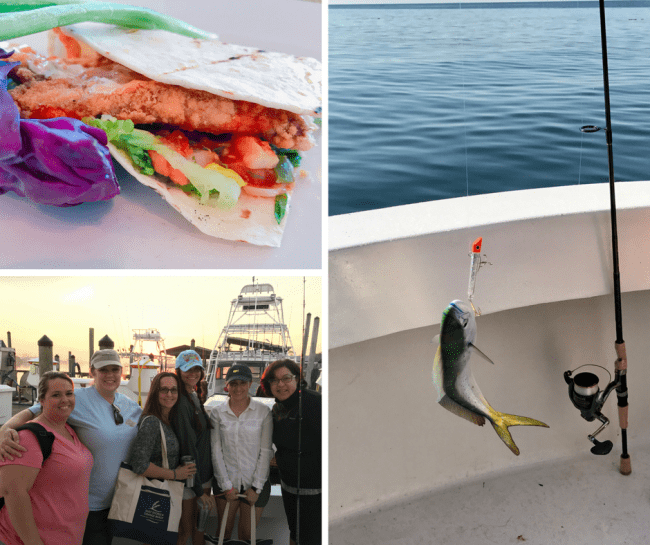 After our deep sea fishing trip with Ocean Ox Charters, we caught a few Mahi Mahi and a Vermillion Snapper. We asked Shipp's to create these Fish Tacos.
If you didn't catch anything in the Gulf, no worries! Shipp's has a huge menu filled with coastal favorites, salads, Island fare, and sushi. While we were there, we were treated to sampling menu of some of their favorite and most popular dishes. There was a little bit of everything.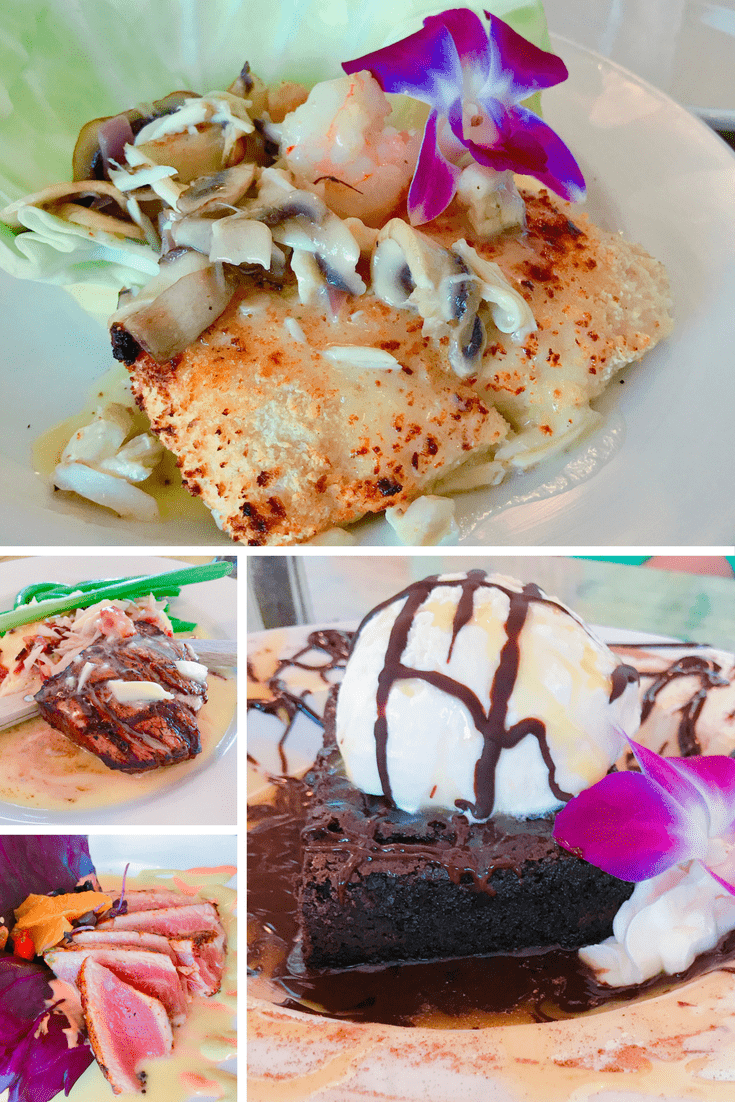 My favorites were these: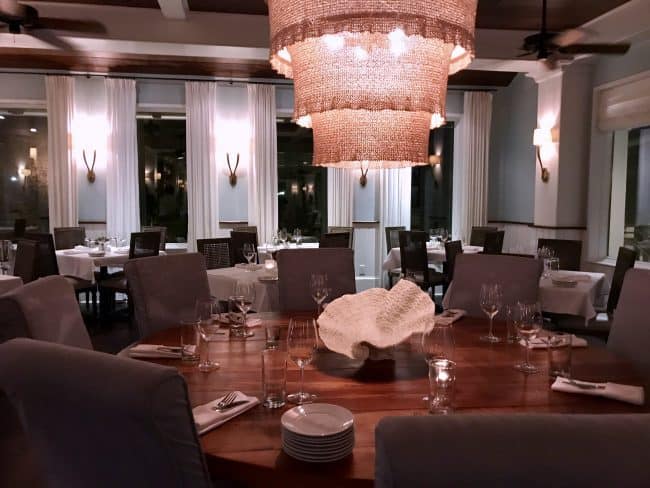 Fisher's Upstairs at Orange Beach Marina
Fisher's is actually two restaurants under one roof. Enjoy lunch of dinner downstairs at Fisher's Dockside for a casual atmosphere. I'm told they also serve one of the best Sunday Brunches around.
For an upscale dining experience, head to Fisher's Upstairs where James Beard Award Nominated chef Bill Briand is serving a seasonally inspired menu. The decor is straight out of Southern Living magazine and has been featured in that publication. The atmosphere  is warm and the staff is exceptional.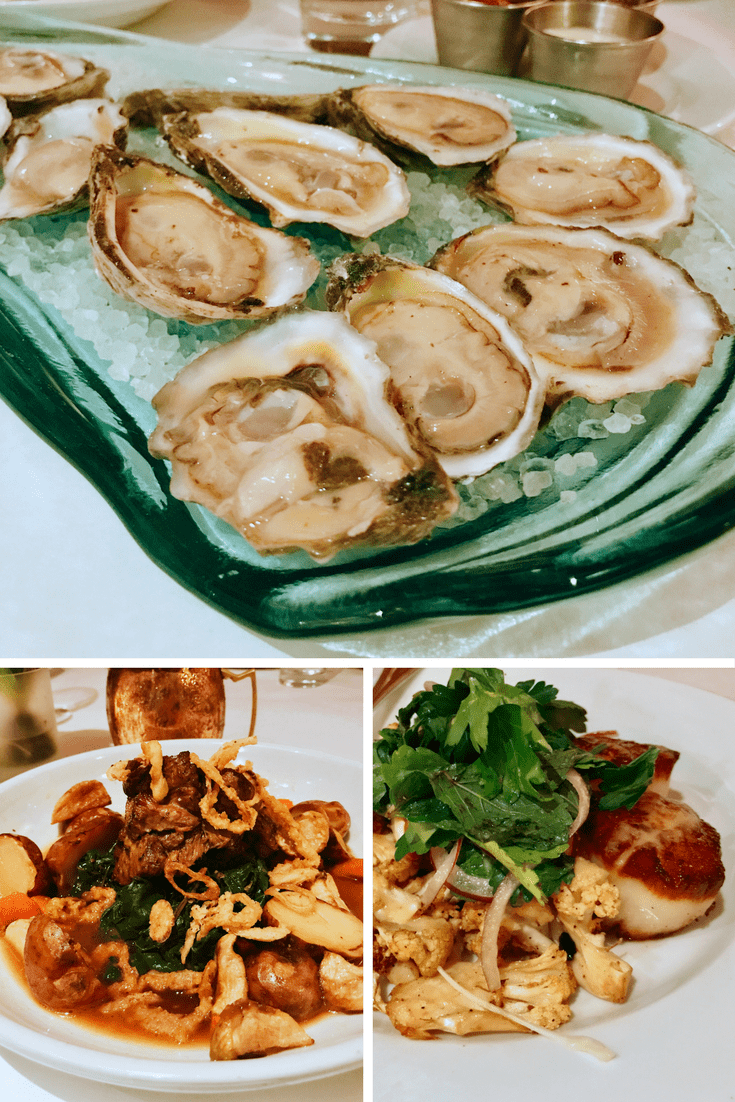 Start your meal with these Point aux pins oysters. They are from the first oyster farm in Alabama and are grown using a method developed by Auburn University. These and the murder point oysters are the most popular boutique oysters in the area.
For main entrees, you can't go wrong with anything on the menu. I ordered the Lamb Shoulder Roast and it was amazing. If you want something other than seafood, this is an excellent choice. If you would prefer to stay local, I'd recommend the scallops.
For desserts, you MUST try the Steen's Cane Syrup Caramel Popcorn Dome. It's vanilla ice cream with a caramel syrup and fresh popped popcorn. It's an off combination that comes together and will leave you wanting more. I enjoyed it so much that I created y own version this at home. Get  my recipe for this copycat version in this Brown Sugar Ice Cream with Caramel Popcorn.
These 5 Gulf Shores restaurants were my favorites and I'd gladly return again and again to enjoy them. There is something here for every member of the family and at different price points. Head down to Gulf Shores and enjoy the bounty the area has to offer.
Note: I traveled to Gulf Shores as part of a press trip with the Gulf Shores and Orange Beach Tourism. All opinions are my own.