When you visit Orange Beach and Gulf Shores, you are in for a coastal getaway filled with sun, sand, and water. The area offers everything a vacationing family could want. From white sand beaches to family-friendly events and activities, there are so many things to do in Gulf Shores Alabama that you could spend weeks here and not experience everything. I recently traveled to Gulf Shores, Alabama with Gulf Shores & Orange Beach Tourism and experienced some really fun things to do in Gulf Shores with kids. I have put together this 3 day itinerary for families who want to experience fun-filled outdoor activities the area has to offer.
Fun Things to Do in Gulf Shores Alabama
Day 1: Gulf Shores' Beaches Are Calling
Any day spent on a beach is a good day in my book. So, it's only fitting that you start your Gulf Shores vacation on the beach. Many don't think of Alabama as a beach destination, but the state has 32 beautiful miles of white sand beaches along the Gulf of Mexico. You can truly relax and start your vacation once you feel the sand between your toes.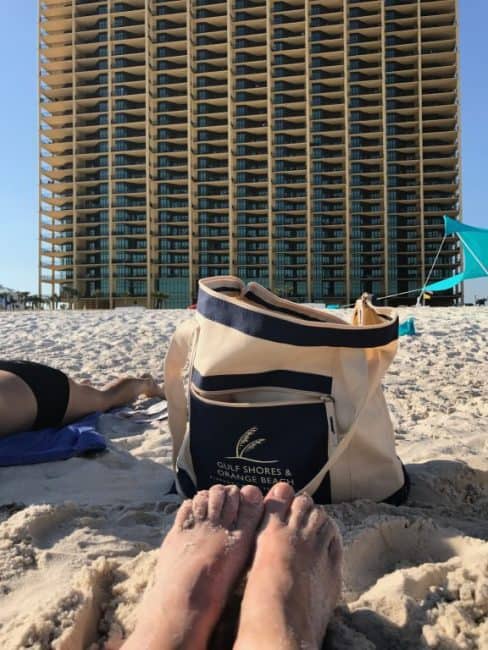 Fun Fact: Gulf Shores beach sand is actually crushed quartz that has washed down from the Appalachian Mountains over time. It's like walking on cornstarch and if you scoot your feet along the sand, it "squeaks".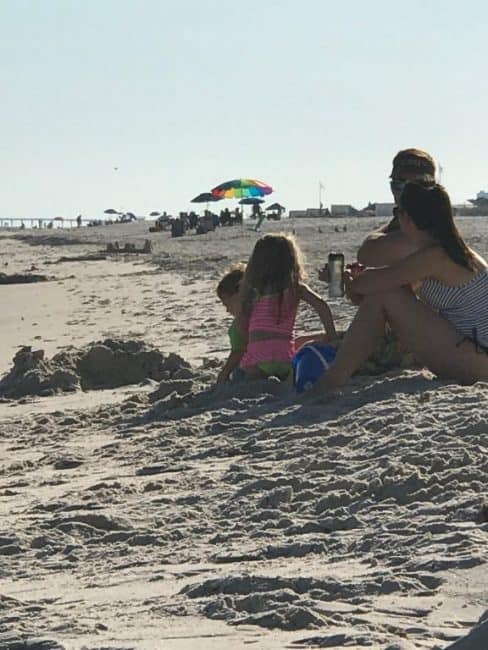 This was my first visit to any beach along the Gulf of Mexico and I was amazed at how white the sand was. The water in early May was MUCH warmer than the water in Castaway Cay, Bahamas in February. Kids will love being on the beach to build sandcastles, look for shells, or just play around. I highly recommend walking on the beach at sunrise or sunset for a spectacular view It's absolutely gorgeous.
Remember to "Share the Beach" with all beach visitors.
There is a large sea turtle population that visits Gulf Shores and Orange Beach to nest May through October. Female turtles make their way onshore at night and you probably won't see them. But to provide them with a clear path, beach visitors are asked to remove all gear within an hour after sunset.
Sail Wild Hearts Sunset Cruise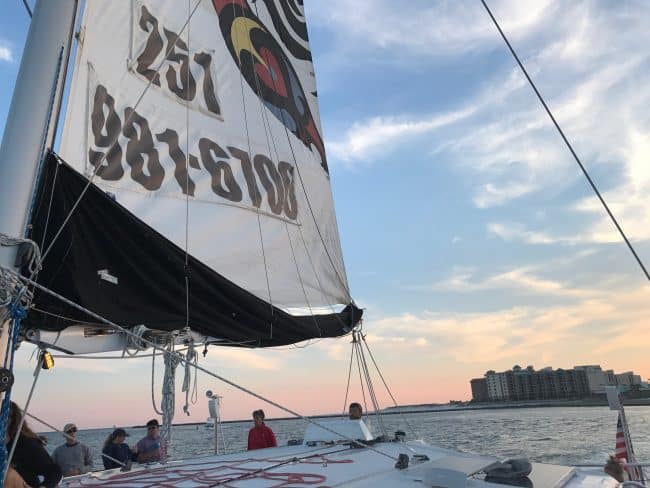 End your first day on the water. You'll love taking a sunset cruise with your family. Seeing the sun dip below the horizon as you cruise along the shore is an experience you won't forget. You may be lucky enough to see a dolphin pod along the way!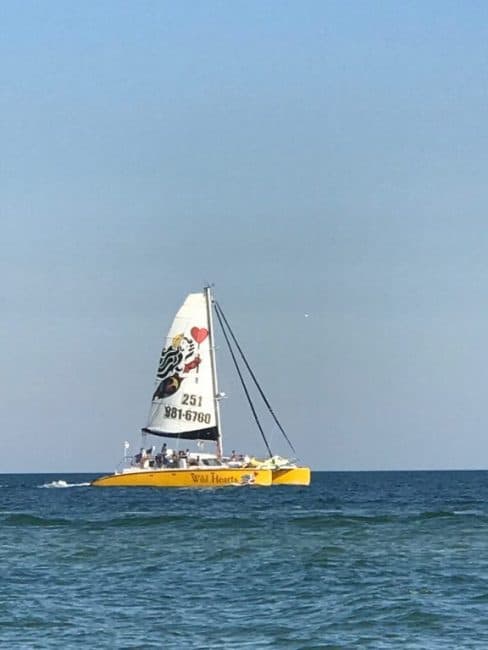 Our group went out with Sail Wild Hearts aboard their large catamaran. They had a nice spread of appetizers and beverages for guests to enjoy during the cruise. Having gotten sea sick aboard the cruise ship back in February, I was really worried about being sea sick on this cruise. But I donned a seasickness patch and headed on board for a great trip.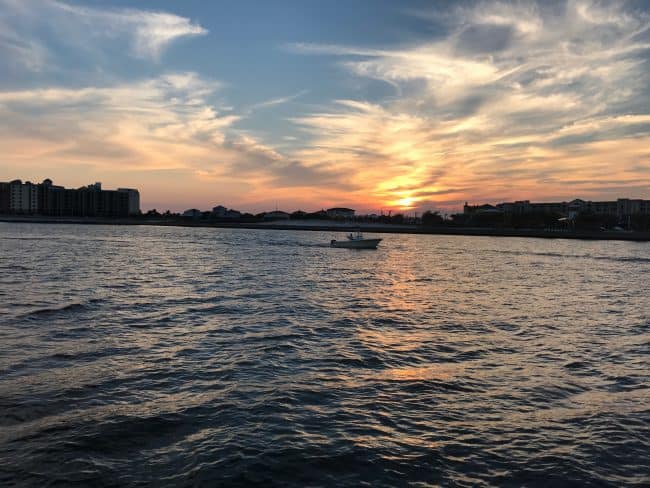 It's surprising how relaxing a catamaran cruise can be. Once underway, our captain allowed guests to sit out on the bow and enjoy the views. If you are wanting to end your busy day relaxing and enjoying being out at sea, I highly recommend this experience.
Day 2: Explore Gulf Shores and Orange Beach's Parks
Today, go and explore the area by land and sea. There are some fun ways to see the area away from the beach. Start the day at Gulf State Park and Hugh S. Branyon Backcountry Trail.
Gulf State Park
A state park is a great destination for active families who enjoy being outdoors. This state park has over 6000 acres, the second largest pier in the Gulf of Mexico, public beach access, campground, nature center, and miles and miles of trails. This is where you'll also find Lake Shelby, a popular destination for families who want to be near the ocean but in calmer water. It is a large 900 acre freshwater lake inside the Gulf State Park. The swim beach is a popular place and you can often see kayakers, boats, and water skiing out on the lake.
You could easily spend the entire day here on the trails, relaxing on the beach, fishing, and taking part in scheduled events at the nature center. The Gulf State Park Adventure Center is the place for rentals. They offer kayaks, canoes, banana boats, parasailing, segway, paddleboards, bicycles, and more. One of my favorite features of Gulf State Park is the Hugh S. Branyon Backcountry Trail which runs through the park.
High S. Branyon Backcountry Trail
These 25 miles of multi-use trails for perfect for families who want to walk, run, cycle, or Segway. Paths are a combination of raised boardwalks and paved roads which take you through the area's different habitats. While on the trail, find local wildlife like Bald Eagles, alligators, otters, armadillos, and the occasional snake or squirrel.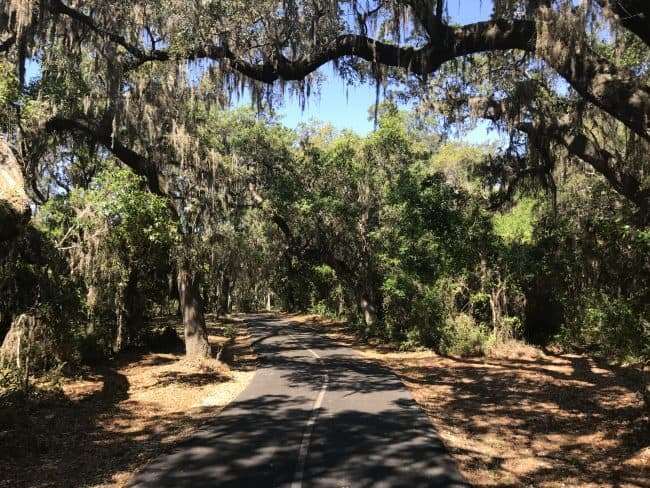 I took a guided Segway Tour with Coastal Segway Adventures to explore the Backcountry Trail. It was a lot of fun!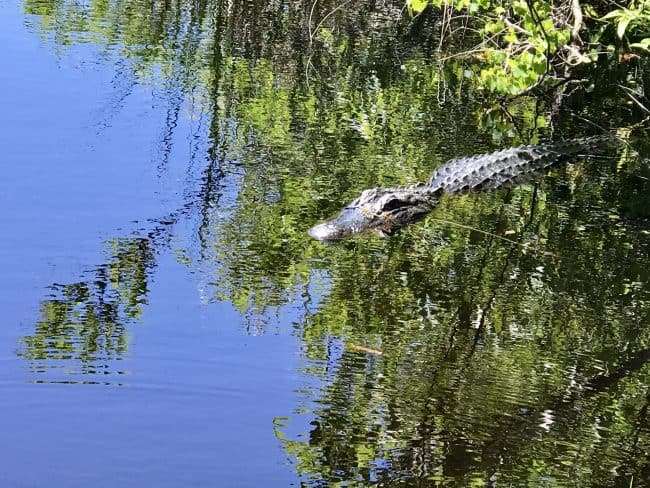 Everyone will want to stop off and see "Lefty" the alligator who has been a park resident for years. She can often be found with hatchlings nearby and make the cutest noises.
Stand Up Paddleboarding
For some afternoon fun, head out on the water for some stand up paddleboarding (SUP). You get a unique view from the water and it's peaceful to paddle along. The team at Gulf Shores & Orange Beach Tourism set me and a team of other travel writers to go out with Gulf Coast Paddle Company. They met us on the Intracoastal Waterway (ICW) and we all went out for a 90 minute trip.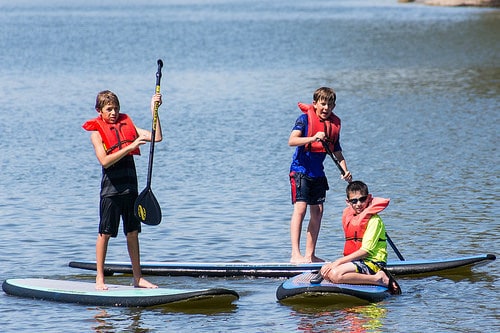 If you're confident in your child's abilities to man their own paddleboard, kids as young as 5 or 6 years old can paddle on flat-water. For paddling in the gulf, I'd recommend children be a little older (9 or 10) or well skilled with wave and currents. Here are a few tips for stand up paddleboarding with kids.
Day 3: Deep Sea Fishing and Craft Time
Just imagine the fish tales you and your family could tell about catching "The Big One". Choose from one of the many charter boats in the area for a half day or full day fishing trip. Charters will take you out, provide all the gear you need, and help you hook fish you'll tell friends and family for years to come.
When I went you out in early May, you couldn't of asked for a more beautiful day. The water was calm and the sky was clear. A group of us went out with Ocean Ox Charters. Captain Jimmy and his crew grew up on the water and took us out to where the fish were. They took care of setting the lines, hook removable from our fish, and cleaning the fish once back on shore.
It was thrilling to reel in fish. It's amazing at how much of a fight even the smallest of fish can put up. I caught and was able to keep a good size Mahi-Mahi that became lunch later that day. Other ladies in my group caught Red Snapper, Amber Jack, and others.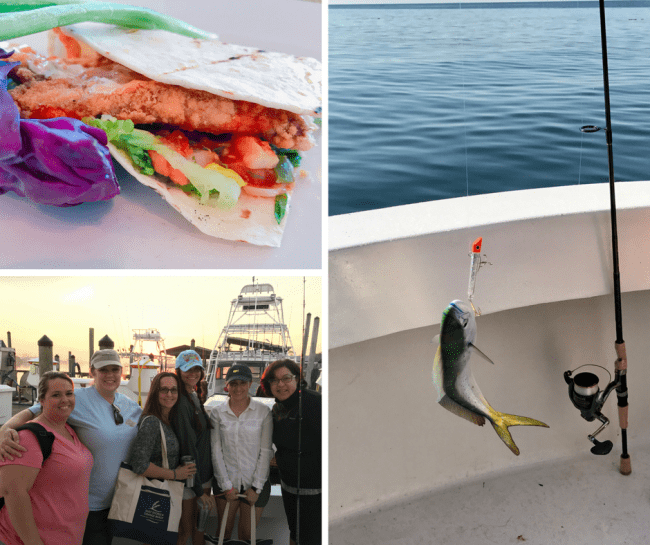 After your fishing trip, head to one of the "Hook 'n Cook" Restaurants that will cook up your catch. Shipp's Harbor Grill is where we chose to go and they created delicious fish tacos with the Mahi-Mahi I caught.
The Clay Studio at The Coastal Arts Center of Orange Beach
After the long day on the water, it's nice to do something a little more low key and relaxing. The family will love the chance to get creative and paint pottery together. The Clay Studio is a working studio with an in-house artisan.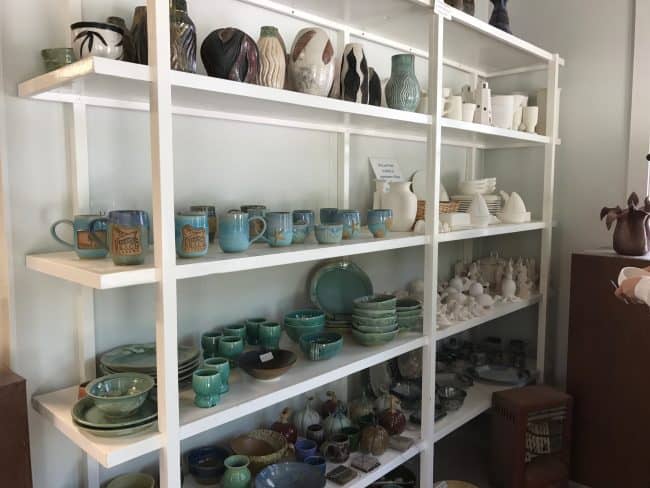 Visitors can paint pre-made clay pieces like bowls, statues, piggy banks, etc. or they can schedule a class or time on one of the pottery wheels.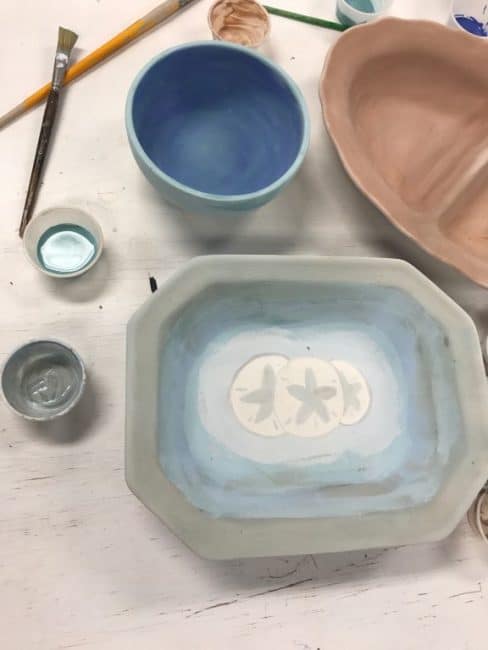 The Hot Shop at The Coastal Arts Center of Orange Beach
The arts center also houses a glass blowing shop called The Hot Shop, gift shop, and beautiful event space. The Hot Shop is a glass shop where you and stop in for a class on glass blowing. This glass ornament shown below is just one of the many things made there. Call ahead or visit them online to see if they are offering any classes or workshops doing your time in Gulf Beach. It's a new experience and one that will leave you with a souvenir you made yourself.
Other Fun Things to Do in Gulf Shores
Fort Morgan is a National Historic Landmark and was significant during the Civil War's Battle of Mobile Bay. Located just west of Gulf Shores on Mobile Point, the fort is a great stop for families to tour and learn about the site. During the summer months, sign up for one of the guided daily tours given by a historian dressed in period attire.
Bon Secour National Wildlife Refuge is French for "safe harbor". It's located between Gulf Shores and Fort Morgan. A visit to the refuge provides guests the opportunity to see area habitats and area wildlife like the Alabama beach mouse. You can venture down one of the four refuge trails to explore. Be sure to checkout a free Nature Discovery Pack at the refuge office to use during your time in the refuge.
More Beach Time – Just in case you need more Vitamin Sea, head back to the beach.
Where to Stay in Gulf Shores/Orange Beach
85% of the island's lodging options are condos and beach houses. But there are also hotels, motels, and resorts.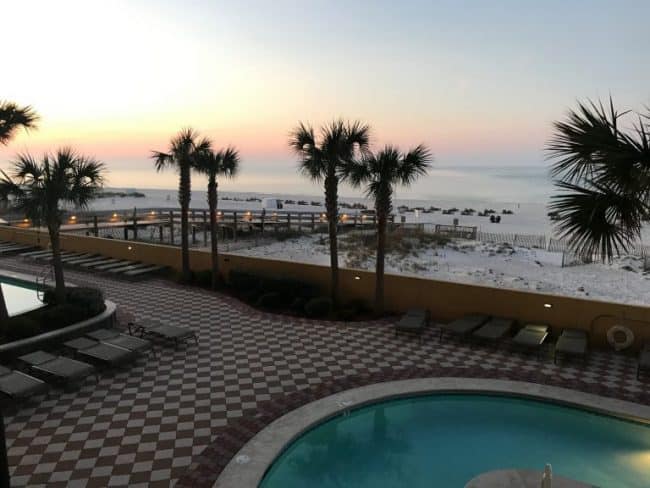 During my recent stay, I had a 2 bedroom condo at Phoenix West II. This is one of the 22 Phoenix buildings managed by the team at Bret Robinson Management. They manage over 1700 units in the area and are sure to have a property/unit that would meet your needs.
Phoenix West II Condo
Staying in a condo has great benefits for a family. You have more space to stretch out as compared to a standard hotel room.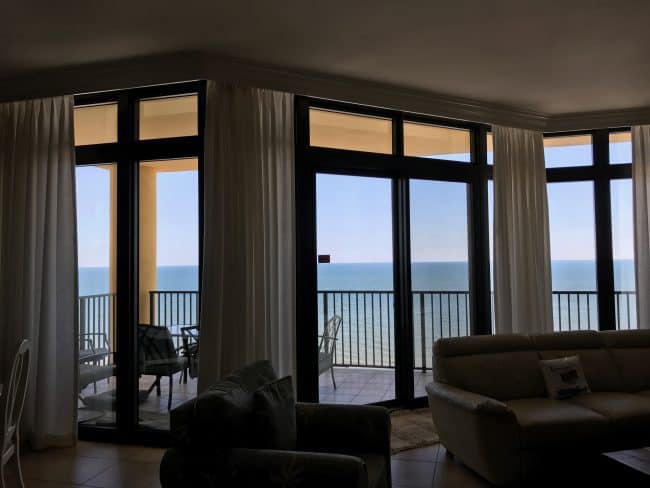 Plus with a full kitchen, you can cook meals in your unit and create healthier meals. This property included an indoor swimming pool, outdoor lazy river, splash pad, and BBQ area for outdoor grilling.
Where to Eat in Gulf Shores/Orange Beach
Gulf Shores and Orange Beach has some great local restaurants to try when you are here. You can enjoy everything from casual family, Hook N Cook, quick and healthy, upscale, and more. Many feature fresh local produce and seafood caught right out of the Gulf.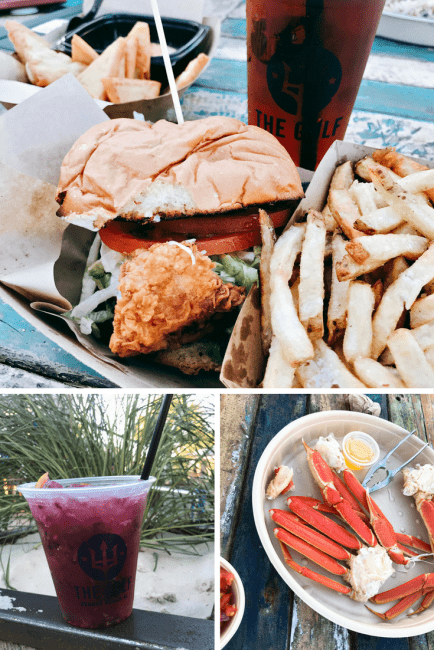 Here are the restaurants I visited when I was in town.
The Gulf
The Southern Grind
Anchor Bar & Grill
Fisher's at Orange Beach Marina
Bill's by the Beach
Read more about these Gulf Shores Restaurants and see the dishes you want to order and those I'd come back to the area to enjoy again.
If you need any help, the team at Gulf Shores & Orange Beach Tourism is fantastic and will help make your next vacation here the start of a yearly tradition.
Disclosure: I attended a TBEX Post Fam trip with Gulf Shores and Orange Beach Tourism. I received complimentary lodging, meals, and activities during my visit. All opinions are my own.