In a day and age filled with iPhone apps and video games, we're always looking for ways to get our kids to go outside and play. Introducing the little ones to stand up paddle boarding (SUP) gets their foot in the door of a healthy activity that the whole family will enjoy. While you're paddling, your child's arms, legs, and core will be hard at work while being disguised as having fun.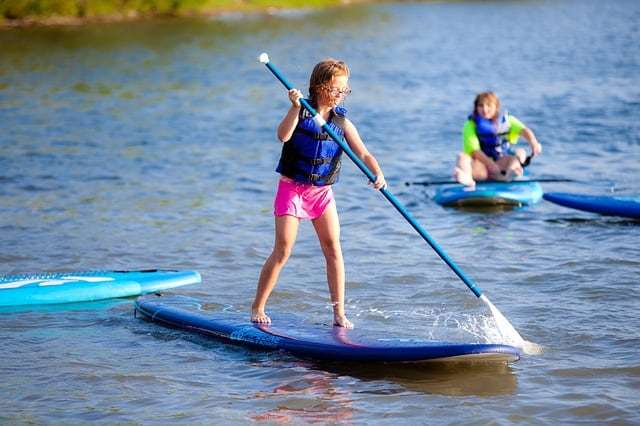 Safety first: Life jacket and SUP leash
Anytime you're dealing with water you need to think safety first. The most important thing you can do for your child is make them wear a personal flotation device (PFD) at all times. One of the most often overlooked pieces of safety equipment is the SUP leash. Make sure to strap your kid in. This keeps the current from separating your child from their board.
Disclosure: This blog contains affiliate links. They help pay for the coffee that keeps us turning out adventures week after week. I'll only recommend and share products that I use and love myself. Thanks!
Connelly Youth Nylon Vest, 24

Connelly Child Neoprene Vest, 20-25

Connelly Babysafe Nylon Vest,Up To 30Lbs, Girl

Connelly Youth Neoprene Vest, 24

Make sure the equipment is the right fit
Paddle boards are not one size fits all. You need to get the right size equipment for your kid if you want them to maximize on the fun. Finding kid-sized equipment used to be a challenge. But due to the soaring popularity of paddle boarding, you won't have a hard time finding a paddle and SUP that fits your child perfectly. If you just want to test the waters, call your local SUP rental shops to see if they offer kid-sized gear.
Wavestorm Taquito 7′ Junior Stand Up Paddle Board Bundle

Lifetime Hooligan Stand Up Paddleboard with Paddle, 8′, White Granite

Sportstuff 1030 Adventure Stand Up Paddleboard With Accessories

Airhead AHSUP-P5 Youth Aluminum Paddleboard (3 Piece)

Connelly 2016 Classic Paddle Board with Paddle, 9'9" x 31"/155L

Teach them proper stroke, steering, and how to get back on the board
Once you have a check mark next to safety and equipment, you can begin to teach your kid some of the techniques used to paddle.
To prevent unwanted falls into the water, while your kid is learning to paddle have them practice on their knees. Kneeling gives them better balance and helps prevent developing bad paddling habits.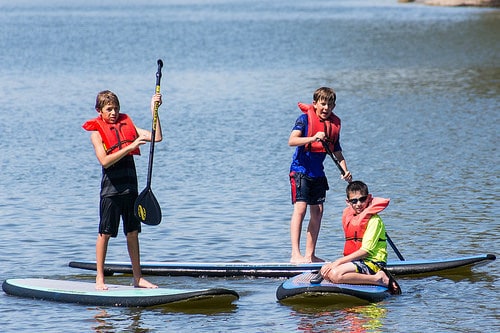 The key to paddling is making sure every stroke is done with your kid's top hand on the paddle and the blade facing forward. Have your kid hold the paddle with their lower hand just low enough to have leverage for an efficient stroke. Let them know to paddle by rotating their torso, not by using their arms.
After they've paddled around for a little bit on their knees, have them start to stand. And then comes the fun part. You need to teach them how to get back on their paddle board. Take this opportunity to show them that it's okay to fall in the water.
Location is important: Teach them in calm waters
You need to give your kid the best chance to succeed. If the waters are too choppy, your kid might get discouraged. Take them out on a calm non-windy day to mellow waters where they can work on the basics. Ideally, you'd like to find a spot where the waters won't be too crowded, and there aren't any boats.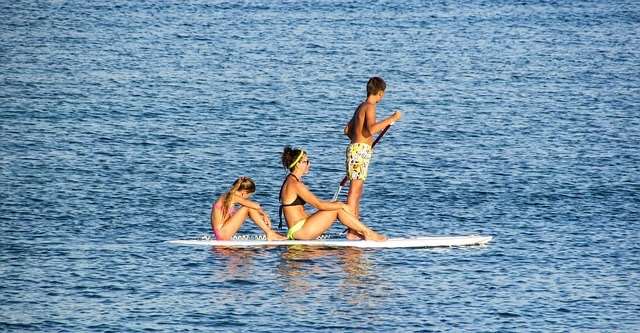 They need confidence, and you need patience
Like with any new skill, your child needs to build up confidence. Be sure to encourage them and let them know how great they're doing. And if they are struggling, offer to let them ride on your board with you. Riding with you lets them focus on just balancing and gives you a chance to coach them up close. The key thing to remember when teaching your kid to paddle board is, like with anything it's going to take time. So be patient, have fun, and stay adventurous!
Let Me Introduce Today's Guest Writer –
Tony is a river rat, father, and sports fanatic. If you can't find him on the water, you'll find him on his couch yelling over play calling. For more, you can follow him on Twitter.