Walt Disney World is a magical destination for everyone, young and old. It is one of my favorite travel destinations. In the last 6 years, I've vacationed at Disney 6 different times. I would go more often, but I don't think my husband or my wallet would like that. You could say I'm a bit of a Disney fanatic fan. I love that it's a different experience every time I go.
Planning a Disney World Trip with Kids
The first time I went to Walt Disney World, my youngest son was just 6 months old. I don't think there is an age that is TOO young. When traveling with infants, Disney is just like any other travel destination. There may be others that disagree, but I feel it's just a different experience. Today, I'm going to be talking about traveling to Disney with young children ages 1-6. Here are a few tips that I found helpful and highly recommend.
Get to Know Disney Characters
For young children, it's a good idea to familiarize them with the Disney characters. There's nothing like the first day of your long-awaited trip to have your toddler screaming at the sight of a giant mouse in costume. Movies and cartoons are a great way to introduce Disney characters and get kids comfortable with them.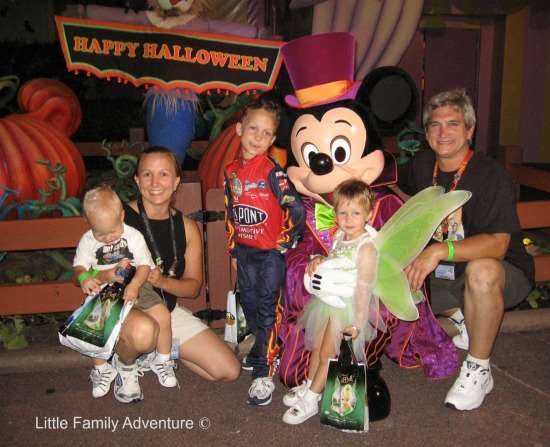 You will need a stroller.
Trust me! I have taken a stroller on every trip until my youngest child was 5. With young children, there is a lot of stuff that you bring along and that will require a diaper big or backpack. Walking around all day with that my your back or shoulder will really weigh you down. The stroller is just as much for you as it is for your little one(s). Make sure it's a comfortable stroller. More than likely he or she will be napping in that stroller during your trip. If it doesn't have good ventilation, consider getting a small fan or mister to keep cool. Florida heat and humidity can make anyone cranky. I recommend a lightweight stroller that is easy to fold up and carry with at least 1 compartment underneath. My younger two children at only 19 months apart and I bought a Peg Perego stroller, shown below, that was awesome on trips. Also, do you see that brightly colored thing in the middle of the push bar? That made my stroller easier to find in the sea of strollers. Bring something to help you find your stroller in stroller parking. Bright fabric, a balloon (except when going to Animal Kingdom because balloons aren't allowed), clip on animal, etc. It can help you save time and frustration when trying to locate your stroller.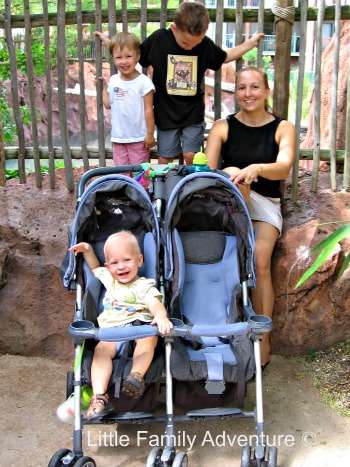 Related: Are you a Florida Resident? Learn How to Get the Disney Florida Resident 3 day $99 Pass
Start Walking Now.
Build up your walking stamina well before your trip. Disney = LOTS of walking. Your little guy or girl won't be able to walk all day. Disney is a marathon and so be prepared by walking and getting active before your trip. Push your child in his/her stroller around the neighborhood, the mall, etc.

Plan your vacation.
Request a Walt Disney World Planning Guide and see what they have to offer. Understand the height requirements for rides and find rides and attractions that you think your family will like. I'm a planner and LOVE to plan/map things out. I recommend planning what days you'll be in what parks. what dining reservations you'll want to make, your break days, etc. All sit down restaurants at Disney take reservations and if you want to eat there, MAKE reservations. Most start taking them 180 days in advance.
Consider staying on property.
Disney transportation makes traveling with young children easy. Every resort has its own transportation to and from the parks. It is reliable and convenient. There are Disney resorts in all price ranges to fit your budget. Our first trip, we stayed off property. It made travel logistics unpleasant. By the time you left the park and walked or took a tram to your car, you had to drive in traffic all the way back to the hotel. Everyone was cranky, including the adults. It just made for an unpleasant experience. Now we stay on property and LOVE it.
Be Prepared for Traveling.
Whether you're flying or driving, be sure to bring new an/or favorite toys and activities to keep kids busy. There is nothing worse than an excited child that is bored. My kids received a new coloring/activity book, colored pencils or washable markers, a new car or small toy during every trip. It doesn't have to be big, just something to keep them occupied during travel. If you are flying, remember to bring something to help equalize your ears during take off and landing. As the plane rises/descends, pressure changes inside the cabin. Little ears don't always pop and it results in pain. A pacifier for really little ones and a small snack or candy will work for other children.
Inside Disney Parks with Young Children
Arrive before park opening.
We plan to leave the resort 1 hour prior to park opening. Parks typically open prior to the official time by 10-15 minutes. First thing in the morning, you can experience so much more without the crowds. There's nothing like walking on Dumbo and riding it twice first thing in the morning. Later in the day, the line will be ridiculously long.
Follow your child's lead.
There is a special pleasure in experiencing Disney through your child's eyes. Just remember that you can't do everything at Disney in one trip. Focus on rides and attractions that they will enjoy. In the Magic Kingdom, there are It's A Small World, Peter Pan, Dumbo, The Adventures of Winnie the Pooh, Voyage of the Little Mermaid, the Carousel, and more. At EPCOT, there is Finding Nemo, interactive exhibits at Innovations, The Living Seas, the boat rides in the Mexican and Norwegian pavilions, and more. In Animal Kingdom, there is plenty of animals to see and interactive exhibits from the Boneyard to the Triceratops Spin.
Use Disney's Child Swap Service.
If you want to experience more thrilling rides, take advantage of the Child Swap that is available at select attractions. Guests take turns waiting with children too young or too small to ride a certain ride, then "switch" with another adult Guest from their party to experience the ride without standing in line twice. See a Cast Member at the attraction for additional information.
Be Ready for Waiting in Line.
You will be waiting in line for rides and attractions during your vacation. Children and adults can get cranky just waiting around. Stop tantrums with "busy" activities. My kids loved bubbles and stickers while they were waiting in line.These are easy things to pick up at the dollar store before leaving on vacation.I bought the packages of wedding bubbles, small 1-2 ounce tubes. They were light to carry and just enough to not make a mess when spilled. An autograph book is another great idea. You and your child(ren) can get signatures from characters and cast members, plus doodle and draw waiting in line. Be sure to bring both a large sharpie marker for costumed characters like Mickey Mouse to hold and a washable marker or pen for your child to draw with.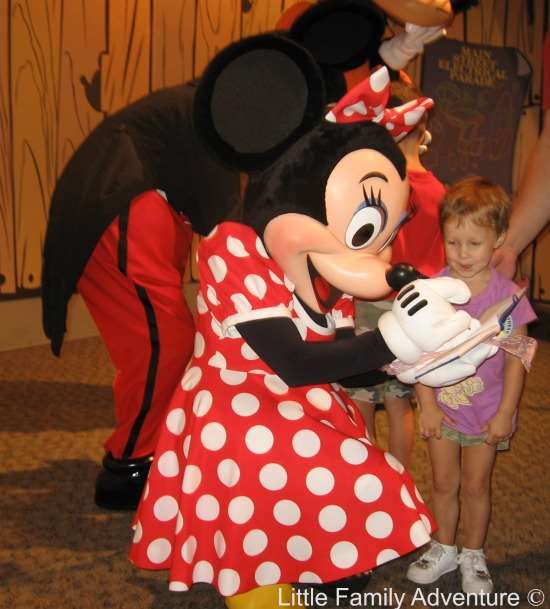 Take a break after lunch.
Even now that my children are older, we take a break every day we're in the park. We will head back to the pool or hotel room to rest for a few hours, then return to the parks later that evening. For small children, it's important to take a break from all the sights and sounds of Disney. A nap or dip in the pool is a great way to relax too. We usually go to Disney in late September when you can expect a daily afternoon rain shower. An afternoon break also helps us stay dry, most of the time, and helps to find relief from the Florida humidity and heat.
Take time to visit with the characters.
Character Meet and Greets at Disney with young children is my favorite part of the trip. Their first experience with costumed characters and face characters can be so amazing!
There are plenty of opportunities to meet characters in the parks. Check your Times Guide and Park Map for Meet and Greet locations. You can also meet characters while dining at one of the various character meals. The picture above is my youngest son when he was 18 months old. He was mesmerized by Tigger during the Character breakfast at 1900 Park Fare. Luckily, we had a late reservation and the restaurant was nearly empty. Tigger was able to stay and "play" with him for 20 minutes. That's not common, but it made for terrific memories. Some of my favorites are the Character Breakfast and Dinner at 1900 Park Fare at the Grand Floridian Resort, Princess Storybook Dining at Akerhaus Royal Hall in EPCOT, and Donald's Dining Safari at the Tusker House restaurant in Animal Kingdom. There are others, but those are our favorites. Just note that all character meals require reservations, so book them early.
Eat at off-peak times.
A great dining tip is to eat at off-peak times. I like character meals during breakfast. They are less expensive. I schedule as late in the morning as I can (10 or 10:30), so it's more of a brunch and the crowds are lighter. If you have a picky eater or just want to know what restaurants are serving, you can find the menus online. Allears is a great Disney travel planning site that includes current menus and more.
Know where to find the Baby Care Centers.
Each park has one near the entrance. It's a quiet place to change diapers, feed your baby, or just get away from everything for a little while. Here you can also find diapers, wipes, baby food for sale if you run out.
Remember to HAVE FUN.
It is Disney after all. Enjoy the time with your family and take lots of pictures.
Have you been to Disney? Any tips you want to share?
If you're planning a trip to Disney with young children and have questions, please ask. I'm ALWAYS happy to talk about Disney.