I recently stayed at the Lindley House Garden Cottages Bed & Breakfast. It was part of a sponsored trip to Duncan on behalf of Chickasaw Country to visit south-central Oklahoma with the family.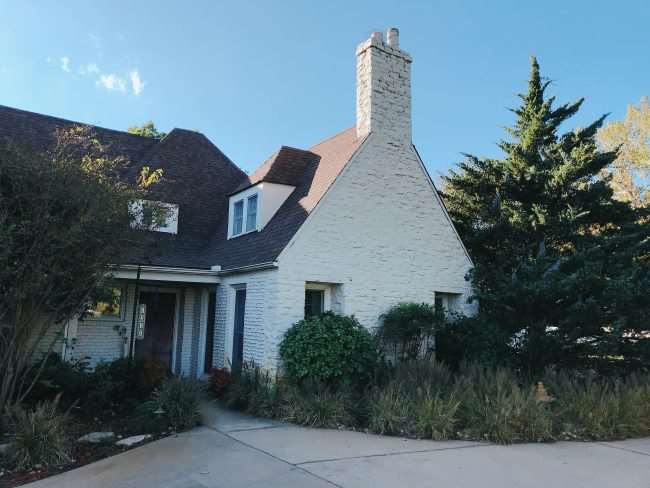 When you think of a bed and breakfast, you may automatically think of a couples retreat. But B&B's like Lindley House Garden Cottages Bed & Breakfast in Duncan, Oklahoma can be a fun family getaway. The owners of this B&B, Cecil and Debbie, want every guest to come, relax, and enjoy their visit. Regardless of age, they do just that with comfortable rooms, a host of amenities, and a delicious breakfast.
After our busy summer travel schedule, our family was looking for a weekend getaway in Oklahoma that was close to home. Duncan, Oklahoma is a great place to visit and makes an ideal spot to get away. It's only 1.5 hours from Oklahoma City and 2.5 hours from Fort Worth, Texas. It's right in the heart of the historic Chisholm Trail and offers a variety of events, museums, shopping, and local restaurants.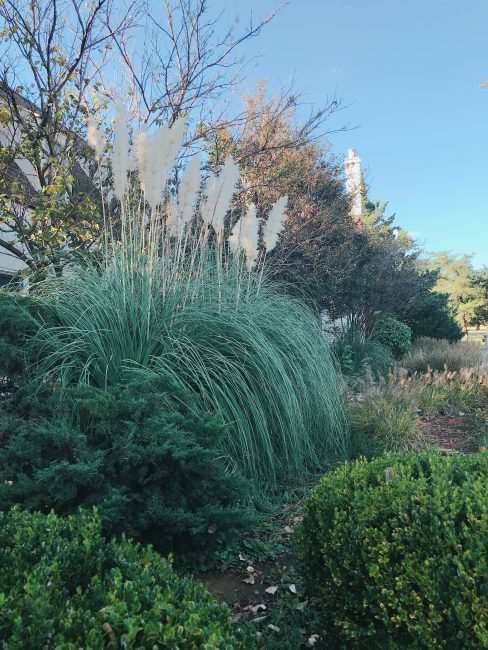 Lindley House is located on NW 10th Street in Duncan. It's just down the street from the Duncan Golf and Tennis Club. It is convenient to local museums like the Chisholm Trail Heritage Center, area golf courses, and area shops.
Rooms
This bed and breakfast offer both traditional rooms and individual cottages.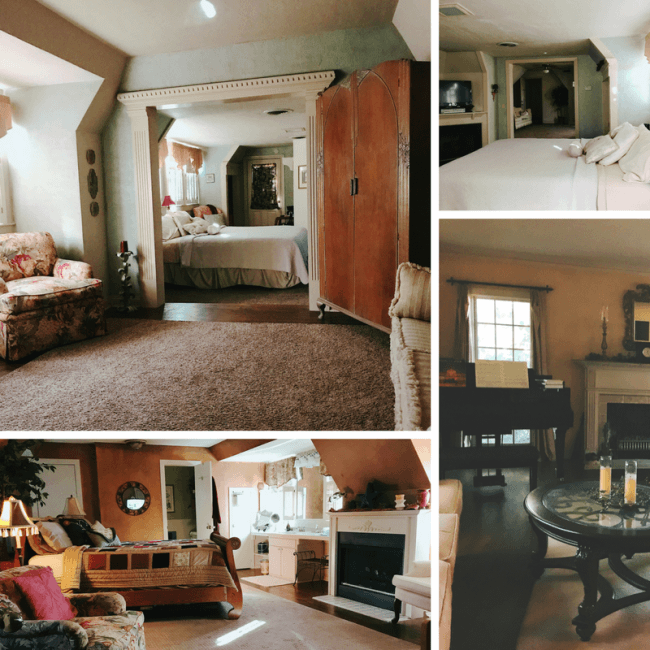 The main house has 2 rooms and 2 suites available. On the property, adjacent to the main house, there are three individual cottages. Each room and cottage is unique and decor ranges from romantic to western.
Room/cottage rates range between $79-$189 a night and includes a gourmet breakfast delivered to your room or served in the dining room.
Executive Suite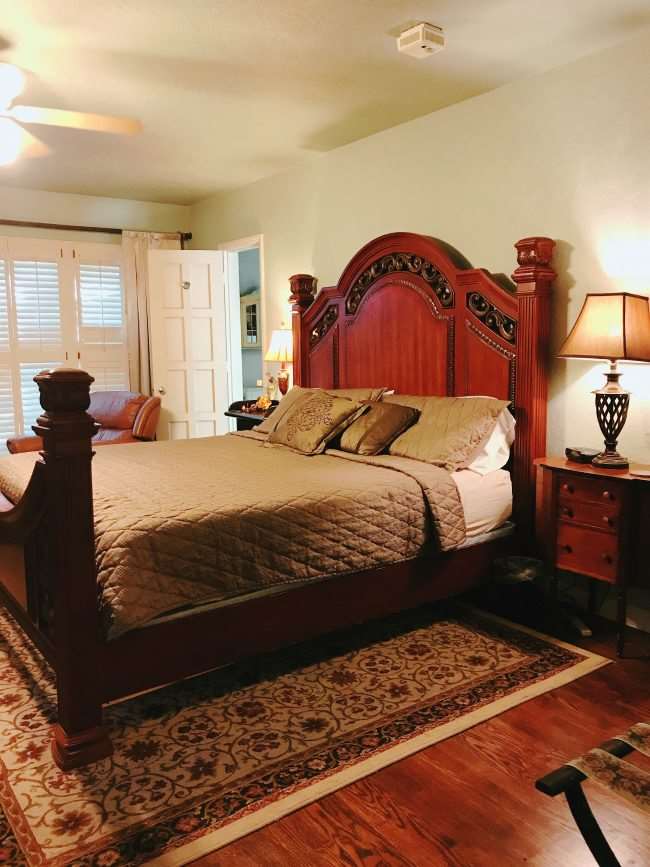 We stayed in the Executive Suite which was once the home's original master bedroom. The suite features a large bedroom with a gas fireplace and king sized bed, separate study, full bath with a garden tub, and living room. The living room has a sofa, flat screen TV, mini fridge, and daybed with 2 twin beds. The suite is ideal for families because it will sleep 4-5 people comfortably.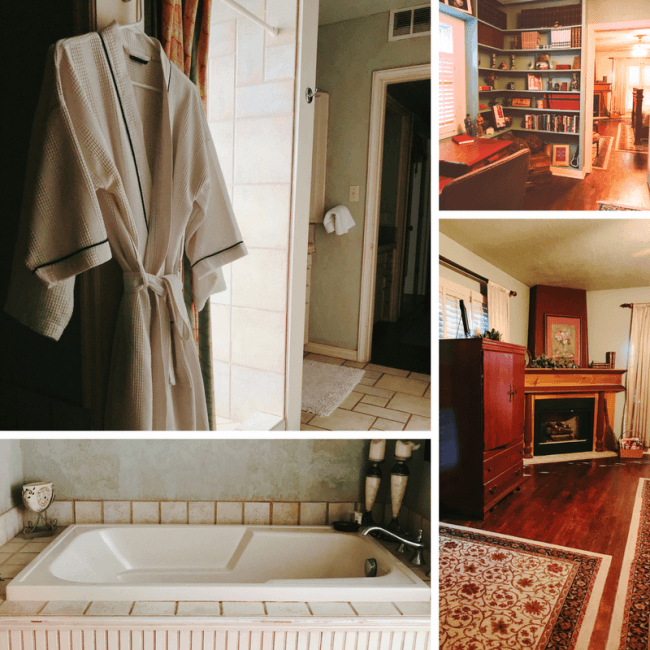 The Executive Suite has traditional decor with modern updates. The king bed and daybed were very comfortable and provided a great night sleep. Our kids slept in the suite's separate living room on the daybed (2 twin beds) and sofa. This area was separated from the master bedroom by the bathroom. So there was a nice separation of space and provided us adults with some extra quiet time.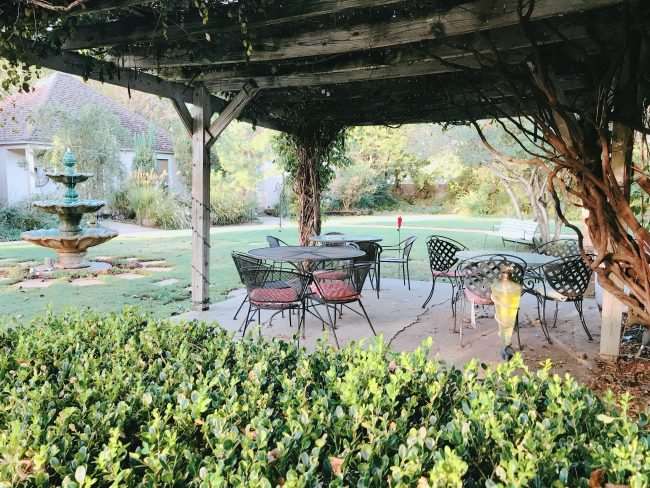 The suite has 3 entrances, two through the main house and an exterior door that leads into the gardens. The gardens are beautifully landscaped and offer a quiet spot to relax.
Amenities
For the family there are several amenities for you to enjoy. Each room has a DVD player and the movie cabinet houses hundreds of movies. You can find anything from children's cartoons to suspenseful thrillers.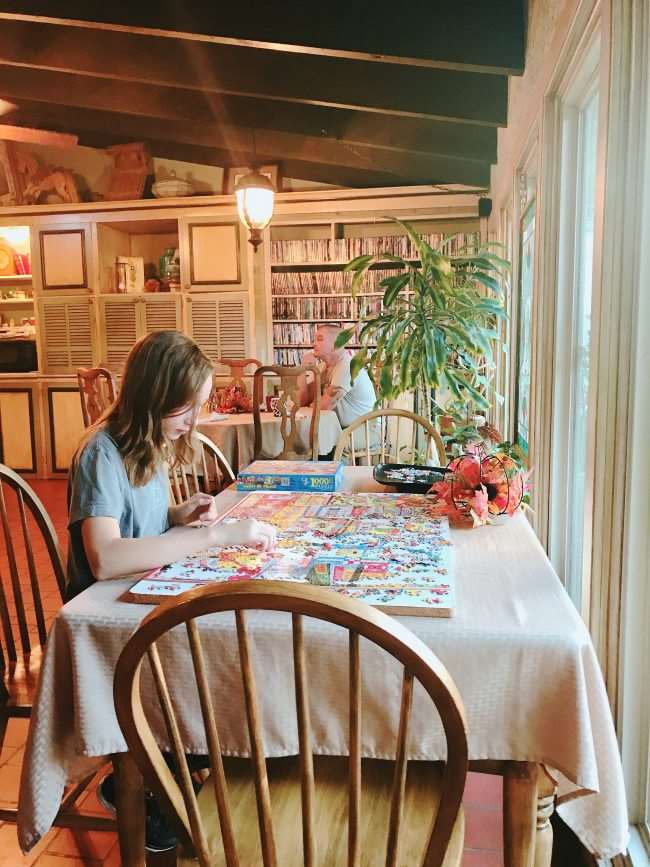 In the common area, owners Cecil and Debbie have provided a variety of games and puzzles for guests. The area also has a snack and beverage table set up for guests. You can grab a cup of coffee, snack bar, or piece of fresh fruit during the day.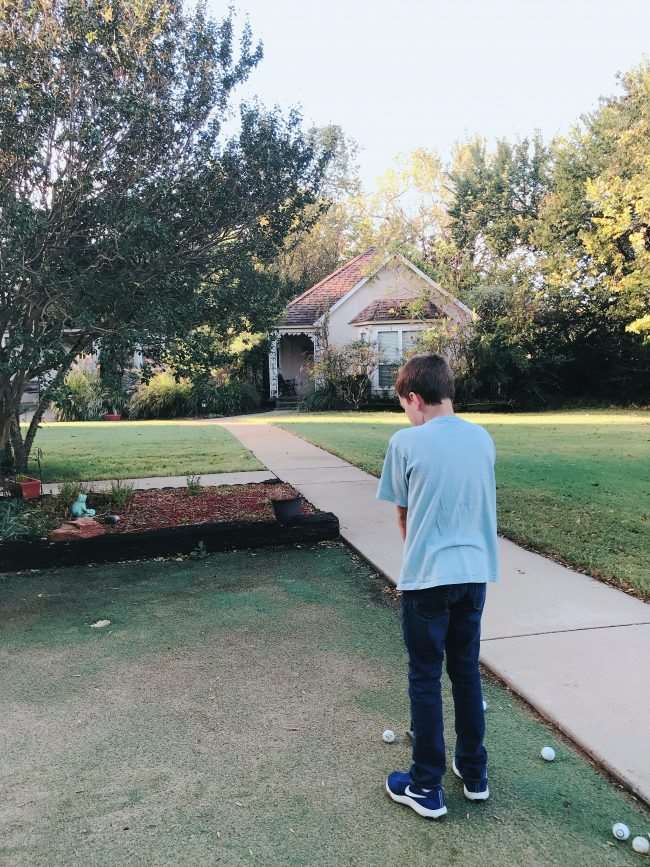 The kids loved the on-site putting green. We all took turns sinking our putts. An exterior light allowed us to play after dark which was really nice.
Best Part of a Bed & Breakfast – Breakfast
My favorite part of a bed and breakfast stay is the breakfast. Each morning they cook up a delicious breakfast to help guests start their day.
Guests have the option to dine in their room or be served in the house's common room/dining area. Since we have 5 people in our family, we opted to eat in the common room.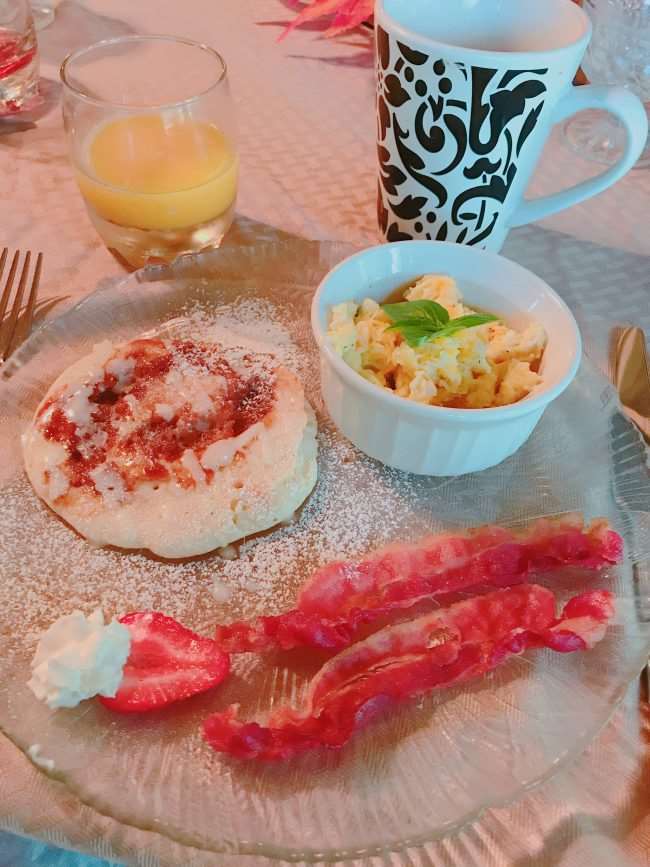 On our visit we were served, Cinnamon Roll Pancakes, fruit salad, scrambled eggs, and bacon. The pancakes had a swirl of cinnamon glaze and were finished with a cream cheese glaze. They were really good! I got the pancake recipe and look forward to sharing that with you soon. Of course, there was also bottomless coffee and juice for everyone at the table.
Owners, Cecil and Debbie are very attentive to their guests and make sure that they have everything they need. On our visit, there wasn't anything we needed because they took care of it all.
When you need a place to stay in Duncan, Oklahoma, I highly recommend the Lindley House for you and your family. We had a great time and so will you. You'll find them at
Lindley House Garden Cottages
1211 North 10th St.
Duncan, OK 73533
Website
SaveSave