Throughout the year, the kids and I enjoy watching the hundreds of birds that visit our backyard. We have built several bird feeders together and a few hang from a large tree just outside my office window. This recycled plastic coffee can bird feeder and birdhouse is one of them. It is a fun and easy upcycled craft for kids. It uses a container you'd probably throw away. Instead I challenge you to repurpose your old plastic coffee cans and bring all the birds to your yard too!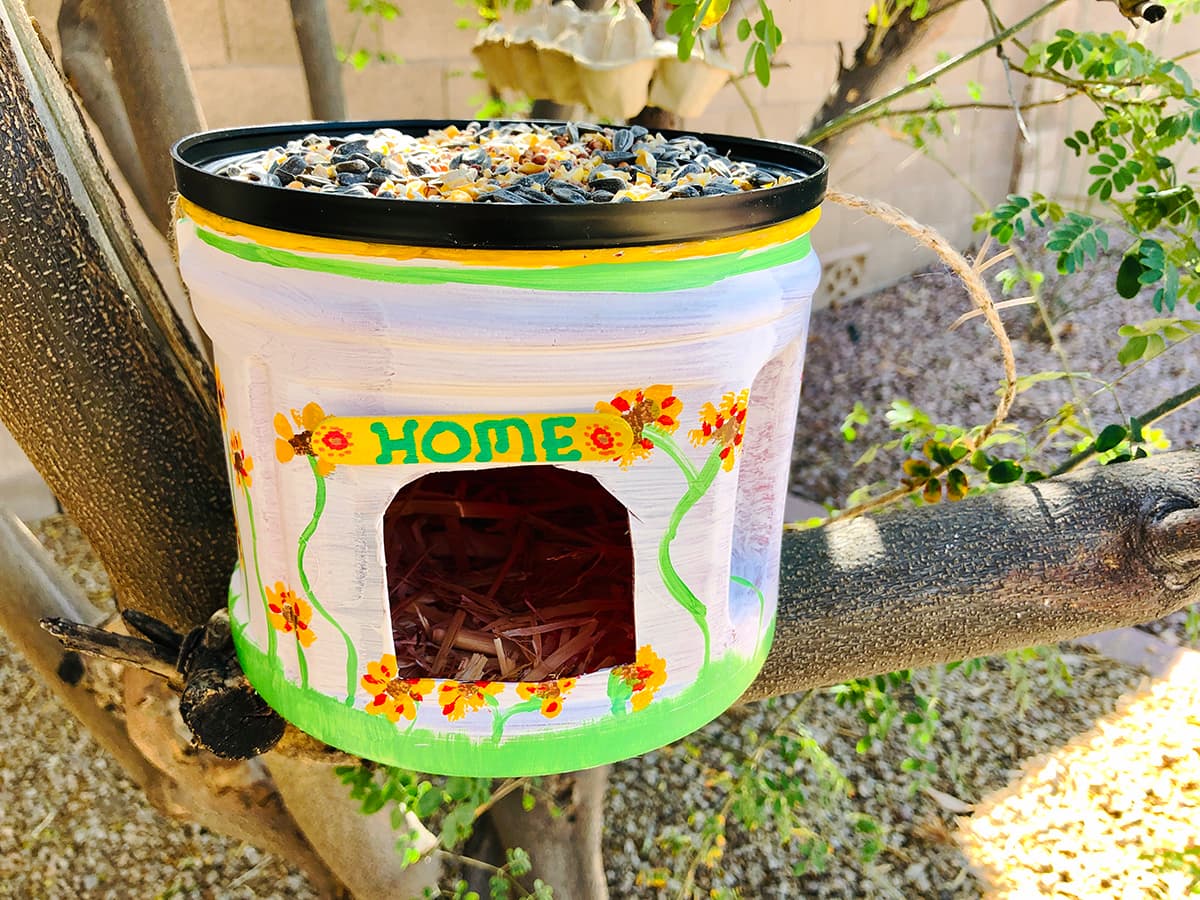 As I write this today, my front yard is flooded with Robins. In the backyard, a pair of Thrushes, that return every spring and fall, are busy building their nest. This plastic coffee can bird feeder serves two purposes – bird feeder and shelter from the elements. The plastic lid is glued in place and serves as a birdseed serving dish. The interior of the can has straw or other bedding material where birds can seek shelter or build their nests.
Pin This for Later…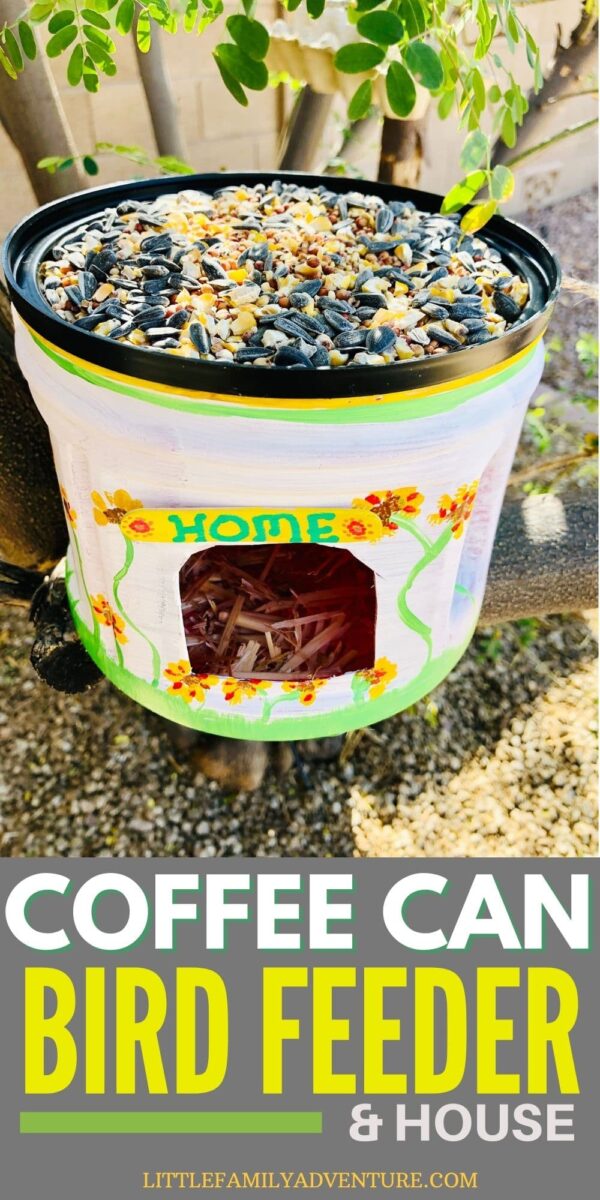 Be sure to check out these other homemade bird feeders: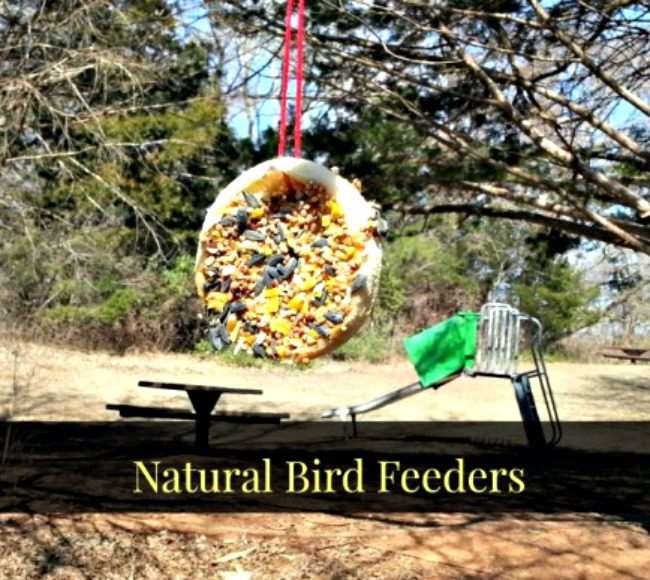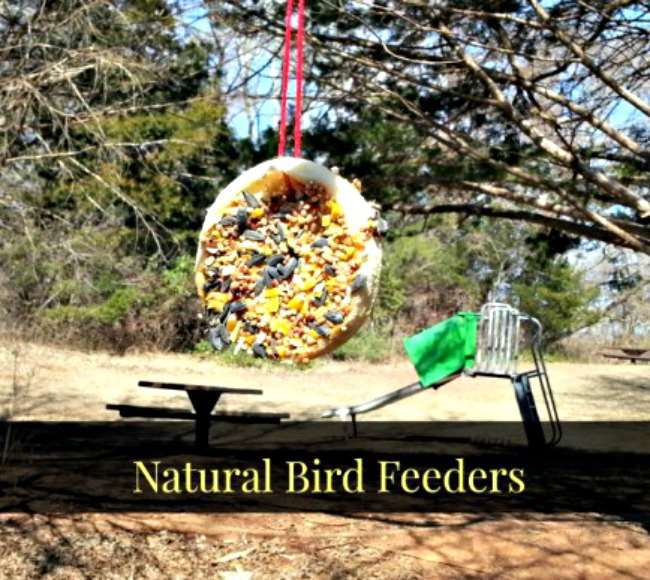 Easy Coffee Container Bird Feeder
One of the easiest bird feeders you can make is made from a plastic coffee container with a snap-on lid. I have seen some charming versions with metal coffee cans, but they can have sharp edges. Using plastic is easier and it can also provide a feeder but also a coffee container birdhouse inside.
The kids got creative with this and decided to paint this birdhouse with a garden design. If you want it easy and done, you can skip the paint. But I rather think it adds to the charm.
Here's what you'd need to build this coffee can bird feeder and house
Empty plastic coffee can – washed & dried
Paintbrushes ( I really like these I got from Amazon)
Permanent marker
Scissors, knife, or pointed utility knife
Natural nesting material – hay, moss, dry leaves
Birdseed ( I buy the Wagner Greatest Variety as it recommended for the birds I get most often and can be used on tray and tuber feeders)
Here's how to paint and assemble this coffee can bird paper
Using a permanent marker, draw out where you will cut the bird house opening. Note: Size of the hole will depend on the size and type of bird you want to nest here. In hindsight, the one shown is a bit big. In the future, I plan to cut a small hole, perhaps a 2 inch diameter hole, to keep the squirrels out and attract smaller birds.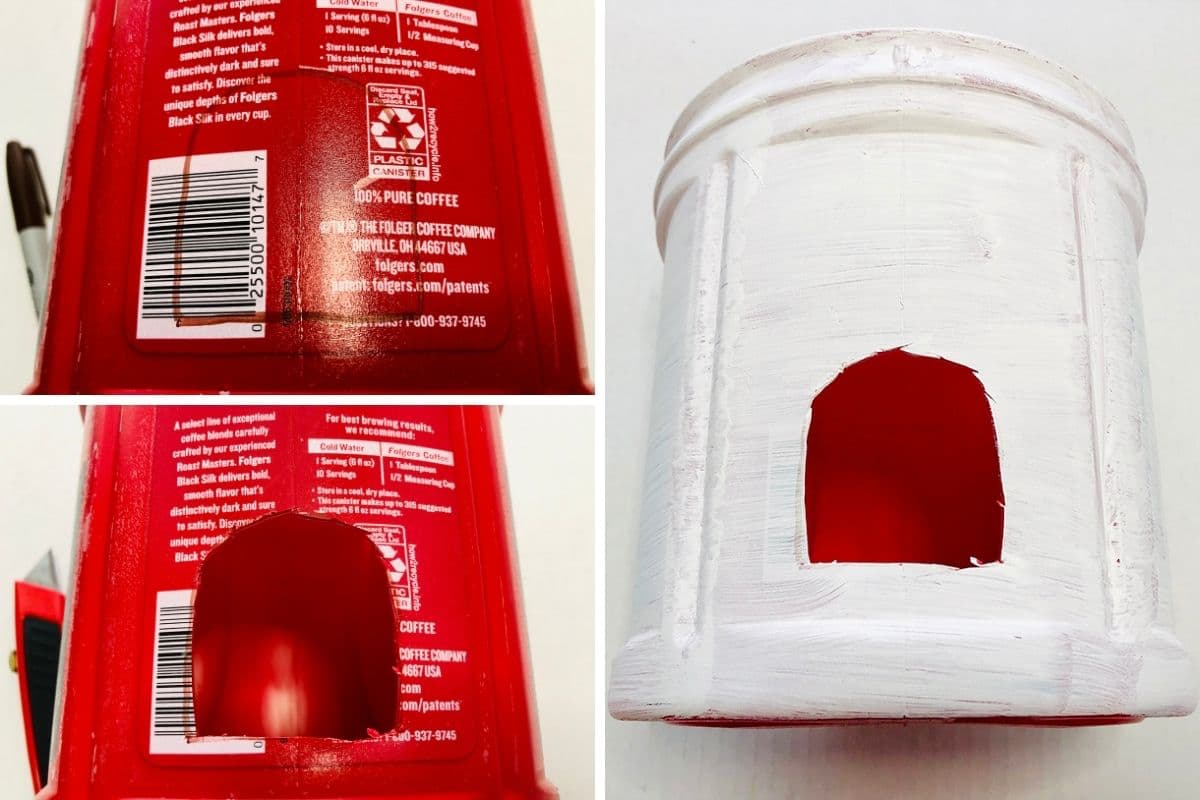 Paint the outside of the coffee can with a solid coat of white paint and allow it to dry completely. If the paint is a bit streaky, you can apply a second coat.
Paint a design onto your can in any design you like. Here's how I painted this little flower garden with grass at the bottom.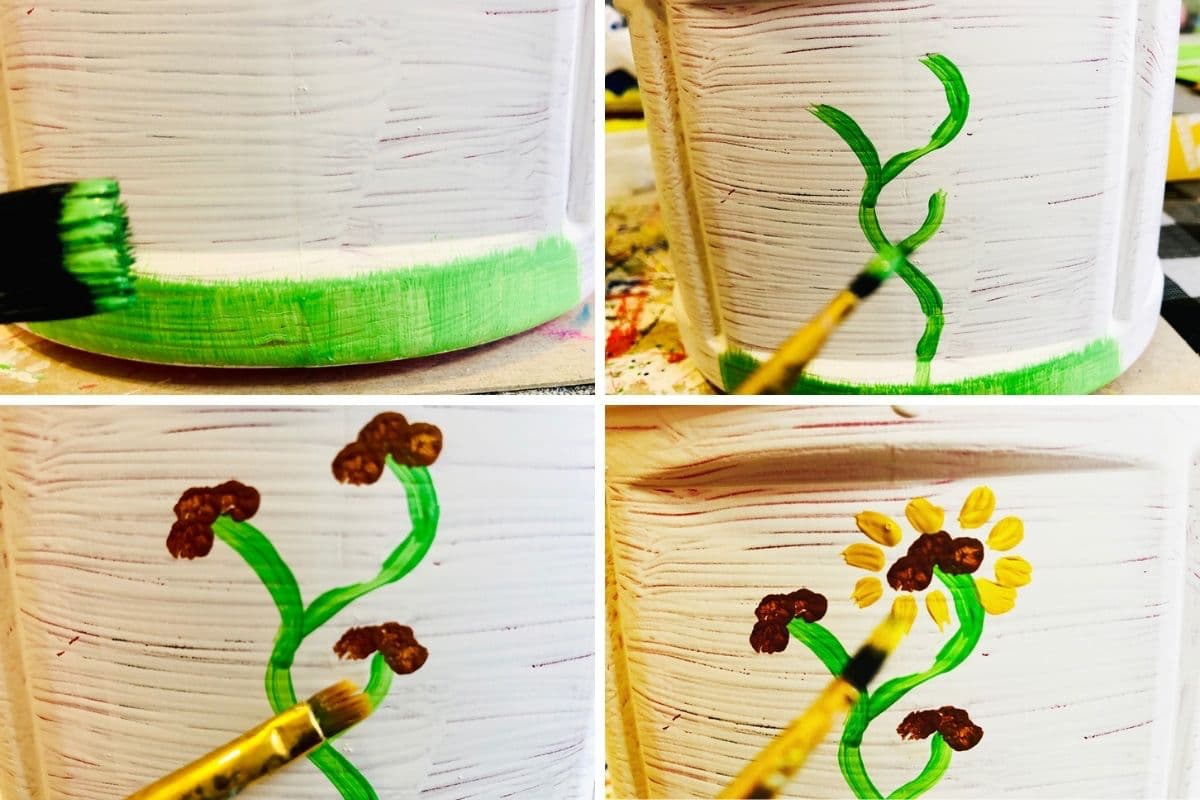 Paint a green horizontal line across the bottom. Then go back and make short vertical strokes to give the appearance of grass.
Paint a green branching squiggle for the flower stem.
Add three brown dots at the top of each green stem for flower center.
Paint yellow lines for petals around the brown flower heads.
Once paint is dry, I recommend spraying the outside with a waterproof sealant to prevent the paint from washing off in the rain.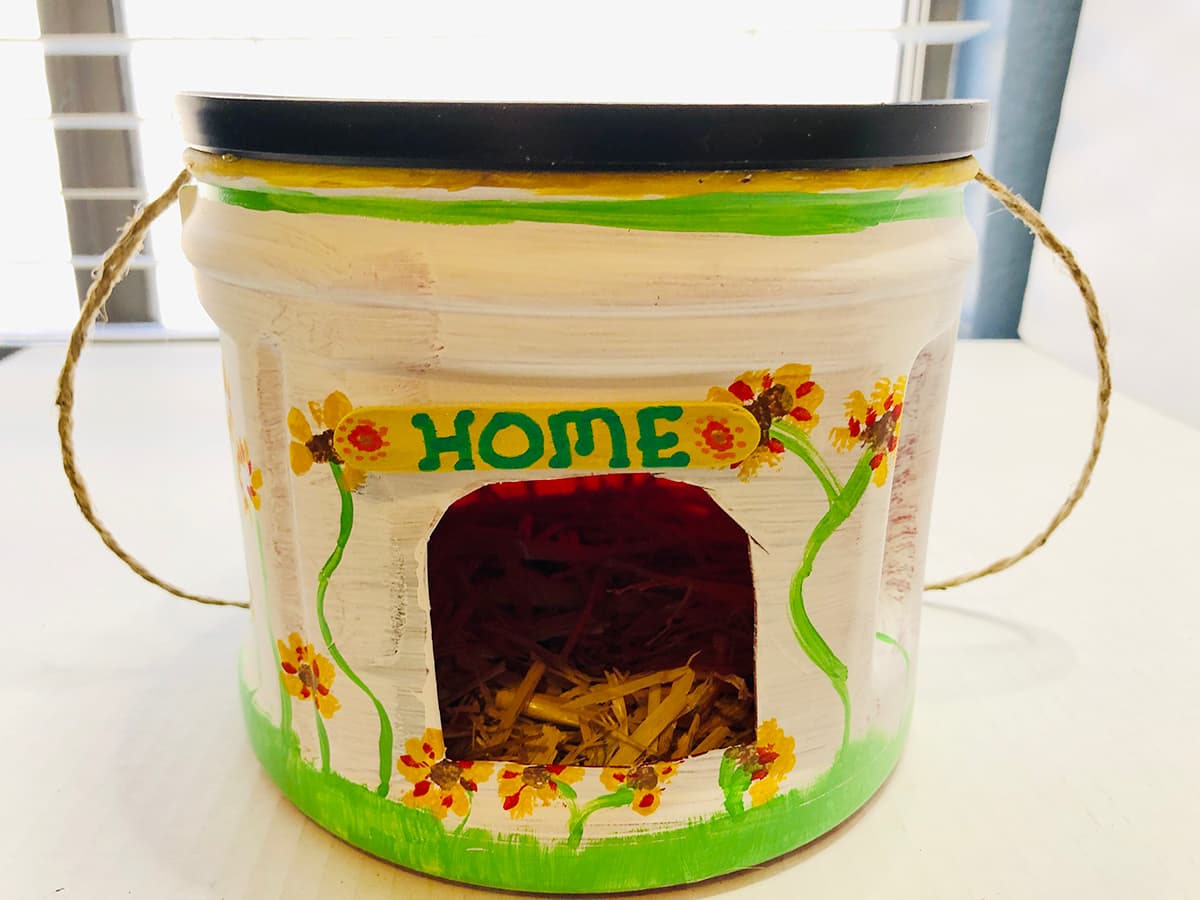 I added a "home" sign with a side craft stick affixed with hot glue. This is optional, but I think every home needs a doormat sign.
Next cut a long piece of jute cord for the hanger. I cut mine to be 48 inches long so that my feeder would hang down about 2 ft from the tree branch.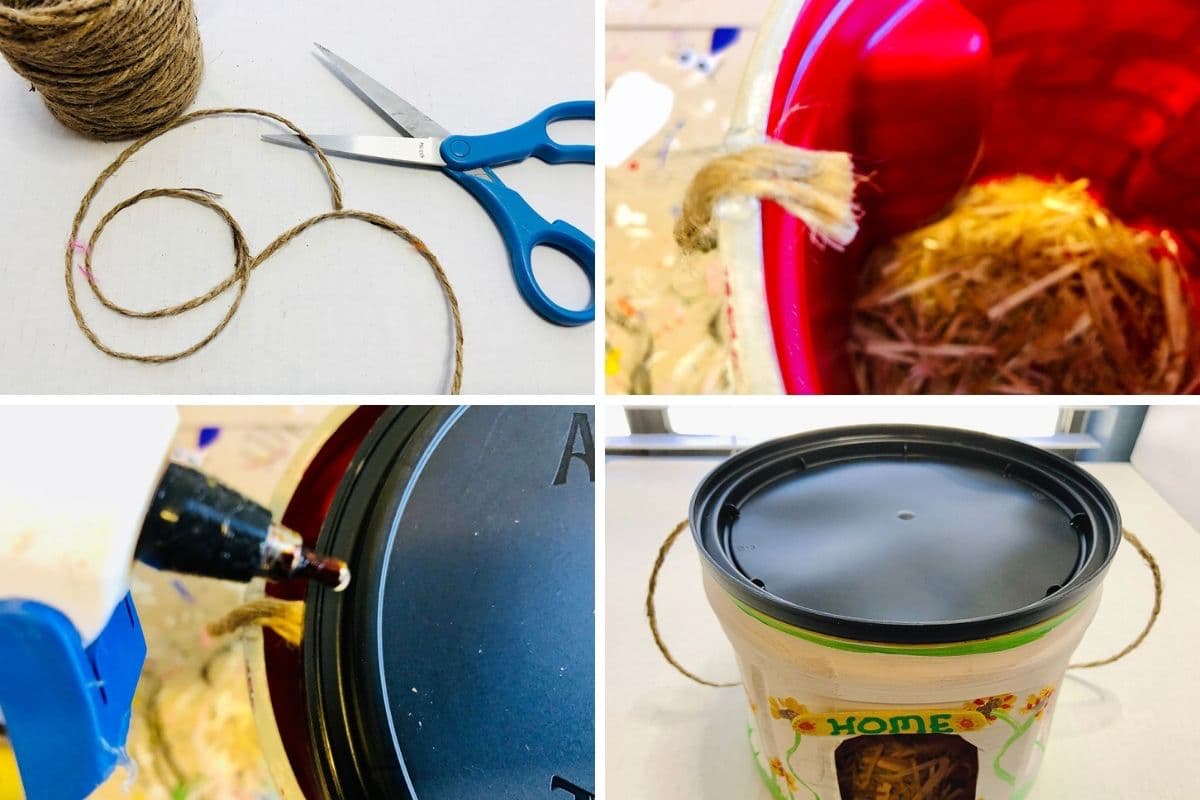 Using the hot glue gun, glue the ends of the jute cord to opposite sides of the coffee can edge as shown above right.
Using the hot glue gun, apply a ring of hot glue around the rim of the coffee can lideand glue the lid upside down to can. This will form a feeding tray on the top of the container. You can do this in small sections, pressing the lid down as you go. For added adhesion, you can apply a second ring of hot glue between the can's exterior and the lid.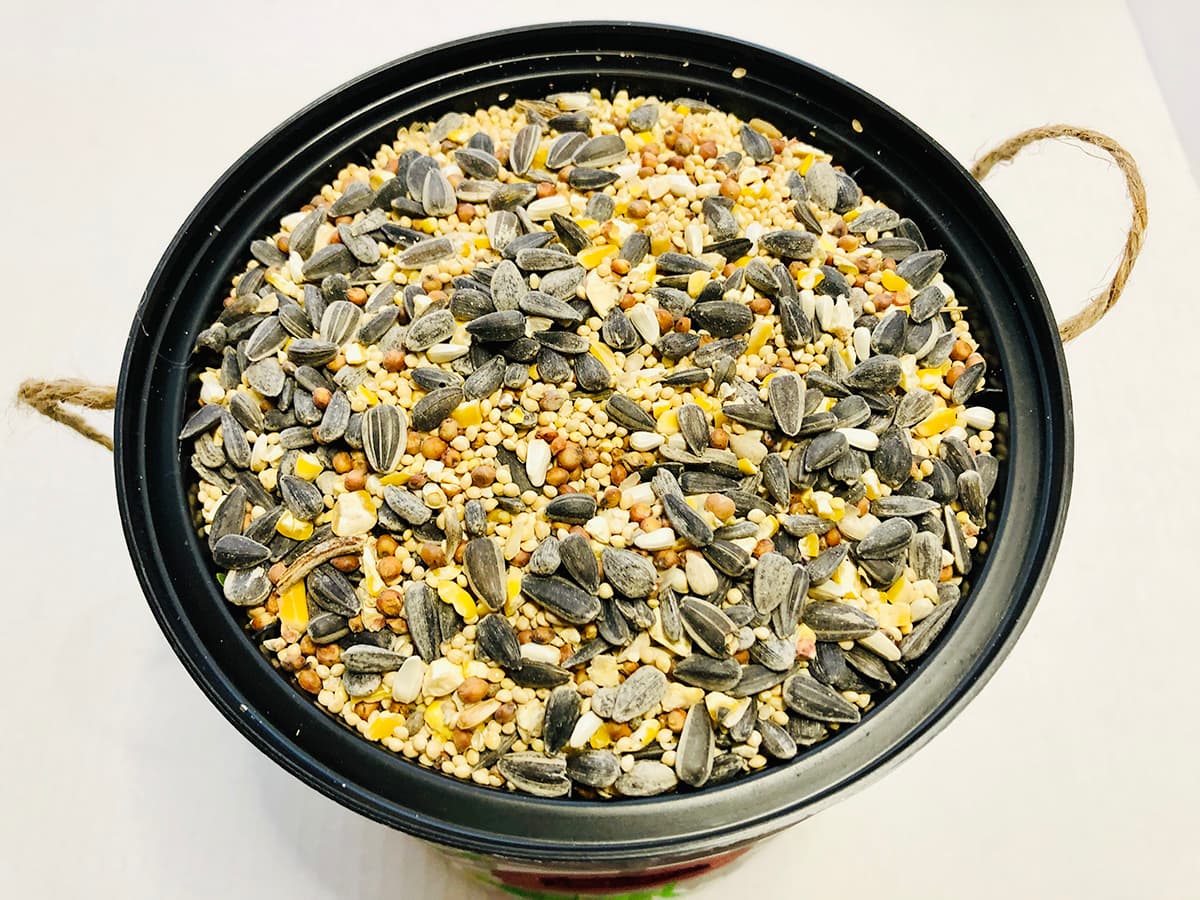 Lastly, add some nesting material inside the birdhouse and birdseed into the tray. Hang outdoors and pour birdseed in the lid/tray.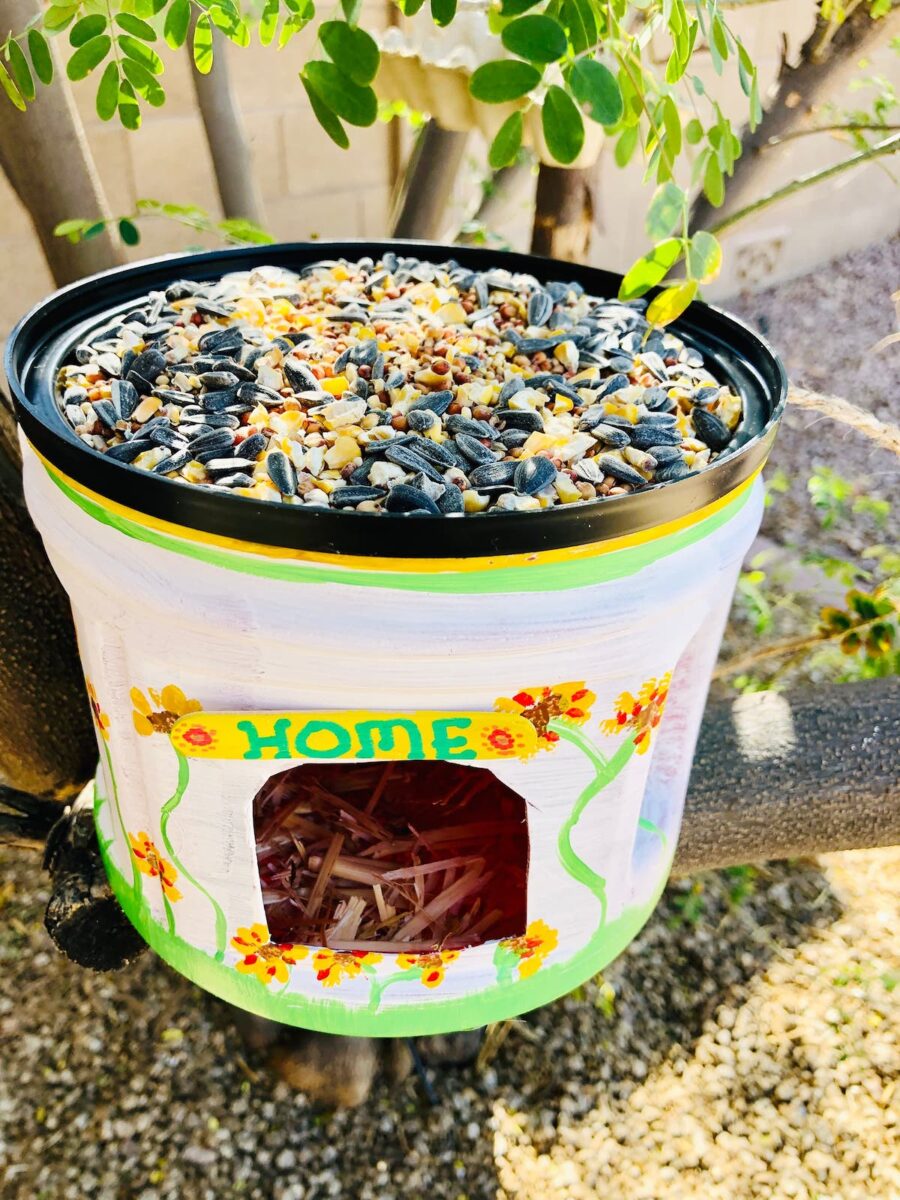 Watch the birds as they visit your feeder. If you want to make this a learning experience, have the kids keep a journal and collect data on the types and number of birds that visit this feeder.