Little Family Adventure some times receives complimentary products, hosted travel, and/or compensation related to shared content. This story may contain affiliate links. Purchase through our affiliate links and we receive a small commission without any extra expense to you!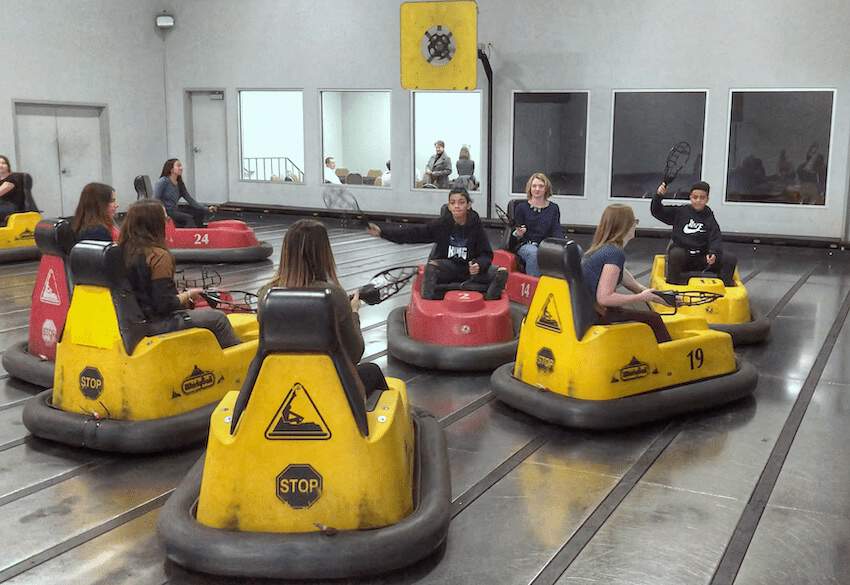 Are you looking for a new family adventure sport? I have just the thing and it's called Whirlyball. Whirlyball is a team sport that combines hockey, lacrosse, basketball, and bumper cars. Intrigued? You need to see and play it to really understand the game.
Whirlyball is new to us. It wasn't until I started planning a recent trip to Minnesota that I learned about Whirlyball and wanted to see it for myself. I was talking to a good friend in Chicago about indoor winter fun ideas. She is a mother of teen boys too and told me how much her kids loved playing Whirlyball. Always up for something new,
I had to try the game because it was fun for teens, adults, children, families, work events, etc. Plus there's no special skills required. If you can throw and reach the gas pedal, you can play whirlyball.
Let me start by answering the all important question, "what is whirlyball?"

What is whirlyball?
Imagine a hockey game where the players are driving bumper cars instead of skating and score points by tossing a ball against a basketball backboard without the net. That's Whirlyball!
Here's How You Play:
Players on two teams operate bumper cars called Whirlybugs and drive around a court with an electronic floor. These cars move 3-4 miles per hour and can go forwards or backwards.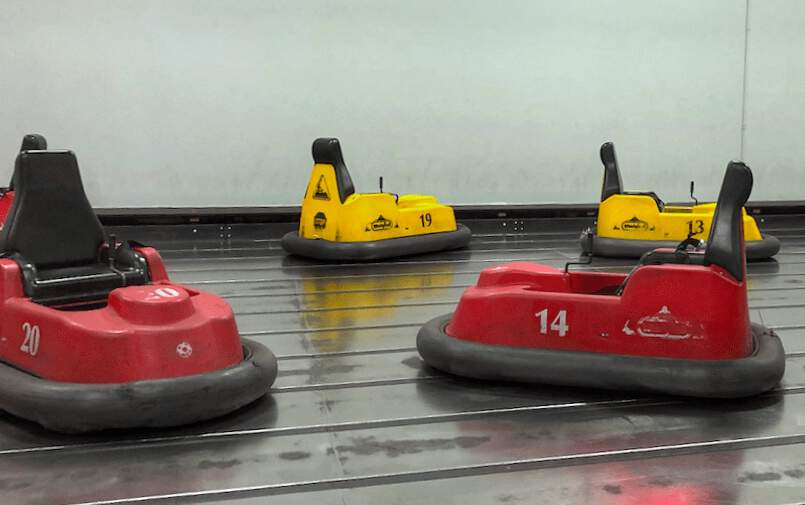 Players use a plastic scoop/racket, similar to a short handled lacrosse stick or Trac-Ball racket, to catch, pass, and shoot a whiffle ball at their target to score points. Each target looks like a basketball backboard without the net. In the center of the backboard, there is an electronic sensor that sounds a buzzer when hit.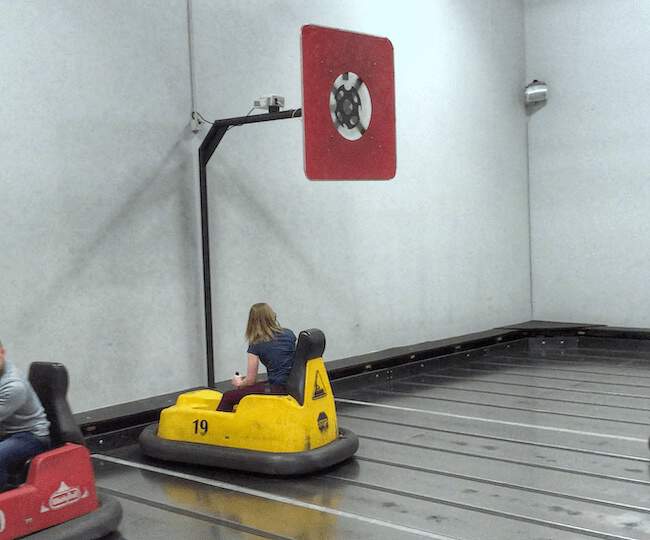 Teams work together to move down the court and get in the best position to score a point. For team members without the ball, they can block and/or "nudge" into other Whirlybugs hoping to capture the ball. Players can not touch the ball with their hands. Each game lasts ten minutes and play continues until time elapsed. The winner is the team with the most points.
Whirlyball is ACTIVE FUN
Game play is fast paced regardless of age or skill level. There is no age limit, but players must be able to reach the gas pedal. It may not look like it, but Whirlyball is active fun and you'll break a sweat. The lever that steers the Whirlybug car gives one arm a work out while the other arm is throwing and catching the ball.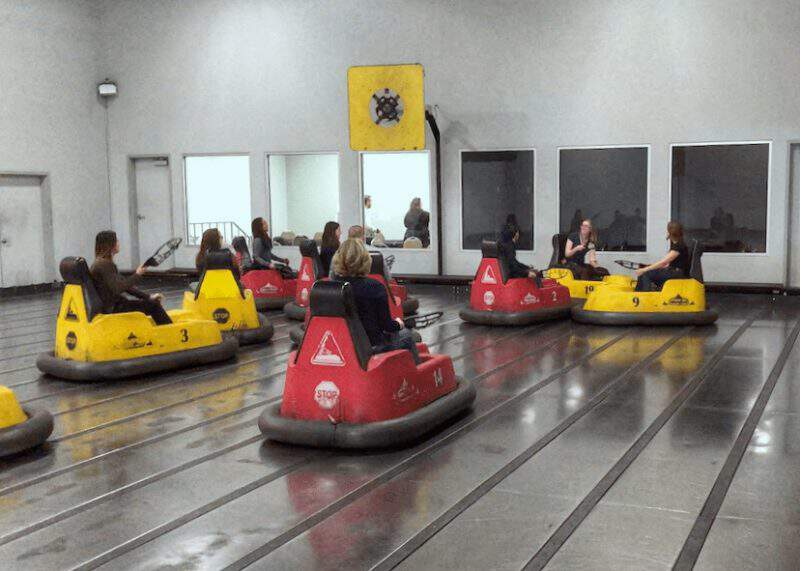 Be sure to SUBSCRIBE and Follow us on FACEBOOK , TWITTER , INSTAGRAM and Follow PINTEREST to see more delicious recipes, travel destinations and tips, adventures, and more of what we are up to.
Minneapolis MN
It's all fun and games though! It's a fun way to be active indoors. I played a few games/matches (actually I'm not sure what you call the game play) when I was in Minnesota. I played at Whirlyball Twin Cities in Maple Grove just outside Minneapolis. There they have two Whirlyball courts, an Escape Room, Laser Tag, and a full kitchen/bar. Food here is fantastic too if all the game play has left you hungry. If you are traveling with your family, courts can be reserved by the hour or you may be able to drop in and play a pick up game if there's space available. You'll have a blast!
Other Whirlyball Locations: In Minnesota, the largest court is Whirlyball Twin Cities. There are other locations around the country including Chicago, Atlanta, Plano, Seattle, and Orlando. Find the closest one to you and have fun.
Looking to take a weekend trip to the area? Take a look at these other things to do in Minneapolis Northwest including the Venetian Indoor Water Park at the Holiday Inn Maple Grove.
This recent trip to Minnesota was focused on all things family fun with teens. Teens will love visiting the Whirlyball Maple Grove and other area attractions. Regardless of weather outside, this is a fun place to have fun together. Thank you to Minneapolis Northwest Tourism and Whirlyball Twin Cities for hosting my visit and bringing along the office out for a my first Whirlyball game. Complimentary games and food were provided during the visit.