Little Family Adventure some times receives complimentary products, hosted travel, and/or compensation related to shared content. This story may contain affiliate links. Purchase through our affiliate links and we receive a small commission without any extra expense to you!
When looking for things to do in Minneapolis or the Twin Cities, it pays to venture out to nearby communities for family fun. If you have active teens and tweens like we do, you'll love exploring the cities of Maple Grove, Brooklyn Center, and Brooklyn Park. Less than a twenty minute drive from downtown Minneapolis, you'll find a multitude of indoor and outdoor activities perfect for any active family looking for a new adventure.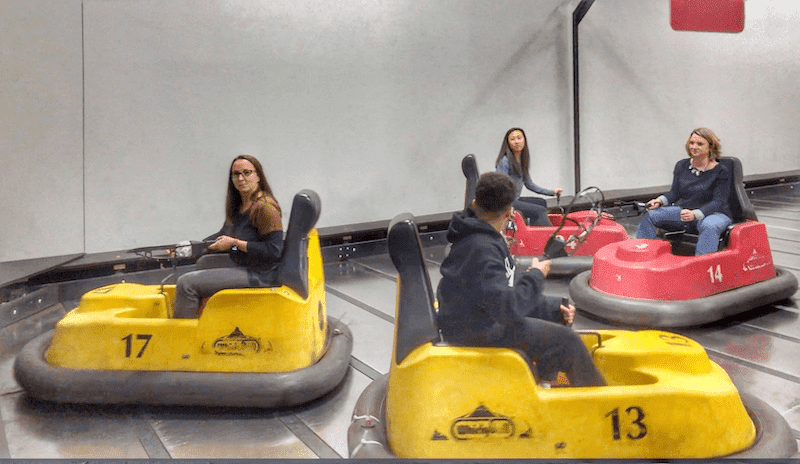 Minneapolis Northwest
When we think of a staycation or urban vacation, our minds immediately contemplate going into the city or downtown area. That's where we find the best attractions, sites, nightlife, and special events. Or is it? Smaller outlying cities and communities offer great opportunities for family fun. On my recent trip to Minnesota, I teamed up with Minneapolis Northwest Tourism to discover what lies beyond the Twin Cities and find activities that families with teens will want to explore.
Things to do in Minneapolis Suburbs
In this area northwest of Minneapolis, you'll find cross country skiing, hiking, fun themed dining, quaint shops, Minnesota's only TopGolf facility and a new to me sport called Whirlyball. Let me share with you a few of the best attractions, activities, and restaurants in this area of Minnesota. Let them inspire you to come and visit for yourself.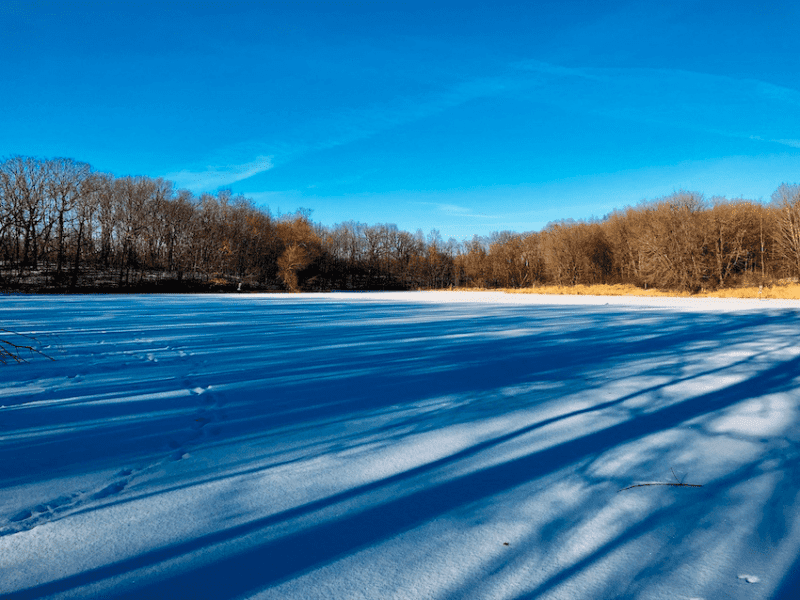 Elm Creek Park Reserve
Outside of local residents, many don't know how amazing this area is for family fun and outdoor recreation. I had two Uber drivers during this last trip that were native to the Minneapolis area and knew nothing about the park or its amenities. Elm Creek Park Reserve offers an ideal setting for outdoor recreation in every season. During the warmer months, take part one of the nature center's programs, go hiking, or enjoy a swim in the manmade pond that has its own sandy beach. During the winter, enjoy a variety of winter sports and events all at reasonable prices. There are areas for tubing, skiing, sledding, dog sledding, snowboarding, etc. If snow isn't in the forecast, manmade snow ensures a full winter of fun. You can visit their website for more information.

Snow Tubing
Snow Tubing is A LOT of fun and requires no special skills. You and the kids drag your inner tube to the starting point, climb in, and you're OFF! Here at Elm Creek Park, there are several tubing lanes to slide down and enjoy. Staff is on hand to monitor safety, but if you need a little push to get started, they can help with that too.
My first time snow tubing was here at Elm Creek Park. I grew up in Southern California where the closest thing I got to it was sliding down manmade snowy chutes at Sea World San Diego while wearing shorts. Not quite the same thing as real snow chutes that take you down the hill. Take a look at this video that I filmed the first time I went down the hill.
Note: Every time I went the hill, I'd end up backwards and couldn't see where I was going. If anyone knows how to correct that, I'm all ears.
Cross Country Skiing
Many families enjoy cross country skiing together. It is a fun, relaxed way to get out on the trails. Elm Creek Park Reserve is a popular spot for cross country skiing. Skiers enjoy 18K of maintained trails including 5.8K with lights. A day pass is $9 and a season pass is just $75. Downhill skiing and snowboarding are also available.
The Snowsports Academy is also on site for group and private lessons in downhill, cross country, and snowboarding. Having never skied before, I opted for a family classic ski lesson on my first visit. My instructors were great! This is all of us in the picture below.
They got me into my skis, gliding across the straight aways, and doing a few "bunny hops" up the hill. One nice advantage to taking a ski lesson is the equipment rental is included in your fee. After the class is complete you get to use your ski equipment for several hours to ski on your own.
RELATED: When you get hungry, check out these Maple Grove Restaurants.
Eastman Nature Center
Elm Creek Park's Eastman Nature Center in Osseo offers a combination of indoor and outdoor activities. Hiking/natural trails are a big draw, but so is geocaching. Geocaching is a favorite family activity of ours. It's similar to a modern day treasure hunt using a GPS loaded with map coordinates. You can read more about geocaching here. Geocaching in the park is a fun activity. But throughout the year, Eastman Nature Center offers special geocaching events like Geocaching for Ugly Ornaments.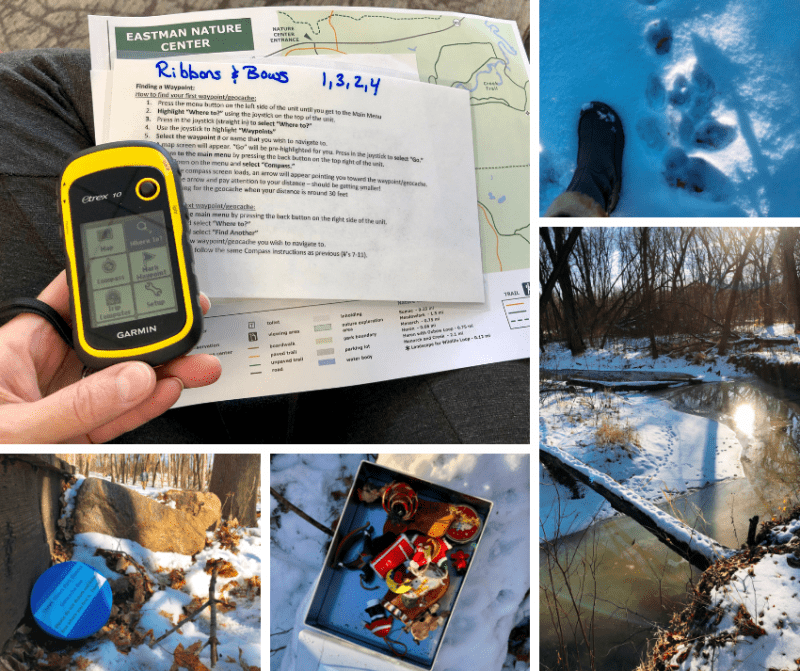 My last visit was in early December. So this special holiday themed event had participants seek caches that contained Christmas tree ornaments. Once found, you could trade an ornament you brought from home with one in the cache. In the end, you came away with three new to you ornaments, a cup of hot chocolate, and a fun adventure with the family.
Free Ice Skating in Minneapolis Northwest
The Central Park of Maple Grove is a beautiful public green space offering visitors numerous outdoor recreation opportunities. During the winter months, head here for free skating on the Central Park Ice Skating Loop. It's a local favorite for active outdoor fun.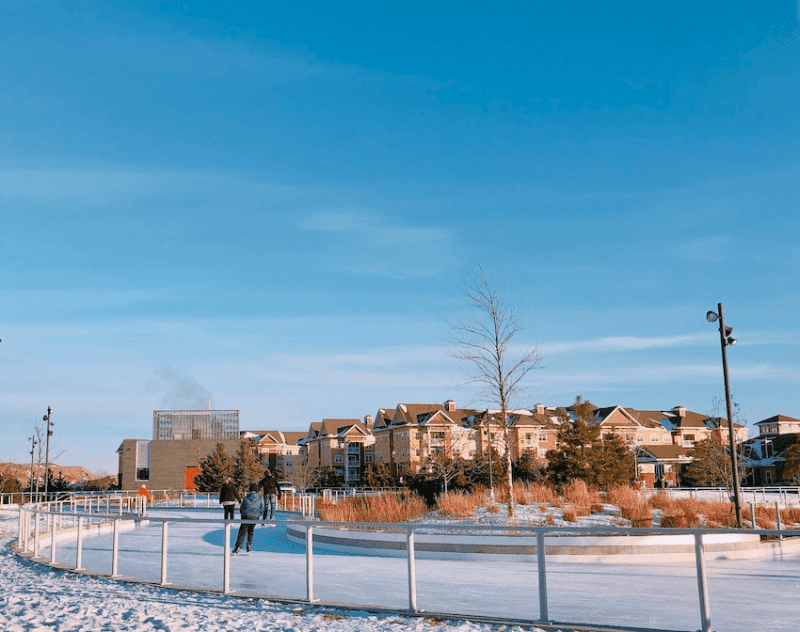 Visitors glide along this LED lit, 810 ft long loop. The refrigerated loop is next to a pavilion offering concessions and restrooms. When you get chilly, the outdoor fire pit provides the perfect place to warm up. Skate rentals and concessions are available weekday afternoons and on weekends.
TopGolf
For golf fans, visit Minnesota's only TopGolf location for a few rounds on the tee. There are TopGolf locations all across the country. We have one in my hometown of Oklahoma City. But Brooklyn Center is currently home to Minnesota's only one. It's a fun family experience no matter where you are, plus their food is outstanding!
Venetian Water Park at the Holiday Inn Maple Grove
One of the most important hotel amenities for families, aside from a comfortable room, is a pool. At the Holiday Inn Hotel & Suites Maple Grove, their indoor pool is a complex featuring two water slides, heated pool, floating obstacle course, splash area for young children, hot tubs, on site lifeguards, and more.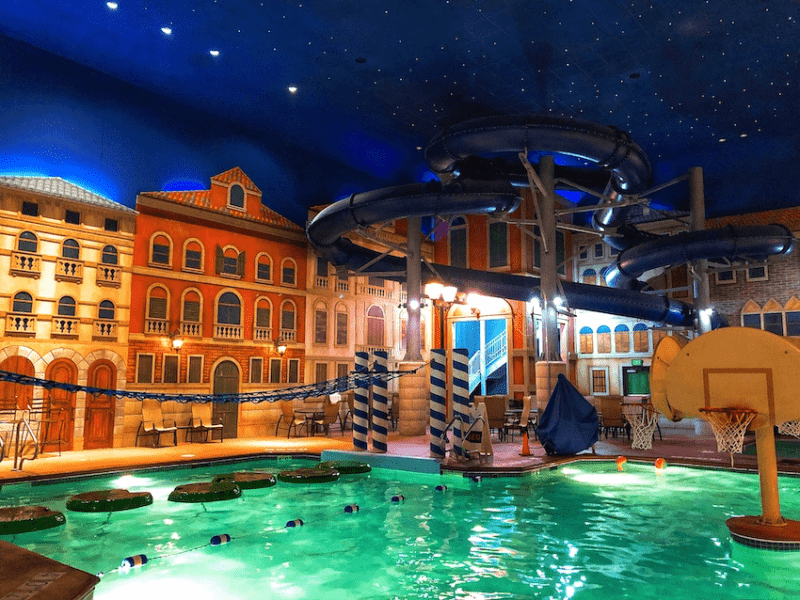 Themed as a Venetian town, the area is fun for all ages. Admission is included in your hotel stay and is open weekends and most holidays.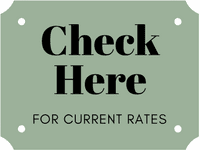 WhirlyBall Twin Cities
If you like basketball, hockey, and/or bumper cars, you are going to love this active sport. Whirlyball is an indoor game that combines basketball, lacrosse, and hockey. Players form two teams and ride around in small bumper carts. The object of the game is to hit your elevated target with the ball. Team with the most points wins.
I've got the full rundown on the game and how to play Whirlyball here.
It's a LOT of fun! There is no minimal age, but there is a height requirement. Reach the gas pedal and you can play.
Laser Tag
You can spend all day at the Whirlyball Twin Cities facility if you wanted to. In addition to Whirlyball, they offer laser tag and an escape room. The laser tag course is a good sized space complete with elevated areas and freestanding walls with high/low windows. There are plenty of spaces to ambush the other team and rake up the points.
Nadia Cakes
If any family member is a cupcake fan or just has a sweet tooth, then you'll want to stop at Nadia Cakes in Maple Grove. If you watch Food Network's Cupcake Wars or Holiday Baking Championships, you may already know about this place. My daughter did and she was excited to try their cupcakes.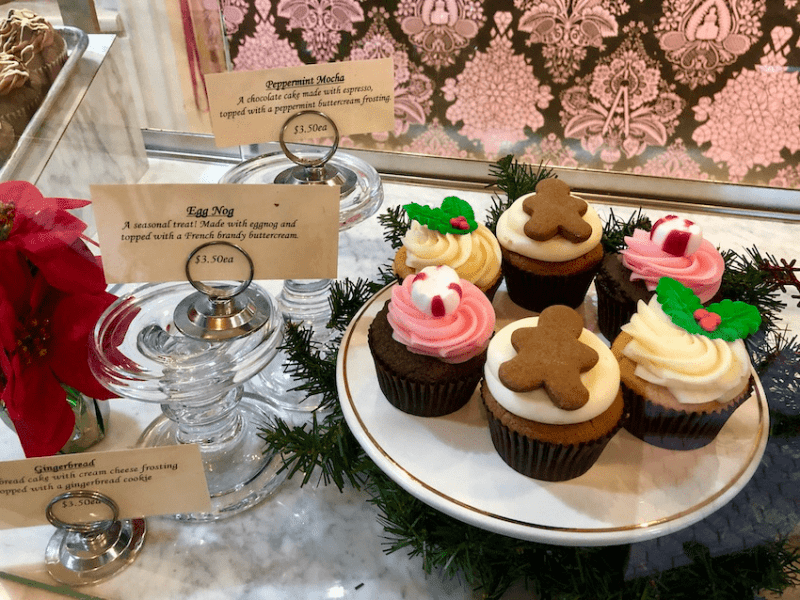 Nadia Cakes is a local bakery famous for their award winning Cheesecake Cupcake, April Fools Unicorn Poop Cupcake, and a Geode Rock Cake. Everything here is delicious. My personal favorites are the Cheesecake Cupcake and the Salted Caramel.
But the highlight here is taking one of their workshops and getting the chance to decorate your own cake or cupcakes. You can check their Facebook page for a current listing of available events.
Yellow Tree Theatre
There is nothing quite as magical as live theatre. You can feel the electricity in the air, laugh with the audience, interact with the actors, and more. Taking your family to a performance may be the highlight of your visit and spark conversations for years to come.
There are several high caliber venues in the area including the Yellow Tree Theatre in Osseo. This small theatre is founded by a husband and wife team, Jason Peterson and Jessica Lind Peterson. As I am writing this article on things to do in Minneapolis Northwest, the theatre is in its 11th season with 45 productions to their credit. When I was in town, I watched the Miracle on Christmas Lake, a holiday comedy that takes place in a small Minnesota town. It made me laugh, made me cry, and even had me asking what a "hotdish" was. Turns out a hotdish is what many Minnesotan call a casserole.
Yellow Tree Theatre says this about their plays (which I LOVE):
"We want our plays to stir up conversations between teenagers who wear hoodies and grandpas who wear dentures. Silly, you say? Maybe. But we think telling a good story can do these sorts of things."
Their plays do exactly that and that's why it's a joy to go to the theatre. Get tickets to an upcoming show on their website.

The Shoppes at Arbor Lakes
If you want to get a little shopping in, the Shoppes at Arbor Lakes is a great place to do it. It is a nice blend of local shops and boutiques, national retailers like H&M and Williams Sonoma, dining options, and grocery stores Trader Joes and Whole Foods. Throughout the year the area hosts various events from a summer concert series, to art fairs. Here are two shops offering activities my teens would enjoy.

Olfactory Scent Studio
This shop specializes is custom home and body products featuring YOUR personalized scent. With the help of a Scent Stylist, you determine what your favorite scents are and create a custom blend that is transformed into a candle, room spray, lotion, etc. It's a fun experience for teens and parents to do together.
Grey Duck Games and Toys
This independent toy store has a great variety of games, toys, kites, and puzzles. In the back of the store is a game play area for card tournaments like D&D, Magic, and others.
Planning Your Next Trip to Minneapolis Northwest
This list doesn't scratch the surface of all the fun things to do in Minneapolis Northwest for families. I discovered these over three days in the area. During my stay, I stayed at the Holiday Inn Inn & Suites Maple Grove which is in the Arbor Lakes area. It's a great central location, comfortable rooms, and the Venetian Water Park everyone enjoys.
Before your next visit, check out the Minneapolis Northwest Tourism website for a current list of events and happenings. There is always so much happening here that you'll want to experience it for yourself. The area proves that getting out into the suburbs can be a great family adventure.
A special thanks to Minneapolis Northwest for hosting our recent visit. It was so much fun to meet the team and play Whiryball and laser tag together. Complimentary activities, lodging, and meals were provided for this article. All opinions are my own.