Brrrr! It's cold outside.
The weather is cooling off here in Oklahoma. Tomorrow we are getting our first hard freeze and temperatures are expected in the teens over night. Whenever the weather gets like this, I start thinking about stews, chili, roasts, and slow cooked meals… warm, cozy dishes that take the chill out of my bones.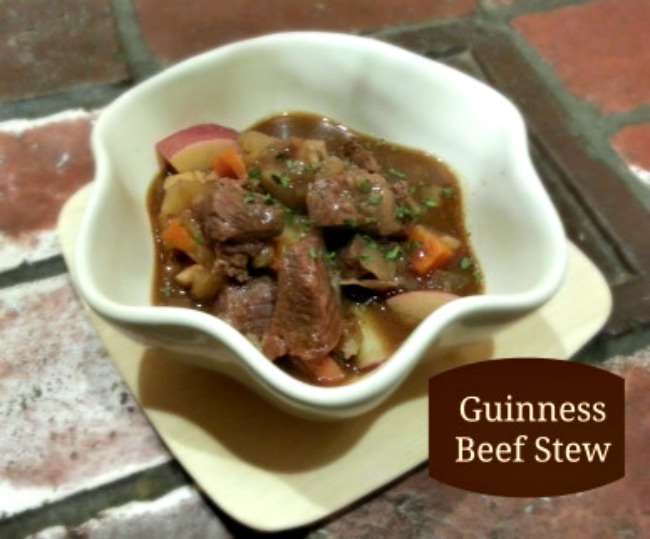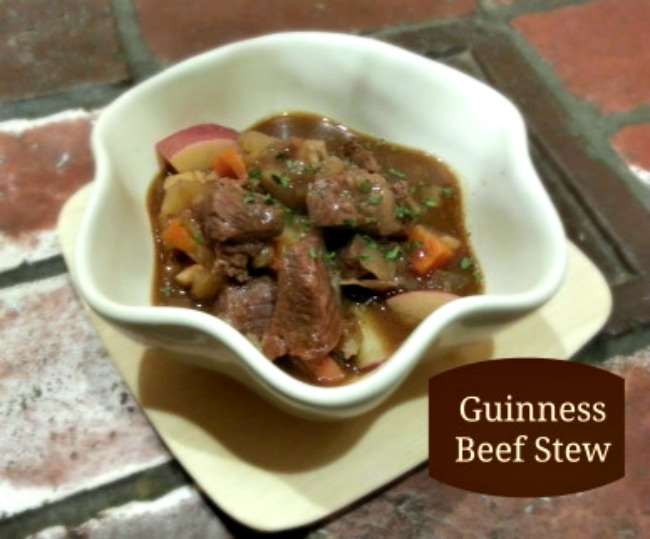 Satisfy your craving for Irish food.
This last weekend, my hubby and I were planning to watch a band play at a local Irish pub. Unfortunately, we couldn't get a sitter for the night and we had to miss them. That left us both craving hearty Irish food, so I made this Guinness Beef Stew. My husband would say you can't have an Irish meal without Guinness. Personally, I'm not fond of drinking the stuff. But I love to cook with it. The traditional Guinness adds a richness that you can't get with traditional beers or ales. It gives this dish a heartiness that will make your taste buds happy.
I used a beef round roast that I trimmed and cubed into 1 inch pieces. This stew works well with less expensive cuts of beef; shoulder roast, pot roast, and chuck roast. These cheaper cuts tend to be tougher. Slow cooking tenderizes even the toughest piece of meat and makes it melt in your mouth delicious. I added plenty of hearty fall vegetables in this stew; carrots, potatoes, turnips, rutabaga, and parsnips. They all stand up really well to slow cooking over an extended period.
Beat back the cold with Guinness Beef Stew
If you want a stew that will beat back Jack Frost or Old Man Winter, this is it. Just add some rustic bread to pick up every last drop and you're meals complete.
Yield: 8
Guinness Beef Stew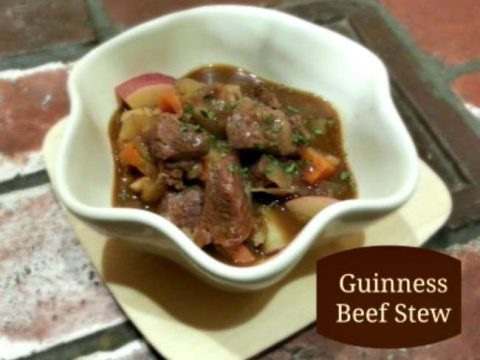 Ingredients
3 Tablespoons olive oil
1 1/2 pound boneless beef roast, trimmed and cubed into 1/2 to 1 inch pieces
2 large red onions, chopped
1 shallot, chopped
1 garlic clove, chopped
1 tablespoon tomato paste
4 cups beef broth
1 [14.9-ounce] can Guinness Stout
1/4 cup golden raisins
1 Tablespoon dried currants
1 teaspoon caraway seeds
1/2 teaspoon black pepper
1 1/2 cups quartered & sliced carrot (about 3-4 large carrots)
1 medium sized turnip, chopped about the same size as the sliced carrots (about 1 cup)
1 medium sized rutabaga, chopped about the same size as the sliced carrots (about 1/2-3/4 cup)
2 parsnips, sliced about the same size as the sliced carrots (about 1 cup)
6 red skinned potatoes, quartered and sliced into 1 inch pieces (about 2 cups)
2 teaspoons cornstarch or other thickener (flour, arrowroot, etc. But can be omitted for a Paleo version)
1 Tablespoon chopped dried parsley or 2 Tablespoons fresh parsley
Salt and pepper
Instructions
Heat a Dutch oven over medium to medium high heat.
Add 1 1/2 Tablespoons olive oil to pan and allow to heat up.
Place 1/2 of the cubed beef into the pan. Brown meat on all sides, cooking 6-7 minutes.
Remove beef from pan and set aside. Repeat process with remaining olive oil and beef.
Add onion, garlic, and shallots to pan. Cook until tender, stirring occasionally.
Stir in tomato paste and cook for 1 minute.
Add the beer and broth. Stir being sure to scrape down the sides and bottom of pan.
Return meat to pan. Add raisins through parsnips.
Bring to a boil. Cover and reduce heat to a medium low (simmer). Cook for 1 hour, stirring occasionally.
Uncover and add the red potatoes. Return to a boil, then reduce heat to simmer again.
Cook for 1 hour, stirring occasionally.
Uncover and bring to a boil again. Cook for 10 minutes or until vegetables are tender.
Remove 1/2 cup of broth from the pot and add the cornstarch or other thickener into it.
Blend well and return to pan. Allow stew to thicken for 2-3 minutes.
Add parsley if desired. Salt and pepper to taste.
If you like this stew, we have a few others on our blog that you will love too. Plus if you like Guinness, like my husband, you'll love this Irish Soda Bread with Guinness Reduction Dipping Sauce.