I love holiday parties. Don't you? Holiday parties are a great way to celebrate and have fun themed food. Party foods and snacks don't have to be sugar laden desserts, candy, and junk food. You can serve delicious healthy foods that people, even kids, will eat and LOVE. Recently, I got in the kitchen with my kids and created these 4 fun and healthy St. Patrick's Day snacks.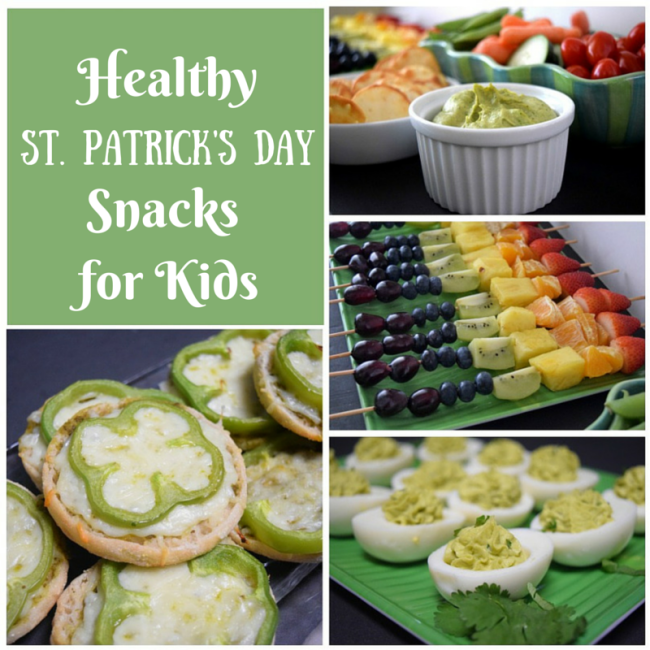 All these St. Patrick's Day recipes are healthy, contain no sugar or artificial colors, and are really delicious!St. Patrick's Day is a fun food holiday. It's all about celebrating Irish culture, food, and drink. It's the one time of the year that you are sure to find green tinted food and green drinks at most every party. Unfortunately, most of those green foods will have artificial food coloring to which I say, "No, Thank You." I don't use artificial food coloring and avoid it in any product I buy. The recipes I'm sharing with you may not be true Irish food, but they have fun Irish details like the shamrock and the leprechaun's rainbow. Plus, these snacks are green, made so from natural sources.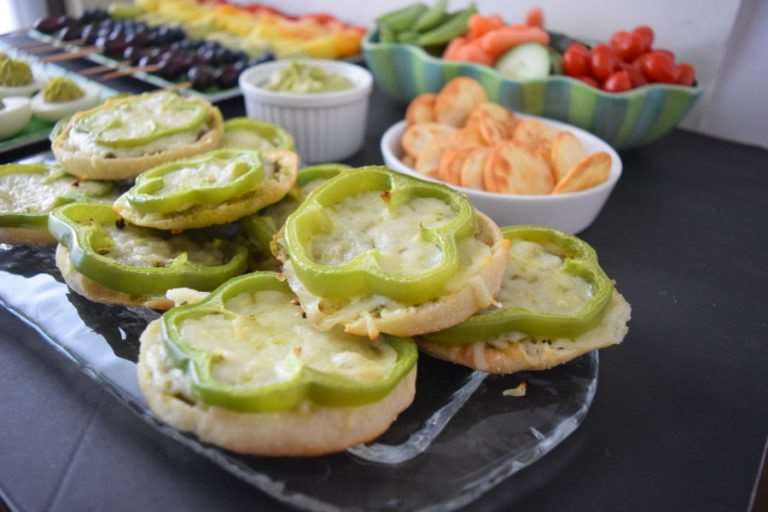 We've created Shamrock Pizzas with bell pepper shamrocks and pesto sauce, naturally green cilantro hummus with fresh veggies and ALDI brand pita crackers, and Avocado Deviled Eggs that are naturally dyed green too. St. Patrick's Day wouldn't be complete without the leprechaun at the end of the rainbow. So we have rainbow colored fruit skewers as our sweet treat.
Healthy St. Patrick's Day Snacks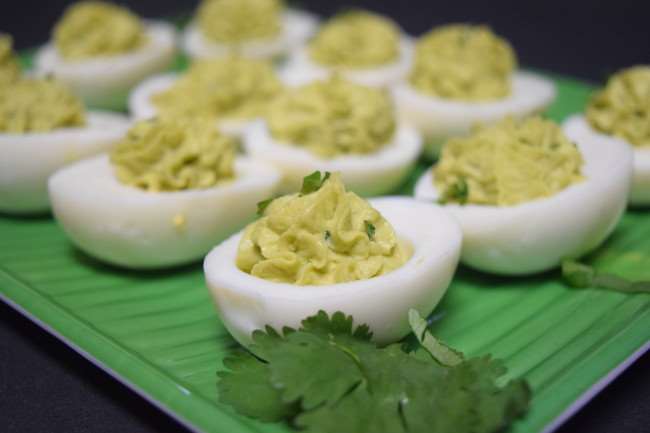 Avocado Deviled Eggs
Makes 12 deviled eggs
6 hard boiled eggs, peeled
1 avocado, seed and peel removed
2 Tablespoons mayonnaise
1/4 teaspoon salt
Pinch of pepper
1/4 teaspoon garlic powder
1/4 teaspoon onion powder
1/8 teaspoon cumin
1 tablespoon finely chopped cilantro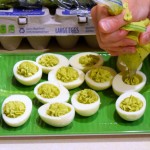 Cut
hard boiled eggs lengthwise. Carefully scoop out the egg yolks into a bowl.
Add avocado to the bowl. Mash the avocado and egg yolks together well.
Add mayonnaise through cilantro to the bowl. Mix well.
Use a spoon or piping bag to fill egg whites.
Place on a platter.
Sprinkle with chopped fresh cilantro if desired. Serve.

Cilantro Hummus with Pita Crackers & Fresh Veggies
Serves 12
10 ounces, Little Salad Bar Roasted Pine Nut Hummus
1/3 cup packed fresh cilantro
2 Tablespoons olive oil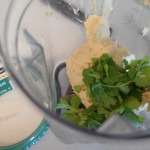 Place ingredients in a blender or food processor.
Blend until well combined and green throughout.
If hummus is too thick, you can add additional olive oil.
Place cilantro hummus in a serving bowl and serve with Savoritz (ALDI brand) Pita Crackers and fresh snap peas, baby carrots, sliced cucumbers, and cherry tomatoes.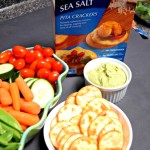 Note: I used pre-made hummus for this and added extras to give it a unique flavor and color. You could easily omit this extras and use this hummus straight from the container. It's delicious either way!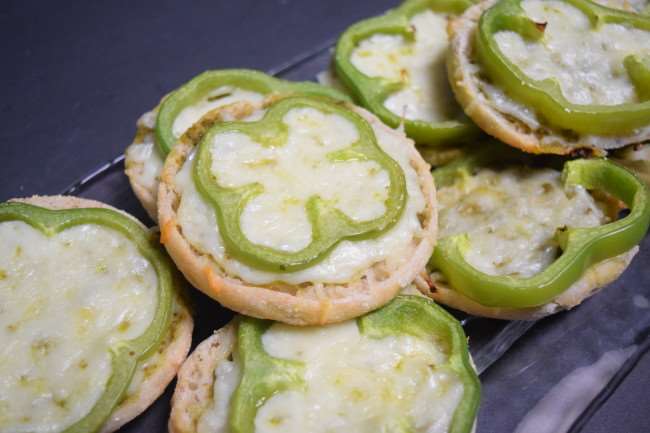 Shamrock Pizzas (English Muffin Pizzas with Cheese and Bell Pepper)
Serves 12
1 Package of L'Oven Fresh English Muffins, each split in half
Priano brand Pesto, 1/2 jar
1/2 pound of Happy Farms Brand Mozzarella Cheese, shredded
2 bell peppers, de-seeded and cut into 1/4″ horizontal slices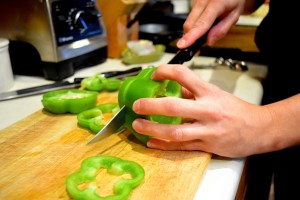 Preheat oven to 425 degrees.
Place English Muffin halves onto a baking sheet.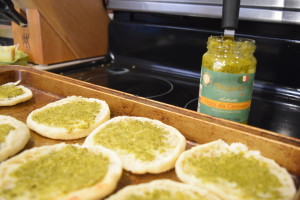 Top each muffin half with a heaping tablespoon of pesto. Spread it around.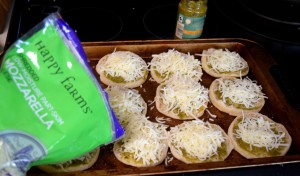 Top with a handful of cheese.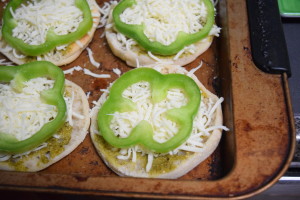 Finally, top each with a bell pepper slice.
Place in the oven and bake for 9-10 minutes, or until cheese in melted and English muffin is lightly brown around the edges.
Remove from oven and serve.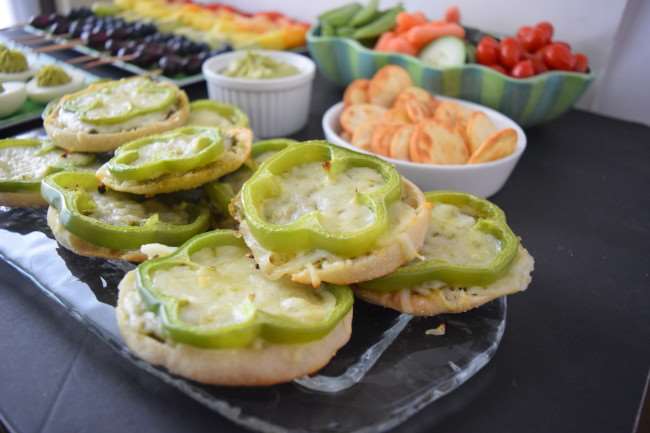 I've saved the sweet treat for last. Instead of a sugary dessert, fruit skewers are a healthy treat that kids of all ages enjoy. Plus, the rainbow colors are beautiful on the table. Your kids will love to eat these right off the stick. (Note: If you are serving these to young children, you can cut the sharp point off each skewer.)

Rainbow Fruit Skewers
Makes 12 fruit skewers
12 Strawberries, stems removed
2 Oranges, peeled and segmented with each segment cut in half
Fresh pineapple chunks
3 Kiwis, peeled and quartered
Fresh blueberries
Fresh red or black grapes
12 Wooden skewers
Thread the fruit onto the skewers in order shown.
There you have it, 4 healthy St. Patrick's Day snacks.
Everyone will enjoy these healthy green and Irish inspired foods at your next party. For more healthy food recipes, try these healthy fruit smoothies.