Yes, travel can be expensive!! BUT it doesn't have to be. You CAN afford to travel and even do it for FREE! There are so many ways how to travel cheap and maximize your travel budget these days. We have watched for airline deals, stayed closer to home, used travel apps/widgets, and others to save money. But now we are using the FREE website and mobile app, Travel Freely, to make travel hacking simple to understand and start earning travel reward miles/points. It's never been easier to get started and on your way to free vacations too.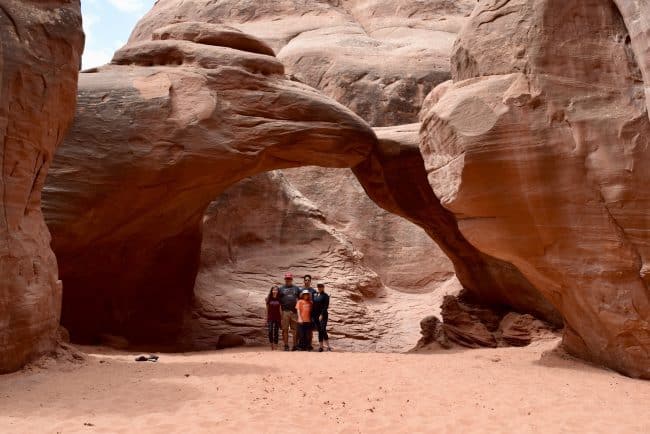 Travel Hacking is Free Travel
Travel hacking is the practice of making travel reward programs and credit cards work for you so you can earn FREE VACATIONS. It is something new for us because up until now it seemed SOOOO daunting. There seemed to be all these things to "figure out"; credit card reward bonuses, anniversary dates, best offers, maximizing point values, qualifying purchases, etc. To be honest, it seemed like more trouble than it was worse because I didn't have enough time in my day to do the research.
Enter in Deb at TravelingWellforLess.com. Deb and I met several years ago and she is a good friend and fellow travel writer. She is maximizing (and I do mean MAXIMIZING) travel hacking to earn free travel, free vacations, and free travel upgrades. She has been to some amazing places here in the states and aboard. She gave me a glimpse at what was possible, but still I didn't have the time to research. Then earlier this year, Deb introduced me to Zac, the owner of Travel Freely. Zac is a fellow travel addict and former school teacher who created a platform that didn't need me to do the research. He already did it and presenting it to others for FREE!
Travel Freely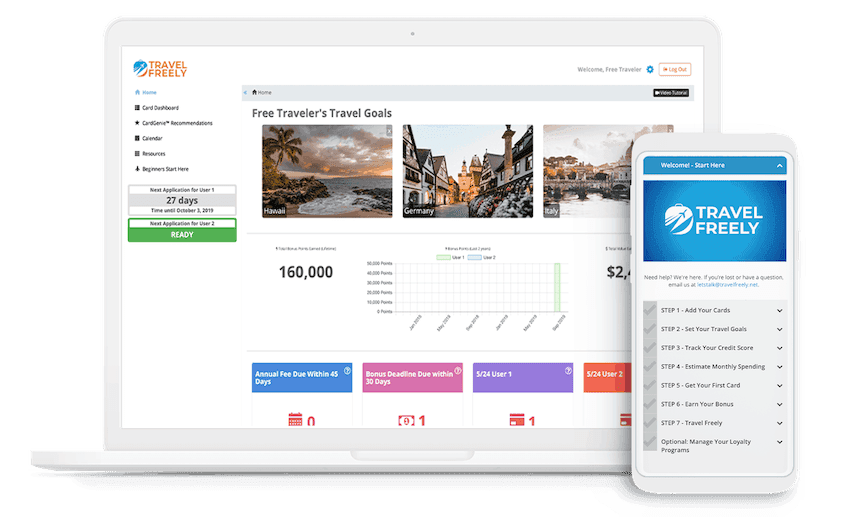 Zac's website and mobile app take the guesswork out of figuring out travel hacking. He makes it possible to save money and earn free travel and free vacations through smart travel planning. I'm not going to go into a lot of detail here about his website, because you can see that for yourself. Just know that I signed up just after meeting him and am well on my way to earning free travel in the new year. I want to also note that I became an affiliate for the site because I believe in it and know you will love it as much as I do.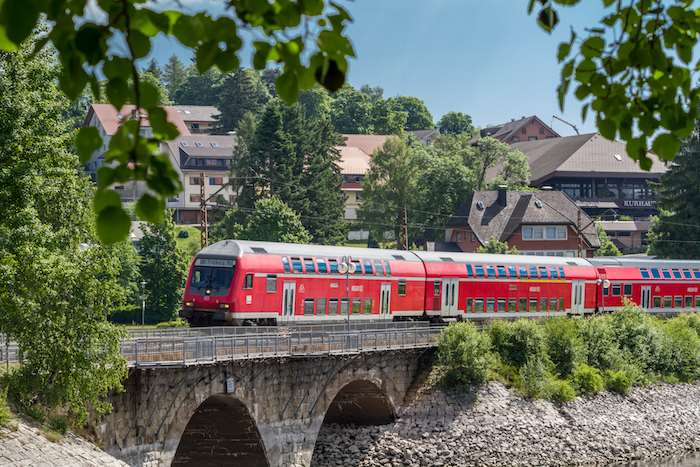 Here are 5 reasons why you should start using Travel Freely too:
It's FREE
You shouldn't have to pay money to save money. The site and service are free to sign up on and use. Zac is able to do this because he earns affiliate commissions when we open a credit card through the website. This brings me to my next point.
2. Personal Recommendations with CardGenie
CardGenie is Travel Freely's free recommendation tool that shows you what the best travel credit cards are for YOU and your financial situation. It is NOT the credit card that paid to be first on the list. Instead of going website to website looking to see what credit card MAY offer the best bonus, CardGenie puts everything in one place. I can see things for me, my husband, and our businesses.
Options include the best hotel card, best airline personal card, best airline business card, etc. Also listed are the bonus points, minimum spending to get that bonus, annual fee (if any), etc.
For example, as I am writing this, the BEST "No Thinking" card for beginners is the Chase Ink Business Preferred offering approved new cardholders 80,000 bonus points. That is worth up to $1,500 in FREE TRAVEL or redeem points for gift cards or cash out at about $800.
Travel Freely: Best Credit Card Offers(Updated)
3. Card Dashboard Keeps Me Organized
The dashboard is where I can see my reward cards at a glance. Upon sign up, I enter in what types of credit cards I have and the date when I opened the account. The site will alert me when I am approaching the end of my bonus period, as well as when that card will be renewing. If I don't want to pay that annual fee, the site has recommendations and suggestions video which are very helpful.
Note: There is no worry about my personal information because credit information and/or credit card numbers are never entered on the site.
4. Set it AND Forget It
Remember how I said that I didn't have time to research? I still don't. With Travel Freely, I get the free travel I want with the least amount of time invested. Initially, I took about an hour to set up my account and go through some of the tutorials. After that, I put it on autopilot.
5. Additional Content
The videos available on Travel Freely on how to using the site and maximizing my rewards are all super helpful. After set up, be sure to open and read emails. I have found them super helpful at understanding free travel and how to maximize rewards. Over the holiday shopping season, one email recommended Cashback Monitor, a new to be shopping portal that shows you at a glance all the rewards possible when shopping online. Additionally, there has been information on the Southwest Companion Pass and how to use miles on Free Disney or Ski Lift Tickets.
Want to save more money so you can travel more? Check out these 9 Travel Apps that Pay You Money and Dollar Flight Club, a cheap flight alert service I use.