I took part in the #LongLiveProduce Challenge and tested out the FreshWorks Produce Saver containers from Rubbermaid. Let me share how to keep your fresh fruits and vegetables fresher longer and how these food storage containers stacked up.

Keeping Produce Fresher Longer
There is an amazing assortment of fresh fruits and vegetables available during the summer months. From melons and berries to leafy greens and peppers, summer is the best time to enjoy nature's bounty. I know in our house, our kitchen is FULL of fresh fruit and vegetables; especially blueberries and watermelon. Do you have a favorite?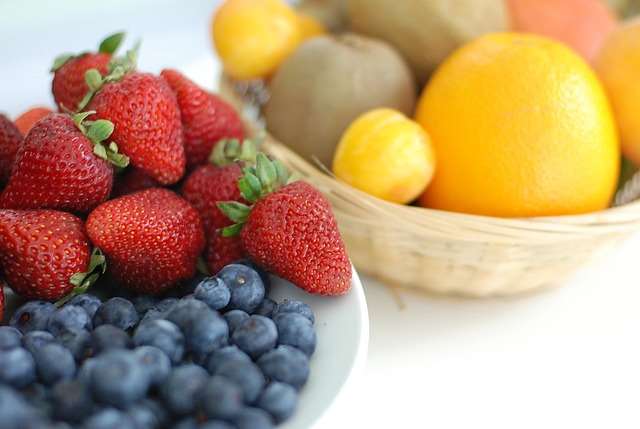 Whether you're growing food in your backyard garden, going to the farmer's market, or shopping your local grocer, there is one thing we have in common. We want our food to stay fresh until we are ready to eat it. Unfortunately, keeping produce fresh isn't always easy. As soon as it's picked it starts to lose nutrients and starts to spoil.
I can't tell you how many times I've gone into the refrigerator to find produce I've bought earlier in the week and found that it's already gone bad. I feel like I'm throwing money away every time that happens. Unfortunately, I am not alone. Americans waste 23 billion pounds of fresh produce each year because it spoils before we can eat it. That's 187 pounds per household. To put a dollar amount on that, we throw away $24 billion worth of produce each year. That's $192 per household!
Produce Storage Guide
The secret to fresher produce is knowing how to store it properly. The shelf life of fruits and vegetables varies greatly. Some fruits like raspberries need to be eaten as soon as possible, while vegetables like red cabbage can last in the refrigerator for more than 2 weeks.
This infographic shows the shelf life and best storage locations for produce to help you keep it fresher longer.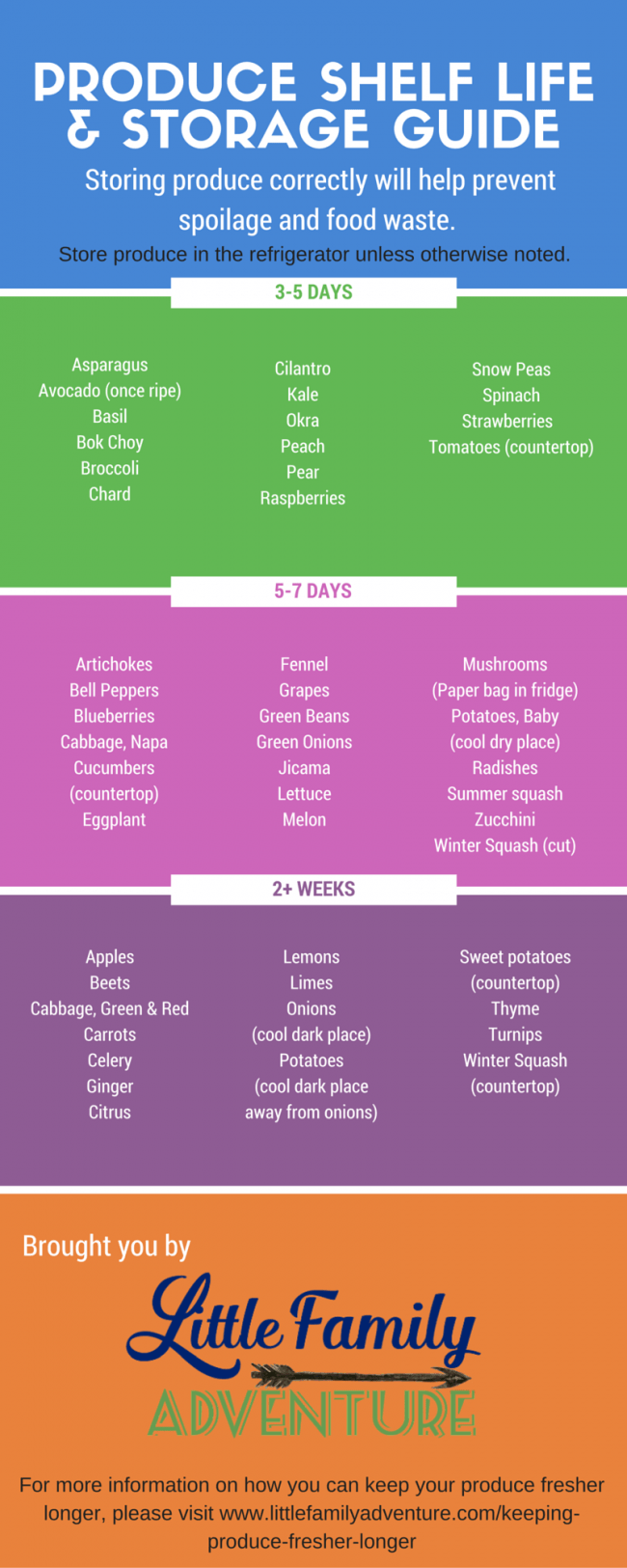 Long Live Produce Challenge
I recently took the #LongLiveProduce Challenge to see if the new FreshWorks™ Produce Saver could keep summer produce fresher longer than the normal shelf life.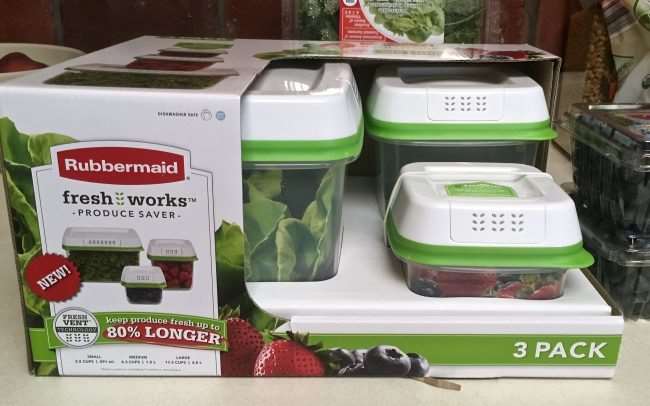 I got these new FreshWorks™ Produce Saver containers from Rubbermaid to try out. Then, I went to the store and bought double amounts of blueberries, strawberries, and mixed field greens.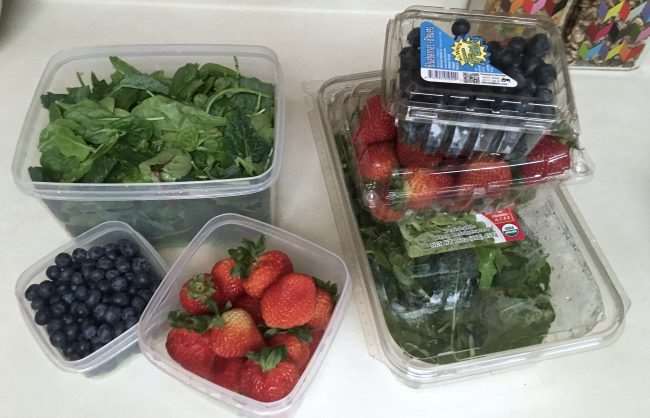 I placed half of the mixed green, blueberries, and strawberries in the FreshWorks™ Produce Saver containers and kept the other half in the original packaging from the store.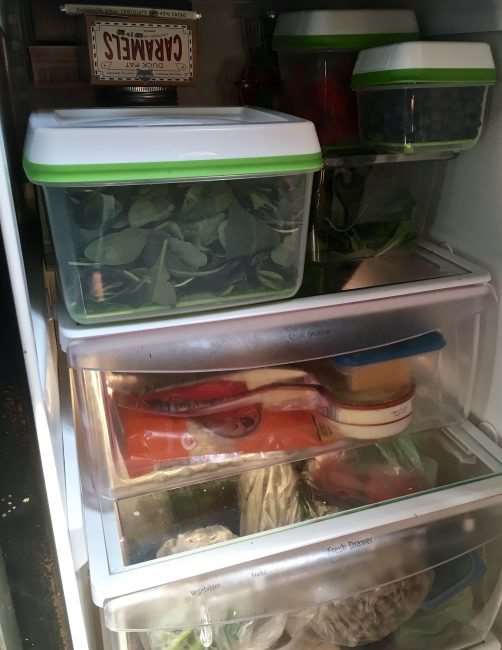 I placed all the containers back in the refrigerator on the same shelf and waited 7 days.
This is what happened………….
After 7 days in the refrigerator, this is what the mixed greens, blueberries, and strawberries looked like.
Mixed field greens
I really like mixed field green that come in the bag or clam shell, but I have a REALLY hard time using it all before it goes bad. The greens in the FreshWorks™ container look just like they did when I buy them. There was one piece that had gone bad. The greens on the right, however, weren't so lucky. I left these greens inside the plastic clamshell I bought them in. As you can see, they are a mess. The smell was pretty bad too.
Verdict: Win for the FreshWorks™ container with greens
Blueberries
It was hard to get a good picture of my blueberries side by side. The berries in the FreshWorks™ container were bright and firmer than the berries left in the plastic store package. There were a few blueberries in the FreshWorks™ container that had gone soft at the bottom of the container, but nothing like the conventional container. The berries stored in the conventional container were dull in color, had shriveled skin, and were softer in texture.
Verdict: Win for the FreshWorks container for blueberries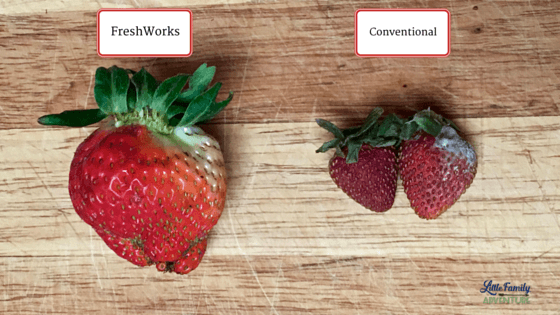 Strawberries
You can guess the winner for this last challenge. There no debate on which container kept the strawberries fresher. After 7 days, the FreshWorks™ container stored strawberry looks as good as it did when it went in. The stem is still green and the berry is pulp. The other strawberries stored in the store packaging were dry, shriveled, and had begun to show mold. Yuck!
Verdict: Win for FreshWorks container for strawberries
The FreshWorks™ Produce Saver kept my produce fresher longer than just storing it in the refrigerator in the original packaging. Above you can see what my greens and berries looked like in the FreshWorks containers after 7 days. With all the green summer salads we enjoy, these containers will be seeing a lot of use in our kitchen.
So why do they work so well?
The FreshWorks™ Produce Saver has a unique design that creates just the right environment to keep produce up to 80% fresher. The revolutionary FreshVent™ technology regulates the flow of oxygen and carbon dioxide, while the CrispTray™ at the bottom helps reduce moisture and spoilage.
I like that the set includes three different sizes:
Small (2.5 Cups): Ideal for small berries
Medium (6.3 Cups): Perfect for strawberries
Large (17.3 Cups): Optimal for leafy greens
When storing food in the FreshWorks™ Produce Saver, there is no special prep work needed. Just transfer the fruits or vegetables from their original packaging to the FreshWorks containers. Store in the refrigerator and that's it. You'll be able to enjoy fresh fruits and vegetables longer and save money in the long run.