Nature is all around us and kids of all ages love to get out and explore it. Nature journaling helps children explore, observe, and appreciate nature all year long. What better way to encourage them to be outside more than having them document what they find inside a kid's natural journal.
If you or your child is new to nature journaling, you'll find tips here to get you inspired to start your own journal! Plus I'll share our new nature journal for kids, a mixture of journal pages, activities, scavenger hunts, specimen collection ideas, and more. It's available as a digital download so you can get started in minutes.
What is Nature Journaling?
Nature journaling is simply a way to record your daily observations in nature. You can take notes about things you have seen, heard, smelled, and felt during your time outdoors. Journaling is a very personal and flexible way to express yourself through writing or art. Some people find that nature journaling helps them establish a personal connection to the natural world.
What are the Benefits of Nature Journaling?
Here are some reasons why nature journaling is a great way to spend time together as a kid and adult:
1) Nature journaling builds creativity & observation skills
Nature journaling encourages kids to use their imagination, observe the world around them in detail, and pay attention to the wonder of everyday life. Instead of spending their days on tablets or TV, nature journaling helps kids get outside and learn to discover the world around them through writing or artwork.
2) Nature journaling provides opportunities to explore & learn about your environment
Nature journaling is a great way to teach children about science, math, art, and language as they explore different topics through writing and drawing. Children learn how to describe their observations and record changes in the world around them. Your child to document their favorite plants and animals in your local area. Get started with fun scavenger hunts or take turns painting your next nature walk in their journal.
Nature journals are also called nature notebooks or science notebooks because they can be used to record observations about any topic in the natural world.
Journaling Tip: Even though nature journals have traditionally focused on plants, animals, rocks, and weather events, there is no limit on what can be included in a nature journal. For example, many nature journals include sketches of people and buildings, reports on weather events, even ideas for songs or stories that were inspired by the natural world.
3) Nature journaling is a fun activity for kids and adults to share together
Nature journaling provides wonderful memories lasting a lifetime and is perfect as gifts too! Since it's so easy to do, it is a great way for families and students to share their experiences together. Add your child's art or writing to your outdoor notebook and you'll have a creative keepsake they can treasure forever.
Related: Craftsy is a great online resource for art and craft tutorials like journaling and sketching. You can get a Craftsy Premium Membership for only $2.49 for your first full year. Click here to sign up.
How Do You Start Nature Journaling with Your Kids?
There are no rules about how to start nature journaling with your kids. It's all up to you and your child to decide how they want to spend their time in nature. Here are some ideas:
Take a Nature Walk: Go on a walk together and take turns describing what you see, hear, smell, or feel. Be sure to pack a pair of binoculars or magnifying glass to explore deeper. Draw or paint what you see. Use field guides or apps to help identify plants and animals.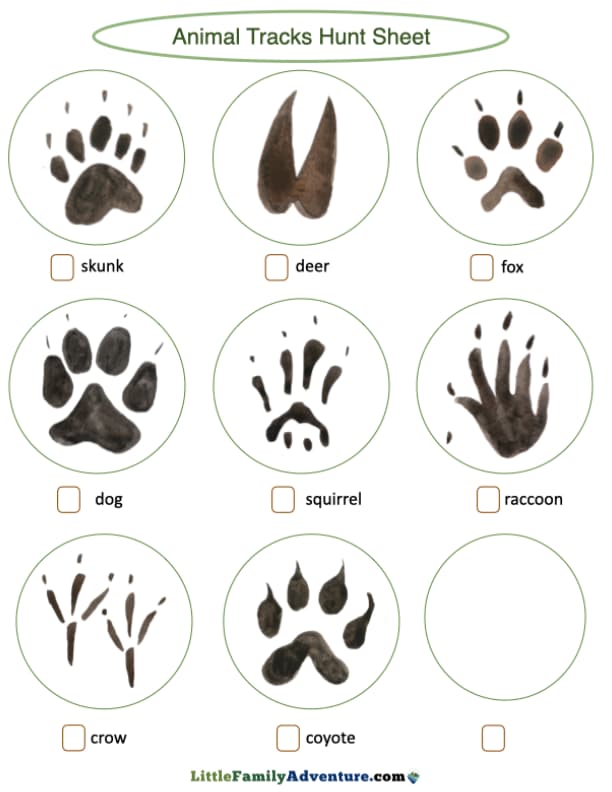 Get Started with Scavenger Hunts: Take turns leading the way on scavenger hunts and see who can find the most of different items.
Explore a New Area Together: Visit a park, garden, or natural area that you haven't been to before. Take turns leading the way and see who can find the coolest plants, animals, or items on your nature scavenger hunt list.
Have Fun with Journal Prompts: For younger kids, give them age-appropriate prompts. Use these ideas as a starting point and then let your child's imagination take over from there.
Explore Your Backyard: Explore the plants, animals, rocks, and weather events in your backyard with drawing or painting activities.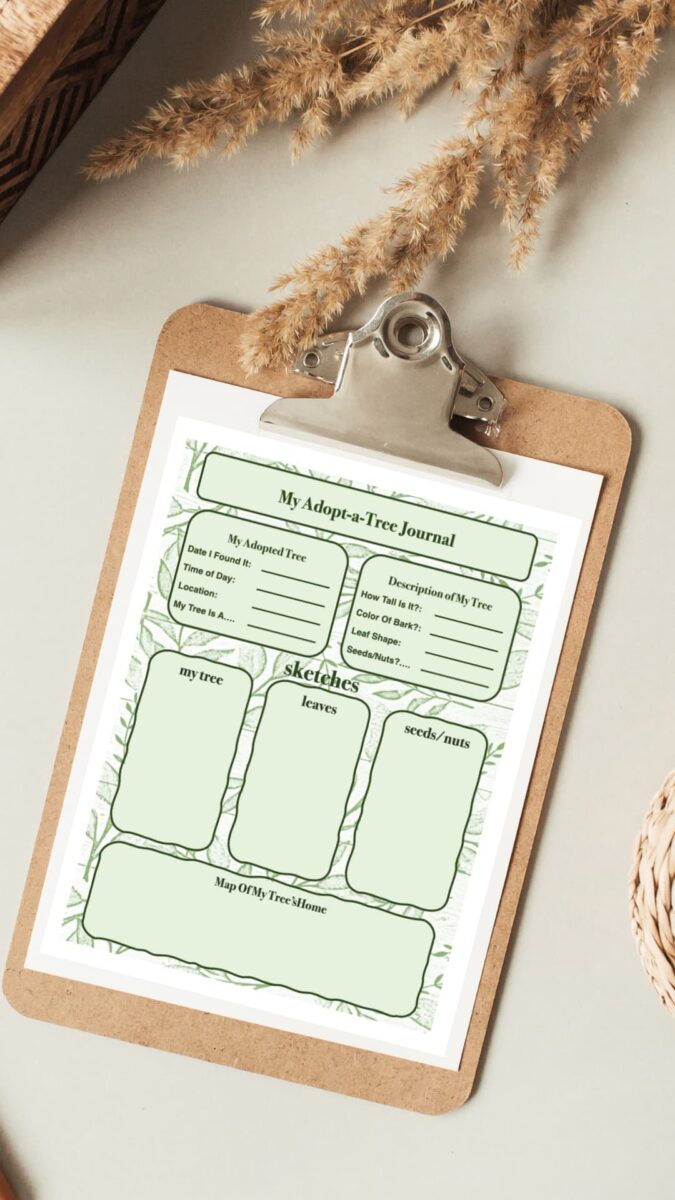 Nature Journal Supplies Needed
You can use a range of art supplies with a nature journal. Here are some suggested nature journal supplies:
Nature Journal for Kids
To help you and your family get outdoors more, we created our new My Nature Journal and Activity Book. It is the perfect way to get your child excited about getting outside. It includes 35+ fun-filled pages featuring all the activities and journal pages your child needs to get started.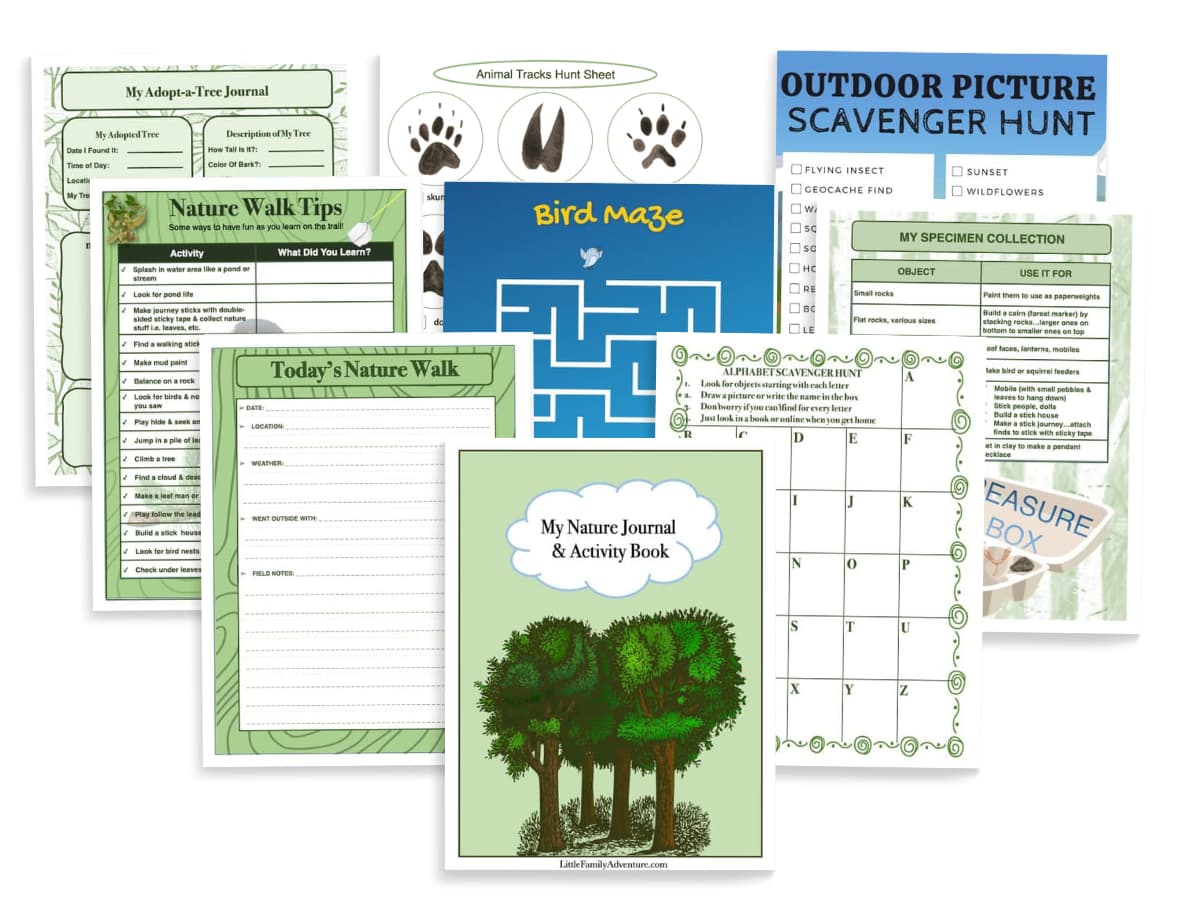 Here are some of the pages you'll find inside:
Nature Spotting
Scavenger Hunt
Specimen Collections
Daily Doodles
I Spy Nature Walk
Adopt a Tree
Animal Mazes
Animal Tracks Spotting
My Leaf Rubbings
How to Draw a Map
Nature Map Layouts
Nature Walk Tool Kit
Nature Walk Tips
Nature Walk Planning
Sketch Pages
60 Days of Outdoor Activity Ideas
and more
This journal is a great way for kids and families to spend time together and engage in a nature study. It's also an excellent way to encourage learning through creative play as children explore new sights and ideas! Whether you are looking for a new activity to do together, or want something special to give as a gift – it's sure to be treasured for years to come.
Start Filling in Your First Pages Today – Get Our Kinds Nature Journal for only $10!!
For additional nature journaling resources and instructional books, I really like these: