Gone are the days of free checked baggage when you fly. Now when you have to pay for each bag, you need to make the most of the space you paid for. I've put together this short list of my top suitcase packing tips to help maximize space in your bags.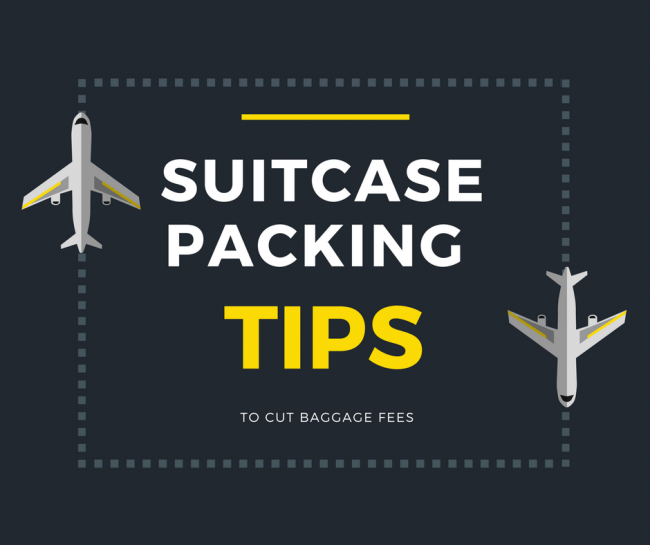 Recently, our family took a 8 night vacation to Disney World and the Bahamas. Packing for a week is a bit challenging, but when you have to pack for 4 people, it can be daunting. Luckily, my husband is a wizard at maximizing every square inch of luggage space. He was able to pack clothes for 4 people into just 2 suitcases for that trip. These suitcase packing tips will help you pack lighter and decrease the amount of luggage needed for a trip.

12 Suitcase Packing Tips
Choose a lightweight suitcase and know your size/weight limits for your airline. This is my newest suitcase from American Tourister Star Wars Collection.
Create a packing checklist or use our packing list to ensure you have the items you need
Plan/pack layers to mix and match for different outfits
You really only need 2-3 pairs of shoes (1 black or brown casual, walking, and dressy or water depending on location)
When in doubt, just pack black
Roll each piece of clothing to save space and decrease wrinkles
Fill dead space in shoes with rolled socks and underwear
Pack bras inside of a hat to help keep their shape
Always put your liquids in a plastic TSA approved bag
You will only ever need one nice outfit to go out in
Always plan on one carry one or back pack in addition in addition to your checked bag
Pack extra outfit and anything you may need for your travel day in your carry on/back pack.