Summer Carry On Essentials
I started my summer travel season off a little early this year with a trip to Disney World. Over Mother's Day weekend, my family and I packed our bags and spent a few days working and having fun in sunny Florida. Our summer is looking to be a busy one with several trips already planned. I'm sure you are the same way. With a big holiday weekend just around the corner, I thought this was the perfect time to share with you what's in my travel bag this summer. This list of summer carry on essentials is perfect for a woman who wants to travel well, arrive happy, and be ready for a great vacation.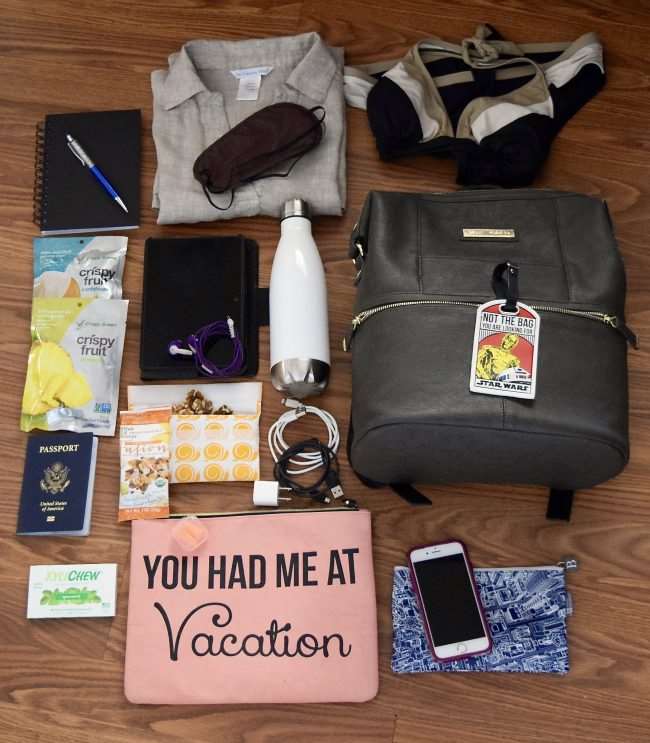 This last trip was a little different because we flew on an airline that charged for both checked and carry-on luggage, only a smaller personal item, like a backpack or purse, was allowed at no cost. I'm a notorious over-packer, but I'm also not one to pay when I don't have to. So I paired down my carry on essentials to fit in a backpack. I didn't think I'd be happy with less, but you know what? It's actually kind of awesome not to weighed down with a huge bag.
Here are my summer carry-on essentials:
Carry On Bag & Luggage Tag
Carry-On Bag – Your Carry On needs to be versatile and functional. I'm loving my Kelly Moore Woodstock Bag. It's extremely well made and has tons of pockets to help me keep organized. Since I'm almost always carrying my big DSLR camera, I chose this bag because it has a great removable camera bag insert. The padding on this insert protects my camera and has adjustable dividers for a customized fit.
I can have issues with my lower back, especially if I'm carrying a heavy bag. The backpack style makes it easy to carry and it's stylish enough that my husband doesn't mind carrying it if needed. I really like the exterior back of the bag. There is a zippered section that opens up for easy access to my money, credit cards, and ID. I don't have to dig around in my bag for my ID at security. It just makes things so much easier.
Luggage Tag – When I travel, I tag all my bags, including backpacks. In case I get separated from my bag, I would hope that someone would be gracious enough to return it. It has happened to me before, so trust me and tag your carry-on. Better safe than sorry.
I am a little bit of a Star Wars fan. When I saw this luggage tag, I had to have it. What do you think?
The Basics
Cell Phone & charger/cord – I don't trust packing my phone charger/cord in my checked luggage. There is bound to be a layover or delay somewhere. So I always carry them with me. An extra battery pack is also a good idea.
Camera (not shown) – Sometimes my cell phone camera just isn't enough. So I carry my DSLR with me, especially on vacation. I don't trust it to be packed in my checked bag. There is nothing like having everything you need being in lost luggage. I pack the camera, battery, and charger in the carry on.
Notebook and pen – I have started carrying a notepad and pen with me everywhere. I am a HUGE list person. I like to write things down instead of adding them to my phone or electronic tablet. You would think it would be the same, but it's not. Weird huh? The notebook also comes in handy with the kids. They can doodle or sketch when their electronics die or they get bored.
Passport
Entertainment Essentials
Kindle Tablet and headphones – I have everything on this thing; books, movies, TV shows, games, magazines, etc. Anything I might need for my trip is on here. Plus if I need to get some work done, I have apps like Evernote and Dropbox ready and waiting.
I used to always bring my laptop. Now between the tablet and my cell phone, I can do everything I need to do for work. Eliminating the laptop really lightened up by bag. Go figure.
Just In Case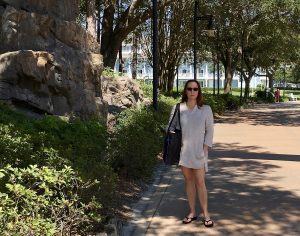 Change of Clothes – Just in case my checked luggage doesn't make it to its destination, I like to be prepared. My mom always told me to pack a change of clothes in my carry on luggage. For my Disney trip, I decided to pack a linen tunic. It is great as a swim/beach cover up and can do double duty as a dress if needed. From now on, I'll pack this as my change of clothes for summer trips. It was really cute.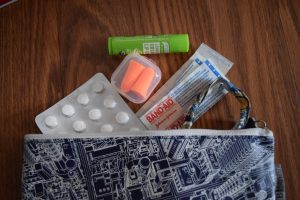 Swimsuit – It's nice to be able to relax when you arrive at your destination. I pack my swimsuit so when I arrive at the hotel, the kids and I can jump in the pool for a swim.
Sanity Savers – Earplugs and an eye mask are sanity savers, so they are in my bag. Whether it's on the flight or in the hotel room, they can help me block out sights and sounds, helping me get some sleep.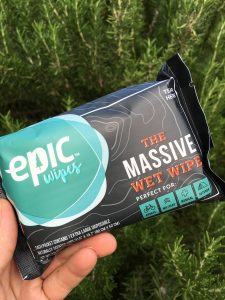 Mini First Aid Bag – When traveling, especially with kids, a first aid kit is never a bad idea. So I've learned to pack a few things and carry them with me. I carry a little bag filled with items that I may need like pain reliever, bandaids, lip balm, hair tie, homeopathic allergy tablets, etc.

Epic Wipes – If I need to freshen up, I grab for my Epic Wipe. This is a towel size wet wipe that is made with bamboo and other natural materials. I was recently sent these to try out and really like them. They come in handy for all kinds of things. If I ever get stuck at the airport and if one of the kids spills something ALL over them, I know that this will take care of the job.
Hunger Tamers
Refillable Water Bottle – Staying hydrated is really important, especially when you travel. After you get past the airport security checkpoint, bottled water is expensive. Rather than pay for water, I prefer to bring my own bottle and refill as needed. Many airports now have water bottle refill stations in the terminals which makes it really convenient.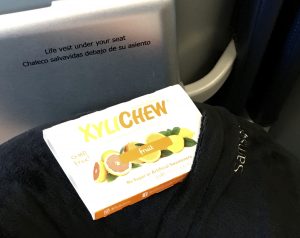 Gum – Chewing gum when you fly helps equalize the pressure in your ears. So I make sure to always have some on hand when I fly. I don't like to buy candy or gum with artificial sweeteners and colors. So I look for those without those things. Xylichew gum is one of my favorite brands because it contain a natural sweetener, Xylitol and comes in a variety of flavors. I'm currently loving their Spearmint flavor.
Snacks – When hunger strikes, I want to be ready. I like to bring a variety of real food snacks to satisfy whatever craving I may have. There is something sweet, something, salty, etc. This is what I've been snacking on lately.
Dried Fruit – It's something sweet without added sugar. Dried fruit is lightweight too.
Assorted Nuts – In a refillable pouch, I carry whatever nuts I have at home. A little protein helps fill me up.
Trail Mix or anything with a little chocolate – A little chocolate is never a bad thing. In small amounts, I don't worry about it melting too much and if it does, it just coats the other items in the mix.
So that's what is in my bag. What are your summer travel essentials?
Thank you to Kelly Moore, Xylichew, The Company Store, and Epic Wipes for providing product samples. All opinions are my own.