Looking for a way to get the kids engaged in being outdoors? An outside scavenger hunt for kids is just the thing. Instead of fighting with the kids to get off their devices, have them use their cell phones/cameras to explore where they are, and photograph the world around them. This photo scavenger hunt is also great for camp or nature-themed birthday parties.
Fun Picture Scavenger Hunt for Kids
Get our free outdoor scavenger hunt printable to get started. It's perfect to use in your neighborhood, a local park, a hiking trail, camping, or just about anywhere you are. For those with cameras and/or cell phones, have each person taking part take a picture of each item on the list. If they don't have a camera, just pointing it out is enough.
Share a photo of your scavenger hunt finds on Instagram with #nochildleftinside and tag us @lilfamadventure. We may feature you and your family adventure!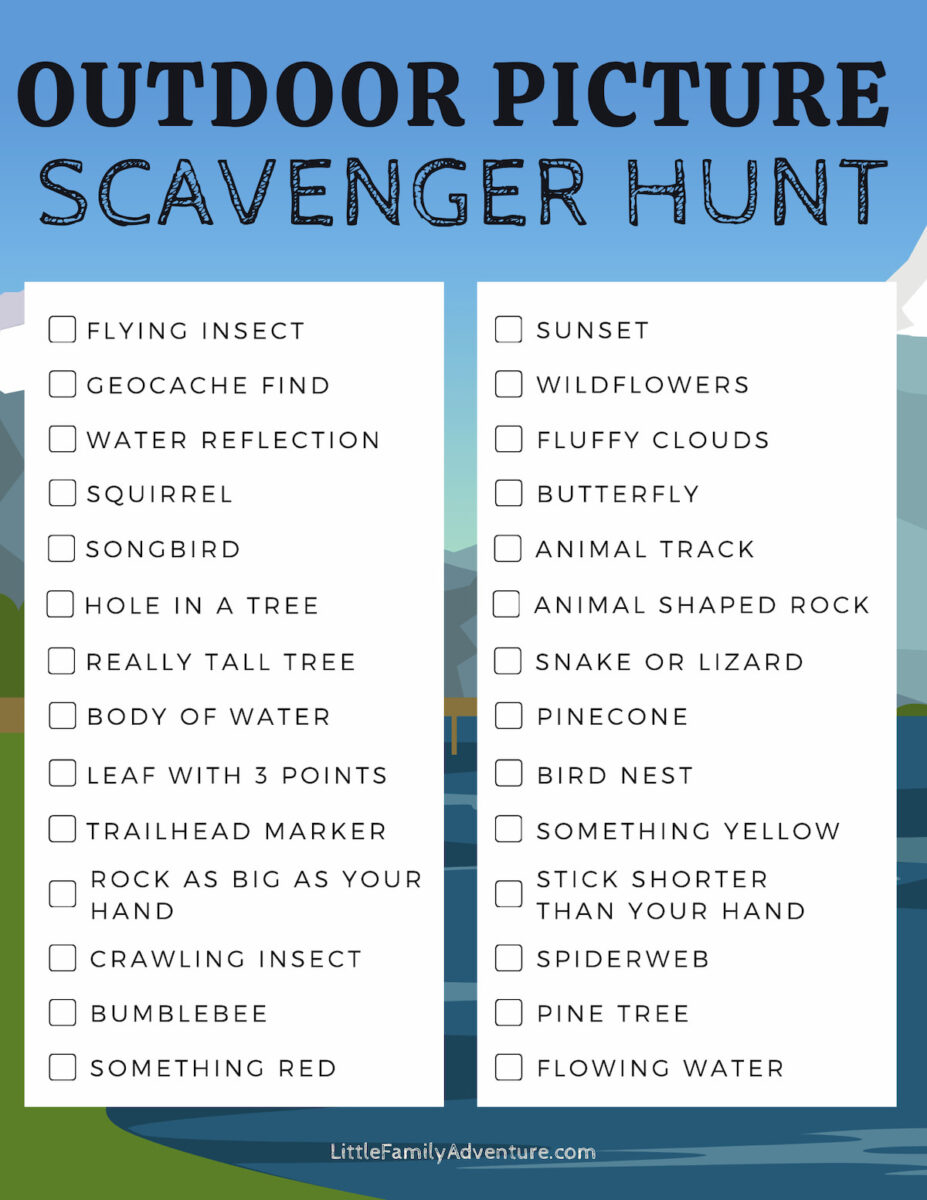 Take a look at this photo scavenger hunt list. Can you find these things?
flying insect
geocache find
your reflection in water
squirrel
songbird
hole in a tree
really tall tree
body of water
leaf with 3 points
trailhead marker
rock as big as your hand
crawling insect
bumblebee
bird nest
sunset
wildflowers
fluffy clouds
butterfly
animal track
animal shaped rock
snake or lizard ( or a stick that looks like one)
pinecone
something red
stick shorter than your hand
spiderweb
pine tree
flowing water
something yellow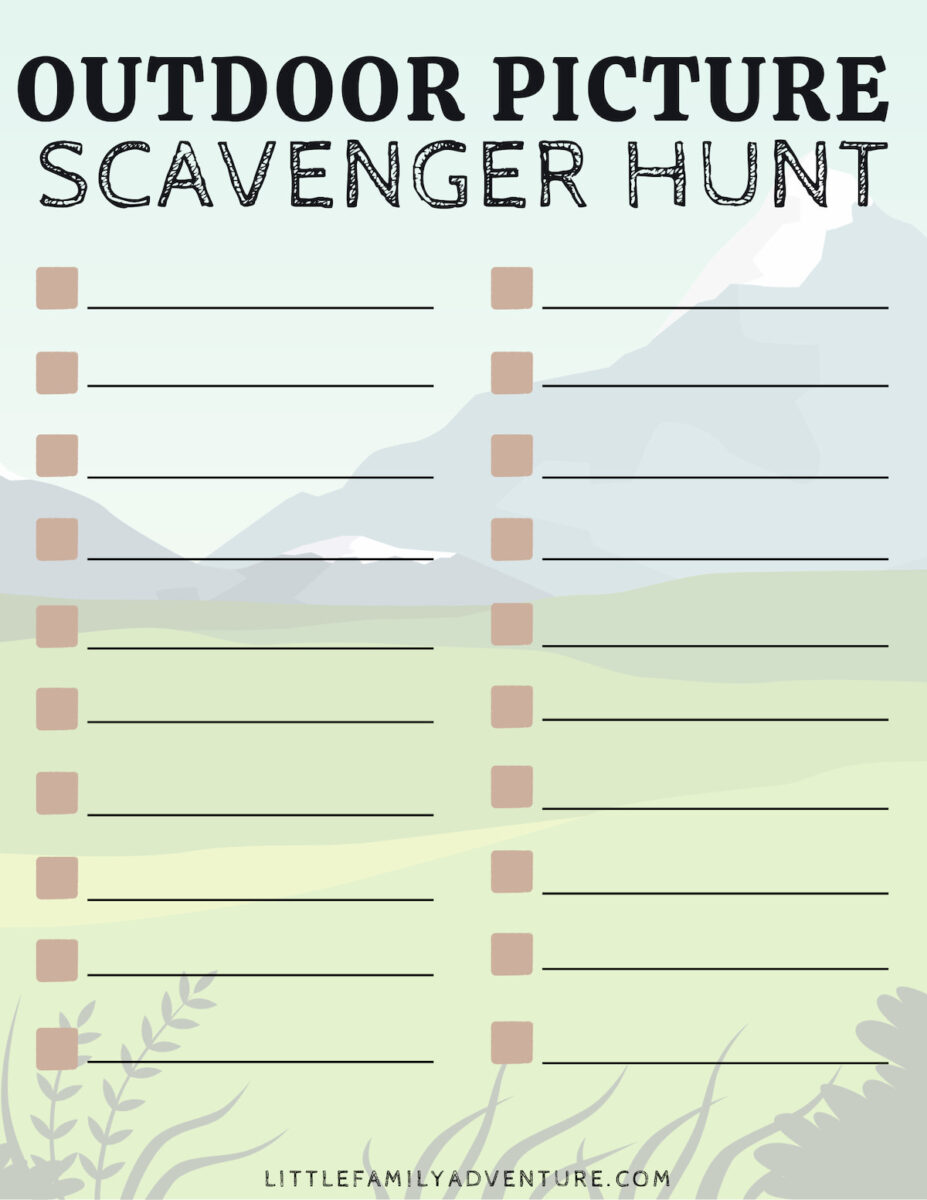 Create a Trip/Travel Keepsake
After the game, gather together all the photos and create a travel memory. It could be a slideshow or a photo book. Either way, it's a fun way to look back on the day and share stories together.
Here is a create option to create such a book: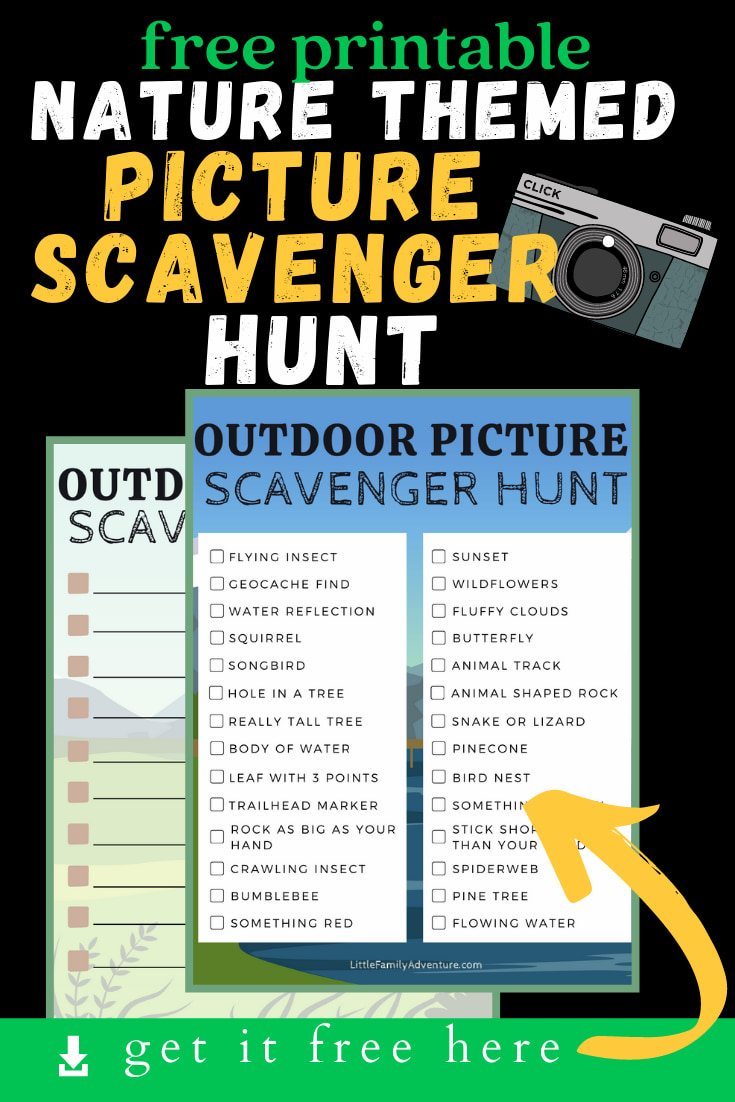 Get this free printable and a blank version so you can fill it in with your own photo scavenger hunt ideas.
Want more family fun ideas? Check out these family fun activities.