Have you ever just been in a cooking rut? You are hungry, but have NO idea what you want to make. That's the way I was for most of the weekend. I had a whole house full of food and didn't feel like cooking. Does this sound familiar? I picked up a few new cookbooks from the library looking for inspiration. I searched the web and found nothing that sounded good either. Finally I was flipping through The Whole Deal, a coupon and recipe bi-monthly magazine from Whole Foods. There was a recipe for Paprika Chicken and Smashed Black Eyed Peas that sounded REALLY good. There was no picture, but I decided to make that for dinner.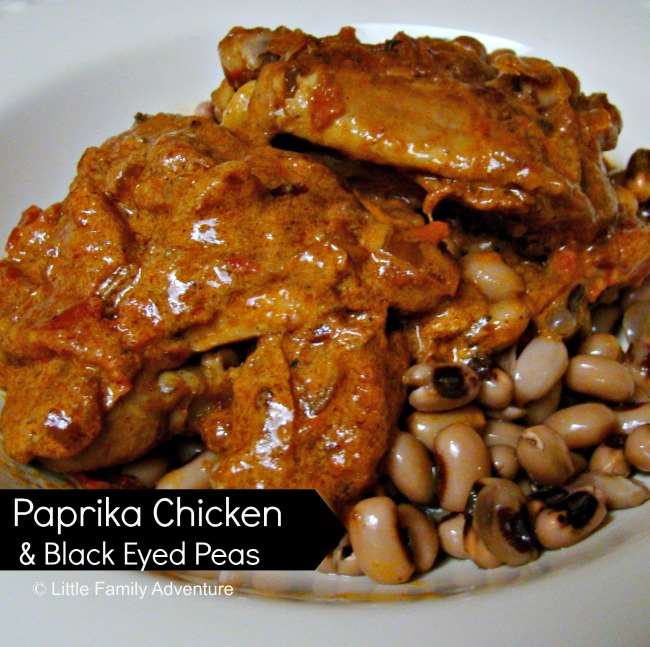 Paprika Chicken Recipe
The original recipe called for chicken thighs. I love cooking with chicken thighs. They are juicy dark meat that are full of flavor and less expensive to buy. Perhaps the only negative could be that they have more fat than a chicken breast. But that fat adds a lot of flavor. Unfortunately, I didn't have enough chicken thighs on hand, so I used a whole chicken, cut up into 8 pieces. The original recipe also had the chicken served over smashed black-eyed peas with butter and salt. I chose to serve my chicken over cooked whole black-eyed peas. It was still tasty and took less work. Some times less work, it just plain awesome! At less than $3 per serving, less work and inexpensive is even better!
Yield: 5 servings
Paprika Chicken with Black Eyed Peas
Ingredients
1 whole chicken, cut into 8 pieces or 8 chicken thighs
1 1/3 tablespoons smoked paprika, divided
2 teaspoons salt, divided
1/2 tablespoon butter
2 teaspoon olive oil
1 medium onion, roughly chopped
1/4 cup chicken broth
2 cups chopped tomatoes
1 pound bag frozen Black eyed peas, prepared according to package directions
1/3 cup Greek yogurt
Instructions
Season chicken all over with 1 tablespoon paprika and 1 teaspoon salt.
Melt 1/2 tablespoon butter and oil in a large skillet over medium high heat.
Add chicken and cook, flipping once, until golden brown, 10 to 12 minutes. Transfer to a plate.
Add onion and remaining 1/2 tablespoon paprika. Reduce heat to medium and cook until just tender, about 5 minutes.
Whisk in broth, scraping up any browned bits. Increase heat to medium high and boil until reduced by half, 3 to 4 minutes.
Whisk in tomatoes and 1/2 teaspoon salt. Return chicken and its juices to skillet.
Bring to boil, cover, reduce heat to medium-low and simmer until cooked through, about 15 minutes.
While chicken in cooking, cook peas according to package instructions.
Remove chicken from skillet and set aside. Whisk in yogurt to sauce and simmer gently uncovered 5 minutes.
Return chicken to skillet to warm through and coat in the sauce.
Place 3/4 to 1 cup of cooked peas on each plate.
Divide chicken and sauce between the plates, placing both on top of peas.
Serve immediately.
Original Recipe Courtesy of The Whole Deal November/December 2012 from Whole Foods