I recently bought a case of Fuyu persimmons. I was so excited.
Have you ever had a persimmon?
Persimmons are sweet, luscious fruits that are something like a cross between an apricot and a peach. They are sweeter than most candied and are healthy too!

I remember the first time I had a persimmon. My great-aunt had a persimmon tree in her yard. She handed me a mushy orange and brown orb that gushed like a water balloon when I squeezed it. It almost looked rotten. She assured me that this was the best way to eat them. So I took cut in open and scooped out the flesh inside. OH MY GOODNESS! It was as sweet as candy! From then on, I was hooked.

Fuyu persimmons look like little, squat, orange tomatoes. They are at their sweetest and most delicious when they ripen to an orange to orange-red color and are still firm. This variety can be eaten while firm just like an apple or peach. They will stay firm for two to three weeks after harvest if you keep them at room temperature. After that, they will begin to soften and become perfect for cookies, puddings, and quick breads.

For this recipe, you'll be using persimmon pulp. To make pulp, you'll cut the persimmons in half and scoop our the insides, leaving the skin and any black seeds you find. Place the fruit in a food processor and pulse until pureed. If you want to omit the whiskey, you can substitute equal amounts apple juice or melted butter.
I am not a big whiskey drinker, but I like to bake with Jack Daniels whiskey. You can use any brand of whiskey or bourbon you like. I just like the flavor of this one imparts. This Persimmon bread recipe is filled with dried fruit, nuts, and a good dose of that whiskey. Cut a slice and slather it with butter or fresh persimmon puree to enjoy any time.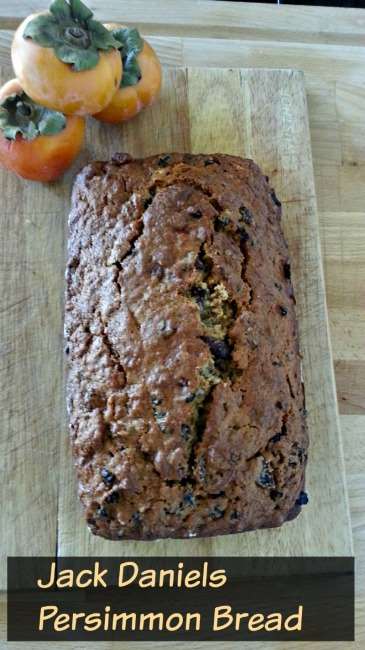 Jack Daniels Persimmon Bread
Total Time
1 hour
10 minutes
Ingredients
1 3/4 cups white whole wheat flour
3/4 teaspoons salt
1 teaspoon baking soda
1/2 teaspoon ground nutmeg
3/4 cup cane sugar
1/2 cup melted unsalted butter and cooled to room temperature
2 large eggs, at room temperature, lightly beaten
1/4 cup whiskey
1 cup persimmon puree (from about 4 Fuyu persimmons)
1 cup pecans, chopped
1 cup diced dried fruit (raisins, cranberries, figs, currants, or dates)
Instructions
Preheat oven to 350 degrees.
Butter and flour a 9x5 loaf pan.
Mix the first 5 dry ingredients in a large mixing bowl.
Make a well in the center then stir in the butter, eggs, whiskey, persimmon puree.
Add the nuts and dried fruit.
Bake 1 hour or until toothpick inserted into the center comes out clean.
This bread will keep for about a week at room temperature, if well-wrapped and be frozen for several months.
If you find that you like persimmons, you may also want to try them these ways too!
Slice persimmon, then sprinkle with lime juice, salt, and chili powder.

Use persimmon puree just like jam.

Eat them with a slice of cheese or spread with peanut butter.

Add sliced persimmon to yogurt or oatmeal.