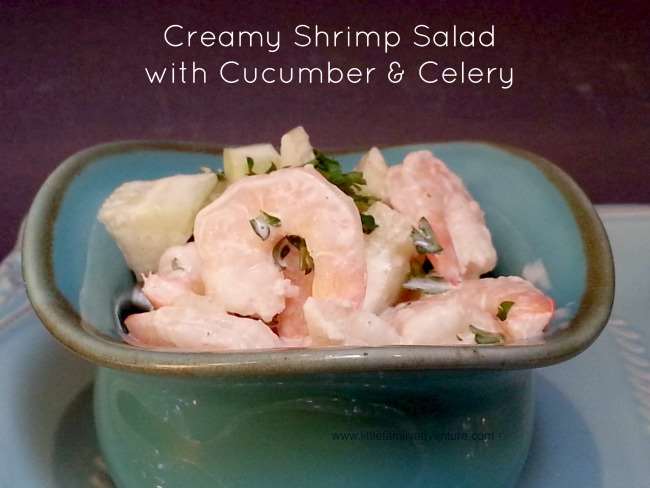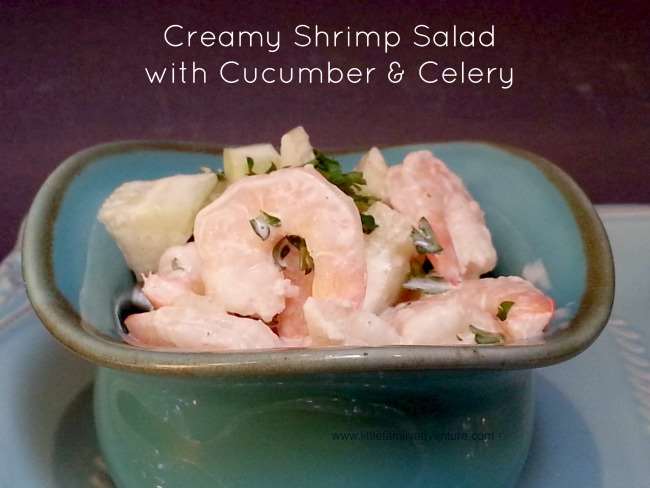 Summer Salad
Summer is the perfect time for a light and refreshing salad. When temperatures start to climb, many tend to spend less time in the kitchen and opt for making lighter fare. This Creamy Shrimp Salad is full of bright summer flavors. It combines cool summer cucumbers, celery, Old Bay seasoning, and cooked shrimp for a cold salad that you'll want to make over and over again. Plus, it's a quick and easy recipe guaranteed to not heat up the kitchen.
Mother's Day
Mother's Day is coming up. How will you celebrate the mothers in your life?
We always celebrate with a special brunch or breakfast. The kids all help out and the menu is usually light and easy. This salad will be one of the items on this year's menu. It's easy enough for the kids and it can be made ahead of time. From start to finish, this shrimp salad can be made in less than 10 minutes. Serve it by itself, on top of mixing greens or lettuce, in a sliced croissant or crusty roll for a sandwich (chop the shrimp is using for a salad), or accompanied with toast points. It's versatile and delicious. Win! Win!
A few friends and I got together to share our delicious Mother's Day recipes. I hope you like these other Mother's Day recipes I have to share with you.
Simple Sweet Muffins from Not Just Paper and Paint
Raspberry Dark Chocolate French Toast Bake by The Baking Fairy
Strawberry Cinnamon Rolls with Orange Lemon Cream Cheese Glaze by Simply Caribbean
more to come…..
Here's my recipe for Creamy Shrimp Salad with Cucumbers and Celery. I hope you enjoy it as much as I do. What will you do for your mother this year?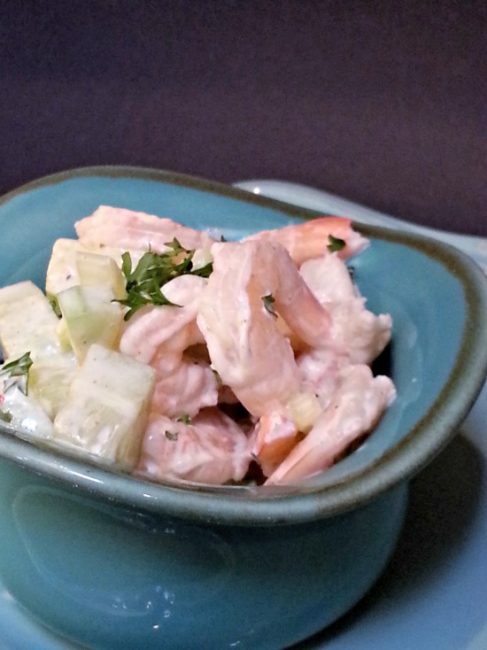 Yield: 4-6 servings
Creamy Shrimp Salad with Cucumber and Celery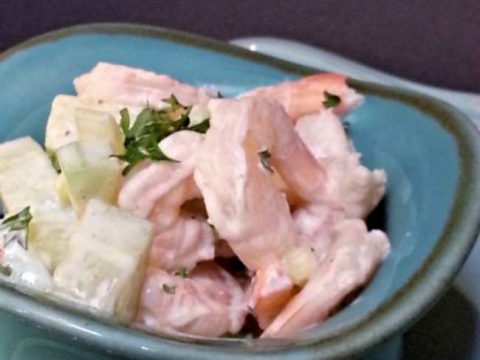 Additional Time
2 minutes
Ingredients
1 pound cooked shrimp, peeled and deveined
2 medium cucumbers, peeled, quartered and sliced
2 large stalks of celery, halved and thinly sliced
1/4 cup Greek yogurt
2 tablespoons mayonnaise
1/2 lemon, juiced (about 2 Tablespoons)
1 1/2 teaspoons Old Bay Seasoning
1/2 teaspoon salt
1 Tablespoon fresh parsley, chopped
Instructions
Combine the mayonnaise, Greek yogurt, lemon juice, Old Bay, salt, and parsley to a medium mixing bowl.
Add shrimp, cucumbers, celery. Combine well.
Serve immediately or refrigerate until ready to use.