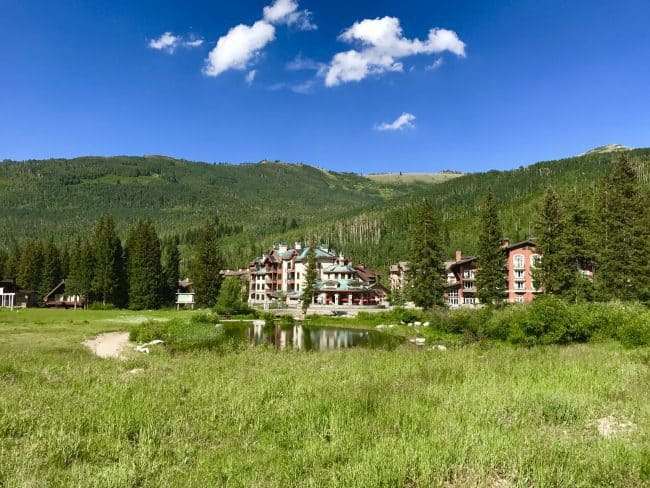 Imagine escaping summer heat and getting away to enjoy cool mountain air, miles of picturesque hiking trails, outdoor activities, and panoramic views that go on for miles. Just outside Salt Lake City, that's exactly what we enjoyed at Solitude Mountain Resort and Ski Area. A ski resort in summer?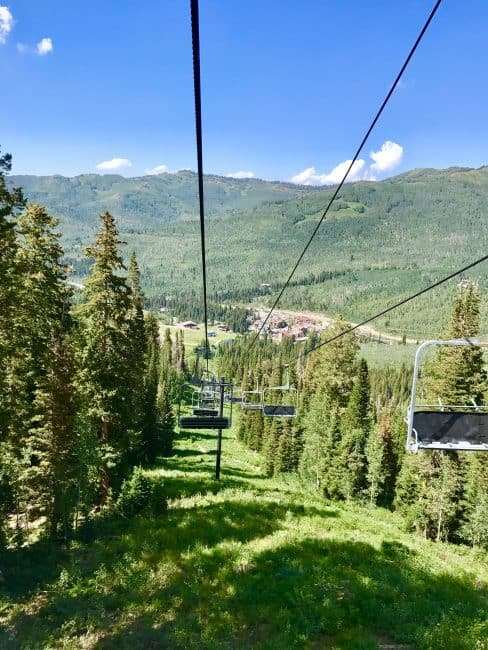 Ski resorts have never been on my bucket list. As someone who doesn't ski, snowboard, or actually enjoy cold weather, a ski resort just never really appealed to me. It wasn't until we were invited to visit Solitude Mountain as part of our big 2017 summer road trip, that I realized how great a ski resort is as a warm weather or "off season" destination. Turns out, I have been missing out on quite a lot. Many of the reasons skiers love a particular area are the same ones that make a ski resort a picturesque destination in warmer weather.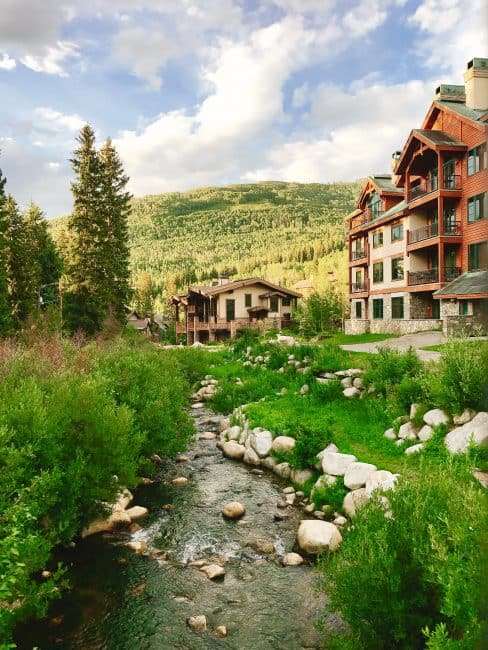 This summer we took that huge road trip; 4200 miles, 9 states, 6 national parks, 4 weeks. After leaving Grand Teton and Yellowstone, we headed to Park City and Solitude Mountain Resort. The resort was the kind where you can show up and then never leave. It has everything you could possibly want right there on property; lodging, food, activities, shopping, pool, planned events, etc. We were there for just three days to get a mini-retreat before having to be in Salt Lake City for a trade show. If you are looking for a getaway anytime of year, keep reading and you'll see why we can't wait to go back to this area.
Spectacular Views
When you think of a ski resort, you think of mountain vistas, slopes, and trails. Solitude Mountain is such a place.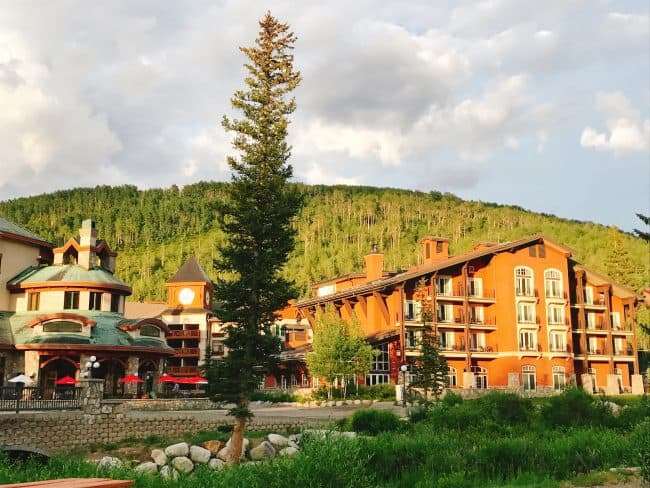 It's located in the Wasatch Mountains of central Utah. The views are absolutely gorgeous! Tall trees, fields of wildflowers, and grassy meadows cover the landscape. The resort sits inside Big Cottonwood Canyon and have over 20 miles of picturesque trails.
Up, Down, All Around
Chair lifts run in the winter for skiers, but they also run in the summer for hikers and cyclists. With a lift ticket, we took the Sunrise Chairlift up from Solitude Village to about 8900 feet. (Note: Solitude Mountain has one lift, Sunrise Chairlift, open weekends from mid June through the beginning of October.) From the top of the lift, we could either hike down one of the many trails, bike down if we brought our bikes up, or just take the lift back down.

If you want to hike, head out to Lake Solitude like we did. The hike is any easy 0.4 mile hike from the lift to the lake and back again. It's a well marked trail lined with trees and wildflowers. The best part of the trails here are they aren't crowded with people. While in Yellowstone and Grand Teton, people were EVERY WHERE. But here, there were only a handful of people here and there. It was refreshing to be outdoors and hear nature once again.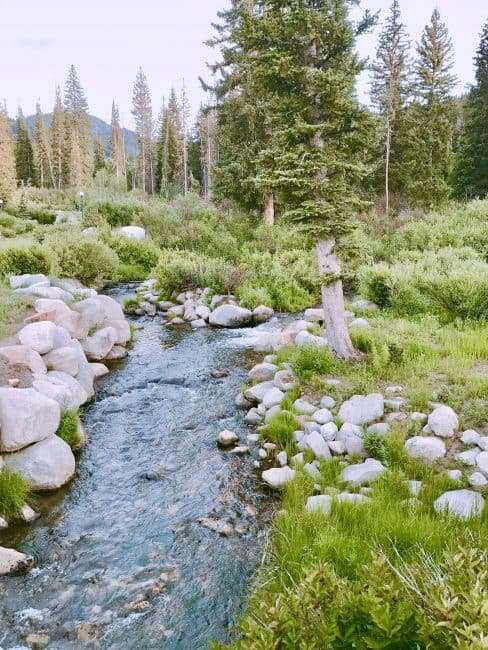 Note: I loved this picture above SO much, that I converted it to a canvas art print for my house. Take a look how I ordered this and other cheap canvas prints.
Another option is to play disc golf down the mountain. The course shares space with hiking and bike trails which ends up being just under 3 miles. We tried it and can honestly say we gave it our best try.

Having never played before, it was more adventure than we bargained for and spent more time playing "hide and go seek" with the frisbee disks than actually playing the game. I'll save that story for another time.
Activities for all Ages
In addition to hiking, disc golf, and mountain biking, there are many more summer activities to enjoy at this ski resort.
For the kids, there is a dedicated Kids Club. Here our kids loved get back on electronics to play video games, board games, and watch movies in the theatre room. When we weren't out hiking or trying to play disc golf, the kids were here. The Kids Club had activities for all ages from elementary through teens. Best of all, they could meet other kids and just hang out.
Yoga in Solitude – Every Saturday at 10am, you can reconnect and do yoga on the resort's back lawn. You won't find a setting as beautiful as this anywhere.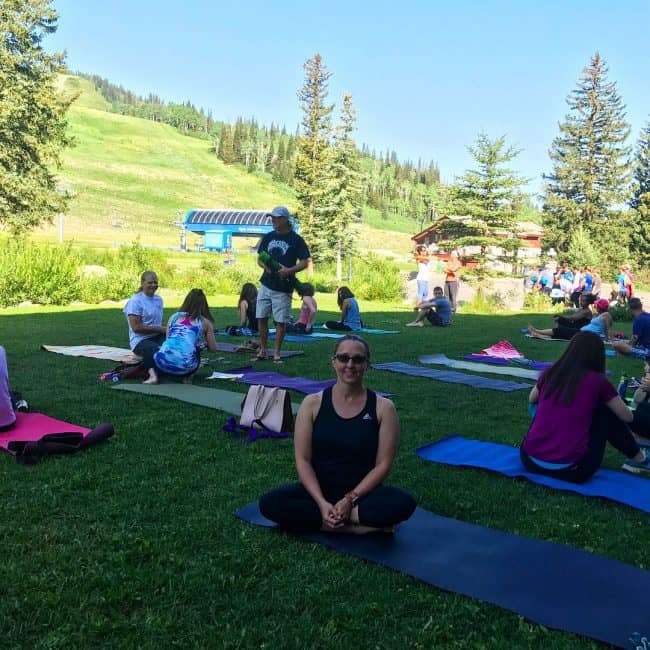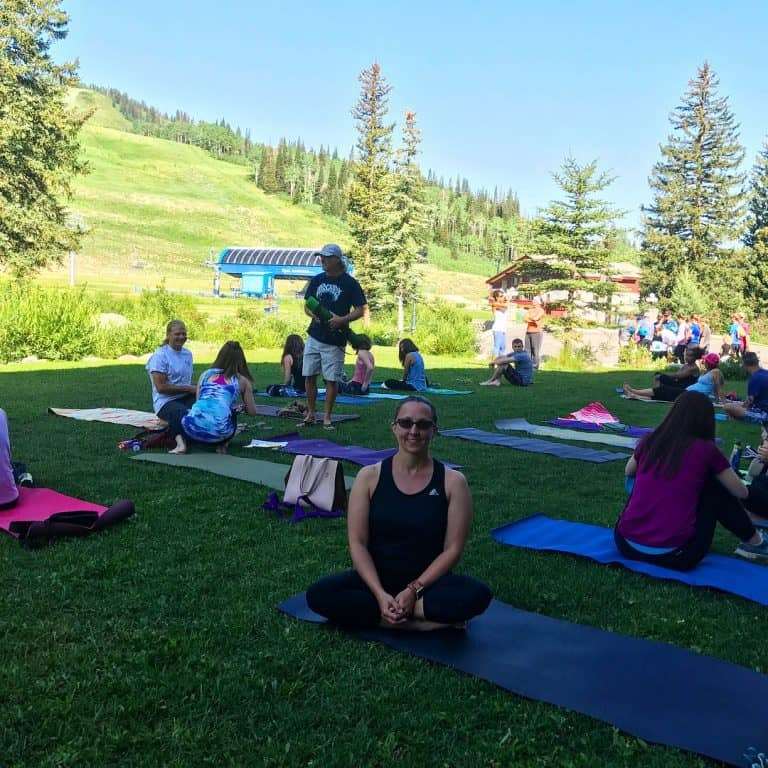 The day I attended class, they hit a record attendance level. Even with the larger group, the class was fantastic. An instructor from Salt Lake City came up and taught a class suited to all skill levels. There were even a few kids that took park and did really well. Oh did I mention it was free to all. Whether you were a resort guest, local, or visitor, the class was free!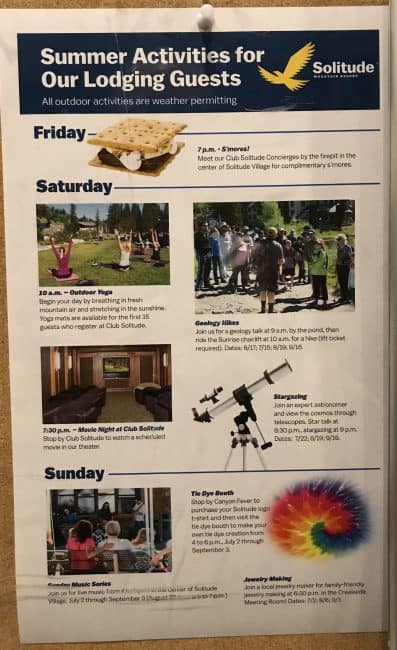 Here are a few other free summer activities at Solitude Mountain Resort for guests during the summer months.
Quality Restaurants
After all that outdoor activity, we really worked up quite the appetite. You will too! Solitude Mountain has several restaurants open during the summer months that offer a variety of foods. I can say that there wasn't a dish I didn't like.
Stone Haus Pizzeria & Creamery
This is a casual place where you can get breakfast, lunch, or dinner. It's located in the middle of the resort for easy access too.

Here you'll find baked goods, breakfast sandwiches, oatmeal, and burritos for breakfast. For lunch and dinner, you can choice between pizzas, sandwiches, and salads. For dessert or anytime snack, get a scoop or ice cream or smoothie.
There is seating both indoors and out, plus you can order to go. If you order to go, take your food back to your room/condo or take it out on the trail and make it an afternoon picnic.
Honeycomb Grill
Enjoy a delicious meal here while overlooking the mountains. This grill is serving locally sourced dishes for dinner Thursday-Sunday and brunch on weekends. From the shareable plates to hand cut steaks, you will enjoy every bite here.

We dined here for dinner twice during our stay and ordered something different every night. That was a REALLY hard thing to do because everything was so good. We wanted to have more of what we already enjoyed. Some of my favorites included the Poke Bowl appetizer, Elk Loin with roasted garlic butter, and the fresh berry tart. Every week they bake up a new pie/tart of the week. Whatever is it, get that for dessert and you won't regret it!
Lodging
During our stay, we were in the Eagle Springs Lodge in a 3 bedroom condominium. These were timeshares that you could buy or rent from an existing owner. All the reservations were done through the main office/website.

Our unit had a full kitchen and was really spacious. The kids loved that each unit had dedicated internet service. Just before we checked into our unit, we had been camping in Grand Teton National Park in Wyoming. After camping for a few nights, the kids started to say that they wanted WiFi for breakfast. I thought they were kidding, but evidently not. The unit also had a washer and dryer inside the condo. It was really nice to do laundry after camping.
The resort has a mix of lodging options. You can stay in a condo, in a hotel room at the Inn, or vacation home. Whether you need more for just one or several families, you'll find an option here.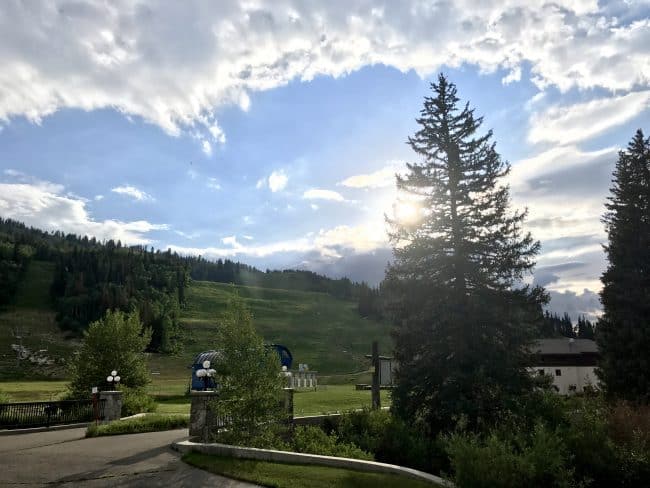 Don't make the same mistake I did and think of a ski resort as a winter only destination. Ski resorts like Solitude Mountain are family-friendly, fun, and great ways to get outdoors during the summer and fall. Our family loved our stay here in July. I just wish we had the chance to spend more time here. With a host of activities, amenities, and delicious food, I'd gladly come back again and again.
I want to thank Solitude Mountain Resort for inviting our family out to experience the resort for ourselves. They provided us with complimentary lodging, meals, and activities. All opinions are my own and are based on our recent experience.