Panama City Beach, Florida is a great beach getaway for all ages. My daughter and I took a one-on-one trip to have some fun in the sun together. If you are looking for an itinerary for teens or adults, I'm sharing the 4 days of active fun both on and off the beach.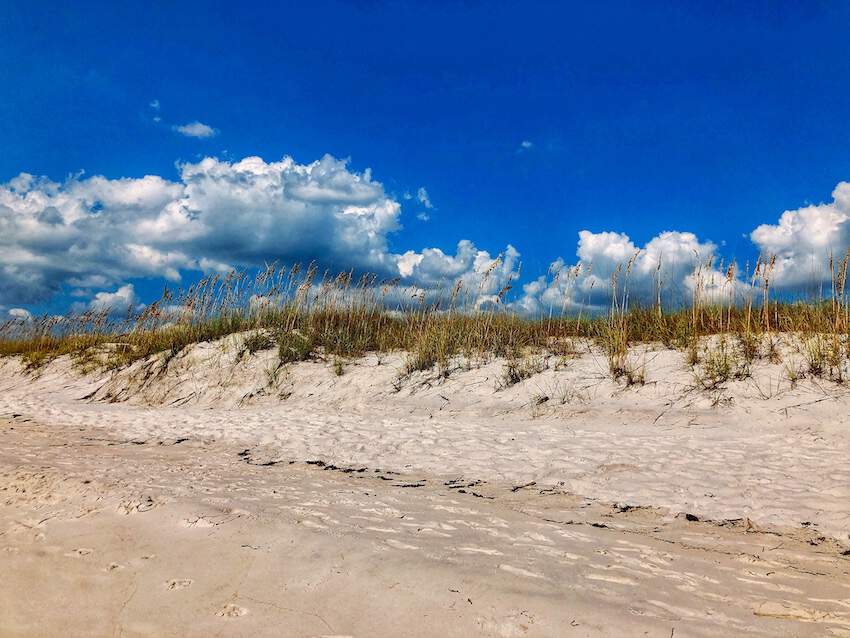 Little Family Adventure some times receives complimentary products, hosted travel, and/or compensation related to shared content. This story may contain affiliate links. Purchase through our affiliate links and we receive a small commission without any extra expense to you!
Extended Weekend of Fun in the Sun
My teen daughter loves the beach. She was born in Coastal North Carolina after all and is happiest where ever she's warm. Recently I was asked to visit Panama City Beach with one of my teenagers for a Real.FUN.Thrills press trip. It's been quite a while since I did a mom and me trip with her. So when I asked her if she wanted to spend some time at the beach, of course her answer was go "YES".
We met up with 4 other mothers and their teens (3 girls and 1 boy) in Florida. The lone boy knew ahead of time and he was such a good sport. All the teens got along fabulously! So much so that there were times they went off together and left the adults to fend for themselves. Before the end of the trip, they were planning on another meet up because they had so much fun together.
Panama City Beach – Destination for Families
When I was in college (ages ago), Panama City Beach was the place to spend Spring Break. It had quite the reputation as a college party spot. However, the area has undergone a transformation and the city has taken great efforts to curb this party hub reputation and make the city more family-friendly. Last year, contributor Ali took brought her preschooler here for a Mom and Me weekend. They had a fun getaway filled with Panama City Beach attractions both on and off the beach too.

For teens, there are so many things to do in Panama City Beach. Whether you are visiting for a weekend or a week, you'll find plenty of local Panama City events to visit, attractions, local food and more. Here's everything we squeezed in during our 4 days in sunny Panama City Beach. If you're planning a trip soon, also check out these other Panama City Beach articles to help make the most of your time here.
Arrival Day & Much Needed Beach Time
Panama City Beach is a LONG drive from Oklahoma City, but it's a short trip by plane. With a layover in Atlanta, we leave Oklahoma and arrive to Florida 4 hours later. On this recent trip, we left a rather chilly fall day back home and were greeted by the Florida sun. It was glorious! Needing to shed jackets/winter layers, and our bags, we headed to Sheraton Bay Point Resort, where we were staying for the weekend.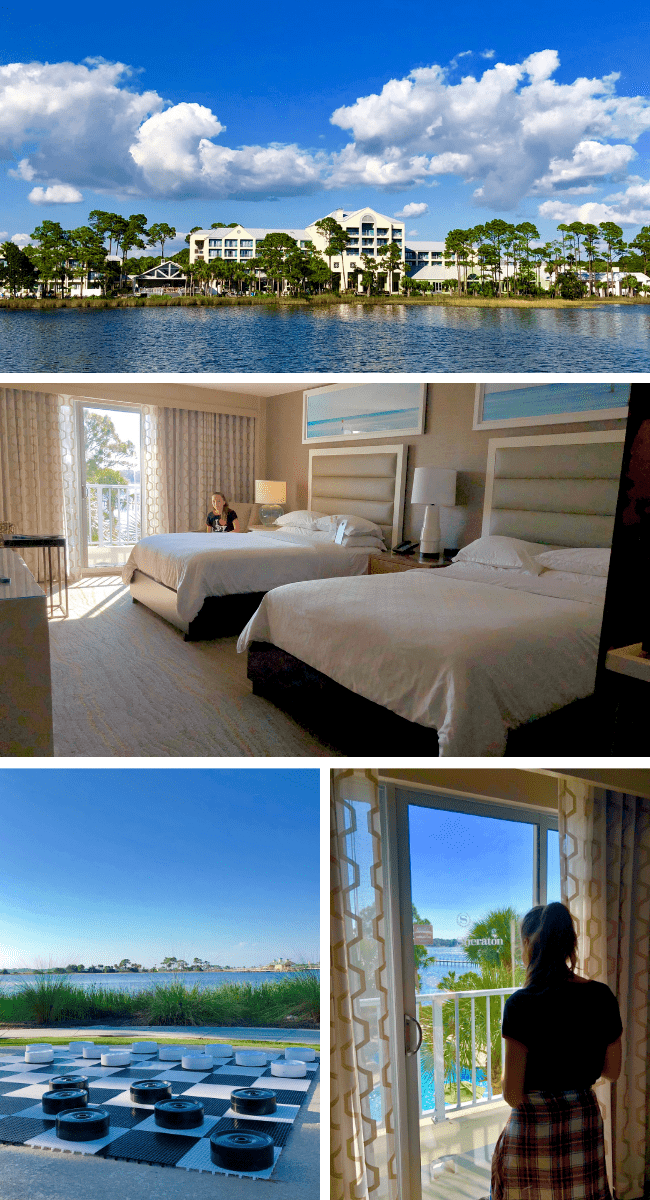 Sheraton Bay Point Resort is a beautiful family friendly property on Panama City Beach's southeastern edge. The resort sits on St. Andrew's Bay and offers sweeping views of the bay, a marina with watercraft rentals, and it's own private beach. We had a view of the bay and the pool from our room.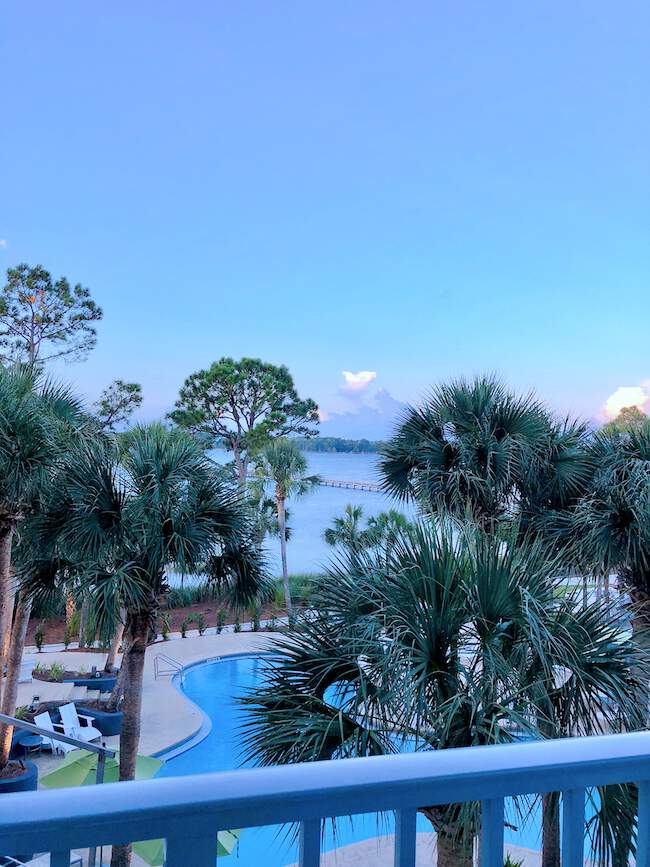 That private beach is the first place we headed to. It's not very big, but it's perfect when you want to feel the sand between your toes, enjoy the sun, and play in the water. Best of all, it's reserved for resort guests, so it's not crowded.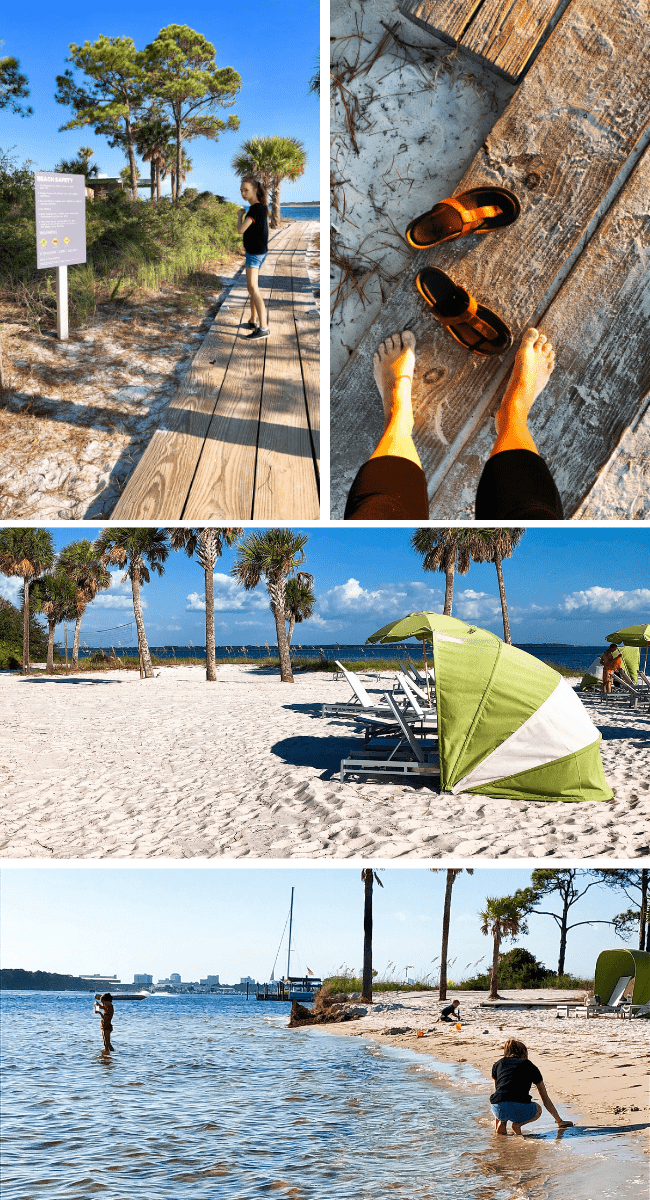 The resort provides free stand up paddleboards to guests and an array of watercraft rentals. But we found ourselves hunting for shells and discovering tons of hermit crabs. There were crabs and snails all along this beach and shallow water.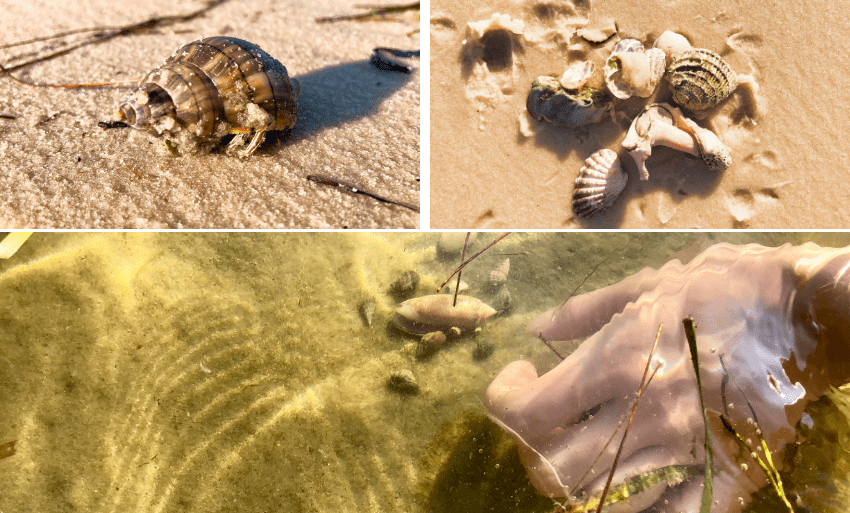 Turns out that these little crabs pinch too. My daughter picked one up and asked if they were poisonous about the same time that one pinched her. I said "Well, I guess we'll find out." Luckily, it wasn't and we later learned that none of the crabs or snails were poisonous. Good to know.
We spent our entire afternoon on this beach until it was time to get cleaned up for dinner. The hotel had a waterside grill and bar called Pelican's that served up a great burger. We met our group there for dinner and afterwards called it a night.
Shell Island and Real Life Pirates
Our second day started with breakfast at Andy's Flour Power. It's a local favorite known for great pastries, muffins, and omelets. I was most excited excited to see Hummingbird Cake on the menu and had to order a slice. It's been ages since I'd seen this cake anywhere. It's a moist cake with pineapple, banana, pecan, and cream cheese frosting. Delicious!!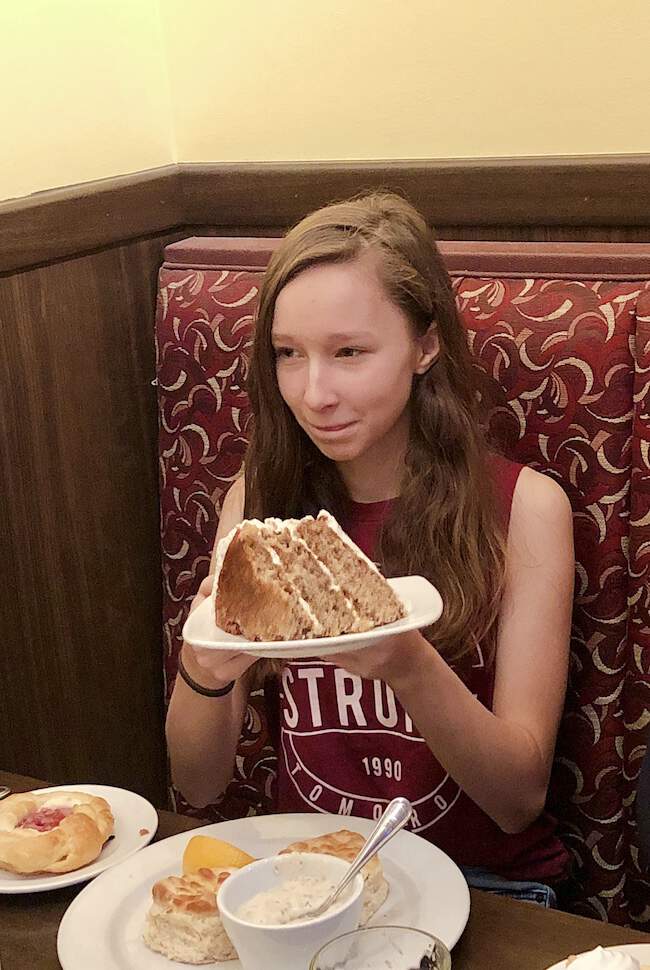 The quickest way to winning "Mom of the Year" is to allow your teen to eat cake for breakfast. So I ordered cake for breakfast to share, a bottomless cup of coffee for me, and more tradition breakfast entrees to follow the cake. Food here at Andy's Flour Power is fantastic. The live jazz is an added bonus.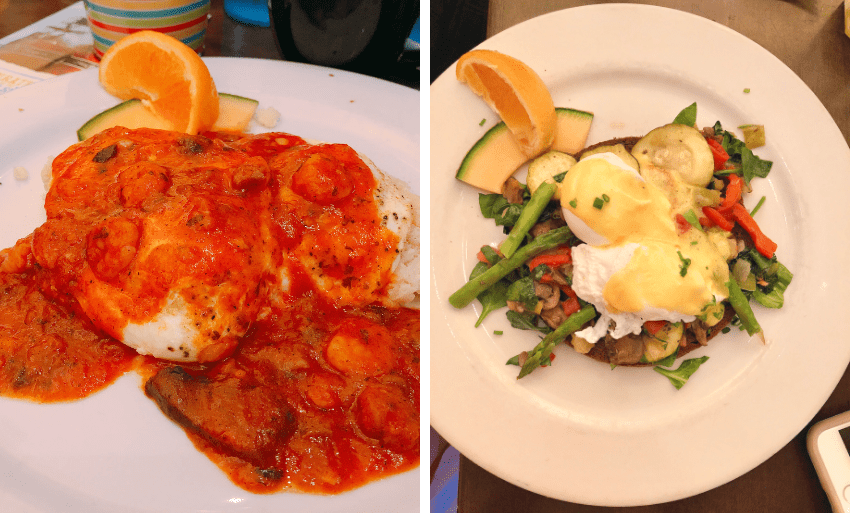 But get here early, as the line for a table grows quickly. You can always tell the best places by the line length or how full a parking lot is. The line here was out the door when we left, so it really good!
After breakfast, it was time to don our swimsuits and coverups for a trip to the beach at St. Andrew's State Park. This is Florida's most visited state park and is a must when in the area. Shell Island is a 700 acre barrier island that's part of St. Andrew's and is only accessible by boat or watercraft. We choose to take the Bay Point Lady, the complimentary shuttle from the Sheraton Bay Point Resort. But there are other paid shuttles you can take from different area marinas.
Shell Island is a primitive island of white sandy beaches, warm Emerald green water, and unspoiled beauty. Because the island has no roads, there are no services. There is a wooden deck from the boat dock to the Gulf side beach. But that's it! It's unspoiled beauty.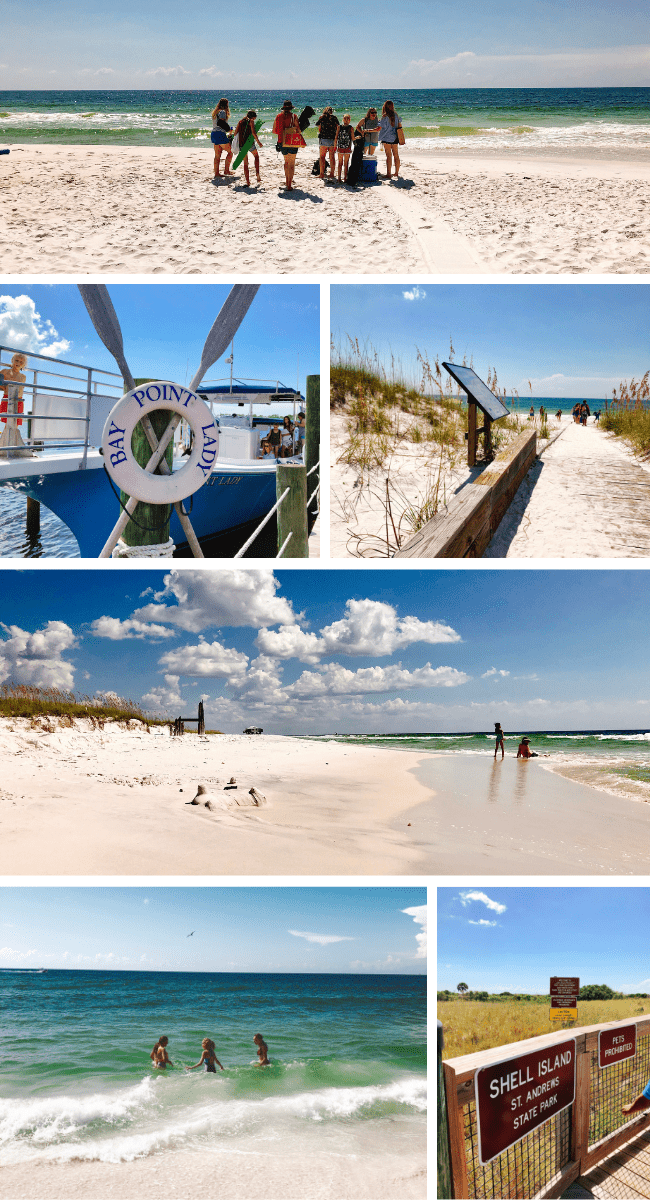 We picked out a spot, set up our beach umbrellas, and played all morning into the afternoon. The teens took turns burying each other in the sand and played in the water. We packed deli sandwiches, fruit, drinks, and cookies in ice coolers for lunch.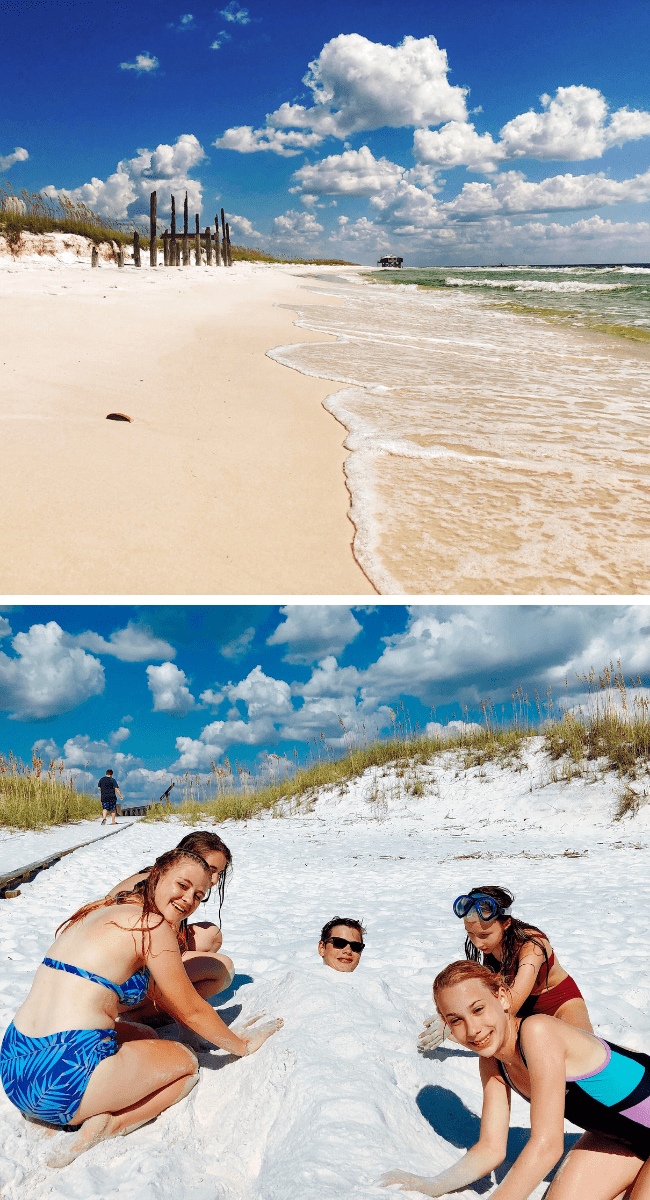 I brought my mask and snorkel but I couldn't see anything that day. Turns out another area of the park had better snorkeling than where we were. However, after a full day on the beach, we returned to our hotel to get ready for a visit to Pier Park and pirates.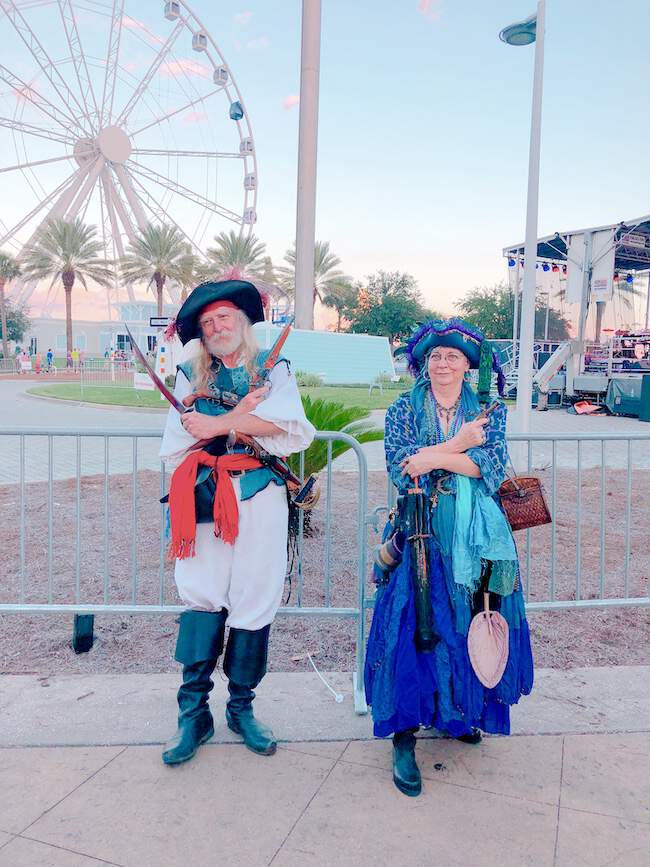 One of the reasons for visiting Panama City Beach during Columbus Day weekend is to see pirates, specifically Pirates of the High Seas Fest at Pier Park. It's an annual weekend event featuring real pirate krewes (what a group of pirates is called), parades, fireworks, live music, and more.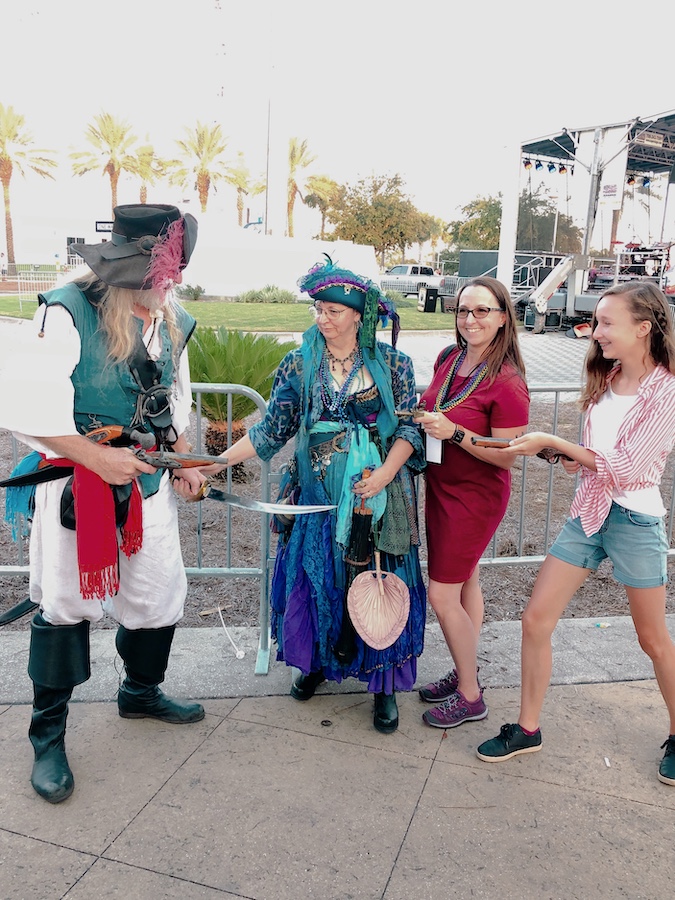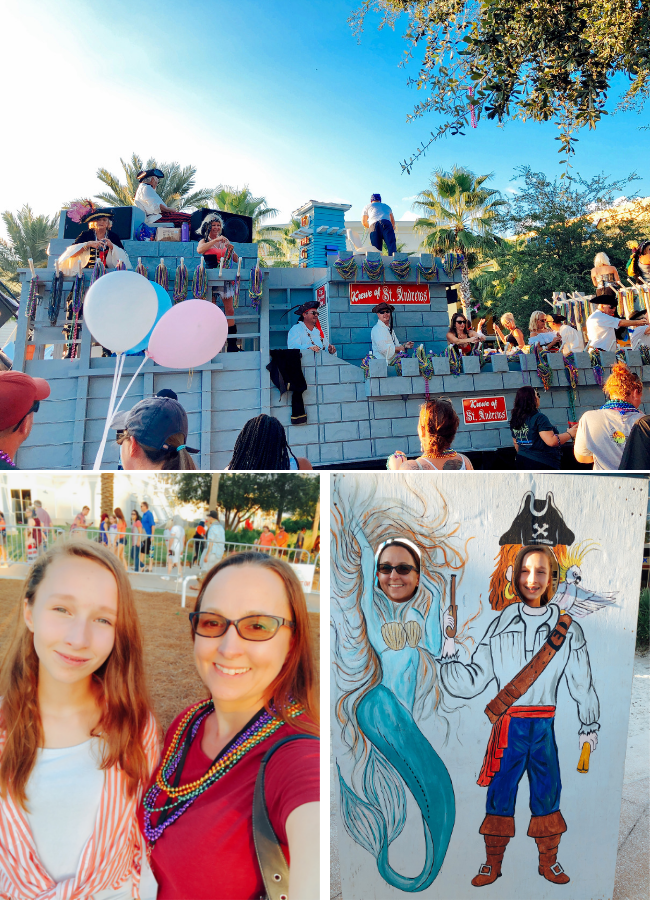 A trip to Pier Park isn't complete without a ride on the SkyWheel Ferris Wheel. The enclosed gondolas take you up 200 feet above the area for a birds eye view of the park, Gulf, and the pier. What a view!! Before the Pirates of the High Seas Fest parade started, we climbed aboard. The teens boarded one gondola and the adults boarded another. As long as you aren't afraid of heights, it's a nice little ride.
Afterwards we staked out a spot along the parade route to watch floats drive by. We found that the traffic circle near the SkyWheel was a good spot that wasn't too crowded. You could wave as the floats passed by and collect strands of colorful beads plus a few pieces of candy thrown by float riders. Following the parade, my daughter and I strolled around the festival area, popped into a few shops, got afternoon lattes, and took pictures with pirates. For dinner, we headed back to the hotel to eat at the Tides Restaurant and turned in late that night.
Jet Skiing and Air Boats
Day three started really early so we could catch the sunrise. There is nothing quite as beautiful as a beach sunrise or sunset. Seeing the sunrise over the bay was gorgeous with its blues, purples, oranges, and gold colors. We sat out on the resort private beach to watch the sun come up.
For breakfast, we headed to another local favorite, Liza's Kitchen. This family owned restaurant is in a little strip mall area with an outdoor patio area. They serve up one of the best brunch's in the area.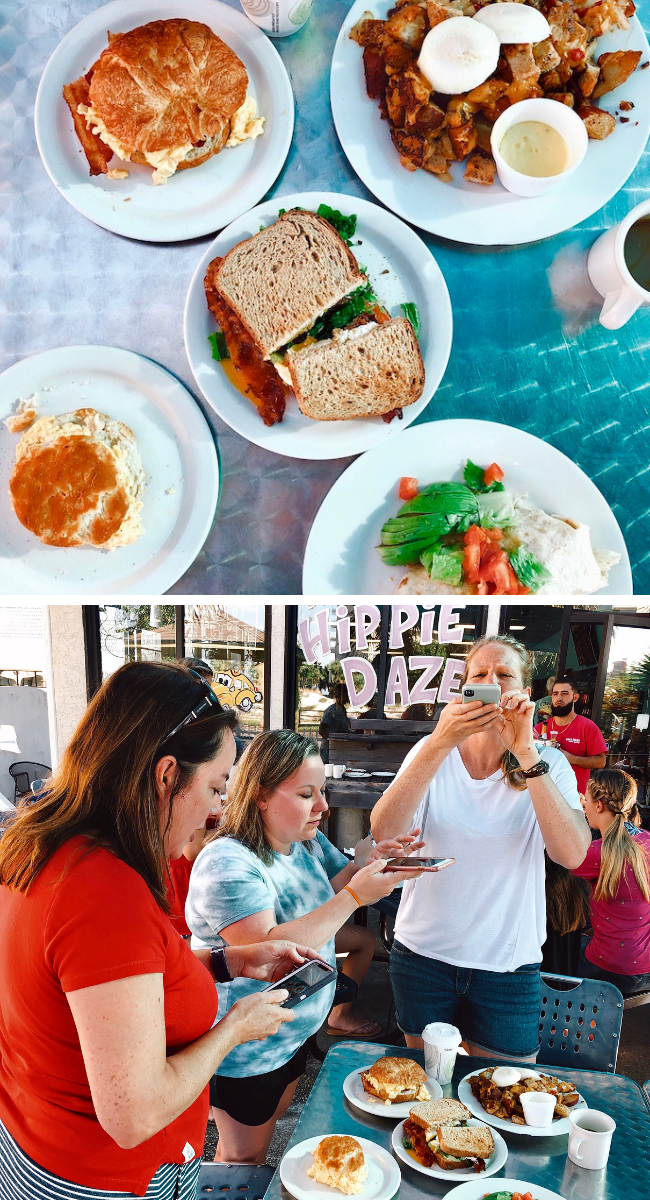 Eating with a group of bloggers can be entertaining. The rule is everyone gets their pictures before we eat. Luckily we all do it quickly so the food is still hot when we're done. Portions here at Liza's are good size and everything is delicious.
Following breakfast, it was time to get back on the water and return to Shell Island. This time we took a jet ski tour with Adventures at Sea. This was the first time we have ever been on jet skis.
After signing our waivers and getting fitted with safety vests, we got our instructions. Basically, follow the leader, go full throttle to ride above the waves, and have fun. Those sound simple but are a lot harder in reality. Paige, my daughter was seated behind me holding onto my vest and bouncing every time we hit a bump. At one point she started singing her own version of the Cupid Shuffle –
To the right, to the right,
To the left, to the left,
Now bounce around the seat,
And hold on to your vest,
Let me see you do it
In the end, we stayed on our jet ski, turned up the throttle a few times, and enjoyed the trip out to Shell Island. We went to a different part of the island this time that had tidal pools for snorkeling and more white sand beach.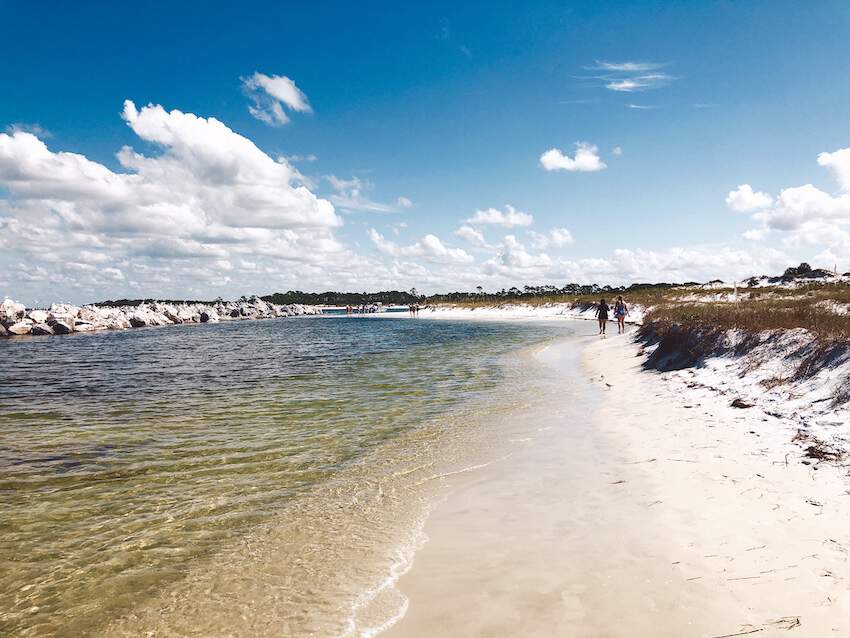 The island has a large Bottlenose dolphin pod, that can often be seen at mid day feeding. Unfortunately, we didn't get the catch to see any either day we were on the island. Next time!
For lunch, fish tacos sounded like a great idea. Finn's Island Style Grub is the local go-to for the freshest island style food. We ordered at the outdoor window and grabbed tables on the outdoor patio. We had the Ceviche and guacamole with chips, Ahi Tuna Tacos, and a Ahi Tuna Salad that were soooo good!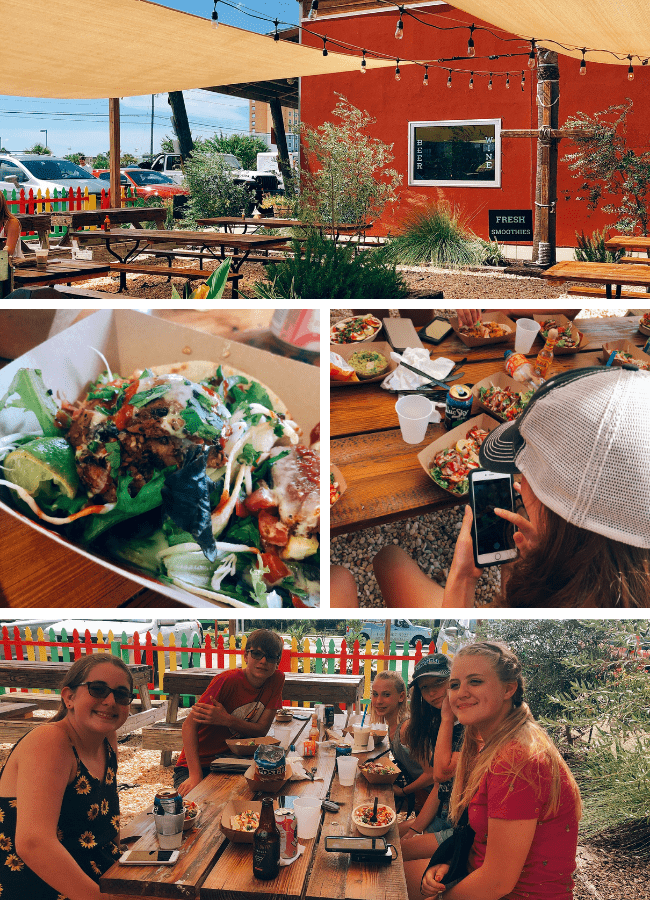 Next door there was a gift and coffee shop with smoothies and local kombucha on tap too. We popped in there and found a great sunburn spray called Solar Recovery Hydrating Mist. Even though we slathered ourselves with sunblock the past few days, we still got burned. Luckily, this spray helped take the sting out of our sun burns. It had a combination of essential oils, vitamin E, and calendula.
After lunch, we headed inland for an airboat ride with Wild Thang Airboat Tours ( you can book their airboat tour through Viator). We boarded an airboat, put on our ear protection, and toured the West Bay marshes with our guide.
We spotted birds, spied an Osprey nest in a power pole, learned about the marsh ecosystem, and looked for alligators. Sadly we didn't see alligators on the ride, but we got to hold a baby once we got back to the dock.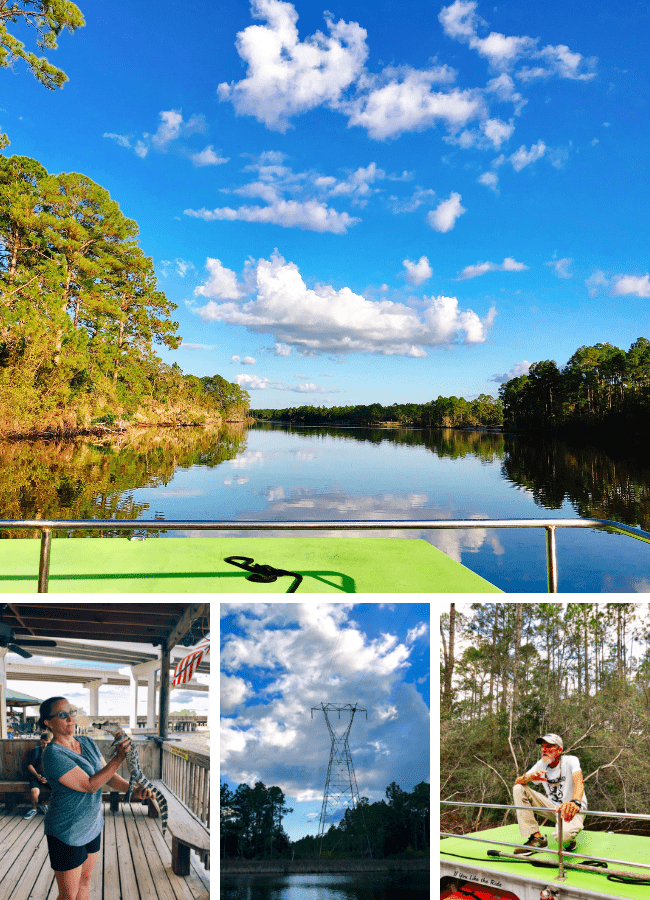 For our final night in town, we went to Grand Marlin of Panama City Beach. They have stunning views of the sunset over Grand Lagoon. Unfortunately, we arrived too late to enjoy it, but we did really enjoy the food.
Grand Marlin have a wonderful selection of fresh seafood ranging from oysters to local Red Snapper and Grouper. Atmosphere is relaxed and it was a great choice for our final dinner together. Instead of having dessert, we opted to finish the night back at the hotel with a beach bonfire on the private beach.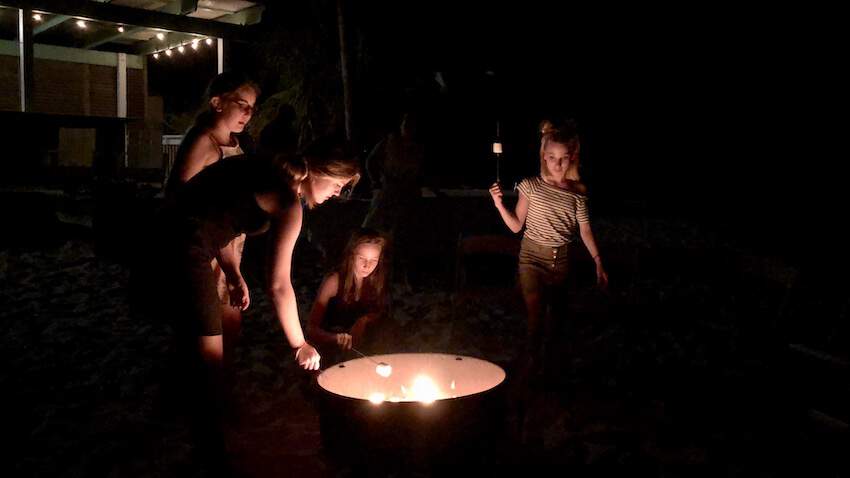 Time to Go Back Home
The plan for our last day in Panama City Beach was a trip to Thomas' Donuts, drop friends off at Gulf World for their dolphin interaction, and then head to the airport. The day didn't go exactly as planned.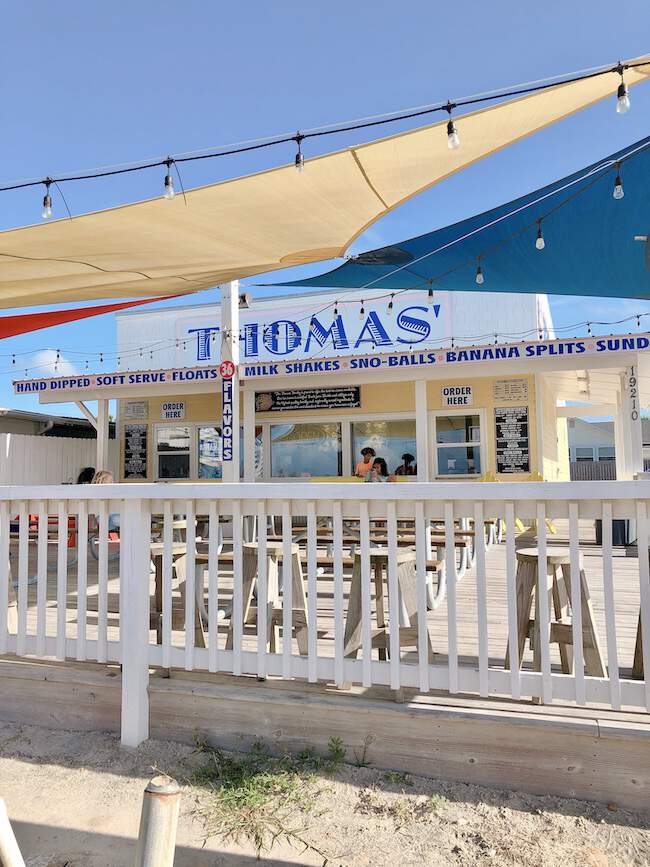 Thomas' Donuts is a local donut and snack shop in Laguna Beach. It's right across the street from the beach and has been a local institution since 1971. When Ali was here with her daughter, she raved about their donuts and highlighted on her list of kid-friendly restaurants in Panama City Beach. Therefor it was on our list of things to do in Panama City Beach. We were saving it for this last day. Unfortunately, a LOT of other people had the same idea and the line for famous donuts was really LONG.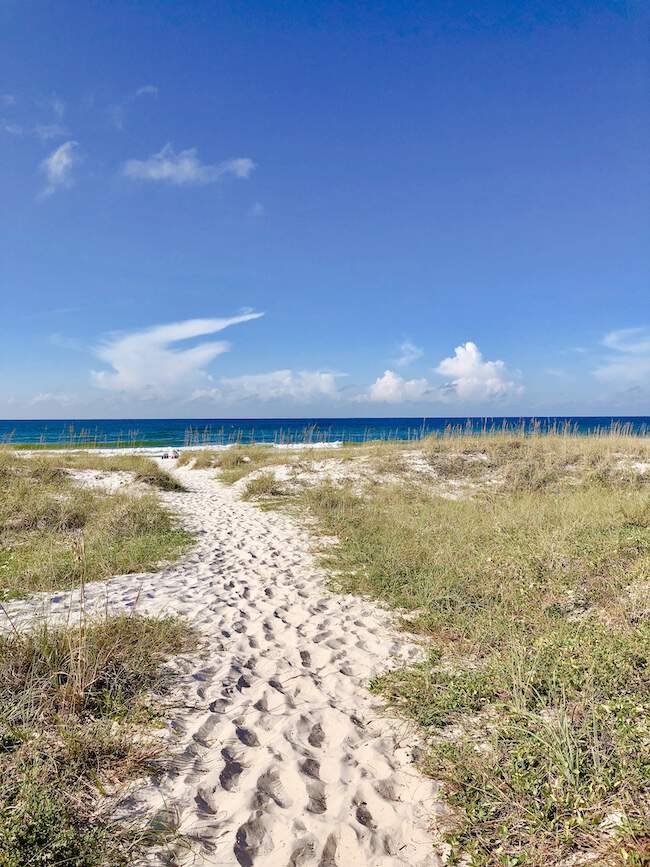 But when you have a beach right across the street, we took turns standing in line while others went across to the beach for pictures. Ultimately, we all agreed that we'd have to take a rain check on donuts. We got back in the car, dropped friends at Gulf World and then we headed to Panera Bread. It was close and we were hungry. Afterwards, we made the 20 minute drive back to the Northwest Florida Beaches airport to head home.
This is our teen and me trip to Panama City Beach, Florida. It was filled with fun outdoor recreation, plenty of beach time, and great food. My daughter and I had new adventures in jet skiing and riding in an air boat. We enjoyed both and welcome the chance to do them again. It has been a long time since I shared a long version of one of our trips. I hope you've enjoyed this day by day account and it inspires you to travel to PCB with your teens.