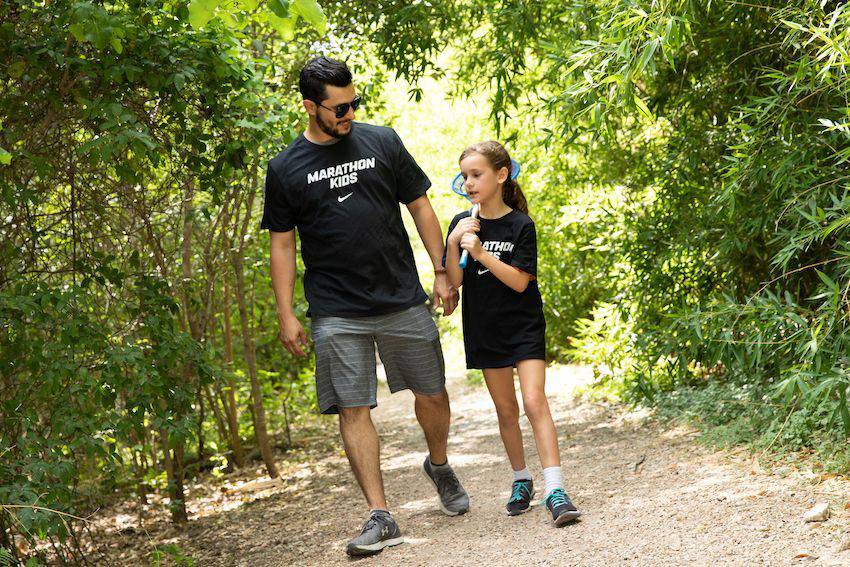 Here at Little Family Adventure, we are always looking for ways to get families outdoors together. Our friend Heidi told us about Marathon Kids and their Walk and Talk Challenge. This is a GREAT opportunity to get out with the kids and walk together. We asked her to share more about the program and here it is! Happy Adventuring!!!
Walk and Talk Challenge
Summer's here and the time is right for connecting and setting healthy habits with your kids! Sound daunting? We know all about sullen teenagers, not to mention kids of all ages who prefer zoning out in front of screens to walking around the neighborhood and chatting with their parents. But don't worry — Marathon Kids has you covered with the Walk and Talk challenge, and trust us — it's fun for the whole family.
Free Summer Program
Walk and Talk is a free program for kids and the important adults in their lives to get to know each other better while they build fitness through walking, one mile at a time. When parents or guardians register for Walk and Talk, they receive free special mileage logs and 26 conversation starters — one for each mile. Families walk and talk on their own schedule, whenever and wherever it works for them. Hate sweating and don't want to walk outdoors? No problem! Take your kid to the mall or head to an indoor track to complete your laps in the cool A/C.
When you take your walks is up to you, too. You can walk first thing in the morning, in the evening after dinner, or on the weekend — whenever it fits with your schedule. Going for just two or three walks per week adds up; by summer's end, you'll have covered a full marathon together, and you'll have connected over conversations about everything from fears, hopes and ideals to school, crushes, motivation and more.
Want more family summer fun? Take a look at these family fun ideas.
Why Does it Work?
The program is based in research that shows kids are more likely to connect with their parents when they're involved in activities together. There's just something mysterious and magical about getting the brain engaged while the body is moving. Somehow, communication barriers break down, easing the way for both children and adults to listen and open up to each other.
When you Walk and Talk with your child, you'll be building healthier habits together and getting to know each other better along the way. Now, that sounds like a summer well spent!