Family Pizza Nights are a favorite in our house. They can be in yours too! Pizza nights are perfect for when you are short on time, but still want to feed your family a healthy meal. Here are 5 quick and healthy flatbread pizza recipes for you to try.
Flatbread pizzas are made with any kind of pre-made crust or flat bread. It could be focaccia, pita bread, naan, lavash, split english muffins. etc. Top with a sauce, toppings, and cheese and they are ready to go! Bake in 425° oven for 6-8 minutes until cheese is melted and crust has crisped up a bit. In less than 15 minutes, you'll have a quick and healthy flatbread pizza.
Here are a few ideas of pizza combinations to get you started:
Mediterranean Spread a few tablespoons of baba ghanoush or hummus over flat bread. Top with sliced pepperoncini peppers, chopped or sliced Kalamata olives, chopped prosciutto, chopped fresh spinach, crumbled feta and parmesan cheese.
Thai Chicken Spread flat bread with a thin layer of peanut butter. Top with shredded chicken, chopped kale, shredded carrot, a few sliced of red bell pepper, big pinch of chopped cilantro, and shredded monterrey jack cheese
Ham and Cheese Spread pesto or olive oil over flatbread. Top with chopped ham and mozzarella or cheddar cheese.
Broccoli and Cheese Stir together 2 Tablespoons each of ricotta, grated mozzarella, and Parmesan; spread on flat bread. Top with steamed broccoli, drizzle of garlic oil. and sprinkle lightly with garlic powder.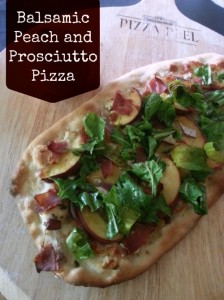 Balsamic Peach and Prosciutto See here for ingredients
Garden Veggie Spread pesto or marinara sauce over flat bread. Top with your choice of fresh sliced vegetables (kale, bell peppers, peas, broccoli, spinach, tomatoes, green onions, etc.) and sprinkle of parmesan cheese.
Veggie Enchilada Spread enchilada sauce on flat bread. Top with black beans, corn, green onions, chopped poblano or bell peppers, and queso fresco or pepper jack cheese.
Cheeseburger Spread yellow mustard (I like whole grain variety) on flatbread. Top with cooked ground beef crumble, chopped onion, chopped tomato, sliced dill pickles, and cheddar cheese.
Egg Florentine Spread thin layer of tomato paste over flat bread. Top with steamed chopped spinach, and crack 1 egg in center. Bake until egg white is set. Drizzle with hollandaise sauce or melted butter.
Hawaiian Spread olive oil, marinara, or pesto on flatbread. Top with chopped ham, chopped pineapple, and mozzarella cheese.
Artichoke Italian Drizzle olive oil over flatbread. Top with sliced Italian sausage, sliced artichoke hearts, sliced fresh spinach, chopped fresh basil, and mozzarella.
Pesto BLT Spread pesto on flatbread. Top with cooked and crumbled bacon, sliced tomato, and mozzarella. Top with shredded lettuce once cooked.
Plain Jane Spread marinara sauce or tomato paste on the flatbread. Top with mozzarella cheese.
Texas Barbecue Spread flatbread with barbecue sauce. Top with sliced steak or smoked sausage, sliced red onions, and monterey or cheddar cheese.
Mixed Berry Dessert Crisp the flatbread with no toppings. Once crisp, spread a thing layer of cream cheese on flatbread. Top with fresh, sliced berries and a drizzle of honey
Have a favorite flat-bread pizza creation? Share it in the comments!
There you have it! 12 flatbread ideas that are quick to prepare and healthy too. You and your family will love having pizza night together with one of these creations.