Forget those store-bought pie crusts, making a homemade crust is as easy as pie. (Get it? Sorry I couldn't resist. 🙂 ) This All Butter Pie Crust is a flaky crust that makes a great base to pies, quiches, and tarts.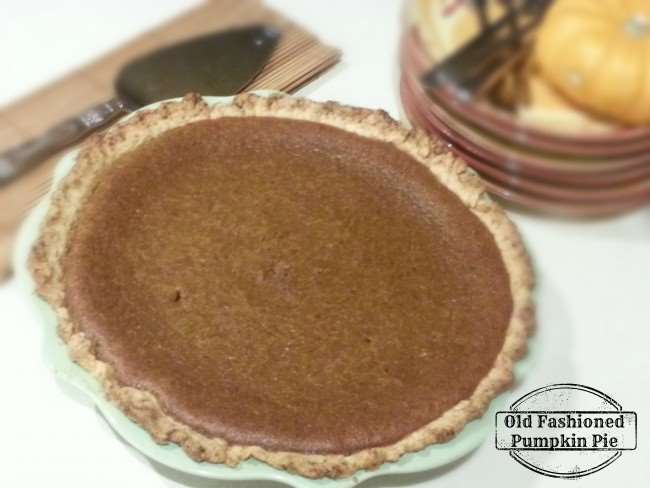 There are a few things about this crust that make it different, in a good way.
There's no shortening. We're using only butter. Don't worry, you'll still get a great flaky crust.
We're u

sing white whole wheat flour. It is more nutritious and lends a slightly nuttier taste to the crust. It also results in a slightly darker crust. You can substitute all-purpose flour if you want something lighter in taste and color.
This recipe makes 1 pâte brisée crust, enough for one tart or lower pie crust. If you need a double crust, just double this recipe and form two discs of dough instead of one. You can make this crust in advance and store in the freezer for up to 1 month. Just place in refrigerator overnight to thaw.
Try this crust with our Old Fashioned Pumpkin Pie.
All Butter Pastry Crust (Pâte Brisée)
1 1/4 cups white whole wheat flour, plus extra for rolling
1/2 teaspoon salt
1 Tablespoon sugar
8 Tbsp (1 stick) unsalted butter, very-cold,
cut
into 1/2 inch cubes
3 to 4 Tbsp ice water, very cold
Start your crust by cutting up your butter into cubes and place in the freezer. Freeze for at least 15 minutes. Longer is better.

Place the flour, salt, and sugar into a food processor and pulse until well combined. Add half of the butter cubes and pulse 6 to 8 times.
Add the other half of the butter cubes and pulse 6 to 8 more times. Mixture will resemble a coarse meal. Butter pieces should be the size of peas.

Add a couple of tablespoons of ice-cold water (without the ice!) to the food processor bowl and pulse a couple of times. Then add more ice water, slowly, about a tablespoon at a time, pulsing after each addition, until the mixture just barely begins to clump together. If you pinch some of the crumbly dough and it holds together, it's ready, if not, add a little more water and pulse again.

Place the crumbly mixture on a clean, smooth surface. Press the heel of your palm into the crumbly mixture, pressing down into the table top. Do this 4 to 6 times. Then, use your hands to press the crumbly dough together and shape into a disc. Work the dough only enough to just bring the dough together. You should be able to see little bits of butter, dotting the dough.

Sprinkle the disc with a little flour on all sides. Wrap the disc in plastic wrap and refrigerate at least 1 hour.

When you are ready to roll out the dough, remove the disk from the refrigerator and let it rest for 5 to 10 minutes to make it easier to roll out. Sprinkle flour on the surface you'll be rolling out your dough on and on top of the dough. Roll dough to a 12 inch circle, 1/8 inch thickness.

Fold dough in half twice, forming a triangle. This will make it easier to transfer to the pie plate. Place on to a 9-inch pie plate.

Gently unfold and press down to line the pie dish with the dough. Crimp or add whatever design you like to the crust edge.

Now you're ready for whatever filling you like.
This is a great pie crust. I know you are going to enjoy it. What pie will you try it with next?