I recently partnered with avid hotels to experience a new kind of hotel. Avid sponsored our family to a fun Oklahoma City weekend getaway filled with firsts; FIRST OU (University of Oklahoma) Sooners Football Game, FIRST overnight stay at the new avid hotels Oklahoma City – Quail Springs, and new places we found while exploring close to home. It's invigorating to try new things. Change is good and you never know when you'll discover something that becomes a "favorite".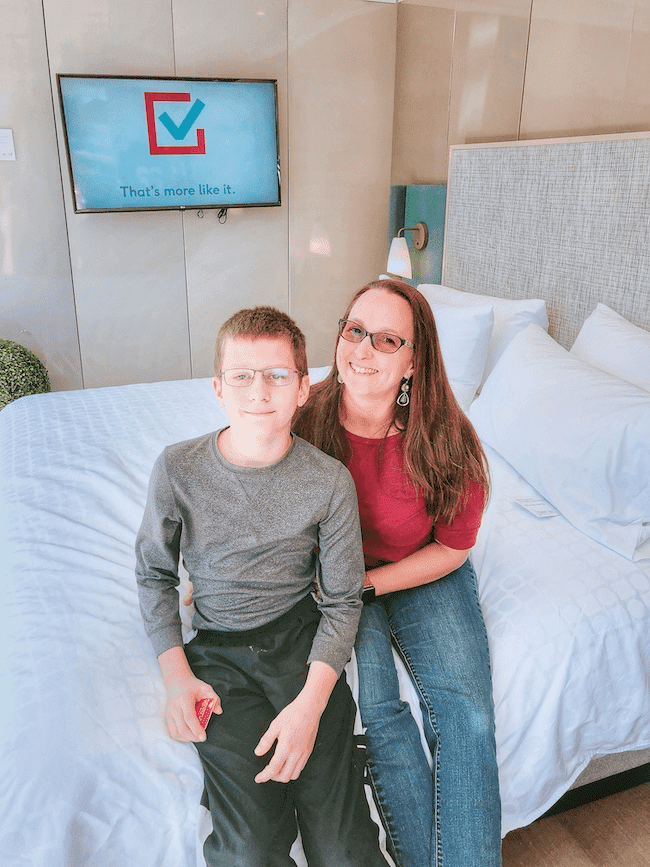 This article contains links to our partner and affiliate programs. Purchase through our affiliate links and we receive a small commission without any extra expense to you.
avid hotels
avid hotels is a new hotel brand from InterContinental Hotels Group (IHG). You may be familiar with other IHG brand hotels Intercontinental, Holiday Inn, Holiday Inn Express, Kimpton, & Candlewood Suites. Avid is built on the motto of "Everyday travel essentials done just right." To create this hotel brand, travelers were surveyed and asked what they wanted in a hotel. Then the hotel delivered what travelers requested most, "the basics done exceptionally well at a fair price."
avid's Travel Guarantee
The new avid hotels Oklahoma City – Quail Springs opened their very first location August 2018. New properties are already in the works for the US and globally. 15 locations were just announced for Germany (September 2018). All the hotels are built from the ground up to exact specifications. So no matter which location you visit, you will get a consistent experience. Part of that experience is you are guaranteed that
Everything in your room is clean using their 50 point checklist
Everything electronic works and you can stay connected
You will get sound sleep

Sooner Football & avid hotels Pop Up Experience
Now that the first hotel, built on customer feedback, is open, Avid created a Pop Up Experience to show the public what their hotel was like. They created a mock up of a King room and took it to where the people were. One was to an Oklahoma Thunder basketball game and the another was down to Norman to an OU Sooners football game. That's where we caught it.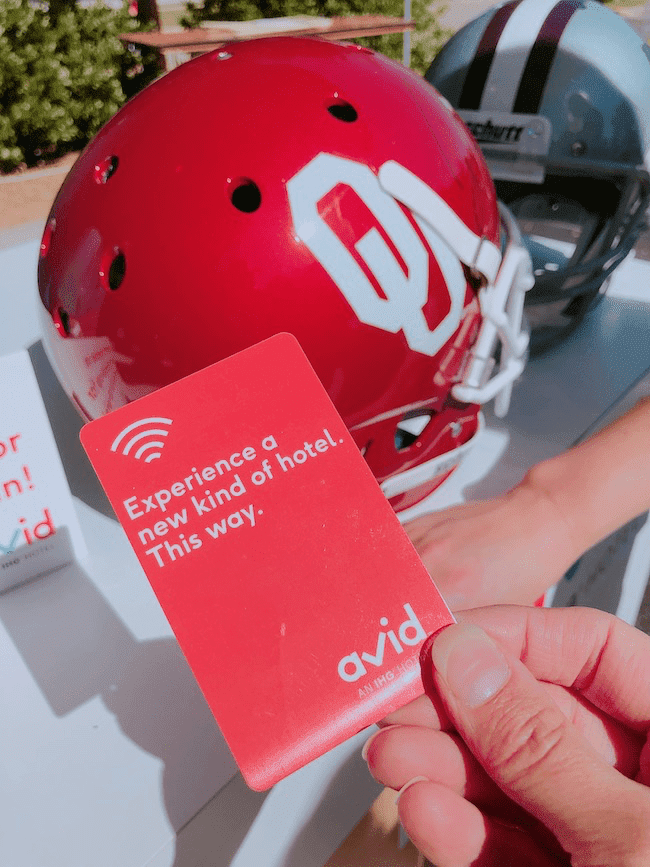 We headed down to Norman, Oklahoma for this pop up experience and to watch the OU Sooners play football against Kansas State University. My oldest son is a high school junior this year and was just on a college tour of the OU campus. They grow up so fast! Don't they? But since he is seriously looking at OU, we decided to take him and the rest of the family to our first college football.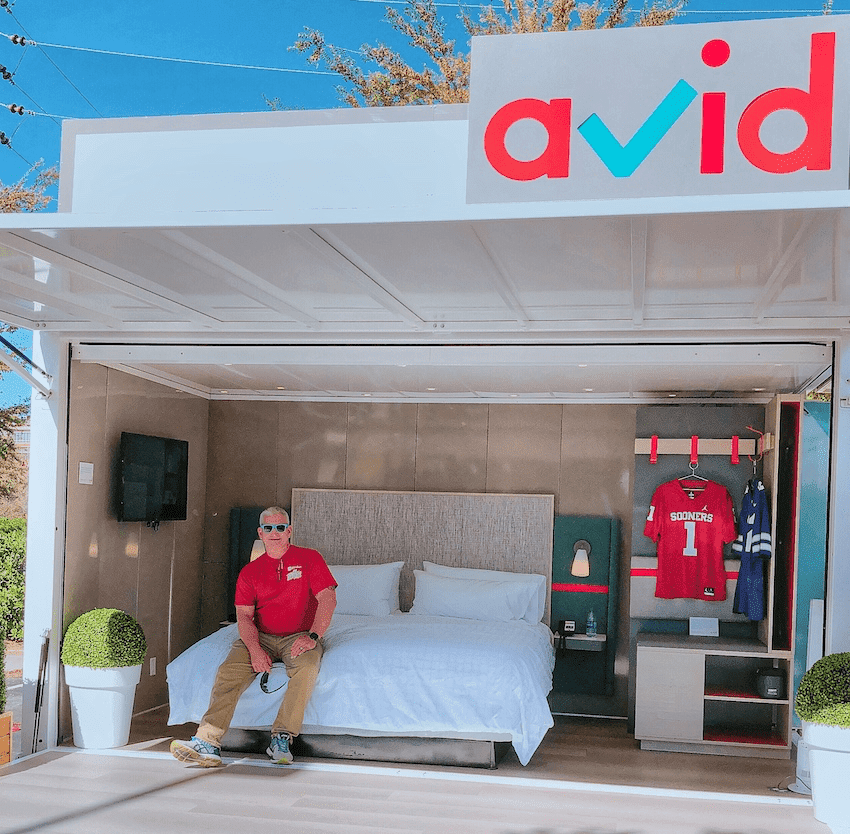 This pop up King room illustrates what a guest can expect (although slightly scaled down) at any avid hotels property. Note the modern decor, clean lines, and open shelving.
Sooner Football
Keeping with the theme of trying new things, I want to talk just a little bit about the Sooner football game we attended after the Pop Up Experience. What a game! Like I mentioned in the beginning, this Oklahoma weekend getaway was all about FIRSTS.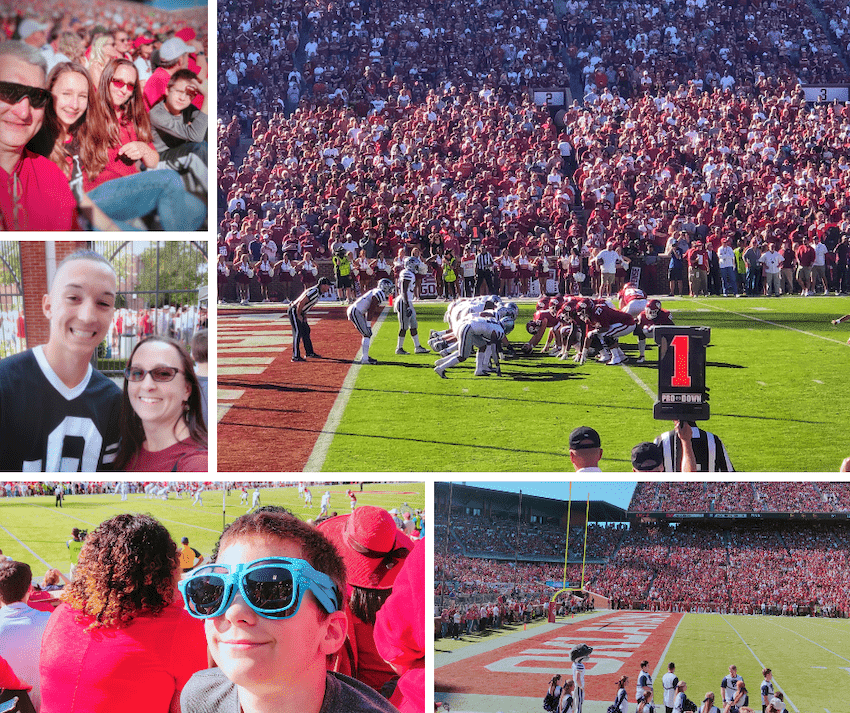 This was our first OU football game and it fun to go as a family. Our seats were along the 0 yard line on the OU end zone. Final score was OU 51-14 Kansas State. It was fun watching the Sooner Schooner take to the field after each and every touchdown.
Note: It bears mentioning that the OU campus is Norman is about 45 minutes from the hotel.

Oklahoma City Hotel
When traveling to a destination that isn't a resort, I look for lodging that is near the area I want to be in, have comfortable bed(s), good wifi, and clean bathrooms. avid hotels Oklahoma City – Quail Springs is one of the Oklahoma City hotels on the NW side of town. It's near Quail Springs Mall and the new Chisholm Creek area, the new up and coming entertainment district. It's a great place to grab dinner, watch a movie, shop, enjoy a drink, go indoor skydiving, or tee off. This area is exploding with new entertainment options. I actually discovered a new Mediterranean restaurant and a French dessert shop during this visit. You can check out my avid hotels highlights reel on Instagram to see more. Looking for more fun things to do in Oklahoma City? Here are a few of our favorites.

Reasons Why You'll Want to Stay with avid hotels:
1. Consistent Experience Each & Every Time
The hotel focuses on being consistent. A guest can expect the same level of quality no matter where they visit. Cleanliness is extremely important and great care is taken to ensure it. Hotel rooms and common areas are furnished in such a way to make them easy to clean. All guest rooms have hard wood floors for the same reason.
There are only two room types, 1 King and 2 Queen beds. Each have the same consistent layout and decor. Rooms do not have closets or drawers so they are easier to clean. Instead there are open shelving and a convenient wall hook system.
2. All of your Travel Basics Done Really Well
This hotel chain focuses on a general traveler who wants a good night sleep, clean room, and all for a fair price. Rooms are equipped with black out roller shades and separate privacy shades for day. For all of a travelers' electronic devices, there are ample USB ports throughout the room. A large 55" flat screen is wall mounted directly across from the bed. It features the ability to cast from your phone or other device. Wifi is complimentary.
3. Quiet, Comfortable Room
After a long day, you want a comfortable place to rest your head. Beds feature a premium 15" pillow-top mattress, duvet cover, and linens. Two choices of pillow are available, hard and soft. I attest that these beds are extremely comfortable. For a good night sleep, rooms are equipped with black out roller shades. During the day separate privacy shades provide ample filtered light.
4. Bean to Cup Coffee
Bean to Cup Coffeeis one of my favorite amenities here. Instead of in-room coffee maker with terrible coffee, avid hotels put in a brew by the cup Bunn coffee maker in the lobby. You can get a freshly made cup of coffee (full caff, decaf, or 1/2 caff) 24 hours a day. Plus the coffee is really, really good. In addition to coffee, guests can get hot, still, and sparkling water in the same beverage area.

5. Good all around Breakfast
Breakfast is included in your stay and include basic options (again done exceptionally well). Almost all of the breakfast items are designed to be grab and go. Served daily from 7-10am. The breakfast options include yogurt, cereals and oatmeal which is the only hot option, fresh fruit, hard boiled eggs, breakfast bars, and assorted breads. The breads available during our stay were bagels, English muffins, and mini muffins. There is also fruit juices and vitamin infused water.
The avid hotels Oklahoma City – Quail Springs has an outdoor pool and indoor gym that offer recreation options for guests. Both look very nice, but we didn't get the chance to use them during our stay. What we did enjoy was the super comfortable beds, quiet rooms, 24 hour coffee, and delicious breakfast.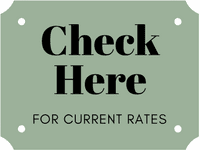 avid hotels is a hotel brand committed to serving travelers and providing them with what they have requested, "travel essentials at a fair price". During this recent stay, this commitment was evident as the hotel was actively asking for customer feedback. A dedicated staff member was asking guests to complete a digital survey to share their opinions and thoughts on the hotel as a whole and its amenities. While talking with this person in charge of surveying guests, he noted that the hotel was actively responded to customer feedback and implementing changes based on customer requests. One of those things were guest laundry bags in the rooms. It may be a small thing, but guests requested it and the hotel responded.
As each new avid hotels location opens, travelers can expect that same level of commitment and attention. It's in the very foundation of why this hotel brand was started. Visit avidhotels.com for more information or to book your next stay.
Looking for more to do in Oklahoma City? Take a look at these: