If a beach trip in the Caribbean is a little out of your price range or not possible, then you might be shocked to find that Alabama can be an excellent alternative for families. Alabama beaches with their sugar-white sand and warm blue waves can make you feel like you've escaped to a faraway island in the Caribbean.
If you're looking for a great way to make fun memories with your family on the beach, then you'll want to check out the list of the best beaches in Alabama for families!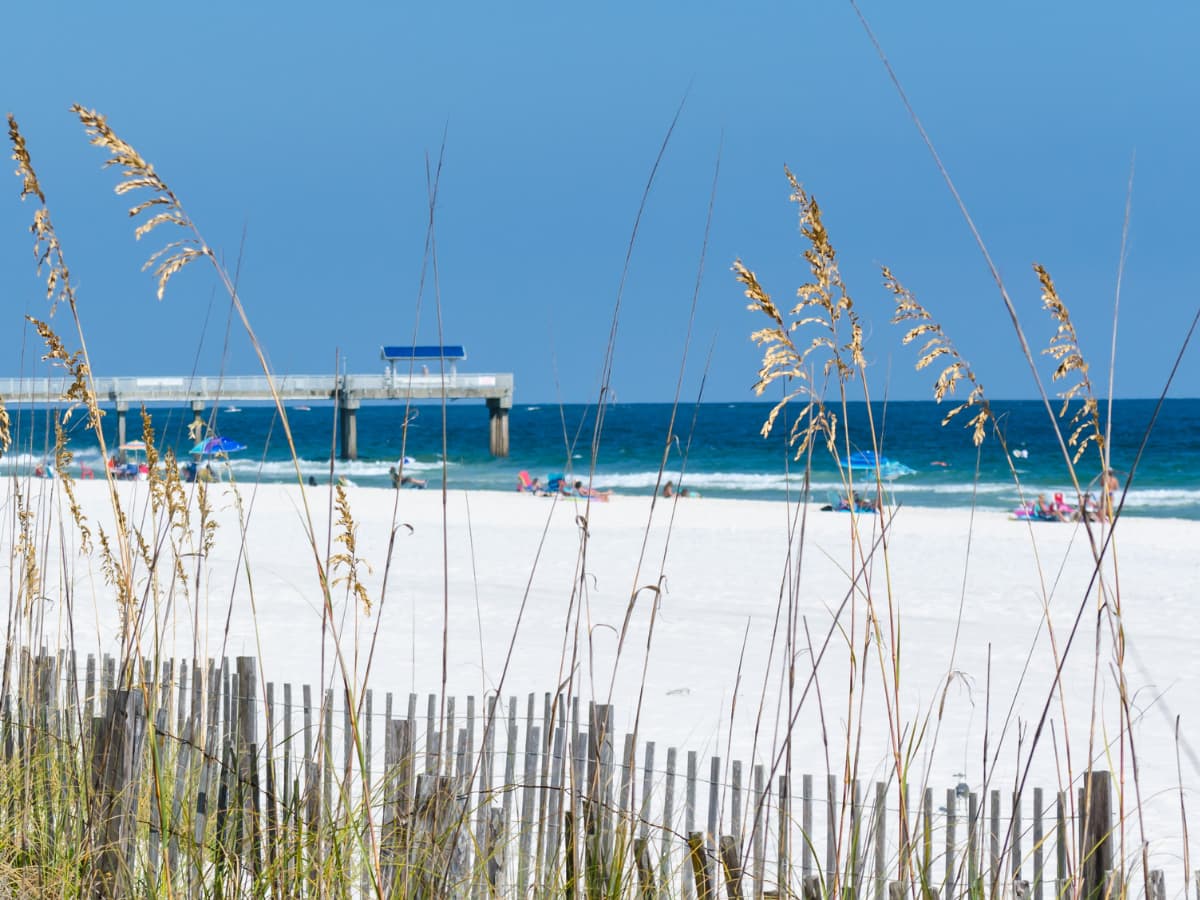 Best Beaches in Alabama
These are some of the best beaches in Alabama perfect for families! All of them are located near great family-friendly attractions, have beach-friendly activities for little ones through teenagers, and offer an excellent vacation for the whole family! There are even great budget-friendly options and camping availability at these beaches for families who want to save some money or spend a little more time outdoors!
What is the best time of year to visit Gulf Shores Alabama?
Most people will say the summer months are the best time to visit Gulf Shores and other Alabama beaches. But I feel the best time of year to visit Gulf Shores Alabama is during the fall season. Between September and October, you'll enjoy warm gulf waters, reduced crowds, trade winds, and plenty of hours of sunlight. Not only does this time period offer a perfect combination for beachgoers but it is also known as the "Second Summer" in the area.
Related: Get my 3 Day Gulf Shores Itinerary with Fun Things to Do With Kids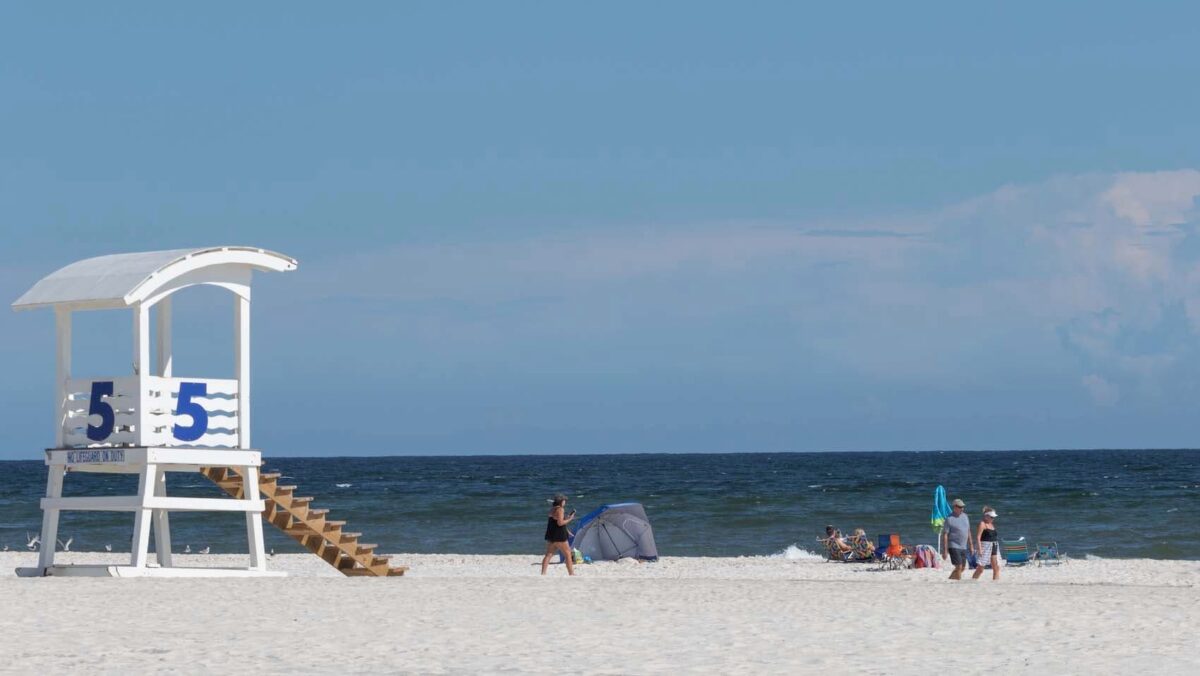 The Gulf Place – Gulf Shores
Gulf Shores is one of the most well-known beach towns in Alabama, but the best place to visit is The Gulf Place. Gulf Shores' main public beach and is also one of the most beautiful. You feel like you're on a tropical vacation in another country! This stretch of beach offers two miles of shoreline with no rocks and soft white sand that is perfect for little ones.
The Gulf Place also has on-site showers and restrooms to make it even easier for you to clean up after a day at the beach. This is one of the most popular beaches in Alabama, so expect this to be one of the more crowded beaches during the spring and summer months. It's only about a 20-minute drive from Mobile at the western end where the Gulf Coast meets the Mississippi Sound. You'll find it off Highway 59 where it dead-ends into the Gulf.
At The Gulf Place, you'll find an array of shopping areas in Seaside which includes The Wharf and Water Street so you can pick up souvenirs and take home a little piece of the beach with you. There are also plenty of restaurants along this stretch, as well as many activities for kids and adults to enjoy!
Gulf Shores offers some of the best family vacation rentals for families who want to stay in an oceanfront condo or something more affordable like a hotel or a house on the water.
Lodging Options in Gulf Shores
Nearby Attractions
Related: Read about my list of favorite Gulf Shores restaurants.
Cotton Bayou – Orange Beach
Cotton Bayou is one of Alabama's best beaches for families. There are lifeguards on duty, clear blue water, and soft sugar-white sand beach that feels like the Caribbean. It also offers free parking, plenty of beach-friendly activities for older children as well as a spot to camp overnight for budget-conscious families who want to save money.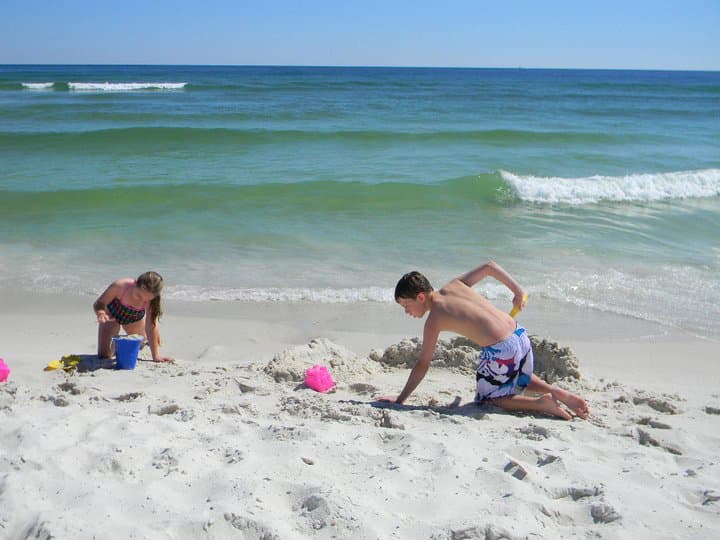 If you scuba dive or snorkel, there is a popular diving spot called The Lulu, where you can explore an artificial reef and shipwreck. You can go flyboarding, sailing, diving, and even take a scenic cruise to see some dolphins! There are two oceanfront boardwalks here, which are a great place to catch a sunrise or sunset.
If you want your trip to be as comfortable and relaxing as possible, then consider staying in Orange Beach. While still popular, this one doesn't get nearly as crowded as Gulf Shores but is still close by! There are lots of lodging options for families with everything from condos to hotels – which can be much more budget-friendly than a hotel room on a crowded beach!
Lodging Options
Nearby Attractions
Gulf State Park
Gulf State Park is free for anyone who wishes to visit and is a great place to stay and set up camp for the day or overnight! There are 28 miles of hiking trails, two miles of beaches, and Lake Shelby, a 900-acre freshwater lake to visit while you are here. The main beach is one of the most popular beaches in the entire state park, but it's worth fighting a crowd for!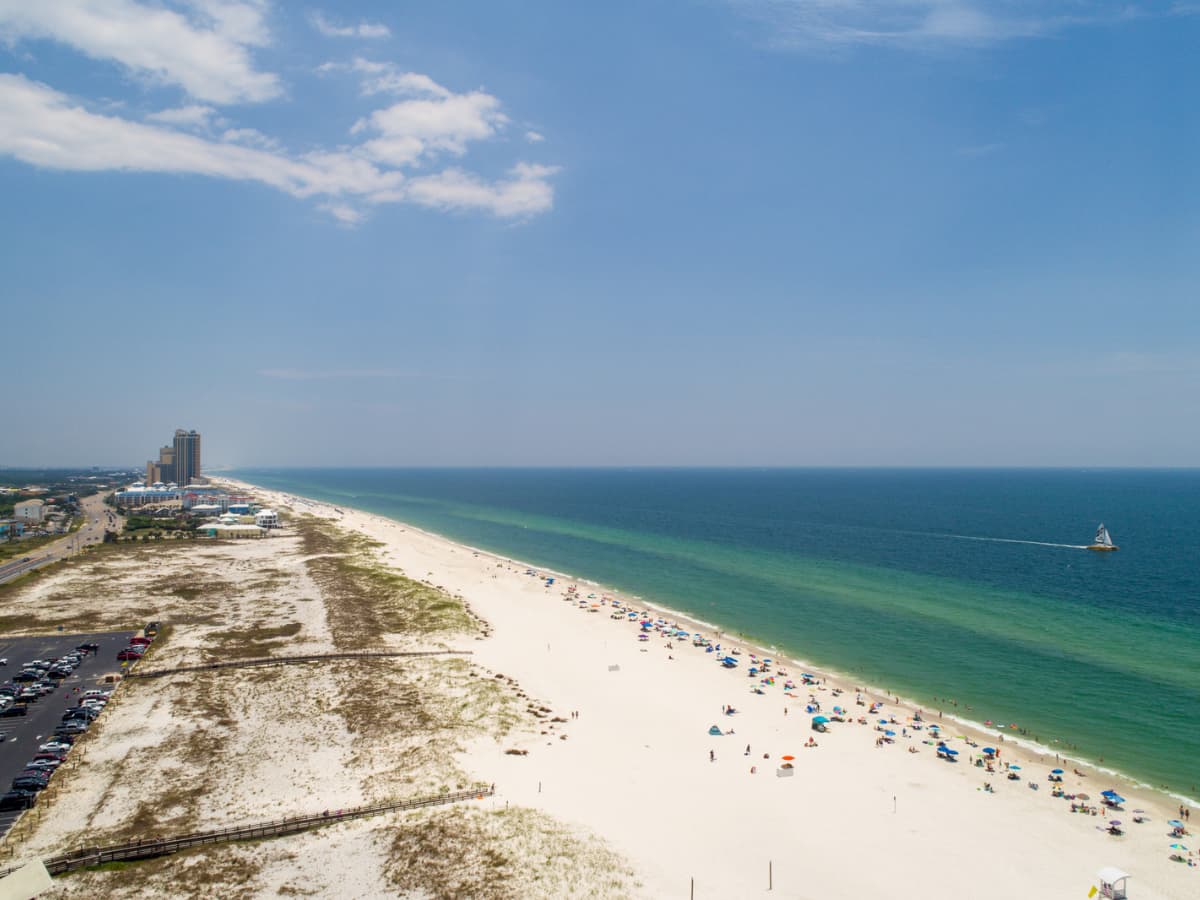 The crystal blue water and clean surroundings make this a great place to relax for the day with your family. There is also a parking area close to the beach ($5 fee) so you can easily go back and forth to your car.
Gulf State Park is only a 20-minute drive from Mobile and offers miles of shoreline along Mobile Bay. Families will enjoy swimming, boating, jet-skiing, fishing, and more. There are plenty of places to eat around Gulf State Park which include fast-food restaurants as well as a couple of sit-down restaurants.
Lodging Options
Nearby Attractions
Related: Read about our trip Exploring Gulf Shores' Gulf State Park and Backcountry Trail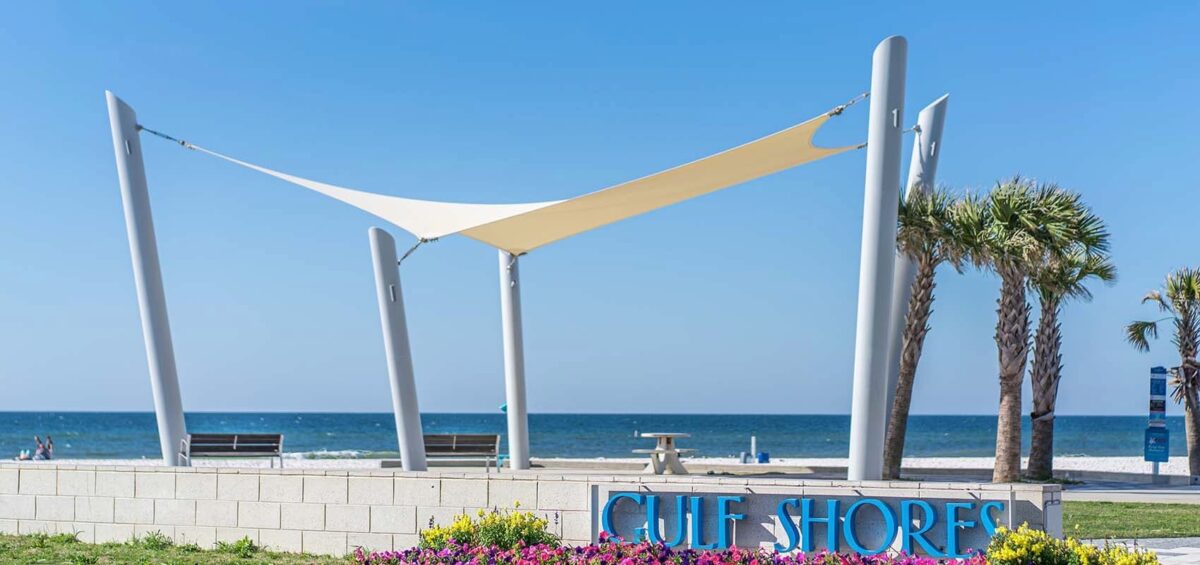 Do Alabama beaches have designated picnic areas?
Yes, most if not all Alabama beaches have designated picnic areas. The larger Alabama public beaches, like Gulf State Park's Beach at Welaka and Perdido Key passageway to the Foley Beach Express area offer some shaded picnic areas are on the beach where visitors can sit and enjoy a meal out of the sun. Standard of Alabama's East Gulf Shores Beaches also have spectacular views and some shaded areas as well.
Alabama Point Beach
Alabama Point Beach is known by many names down South. You've probably heard it called Pointe East, Florida Point, or even Perdido Pass. However, this hidden treasure of a beach is well worth the trip! This beach is immaculate for a public beach, and it also offers activities such as surfing and snorkeling, which are perfect for teenagers. Just be careful if you go out too far because there is a drop-off in the shallow area where things can get a little deep.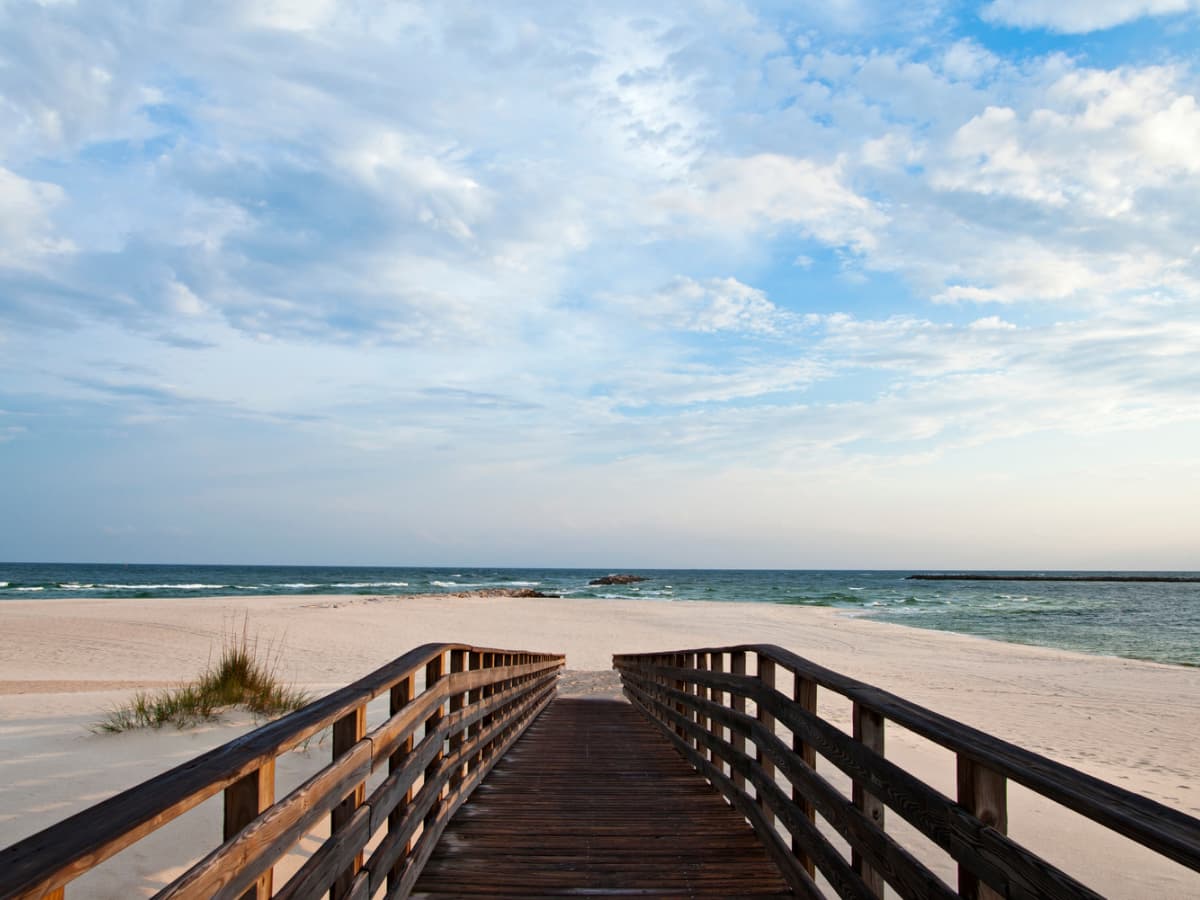 Closer to the dock, you can jump off low-tide ledges into shallow water or take a romantic nighttime stroll with your sweetheart. There is a fishing pier that runs out over the water so families can fish together.
Accessing Alabama Point Beach requires heading through a gate (behind some condos), but once you go around the gate you will see a path that leads straight to the beach area.
Lodging Options
Nearby Attractions
Dauphin Island Park and Beach
Dauphin Island Park and Beach is the best along the Mobile, Alabama beaches and is another gem for beachgoers. The stunning natural landscape of this little island is part of its charm. There is an entrance fee to visit this beach during the spring and summer months, but it's well worth the fee. This is the only pet-friendly beach in the region so that you can bring your furry family members as well! There is a campground around the park for those wishing to camp out on the beach, free Wi-Fi, and this spot is open all year!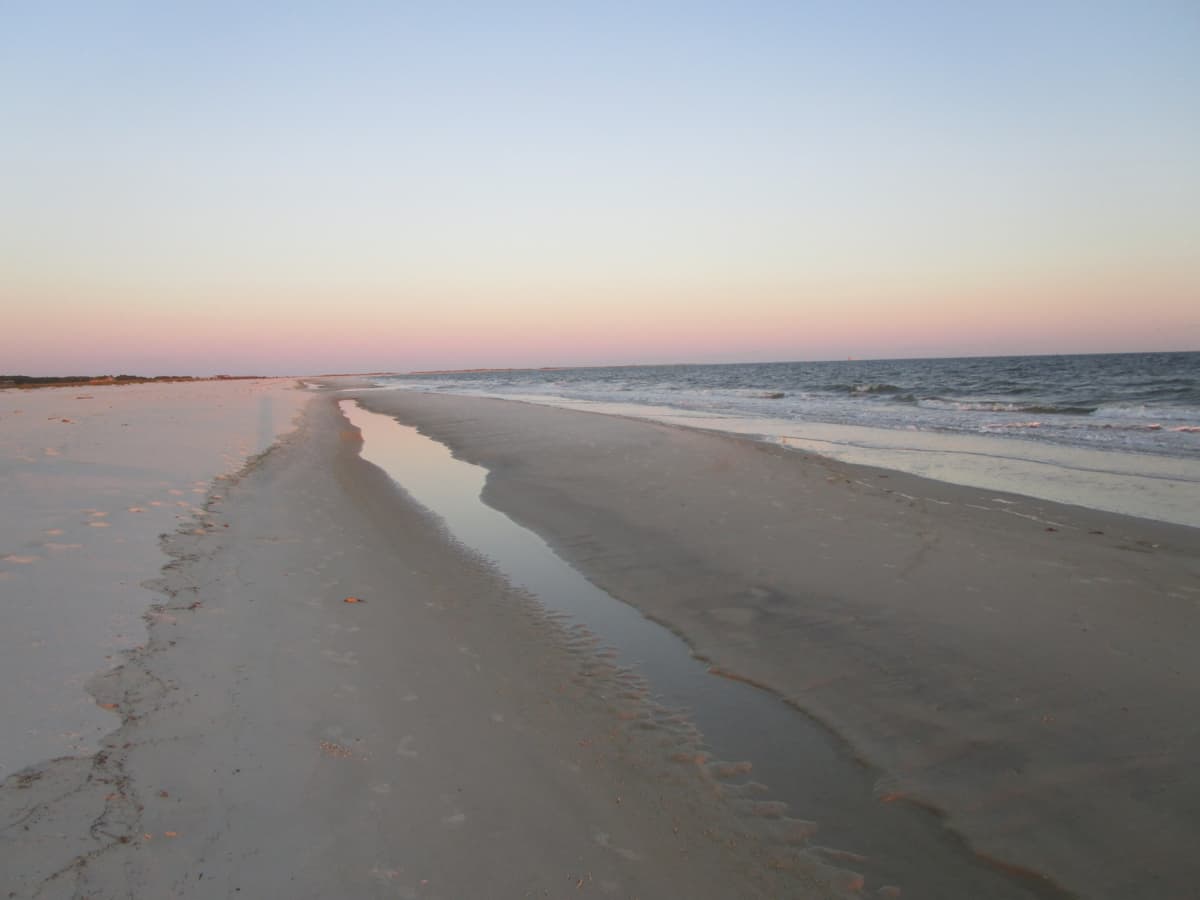 Dauphin Island Park and Beach provide some of the most beautiful views of Mobile, Alabama. One side is full of emerald green waters and white sands while the other side has more shallow waters with an abundance of sea life.
This beach also offers nature trails for hiking along with a small pier to fish or take photos from above. The pier is a great place to watch the sunset as well!
Lodging Options
Nearby Attractions
Whatever you decide to do with your family, there is something for everyone along the Gulf Coast of Alabama! The clear blue waters and soft white sugar-sand beaches will make it hard for anyone to leave this beautiful part of Alabama. Just remember to pack sunscreen, swimwear, and lots of snacks before you head out on your adventure.
These locations are great for family reunions or just a quick getaway with your family while you have a few days off school. Regardless of how many people or what age your family is, you'll find a little something for everyone at any of these beaches in Alabama.