A family trip to Clearwater Beach, Florida will surely include a trip to the white sand beaches and warm Gulf water. After all, TripAdvisor did call it the Best Beach in the US and it has miles of beautiful beach to explore. But you will also want to make plans to visit the Clearwater Marine Aquarium. This world famous marine hospital and rehabilitation center provide hours of edu-tainment for the whole family.
*This post contains affiliate links. If you purchase through a link, I may receive a small commission without any extra expense to you.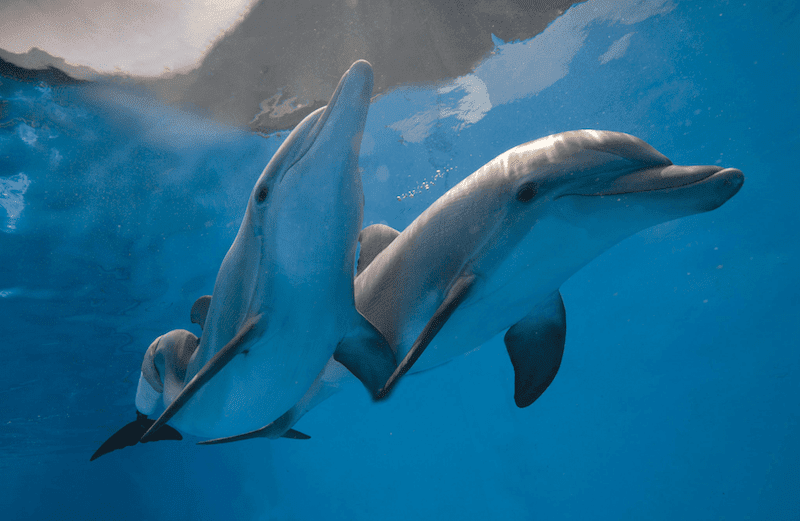 Famous Clearwater Marine Aquarium Residents
The Clearwater Marine Aquarium is part rehabilitation center, part marine education advocate. Hollywood made the center famous when it told the story of Winter, a dolphin who lost her tail after becoming entangled in a crab trap and was later fitted with a prosthetic tail. That movie, Dolphin Tale and its sequel Dolphin Tale 2 with little Hope, highlighted the work the center was doing to rescue, rehabilitate, and ultimately release (if possible) marine animals.
I was in Clearwater, Florida a few months ago for the Travel Media Showcase Family Travel conference. While there, I spent some time exploring the area. The highlights were visiting the Clearwater Marine Aquarium, seeing Winter & Hope for myself, and cruising the waterways with the Clearwater Ferry. I also spend a few mornings walking the beach as the sun came up. What fun!
Pin this for later……..
Rescue, Rehab, Release
The warm gulf waters surrounding Clearwater Beach is home to great array of aquatic life. When a sick or injured marine animal is found in the area, the aquarium is called in to help the animal recuperate. The hope and goal is to release the animal back into the wild. For those animals like Winter and Hope who can't return to the Gulf, they find a permanent home at the aquarium and serve as ambassadors to educate people on marine biology, ecology, and environmental protection.
When you visit, you'll find Winter, Hope, another resident dolphin Nicolas, sea turtles, sea otters, sting rays, sharks, and menagerie of other animals. Each of the animals has a story It is easy to spend the entire day here at the aquarium.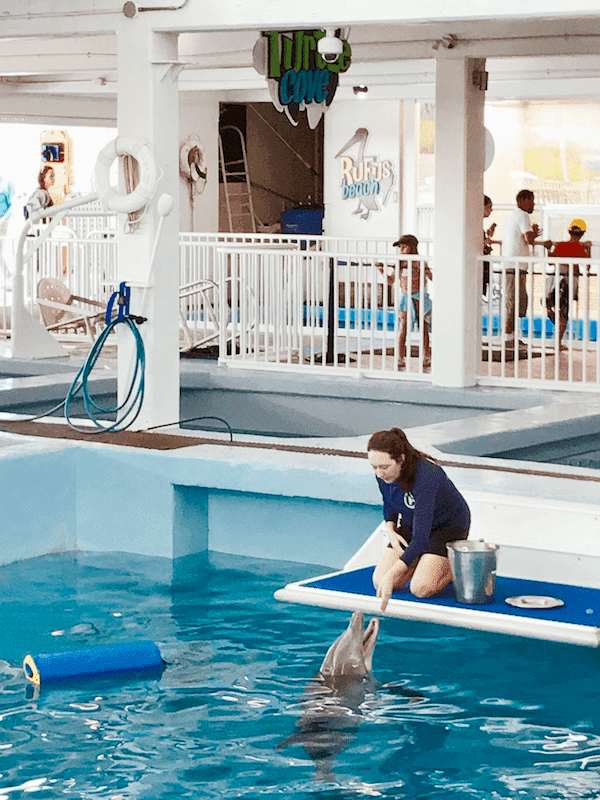 See Winter and Hope through an underwater viewing area or in the "Winter Zone" where you can view them from above and interact with their handlers.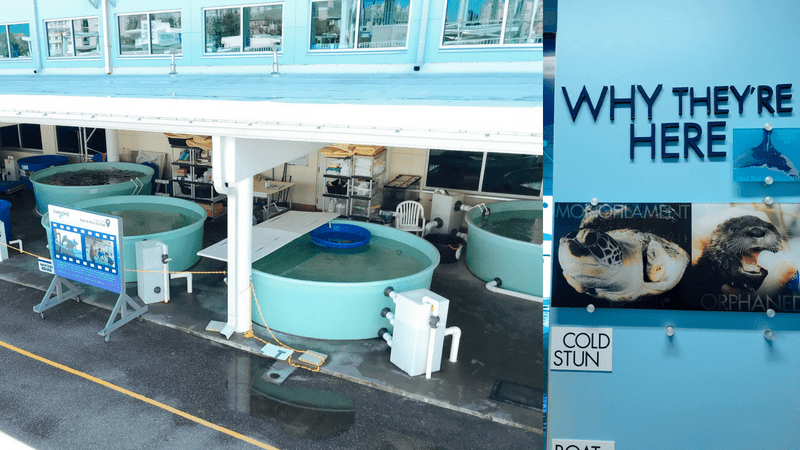 Take a peak at the sea turtle rehabilitation area and read the success stories of turtles successfully released back into the gulf.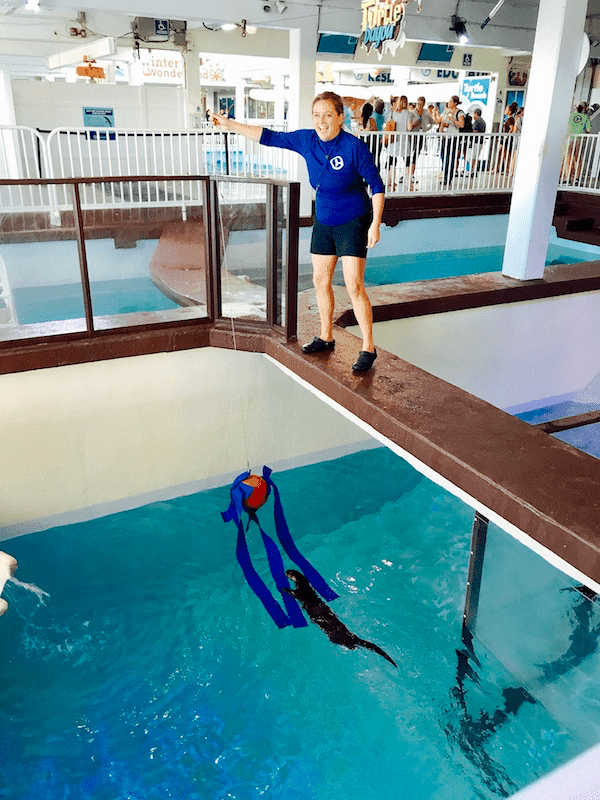 Full Day of Family Fun
There are other exhibits that the whole family will enjoy. But be sure to make time for one of the daily education experiences. While I was there, I watched both the sea otter and dolphin presentations. The sea otters are really fun to watch as they swim around and play. Nicolas is the star of the dolphin presentation. You'll hear his story and see some of the behaviors his handlers work with him on to keep him engaged and happy. All the presentations educate visitors on animal care, how the aquarium is helping marine wildlife, and how you can help conservation efforts. In addition to this free presentations, you can book behind the scenes tours and other hands on experiences such as a guided kayak eco-tour of nearby waters. You can find helpful reviews of these on TripAdvisor*.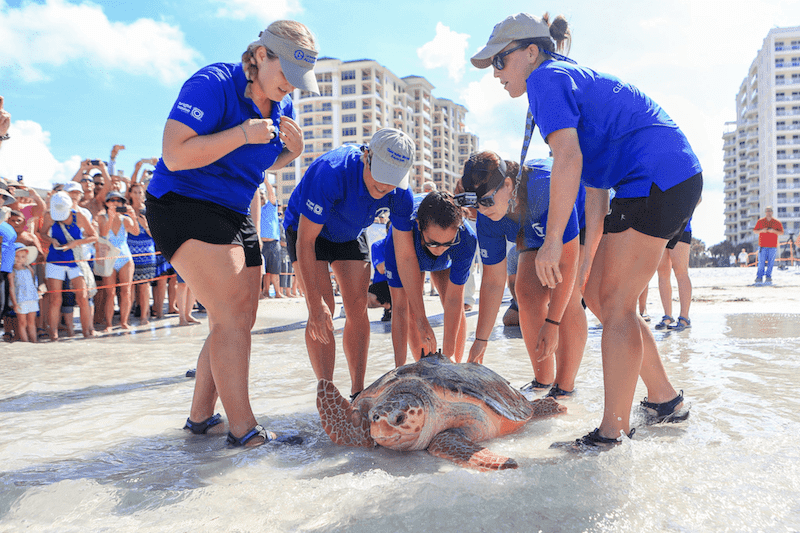 Make Plans to Visit Clearwater Marine Aquarium
Learn more about the Clearwater Marine Aquarium on their website seewinter.com, Get current ticket prices, presentation times, and any upcoming special events. If you are planning to visit other area attractions Busch Gardens Tampa, take a look at the Tampa Bay CityPASS. You'll Save 51% or more on Tampa Bay's 5 best attractions. Shop Now!*
If you are going looking for Clearwater Beach Florida hotels, I have three recommendations for you. Each is a great choice for families and offer a range of services for your vacation budget.
Note: My trip was hosted by Travel Media Showcase Family Travel All opinions are my own. This post contains affiliate links. If you purchase through a link, I may receive a small commission without any extra expense to you.