Baked Potatoes are perfect to feed a crowd. There's no need to fuss with cooking a lot of side dishes, and you can serve a variety of different toppings to please everyone in attendance. Here are some ideas on what baked potato bar toppings you can set up and serve for your next potluck, party, or get-together.
How do you make baked potatoes for a crowd?
To cook potatoes for a crowd, you'll need to find out how many people will be eating them.
If you have 10-15 people to feed, cook about 10 pounds of potatoes. Estimate that you will be serving one potato per person. 10 pounds of potatoes equal about 10-15 good-sized spuds. But double-check with your guests, because everyone's appetites are different.
If you're cooking potatoes for more than 15 people, you'll need to do some math:
15-20 pounds of potatoes will feed about 20-30 people
25-30 pounds of potatoes will feed about 30-45 people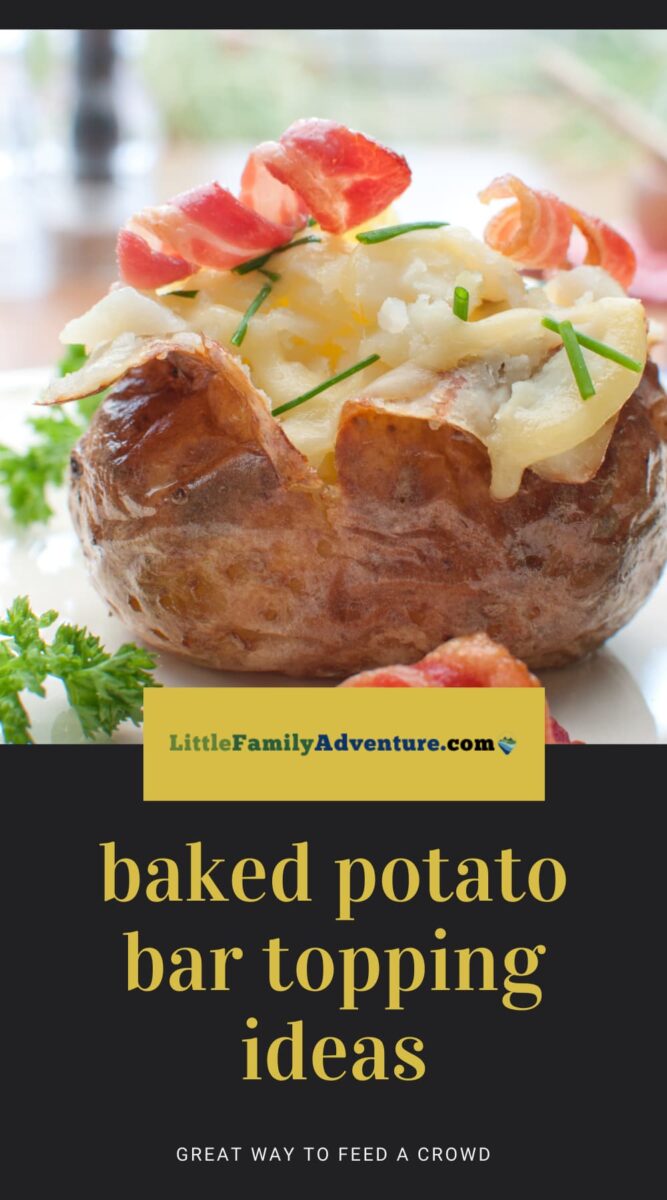 To make baked potatoes for a crowd:
Preheat the oven to 400˚ F with a rack centered in your oven.
Scrub each potato with a vegetable brush and pat them dry.
Place the potatoes onto an aluminum-foil-lined baking sheet that is also centered to your oven.
Bake for about one hour or until you can easily pierce into the center of each spud with a fork.
Remove from the oven and let cool slightly before slicing in half lengthwise. Hold the hot potato halves together at the cut-line with kitchen towel or pot holder.
Optionally, you can squeeze the ends of each potato inwards, towards each other so that they slightly overlap and create a "bowl" where you can place your toppings.
For a Baked Potato Bar Toppings Bar: Once potatoes are cooked and halved potatoes, encourage guests to create their own toppings bar. Set out a variety of different baked potato toppings and allow your guests to choose what they like best.
How do you makes baked potatoes when camping?
I find that the best thing is do prep the potatoes at home and par-cook them ahead of time to save time cooking on site. Below is how I prep and cook them. But you can opt to cook them enturely on site if you prefer.
First scrub the potatoes and pat dry.
Next lightly spray with cooking oil and wrap in aluminum foil.
Bake at 400˚F for 30 minutes ane remove from oven and allow to cook completely.
Store potatoes still wrapped in the aluminum foil in a food save bag and refrigerate/chill.
On site, remove potatoes from bag and place with the aluminum foil on top of a hot grill, over a fire with medium-high heat, or on top of medium coals. Cook until you can pierce with a fork (about 25-20 minutes).
Remove from heat, peel back the foil, slice and top as desired.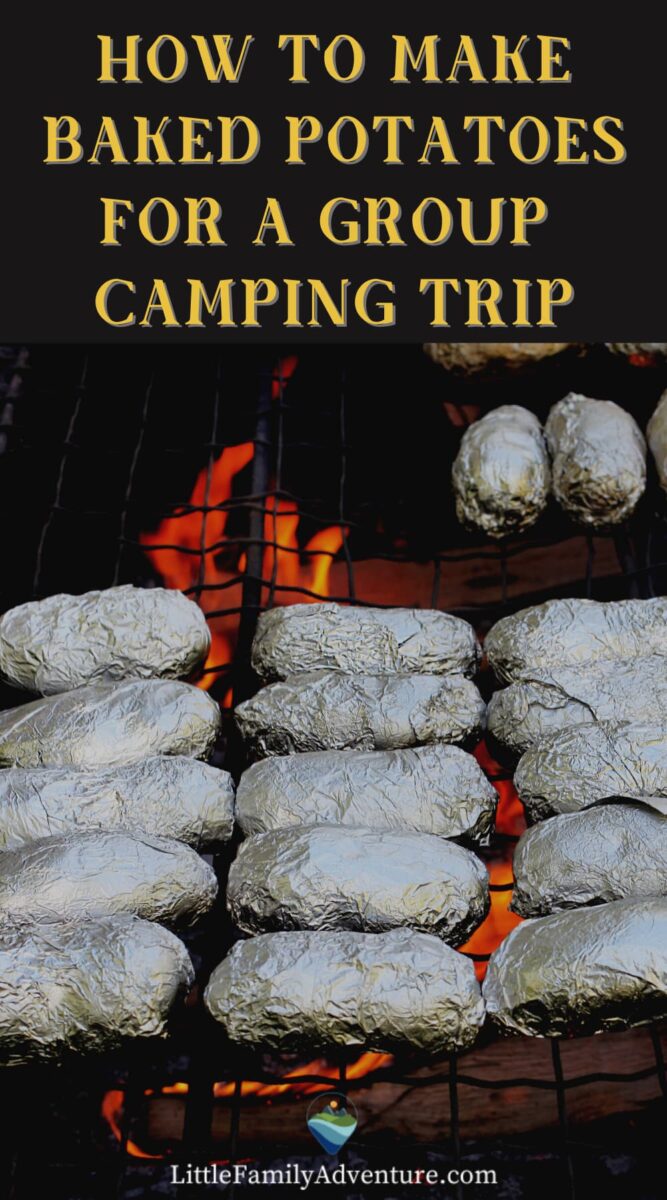 Baked Potato Bar Toppings Ideas:
There are lots of options for toppings to include at your baked potato bar! Consider a few of these options and mix things up to ensure that there's something for everyone.
Bacon – You can't go wrong with bacon. Cook, drain, and crumble the bacon first, then serve it up on a plate or platter.
Shredded Cheese – Another favorite for baked potatoes is shredded cheese, either cheddar or a Mexican blend. Serve in a bowl to allow guests to help themselves.
Cooked ground beef – Seasoned and cooked ground beef makes a great baked potato topper. Make sure you have some nice hot steamed broccoli on the side to balance out all that protein.
Butter – Butter is always welcome with potatoes, whether it's room temperature or melted. A pat of butter melting as it sinks into freshly-baked potatoes is heavenly.
Chopped cooked ham – Cooked ham makes a great addition to a baked potatoe with shredded cheese, butter, and steamed broccoli.
Shredded chicken with enchilada sauce – You can also use leftover shredded chicken and add enchilada sauce for a Mexican-inspired potato and encourage people to top with sour cream, shredded cheese, and salsa.
Chives or Green Onions – You can buy these pre-prepared at the store, or chop up some fresh chives as a topping for your baked potato bar.
Jalapeno Peppers – A lot of people like to spice things up with chopped jalapeno peppers on top of their potatoes and bacon! Be sure to serve sliced limes with these as it helps to cool the spiciness.
Butter – There's nothing like butter on a great baked potato! Serve in a little crock or dish for people to help themselves.
Sour Cream – Sour cream is another nice topping that goes well with potatoes and bacon, and can be served in small bowls alongside butter.
Ranch Dressing – Ranch dressing is another popular baked potato topping, and you can serve it in small cups or bowls at your bar as well.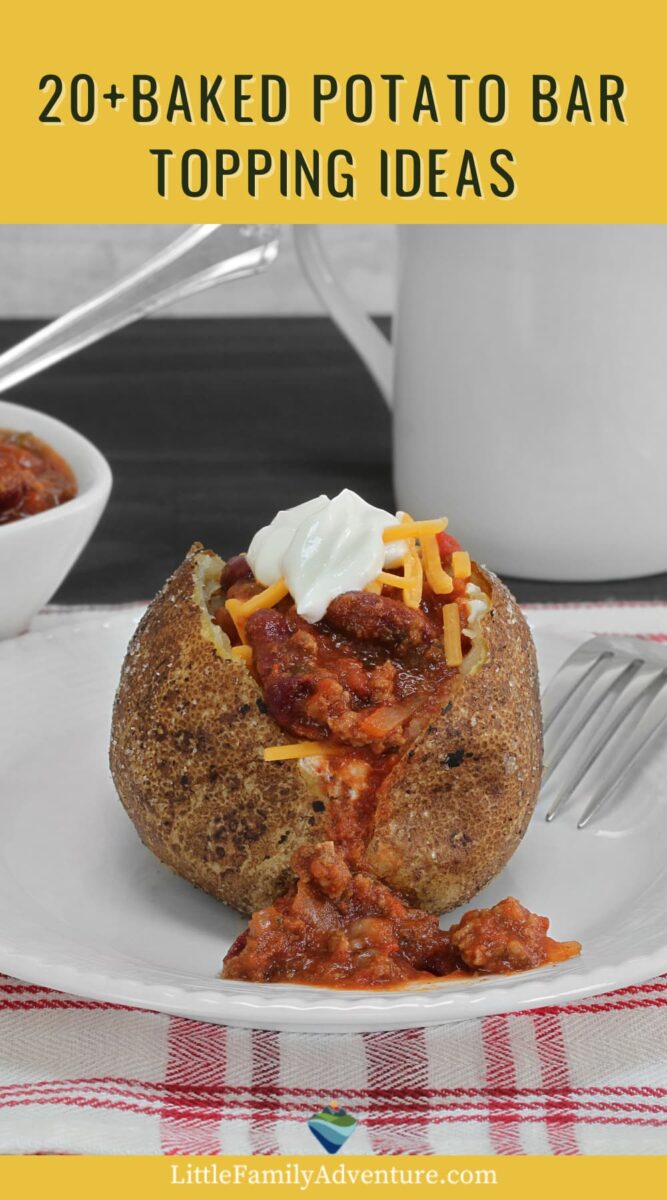 Chili – A warm bowl of chili makes a great meal coupled with hot baked potatoes and sour cream. You can keep the chili hot using a slow cooker or crock pot if necessary.
Vegetarian Chili – You can also make a vegetarian chili and set out some toppings like cheddar cheese, diced onions, and sour cream.
Pinto or Black Beans – If you're serving Mexican-themed baked potatoes to your guests, then refried beans are another great topping option. Serve in small bowls with other toppings for the potato bar.
Salsa – Serve up some salsa and chips for your guests to enjoy with their baked potatoes if you like.
Corn kernels – Corn Kernels are another topping option at the baked potato bar, either as a side dish or mixed into other toppings.
Caramelized Onions – Caramelized onions is a popular ingredient to top baked potatoes and you can make them the day before your event and heat them up on the stove just before serving.
Sautéed onions and mushrooms – Sauté some sliced white or yellow onion with a few handfuls of crimini or baby bella mushrooms.
Sauteed Mushrooms – Sauteed mushrooms are another delicious baked potato bar option and can be made ahead of time.
Sauteed Peppers and Onions – Sauteed peppers and onions are a good choice for people who like their potatoes on the spicy side!
Reuben – Turn a Reuben Sandwich into a baked potato bar topping by shredding corned beef onto the top of your potatoes and offering sauerkraut on the side.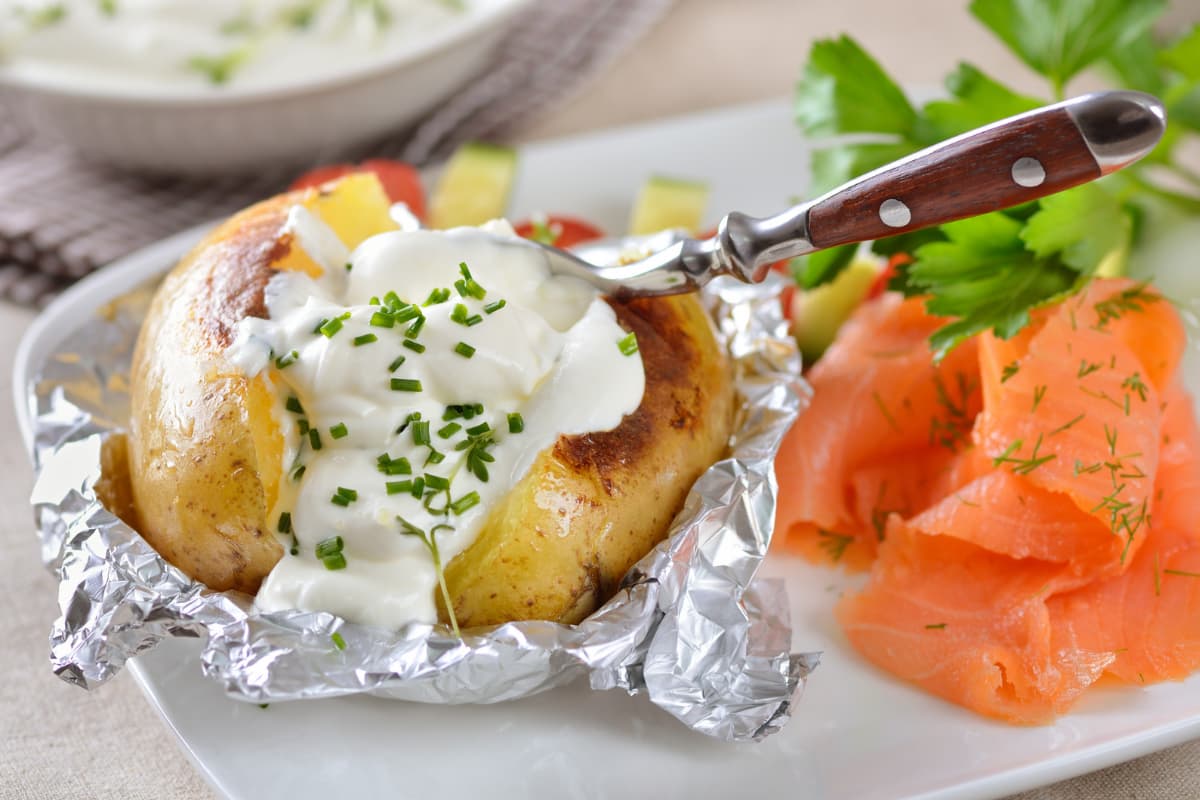 Lox – Lox or smoked salmon, a little creme fraiche or sour cream, and fresh chives are something qyite unexpected.
Green Chilies – Chopped green chilies also make a great topping that is spicier.
BBQ Sauce – If you're looking for a more kid friendly potato bar, consider serving up BBQ sauce and allowing your guests to dip their potatoes into it as they eat them.
Blue cheese crumbles – Blue cheese crumbles are a little more gourmet as a topping for baked potatoes, and can be purchased in the deli section of most grocery stores.
Ranch Beans – If you want to serve baked potatoes with beans instead of chili, try this recipe: Mix together some black beans, green chilies, diced jalapeno peppers, ranch dressing mix, and picante sauce.
The possibilities are endless on what you can have on your baked potato bar! So tell us, what do you like on your baked potato? Share the answer in the comments below. We'd love to hear from you.
Looking for other recipes great for feeding a crowd? Try these: