LEGOLAND Discovery Center Dallas is a fun family destination.
LEGO builders of all ages can escape into the world of LEGO and enjoy this interactive attraction. Whether you stay for an hour or the whole day, you have a great time building and playing to your heart's content. Come explore with us as we enjoy the LEGOLAND Discovery Center Dallas in Grapevine, Texas.
Our kids are LEGO fanatics and they have been wanting to visit the LEGOLAND Discovery Center in Grapevine, Texas for quite some time. We finally had the chance to visit while we were in the Dallas area this month and they LOVED this place. It's a MUST SEE destination for anyone who loves LEGOs. We had endless fun in the various building areas, LEGO themed rides, interactive 4D movie, and outdoor water play area. If you are in the Dallas area, this is a fun place for you and the kids.
Here are a few of the areas we really enjoyed.
Miniland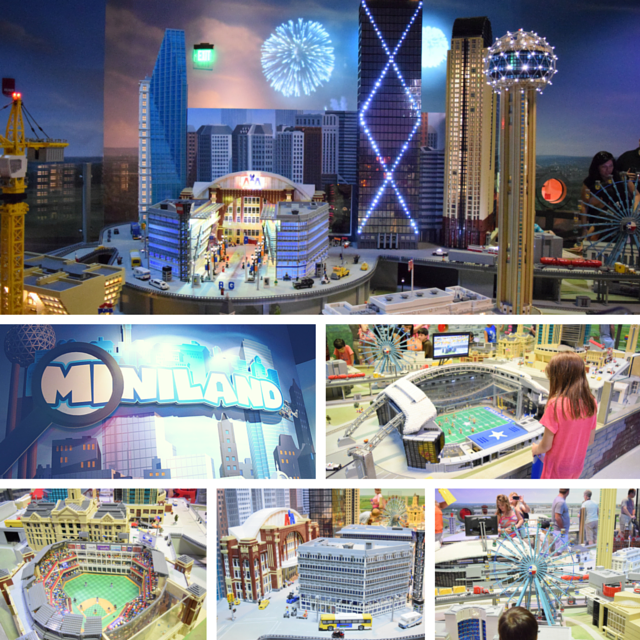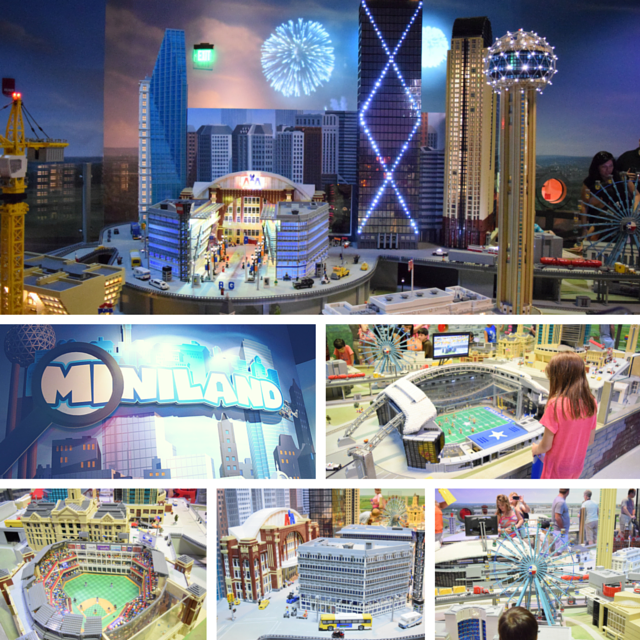 Miniland is Dallas in miniature made with LEGO pieces. You were taken on a tour of the area from the Dallas Cowboy stadium to the DFW airport. As you walk through it and see all the buildings and settings, the lights turn down as night falls on the city and fireworks shoot off. Well not really, but they are projected onto the wall and sound effects complete the scene. I really enjoyed the "Where's Waldo?" feel because with every turn you found something new to see.
LEGO Themed Rides
Merlin's Apprentice

This ride may not of been a thrill ride, but it was just fun. My older two children rode it again and again. Unlike most theme parks, lines here were short so you didn't have to wait a long time to ride.
Forest Ranger Pursuit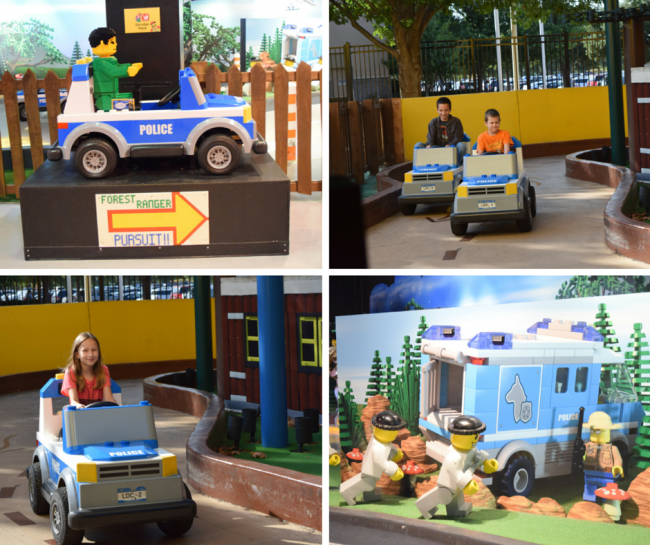 The kids were able to get into LEGO Police cars are ride around the track. They chased each other and tried to make a quick getaway, just like the LEGO Mini Figure Bad Guys.
Pirate Beach – Outdoor Water Play Area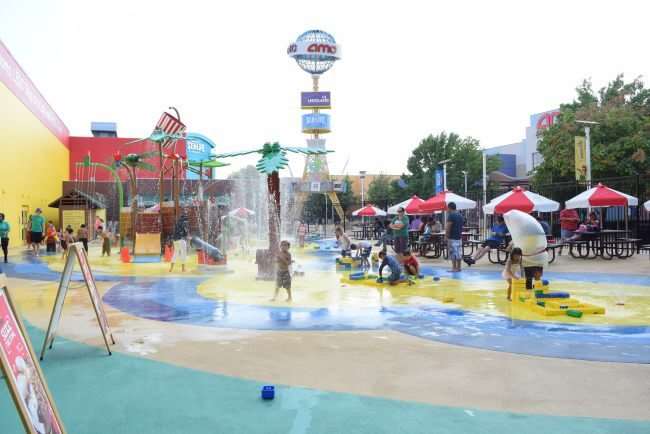 Dallas gets really hot during the summer. This new water play area is a great way to cool off and have some fun. Kids were playing, buildings with oversized LEGO bricks, and splashing in the water. It was a great place to have fun. When we were all shriveled up like prunes, we headed back inside.
LEGO Themed Art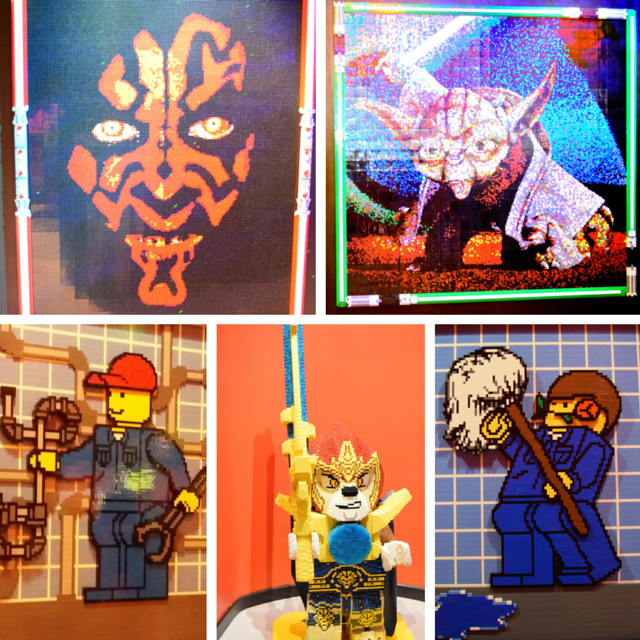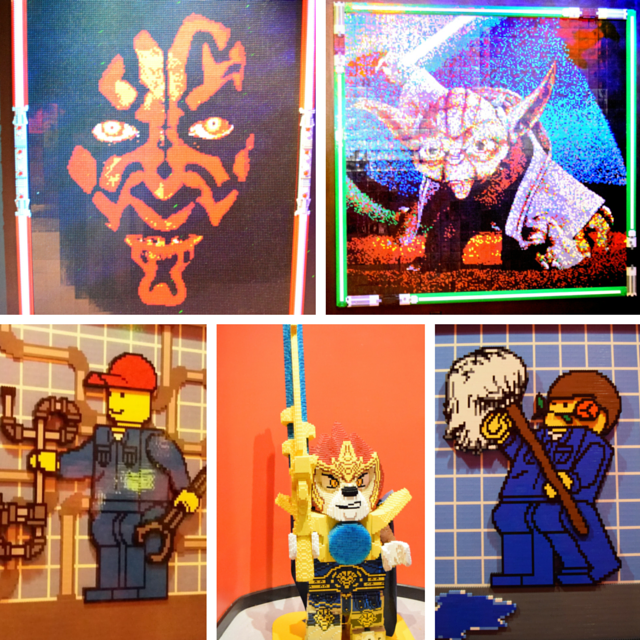 Everywhere you looked, there was LEGO themed art on the walls and statues in the corner. The 2 Star Wars pictures (Darth Maul and Yoga) were pixelated images using LEGOS. I can only imagine the time it took to make those.
LEGO Building Areas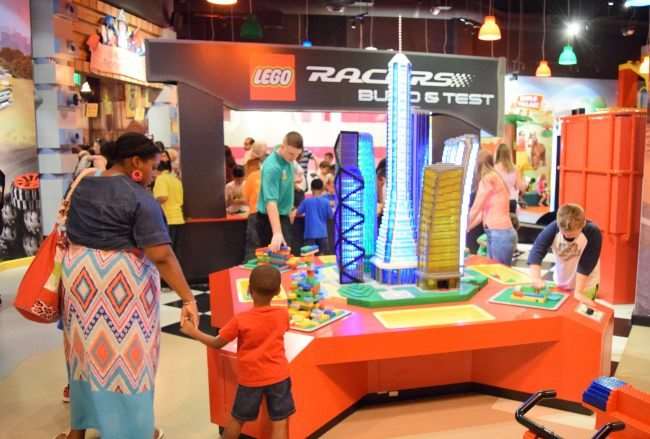 There were plenty of building areas for you to build and create. There are 13 to be exact. This table shook and simulated an earthquake. So builders had to be sure that their structures were up to the challenge. If it fell down, you could go right behind it and build a race car, then compete with others to see whose was the fastest.
The kids and I had a great time at the LEGOLAND Discovery Center Dallas. We could easily spend the day here. I liked that almost all of the attractions were inside. If you wanted to get out the Texas heat like we did, this is a great place to do it. We ended up making a weekend out of our trip to Dallas and went to a few other indoor attractions. Read more about our fun weekend family trip for more places to see while in Dallas.
A big thank you to LEGOLAND Discovery Center Dallas for complimentary tickets so that we could experience the center for this article. All the fun we had and opinions expressed are all ours. I know you'll love this place as much as we did. So plan a visit and explore it yourself.