Are you looking for a vacation filled with great food, southern charm AND history? Then a trip to Winston-Salem, North Carolina is definitely in order. This family-friendly destination has it all.
As North Carolina's 5th largest city and home to six colleges and universities, this city is thriving in the arts, food, local events, and rich history. Yet despite its size, it has a small-town charm all its own. We were here over a weekend and discovered so many things to do in Winston-Salem. Honestly, a weekend really isn't enough, but it's a GREAT start.
Every vacation should be enjoyable for every member of the family. A vacation here can make the most of your vacation time with family. It's 3.5 hours southwest from Richmond and an hour north of Charlotte.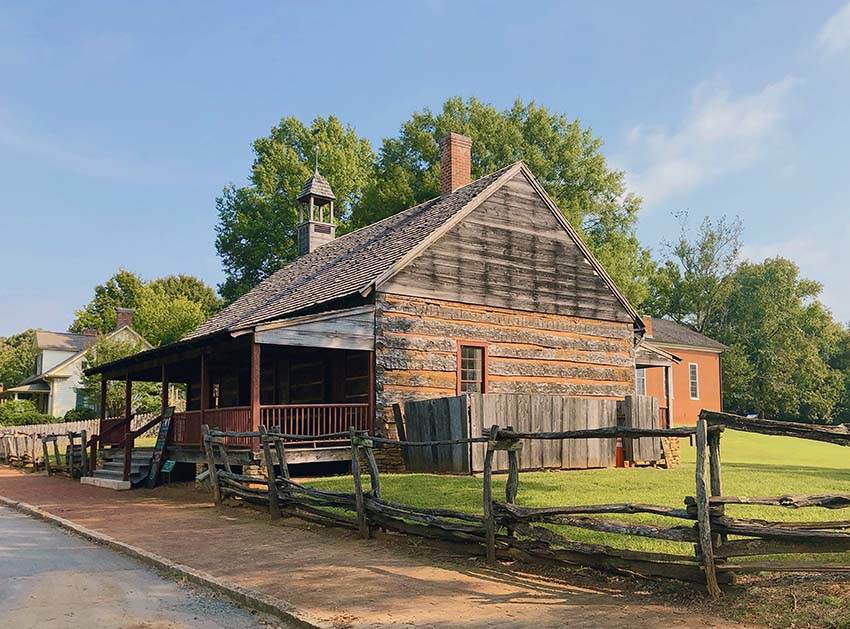 Fun Things to Do in Winston-Salem, NC
Living history buffs can head to Winston-Salem's West End Historic District, the vibrant dowtown area, or Old Salem. Just down the street from Old Salem, families will also find Kaleideum Downtown, a children's museum that is perfect for small hands to explore and burn off some adventure fuel (energy). With historical sites, accessibility can sometimes be an issue. So we are thrilled to see how the city and Access Salem brought accessibility to the forefront for residents and visitors. Below we've included some of the initiatives being implemented for those with mobility concerns and/or sensory issues.
Outdoor adventurers will want to head to Salem Lake, just minutes from downtown for hiking, cycling, and outdoor fun. Then just outside of the city, locals love Tanglewood Park for horseback riding and more opportunities for adventure.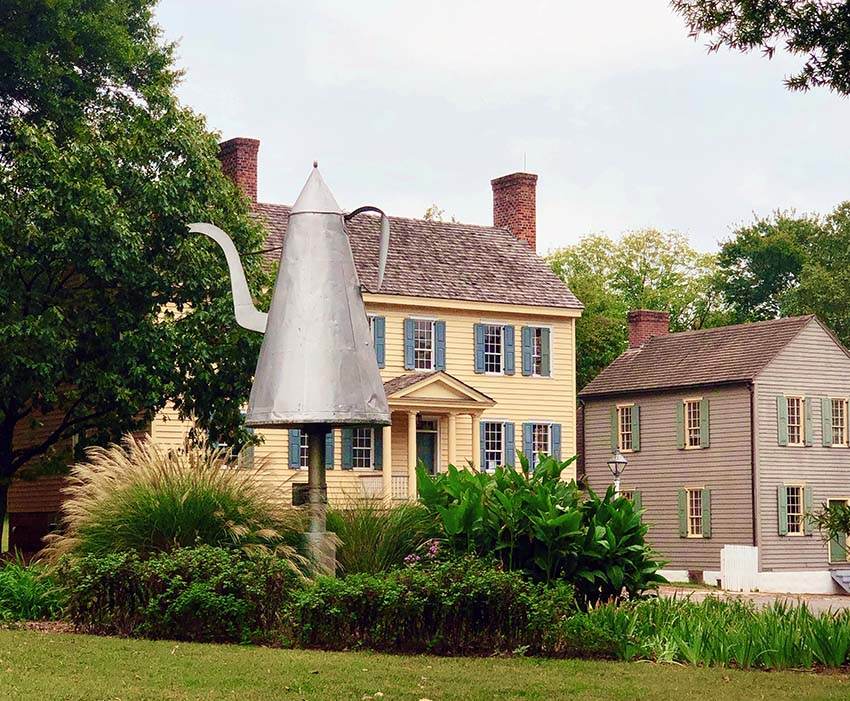 Whether you are looking for a weekend getaway with significant other, vacation with the kids, or a girls weekend, start with these fun things to do in Winston-Salem. I also share where we stayed and which local restaurants you don't want to miss.
Old Salem Museum and Gardens
Old Salem is a living, historic community/village with buildings dating back to the 1800s. This village is the site where the Moravians, German-speaking Protestants, settled back in the 1700s.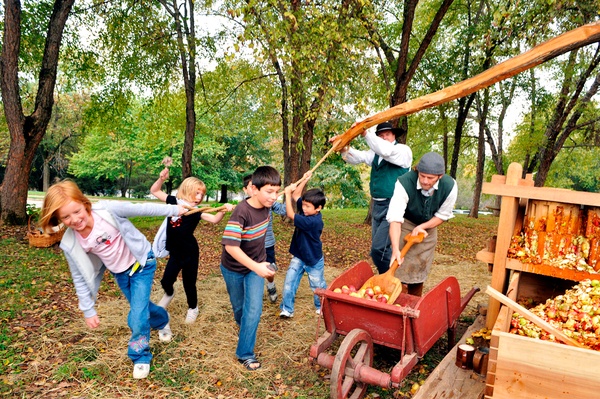 Today the community provides visitors a tactical experience of what life was like in the 1800s. You walk along brick-paved streets, try making rolls at the bakery, step inside original homes with period furnishings, watch period-accurate craftsmen working, and more. You can also shop for period-accurate crafts and learn more local docents/period interpreters found in several of the buildings.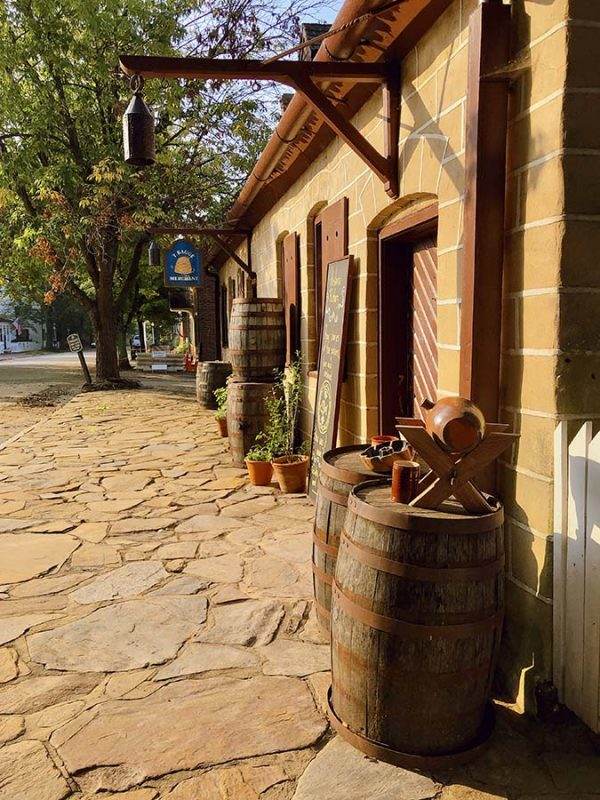 Kids will want to stop in the gunsmith's shop, doctor's office, school, and the kitchen for a look inside. In the kitchen, they may be able to get a taste of potato rolls or a cookie straight from the oven. Note: it's free to walk around the village. But if you can to enter the workshops, there is a fee that you pay at the Old Salem Visitors Center.
Accessibility – Old Salem is period-accurate and the village as a whole isn't wheelchair or stroller friendly. However, Access Salem has been working with Old Salem to provide access to all its visitors. Recently, several of the buildings have been updated to provide for wheelchair/ramp access. For those buildings without access, many docents/interpreters can provide talks/presentations outdoors.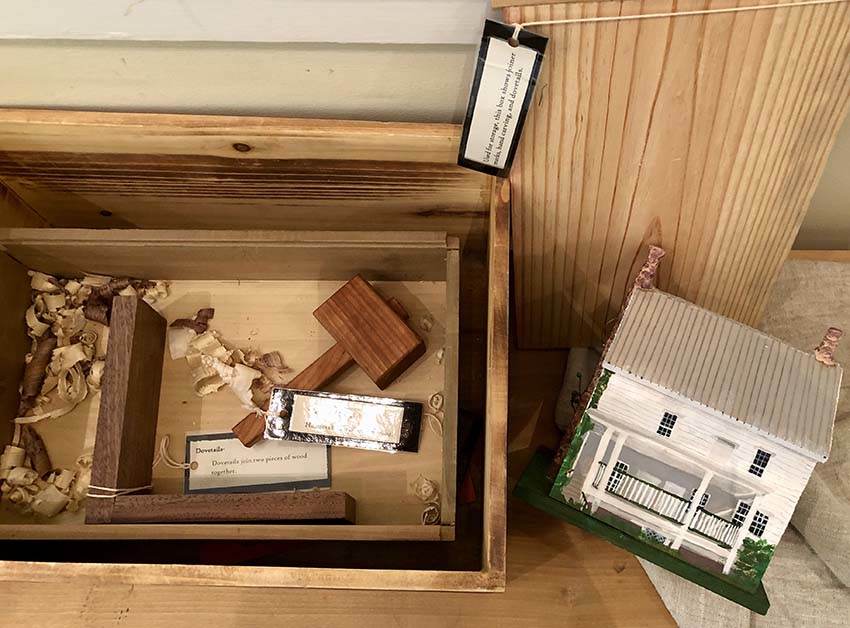 This is an Exploration Box and they are available in most of the village buildings for visitors. Each box includes items that tell more about the site and provide a tactic experience indoors or out.
Address: 900 Old Salem Road, Winston-Salem
The Museum of Early Southern Decorative Arts (MESDA)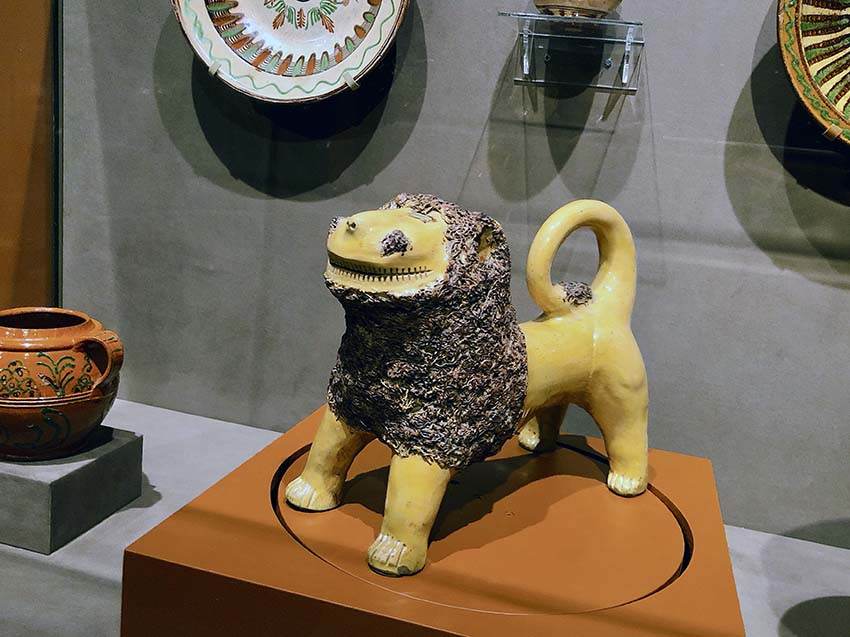 Another stop in Old Salem is the Museum of Early Southern Decorative Arts. This is a museum dedicated entirely to American 18th and 19th century home decor; needlework, furniture, wall coverings, ceramics, etc.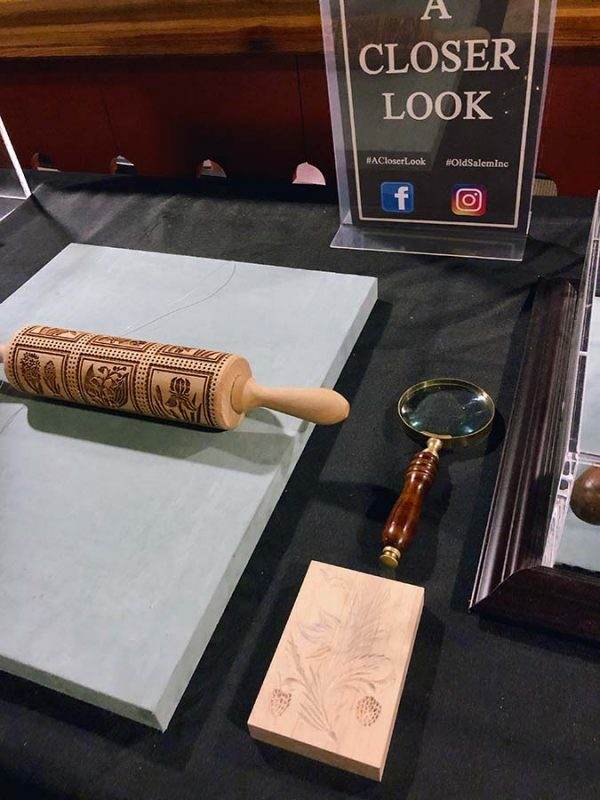 Throughout the museum, "A Closer Look" stations are set up for families and anyone who wants to be more interactive. The museum also has a large collection of pottery by enslaved craftsmen. See how many pieces you can find from "Dave" (David Drake)? Ask one of the docents about him. It's a fascinating story.
Address: 924 South Main Street Website
Kaleideum Downtown
Formerly known as the Children's Museum of Winston-Salem, Kaleideum is an interactive children's museum located in downtown Winston-Salem. Exhibits like the Enchanted Forest, Food Lion Supermarket, and the Krispy Kreme Factory offer families tactical and sensory learning that puts into the stories/themes. The Prop Shop, a theater-based maker space, allows visitors to tinker and problem solve as they create unique projects. My children love maker shops like this because they can create, make a mess, and take home what they make.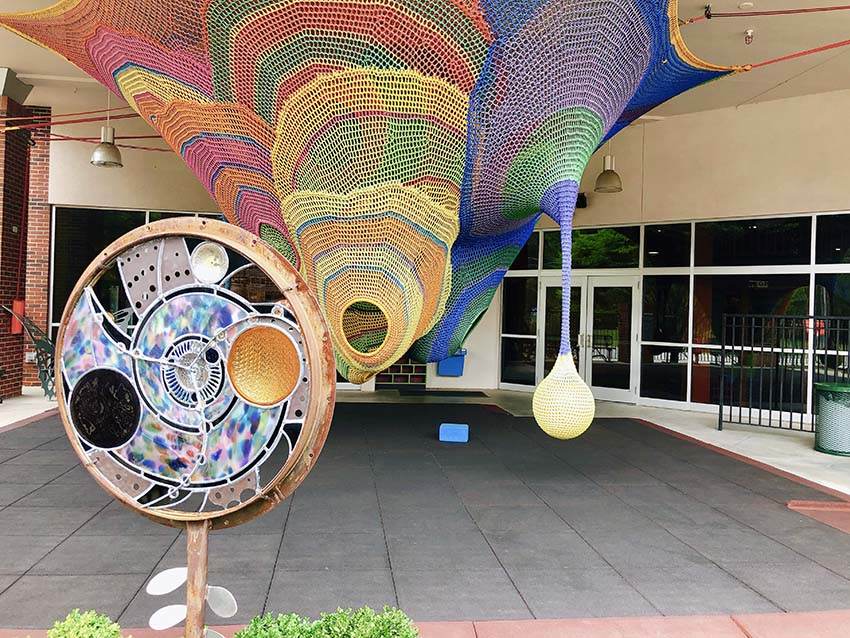 Winston-Salem has a history in the textile industry. Kaleideum is home to the first U- based textile art installation by artist Toshiko Houriuchi MacAdam. Families will want to head outdoors to the Surprise Garden to encounter Kaleidoscape, a hand-crocheted art/playscape that offers children the chance to climb and swing on/within the structure.
Sensory Friendly Mondays – Once a month this location offers a sensory-friendly day for families with children on the spectrum and/or those with sensory processing issues. Attendance is generally light on these days. Additionally, themed Sensory Friendly Nights are scheduled for this location and their second location throughout the year.
Address: 390 S. Liberty Street, Winston-Salem, North Carolina Website
Kaleideum North
Kaleideum has a second location, Kaleideum North, that was formerly the SciWorks of Winston-Salem. Here there are more interactive exhibits with a science focus, planetarium, and a 17 acre Science and Environmental Park that includes nature trails and outdoor exhibits. This location is geared to slightly older children, but all ages enjoy the visit.
Tip: When you buy a daily admission to either location, you get access to both locations for that day.
Sensory Backpacks and Programming: Both locations offer sensory backpacks to visiting families. They can be checked out at the front desk for free. Each pack has noise-canceling headphones, sunglasses, timers, and fidget toys. Each location also has social narratives and visual schedules available on its website to help plan out your visit.
Address: 400 West Hanes Mill Road, Winston-Salem Website
Site of the first Krispy Kreme
This is the hometown of the popular Hot Now doughnuts! Vernon Rudolph opened the very first Krispy Kreme doughnut shop here in Winston-Salem. He rented a building in Historic Old Salem and made glazed doughnuts to local grocery stores. Fans soon came to his shop and according to NorthCarolinaHistory.org, Vernon cut a hole in his wall to sell directly to customers.
Sadly the original building is no longer there, but you can see the plaque where it all started and then head down to the shop at 259 S. Stratford Road for a dozen or two. Note: the first-ever flagship store opened in Times Square. Maybe it's time to plan another trip.
Address: Plaque where first location was located – 531 S. Main Street
Salem Lake
When you ready to get away from the hustle and bustle of the city, you don't have to go far. Salem Lake is a peaceful 375 acre just minutes from downtown. Back a picnic lunch and head here for what locals call a "Hidden Gem."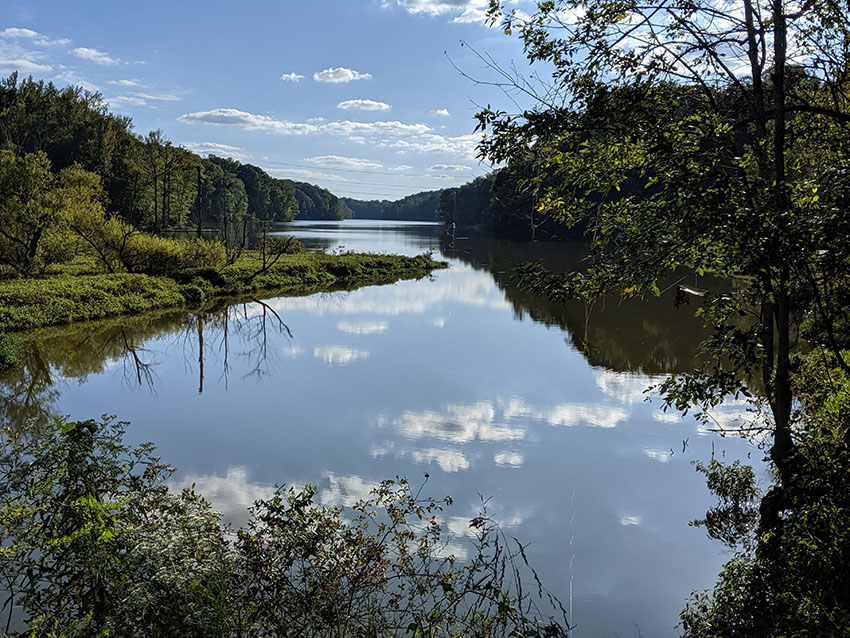 This lake and surrounding area are ideal for families. Here you can get back to nature, go for a walk, paddle, fish, or bring bikes and go for a ride. As part of the North Carolina Birding Trail, you are apt to find a variety of bird species as well as other wildlife. Kids love the TRACK Trails, a program in conjunction with Kids in Parks that has "stations" scattered throughout the park that help children identify the things around them and connect with the natural world.
Address: 1001 Salem Lake Road Website
Salem Lake Trail
Strap on you and the kids' hiking boots to explore the Salem Lake Trail. This scenic, multi-use loop trail is 6.9 miles long. The dirt/gravel path takes you around Salem Lake and is ideal for hiking, running, horseback riding, and mountain biking. Because it's open to all this, families will want to watch for cyclists when out walking. Otherwise, it's great for all ages.
Address: Find the trailhead at the Salem Lake Park, 1001 Salem Lake Road AllTrails Info
Mast General Store
Step back in time to a 5 and dime store that carries everything from penny candy to housewares. Just like the location in Greenville, South Carolina, a trip to Mast General Store is a fun experience for all ages. You never know what you'll find.
Address: 516 Trade St NW, Winston-Salem
Tanglewood Park
Just outside Winston-Salem in Forsyth County is Tanglewood Park. This 1100 acre park is a favorite with locals for its open spaces and original forest along the Yadkin River.

Here you'll find gardens, lake with rental boats, play areas, trails, golf, and horseback riding. The Tanglewood Stables is the place to set up a trail ride through the park's woodland trails. During the summer months, many love coming out here for the park's pool and splash pads. Plus there is a RV campground if you want to go camping while in the area.
Address: 4061 Clemmons Road, Clemmons, NC Website
Where to Stay in Winston-Salem
Hotels and Airbnbs near Winston-Salem, North Carolina
If you want to be close to Old Salem in a historic Inn, make reservations at the historic Brookstown Inn.
Brookstown Inn
Built-in 1837, the inn's building got its start as the Salem Manufacturing Company (cotton mill). This red brick building is a beautiful living art museum coupled with all the luxurious comforts a visitor would want. Rooms feature luxuriously soft bed linens and towels. Relax in super-soft robes and unwind after a day exploring the area. Guests enjoy a nightly wine and cheese reception, cookies and milk before bed, and morning breakfast ( all casein-free).
This is where I stayed on my recent visit. It was delightful. I sat down with owner Dana Lu Bryson and learned so much about the building and its history. During a recent renovation, she said that it was important to preserve the history of the property while offering sensory-friendly accommodations. The inn has signature scents each season, casein free food options, and special consideration on sheet softness. When it came to history, she had Moravian archivist, Eric Elliott, conduct research on the inn and its artwork. I don't want to give it away here, but plan to spend time seeking out the pictures, artwork, and murals throughout. Aside from many of them is a small bit of information about what you are seeing. Learn more on their website.
Where to stay: Best Hotels in Winston-Salem, North Carolina (NC) Lowest Price Guarantee
Where to Eat in Winston-Salem
The city is filled with great restaurants serving everything from farm-fresh bistro fare to Carolina BBQ. Here are few local restaurants I've tried that I've recommended again, and again, AND AGAIN!!
Willow's Bistro
Just a short walk from Brookstown Inn is local favorite Willow's Bistro. The focus here is to bring organic and sustainable standards together to delight diners. Their seasonal menus highlight only the freshest ingredients and exactly where the chef is sourcing those ingredients locally. Locals love this place serving both lunch and dinner.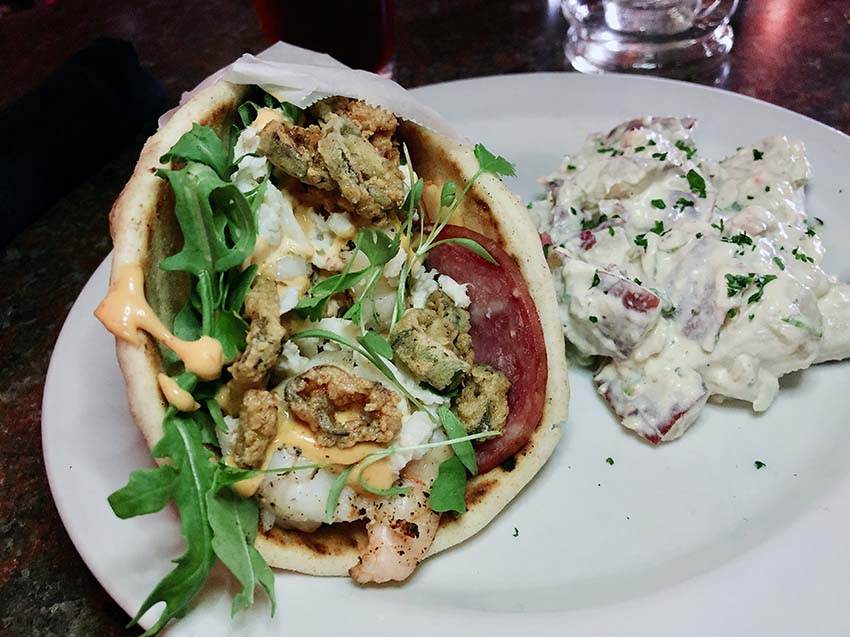 I dined here for lunch and opted for one of the daily specials, a Grilled Shrimp and Crab Pita. It brought together NC seafood, Canadian bacon, fried shishito peppers, arugula, red curry aioli, and buffalo jack cheese. To that I added a side of their infamous potato salad and a Tres Leches Cake for dessert.
Address: 300 S Liberty Street #125 Website
Mozelle's Fresh Southern Bistro
This small local eatery is a must when you visit the area. Mozelle's chef has taken favorite southern classics and made them better than anyone could have ever imagined. You have to start any meal here with the Southern Tomato Pie and Southern Spring Rolls.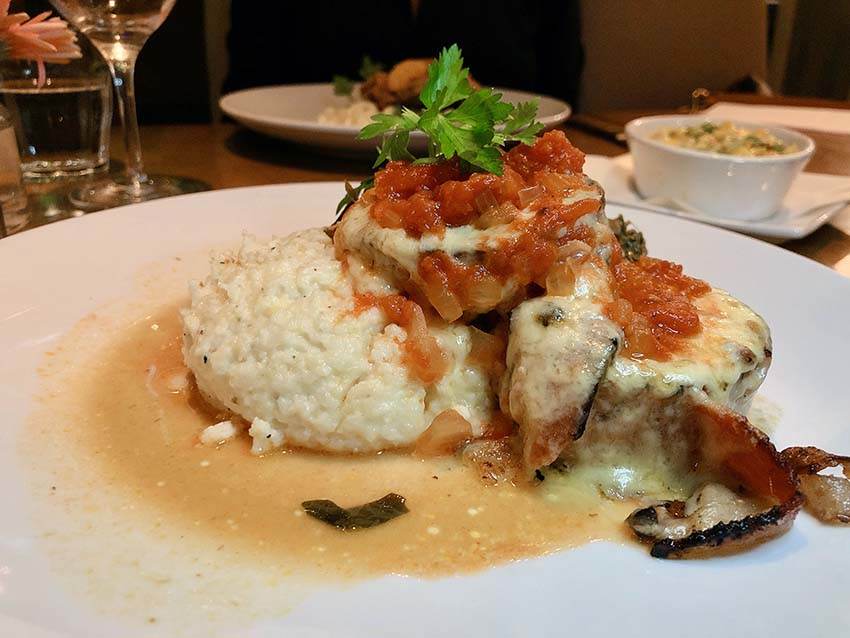 When I visited, I had the Gourmet Meatloaf with cheese grits and spicy collards. This puts my southern cooking to shame with its bacon-wrapped loaf that's topped with melted havarti cheese and tomato marmalade. My dining guest had the Fried Chicken over mac and cheese. The chef let me in on his secret to the best chicken…. Texas Pete's dry seasoning.
Texas Pete originated here in the area and they offer a dry seasoning made with crushed peppers used in their hot sauce. It's fantastic in everything from chicken breading to a fry seasoning. The wine list here is top notch, as is everything really. Just trust me when I say "Come hungry" or bring a large group and share the entrees. It's hard to not want a bite of EVERYTHING here.
Address: 878 W 4th Street Website
Canteen Market & Bistro
Owner Claire Calvin wanted a local eatery that offered guests the option to dine or take away/back home. This place delivers on both perfectly! As a visitor, this is the place to grab a picnic lunch and beverages before heading to the lake, unique gifts to take home, or enjoy a bistro style meal in a relaxed, hip atmosphere.

When I was here, I had lunch with a friend and we choice a few different dishes to sample and share. That's the way to go here too! Do you see a theme here in WS yet? It's better with friends and/or family! Back to lunch! We had a trip of chicken salads (the curry was my favorite), fresh burrata salad, Yum Yum Salmon Skewers, Bistro Burger, Lebanese and Taverna Salad.
Address: 411 W Fourth Street Website