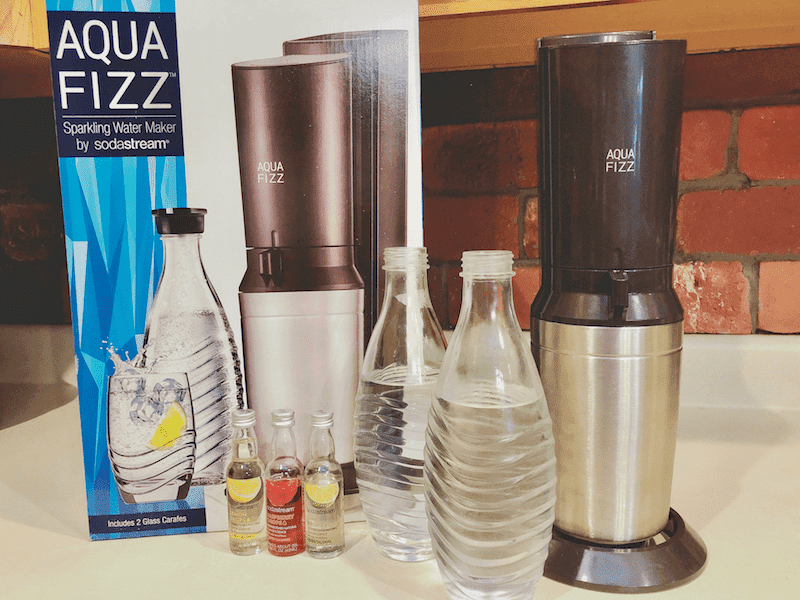 Are you looking to create homemade carbonated drinks and sparkling water? Our family has been too! Soda Stream emailed us and asked if we wanted to try out their new Aqua Fizz sparkling water machine. I said "Yes" because I love sparkling water and find that I actually drink more water while I combine flat and sparkling water. With summer here, now is the perfect time to test it out. We've definitely been putting it to good use the last few weeks. Let me share my thoughts on this one touch machine and tell you where you can find it.
Aqua Fizz eliminates disposable plastic bottles
One of the main reasons I wanted to try out this Soda Stream machine was because it uses glass bottles instead of plastic. Bottled water and sodas in single use plastic bottles and/or cans produce a HUGE amount of waste. Even in areas with recycling programs, bottles and cans fill landfills, litter streets, and get into area waterways. Instead of plastic bottles, the Aqua Fizz uses 0.87 liter glass bottles. (Get our printable measurement conversion chart with how many cups are in a quart, pint, liter, etc. ) The kit comes with 2 glass bottles and one "fizz saving" lid.
During the first two weeks we used this machine, we carbonated 68 of these 0.87 liter glass bottles on one (1) CO2 canister. That's the equivalent of 59 (more or less) one liter bottles. Can you imagine the pile of plastic bottles that would have been?
Tip: Take the empty CO2 bottle to a local Bed, Bath, and Beyond store and they will switch it out for a new one for half the cost ($14.99 versus $29.99).
From an environmental standpoint, I really like this machine. But I'm sure you are probably more curious about how to make carbonated water at home. Read on…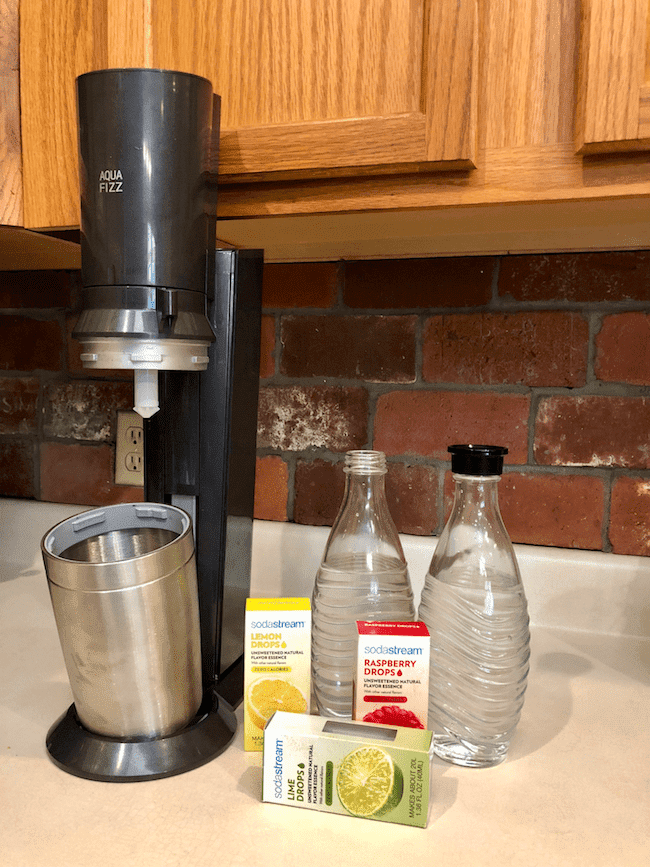 How to Make Carbonated Water at Home
There are a few ways to make carbonated water at home. SodaStream offers several machines that offer easy 1 touch carbonation. With this AquaFizz machine, you insert the CO2 canister in the back of the machine, place the special glass carafe into the base, close the lid in place, and press a button. You can create more or less carbonation depending on how many times you press the button.
To flavor your carbonated water, SodaStream has several varieties of Unsweetened Natural Flavor Essence you can add. Just pour a few drops into a clean glass, pour your sparkling water over the drops, and enjoy! It really is that simple. So far our favorites are the Raspberry and Lemon drops. You can find these are local stores like target.com* and online at Amazon*.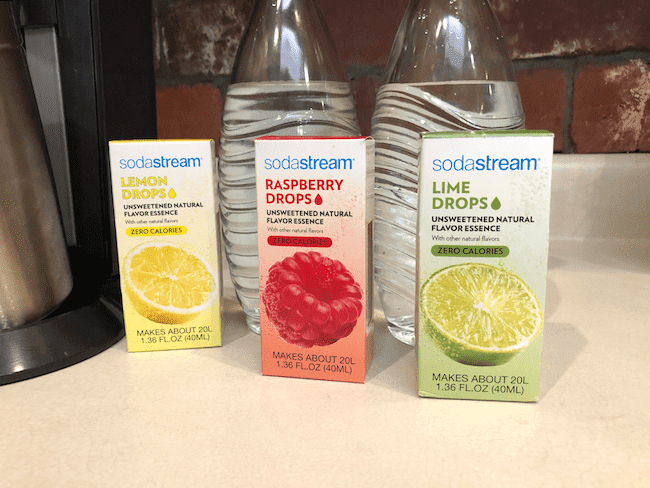 If you want to make carbonated soda, SodaStream also has a full line of syrups too. I can't really talk about them, since we don't drink many sodas these days and didn't test them out.
Included directions need some help.
Like with any machine or gadget, there are safety guidelines and directions on how to use this device. The safety guide and warranty information for this Sodastream machine is printed in several languages and details how NOT to use the machine. The actual direction guide could use some improvement. It is a one page sheet with numbered pictures and a website link.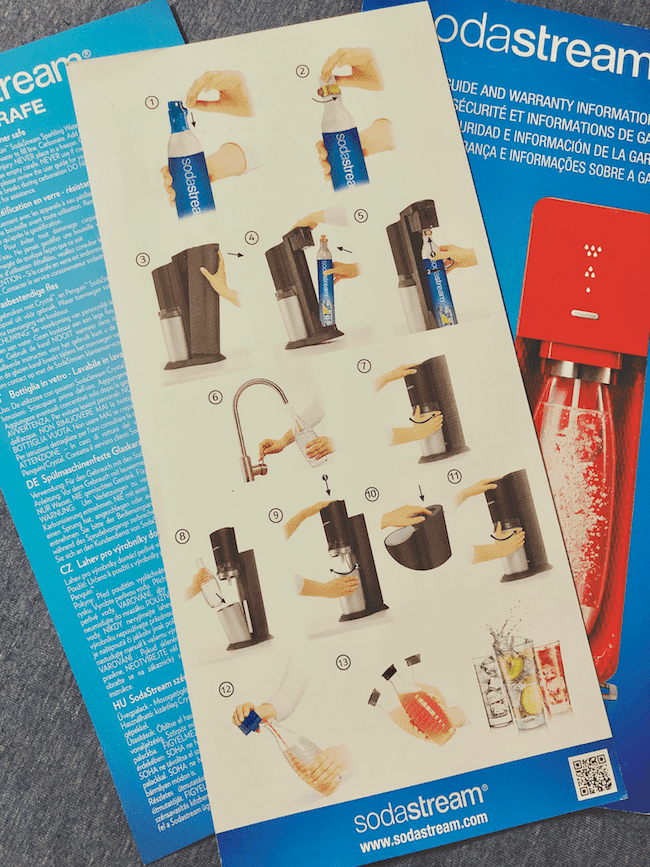 Tip: I found that refrigerating the water before adding CO2 holds better carbonation.
One of the things, I wish the instructions had explained was the noise the machine makes once your water is carbonated. The first time I heard this noise, I wondered if I'd done something wrong. After watching a few YouTube videos, turns out, this sound is normal. The loud noise, that can best be described as the sound you get when fingers push against clean plastic, indicates the level of carbonation. More fizz = more noise.
Where to Find the SodaStream Aqua Fizz
You can find this and other SodaStream machines at sodastream.com Amazon*, and other retailers. The SodaStream AquaFizz retails for $179.99.
Find the Natural Essence Flavor Essence and other syrups at sodastream.com, Amazon* and Target.