Next Day Soup is a great way to re-purpose leftovers and create a delicious, budget friendly meal. This Leftover Chicken Soup is one of my family's favorite Next Day Soups. It's wonderfully aromatic homemade broth is loaded with vegetables and shredded chicken.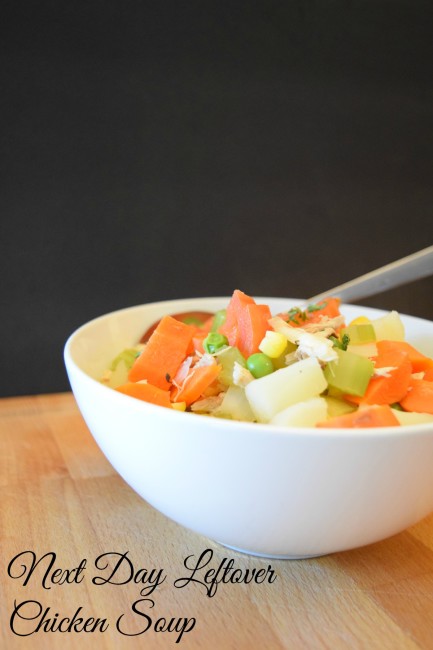 We are all looking for ways to eat healthier on a budget. Creating your own food staples like chicken or beef broth is a great way to save money. Plus it's NOT loaded with sodium like boxed or canned broths. You know exactly what's in there. So you know it's healthy for you and your family.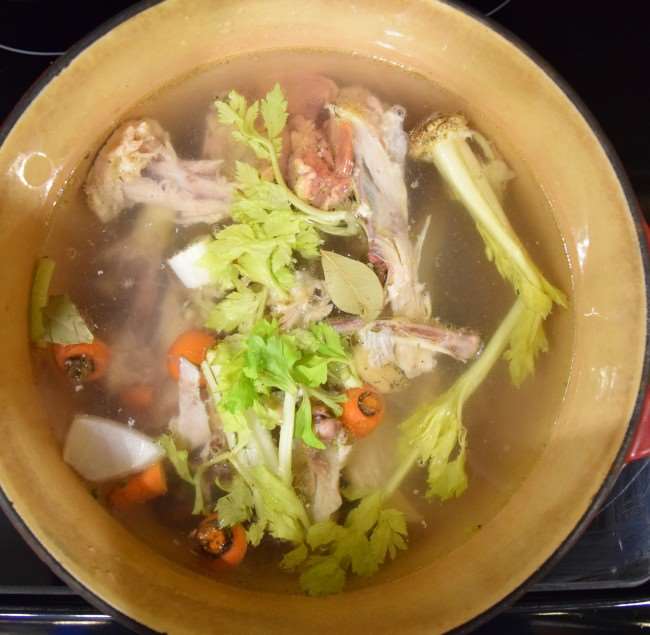 Homemade chicken broth is simple to make and doesn't cost you a penny. This delicious bone broth is made with leftover chicken bones from a chicken dinner like Lemon Thyme Crockpot Chicken or Clay Pot Roasted Chicken. When peeling or cutting vegetables like carrots, celery, onions, etc., save the ends and peels for use in this broth. These veggie scraps store easy enough in the freezer. Add them and a few herbs you probably already have on hand into your soup pot to create an aromatic, delicious, and very budget friendly broth to use for soups or other dishes.
Meal planning is another way I eat healthier on a budget. I plan out what my family eats during the week so I know exactly what's for dinner. This week, we're having Lemon Thyme Crockpot Chicken one night, then this Leftover Chicken Soup with Vegetables the next. There will be plenty of extra soup, so I will freeze a few portions to have on another day or send with my husband to work. Together these meals cost me under $18 at a local grocery store. 2 dinners plus a lunch equals out to $6 per meal. Not Bad! Don't you agree?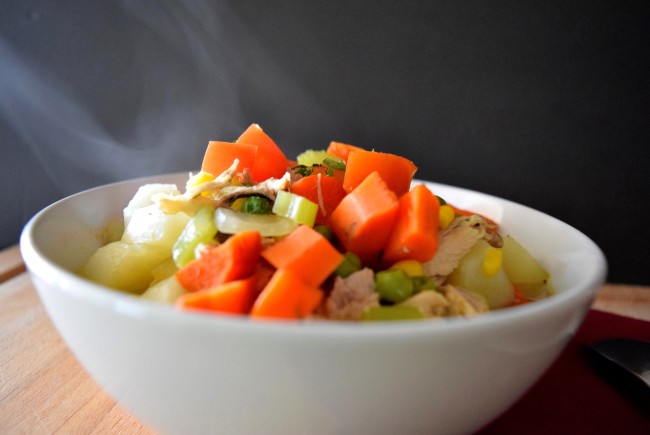 Try this soup for yourself. If you don't want to make homemade broth, you can substitute canned or boxed stuff. But I guarantee the difference in taste is worth the extra effort. I include instructions for both crockpot and stove top broth. So you can make it either way. Enjoy!
Yield: 8-10
Next Day Leftover Chicken Soup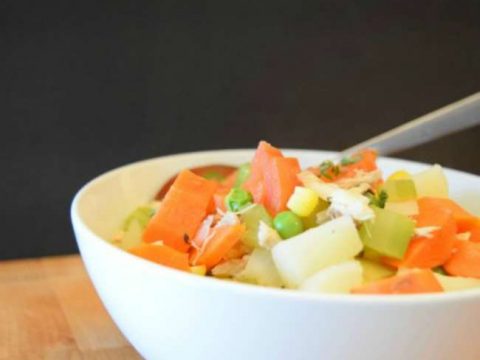 Ingredients
12 cups of water
Chicken bones and giblets from leftover roasted chicken
Vegetable scraps, optional
1 Bay leaf
1 tablespoon + 1 teaspoon of dried parsley
Leftover chicken, shredded
3 potatoes, peeled and diced
5 carrots, chopped
4 stalks of celery, chopped
1/2 onion, chopped
2 cloves of garlic, finely minced
1 cup frozen peas
1 cup frozen corn kernels
1 cup diced tomatoes
1 teaspoon dried thyme
1 teaspoon salt
1/2 teaspoon ground pepper
Instructions
Create a Homemade Broth Using Bones from a Whole Cooked Chicken
Remove any remaining cooked chicken from the chicken bones. Place the bones into a crockpot or a stock pot.
Add 12 cups of water to the pot, along with a bay leaf, 1 tablespoon of dried parsley, and any vegetable scraps (optional).
Cook all this down, overnight in the crockpot or 1 hour in the stock pot.
Strain off the broth. Place the broth in containers and store in the refrigerator.
Remove any additional chicken meat from the bones/broth. Refrigerate in a container for the soup.
To Create Soup
Add chicken broth and enough water to equal 10 cups to a stock pot. Add all remaining ingredients, including shredded chicken, to stock pot. Bring to a boil. Reduce to a simmer and cook for 10-12 minutes, or until potatoes are fork tender.
Season with additional salt and pepper if needed.
You can serve now or slow simmer until ready to serve.