Ever since my first child made his appearance on this earth, I have wanted to Cross Country/Nordic Ski. I learned to Alpine (Downhill) ski at 32 and delivered my first boy at 36 making my downhill debut rather short.
Lots of Mommies switch from downhill to cross country skiing after kids. Many stroller companies now make strollers with ski attachments. I have a few friends that swear by the Thule Chariot Trailer with the ski attachments* (Purchase through our affiliate links and we receive a small commission without any extra expense to you!) All bundled up in the sled, kids nap while mom's ski. Fresh air exercise and a good nap are just a few of the benefits of cross-country skiing.
That was, uhm, 12 dream years ago. My long awaited debut as a Nordic Skier happened this January. That baby boy now weighs 125 lbs and "flat out" refused to get in the baby buggy sled. (Not that I could have pulled him anyway!)
Finding Skies and Boots
Living in ski country Colorado I mistakenly thought finding second-hand nordic equipment would be easy. Two big snags stopped me for many years.
What kind of Nordic Skier did I want to be?
Lack of a universal binding system
3 types of Nordic Skier
When I wanted boots for Alpine Skiing my husband went with me to a few boot shops and we bought boots. No one asked me what kind of downhill skiing I planned on doing. (To be fair there are different types of boots for Alpine Skiing; but a beginner is a beginner, we all start with a softer boot and move on from there. The binding system is universal.)
Finding the right cross country set up requires a little investigation into exactly where and what terrain you are planning on tackling.
Classic Style Skiing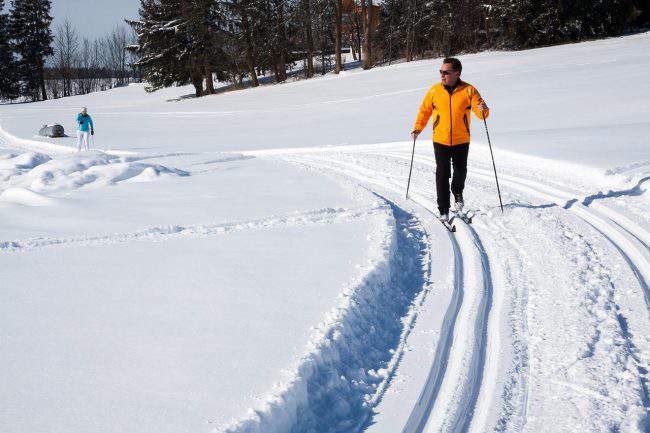 Just like walking, the skis are "kicked" forward out in front of you with the same right/left arm swing you use to speed walk. These skis and boots are light and comfortable. The skis fit nicely in the two parallel ski tracks on groomed trails. These tracks give beginners something to focus on as they practice "walking" with their new skis. Classic is a great starting point for cross-country skiing with your kids.
Skate Style Skiing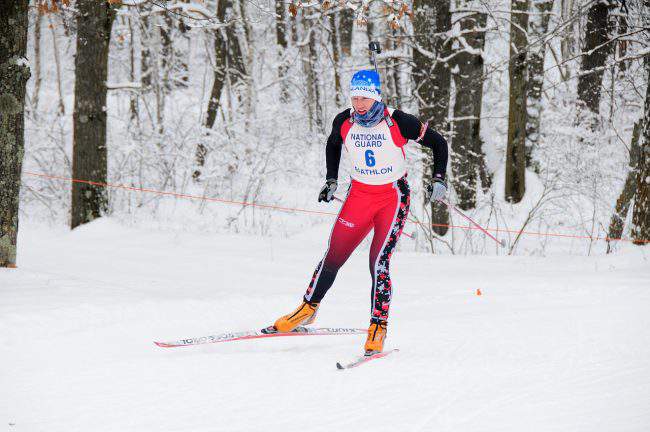 Fast and fun, this style is also performed on a groomed track. The skier pushes his feet in "v" formations. Pushing against the snow with one foot while gliding with the other. With good form and a groomed track skiers can reach speeds of 30 km/hr. Again the equipment is light and a good match with older kids who already train as long-distance runners.
Back Country Style Skiing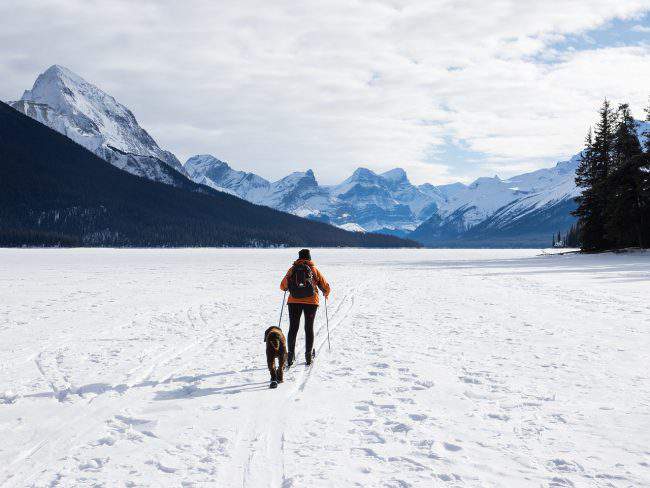 Want to just step out your back door and go for a ski? Back-country style skis are your ticket to freedom. These skis work just like Classic Skis in a parallel walking motion but are designed for deep snow off the trail. Wider and heavier than the two types of skis above, they allow you to create the trail rather than follow one.
Back-Country Skis have metal edges and fish scales on the bottom. These skis are designed more for grip than slip. A heavier hiking style boot pairs with these skis to give good ankle support for the deeper snow.
For the fascinating story behind why different boots and bindings were developed and the origins of Nordic Skiing click here.
Non- Universal Binding System
The complications of the non-universal binding systems held up my second-hand purchase of Nordic Skis for years. Unlike alpine ski touring boot bindings (what everyone skis downhill with except telemark skiers) the Nordic boot binding is boot and brand specific. The top three are
NNN (New Nordic Norm)

NIS (Nordic Integrated System)

SNS (Salomon Nordic System)
What this means for the uninitiated second-hand Nordic ski buyer is you can't buy boots from one person and expect them to fit properly on another set of skis purchased from someone else. Even working at a busy thrift store right outside Winter Park, Colorado, I was unable to procure matching boots and bindings. In total frustration, I accepted a new pair of back-country skis without boots and bindings.
The following fall, I finally convinced a ski rental shop that all I wanted to do was Classic Ski to walk the dog in a Nordic groomed park next to my house. Still trying to work within a budget, I managed to buy a used rental pair of Classic Ski Boots and a lighter set of bindings than the skis would normally demand for $150.
Then after 16 years in Colorado, I stepped out my back door with the boxer dog attached to my waist, walked across the street and clicked in my Back Country/Classic/Combination Nordic Ski/Boot/binding set up. They worked perfectly. Now, if the dog would just walk in a straight line in front of the skis.