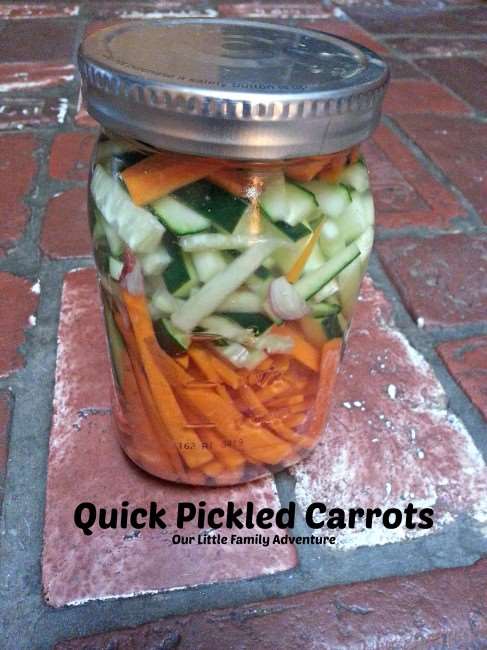 This spring, I signed up for a vegetable club share with a local farm, Acadian Family Farm. Each week, I pick up my share of delicious veggies from the owner, Nanette. The selection varies, but the products are amazing. This week, I made these Quick Pickled Carrots with some of my vegetables.
This week there were French carrots, beets, bok choy, lettuce, green onions, arugula, and other veggies. A few weeks ago, we had lovely pea shoots, dill, field greens, and swiss chard. We are loving the variety.
If you aren't familiar with a vegetable club or a Community Supported Agriculture (CSA) Crop Share, it's a wonderful opportunity to buy fresh produce/vegetables and support local farmers. Here are the basics: a farmer offers a certain number of "shares" to the public. Typically the share consists of a box of vegetables. Interested parties purchase a share and in return receive a selection of seasonal produce each week throughout the farming season.
For us, the club lasts about 20 weeks and runs April thru August. At Acadian, all the produce and vegetables are grown on the farm without pesticides, chemicals, or GMO seeds. Not all clubs/shares offer organic or natural products, so if you are interested in that, you will need to inquire. By committing to the program, farmers have a market for their crops. Members benefit by knowing exactly where their food is produced and receiving vegetables straight from the field. If you are interested in finding a CSA or Veggie Club in your area, you can visit Local Harvest, http://www.localharvest.org/csa/
So after picking up veggies for a few weeks, I find myself with a overabundance of carrots. Carrots last for a while in the refrigerator, but I wanted to try something different. My family LOVES homemade pickles. So, I thought quick pickled carrots and cucumbers would be great. This recipe is super simple and nearly impossible to mess up. The pickles are great alone as a snack, in a salad, on a sandwich, served with rice, etc. Enjoy!
Here is the recipe.
Ingredients
1 cucumber, julienned
1 carrot, julienned
1 large shallot, peeled and thinly sliced lengthwise
1 teaspoon sugar
1 Tablespoon Kosher salt
1 cup distilled white vinegar
1 1/2 cups warm water
Instructions
Toss the vegetables together in a medium bowl, then transfer them to a quart size glass jar.
In a measuring cup or bowl, combine the agave nectar, salt, vinegar, and water.
Stir until salt dissolves.
Pour over vegetables in the jar and refrigerate for at least 4 hours before serving.
Notes
The pickle will keep in the refrigerator for about 2 weeks.
7.8.1.2
68
https://littlefamilyadventure.com/quick-pickled-carrots/
LittleFamilyAdventure.com