Have you made a holiday baking list, yet? Some of you probably have half that list already done, baked, and checked off. Others, like me, are just getting around to just now thinking about holiday baking.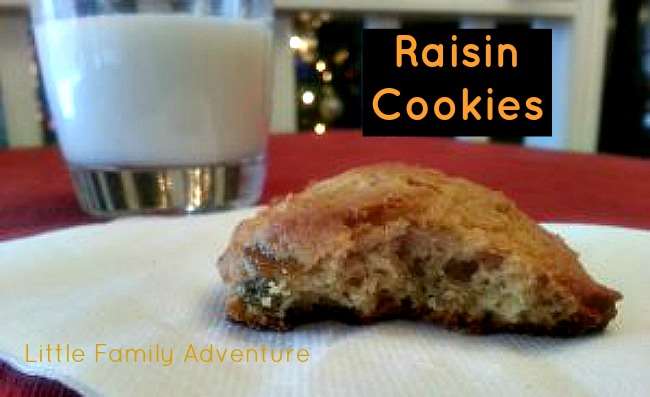 Every year, we have a list of family favorites that are "Must Bake" cookies. It's not Christmas in our house without my Grandmother's Lebkuchen, Sour Cream Twists, Kringla, and My Aunt's Sugar cookies. On top of these family favorites, we like to try new cookies and quick breads. This year, we're adding Raisin cookies to the list. When you think of raisin cookies, I'm sure visions of Oatmeal Raisin cookies aren't far behind. These are oat free, but do not worry. You won't miss them!
The original recipe for these cookies comes from a cookbook titled Eet Smakelijk : A Collection of Recipes by Members and Friends of Junior Welfare League of Holland Michigan. This cookbook is filled with great traditional Dutch recipes plus others that have been inspired from those that settled in the region. The original version of these cookies were called Sour Cream Cookies. They included margarine and sour cream. We swapped butter for the margarine and yogurt for the sour cream. The result is a lighter, less dense cookie that you're going to love.
Yogurt is a healthy substitute for sour cream in baking. The main difference between yogurt and sour cream is fat percentage. Yogurt is made with milk and sour cream with cream. As a result, yogurt is lower in calories and higher in protein than sour cream.
In general, recipes that use sour cream are a little richer tasting and slightly denser in texture. When substituting yogurt for sour cream, be sure to use whole milk yogurt that is thicker in consistency. A Greek style yogurt is great for baking. It will give a similar texture to using sour cream. I find that using low fat or non fat yogurts don't work very well. The taste and texture is different and I don't like the end result. So, just trust me and use whole milk yogurt. You'll be happy you did!
So what's on your holiday baking list this year?
Yield: 4 dozen
Raisin Cookies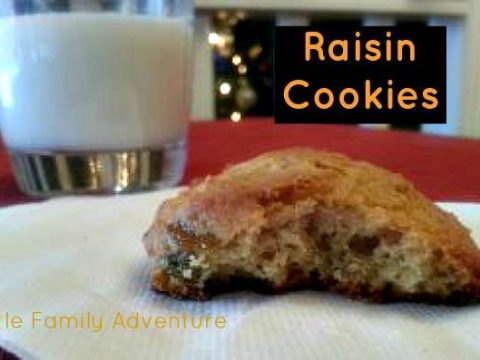 Ingredients
1 cup butter, softened
2 cups light brown sugar
2 eggs
4 ½ cups white whole wheat flour
½ teaspoon salt
½ teaspoon nutmeg
1 teaspoon baking soda
4 teaspoon baking powder
1 cup plain yogurt
1 cup golden raisins
1 cup walnuts, chopped
Instructions
Preheat oven to 400 degrees F.
In a mixer, cream together butter and sugar. Add eggs. Mix until combined.
In a large bowl, combine flour, salt, nutmeg, baking soda, and baking powder.
Alternate adding flour mixture and yogurt to creamed mixture.
Stir in raisins and chopped nuts.
Drop rounded teaspoonfuls of dough onto a greased cookie sheet or cookie sheet topped with a silpat.
Bake 11-12 minutes, until golden brown.
Remove to a wire rack to cool.
Nutrition Information:
Yield:
48
Serving Size:
1
Amount Per Serving:
Calories:

133
Total Fat:

6g
Saturated Fat:

3g
Trans Fat:

0g
Unsaturated Fat:

3g
Cholesterol:

18mg
Sodium:

128mg
Carbohydrates:

19g
Fiber:

2g
Sugar:

10g
Protein:

3g