Children should spend as much time outdoors as possible this winter. With the right clothing, they can be comfortable spending countless hours playing in the backyard or exploring snowy trails. Shred Dog, a youth apparel company focused on getting kids active outdoors, produces high-quality, technical kids' snow gear that is ALSO budget-friendly (40% off retail)! This season (and the next) keep kids warm and dry without breaking the bank.
Read my Shred Dog review, get an exclusive 35% off saving code, and enter to win in our Shred Dog giveaway to win a hardshell and insulator mid-layer jackets!!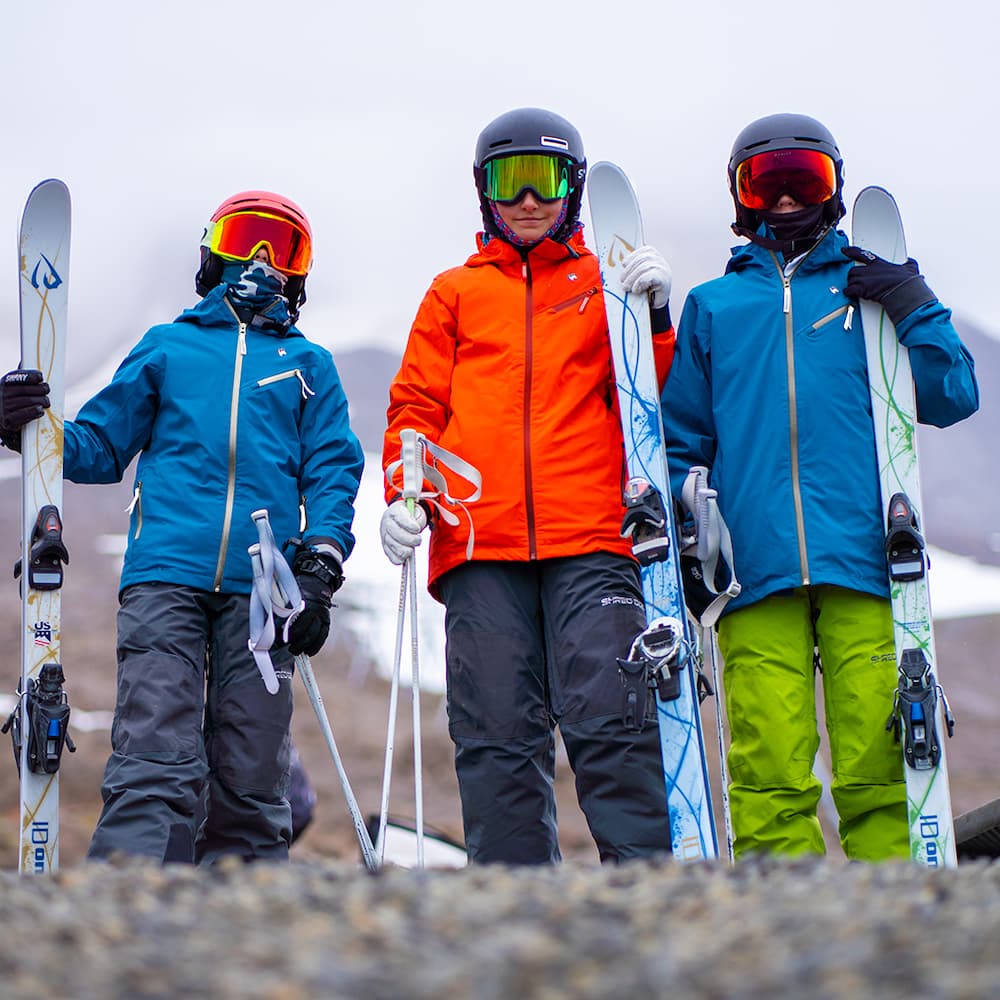 As a parent, I know that there is NO JOY in having a cold, wet child anywhere. It makes for a miserable experience and cuts our day short. (Not what I want for a family adventure.) The best way to avoid this is to buy the best quality products possible. But the struggle is always finding clothing and gear with the features I want, that last longer than a few months, and all at a price I am willing to pay.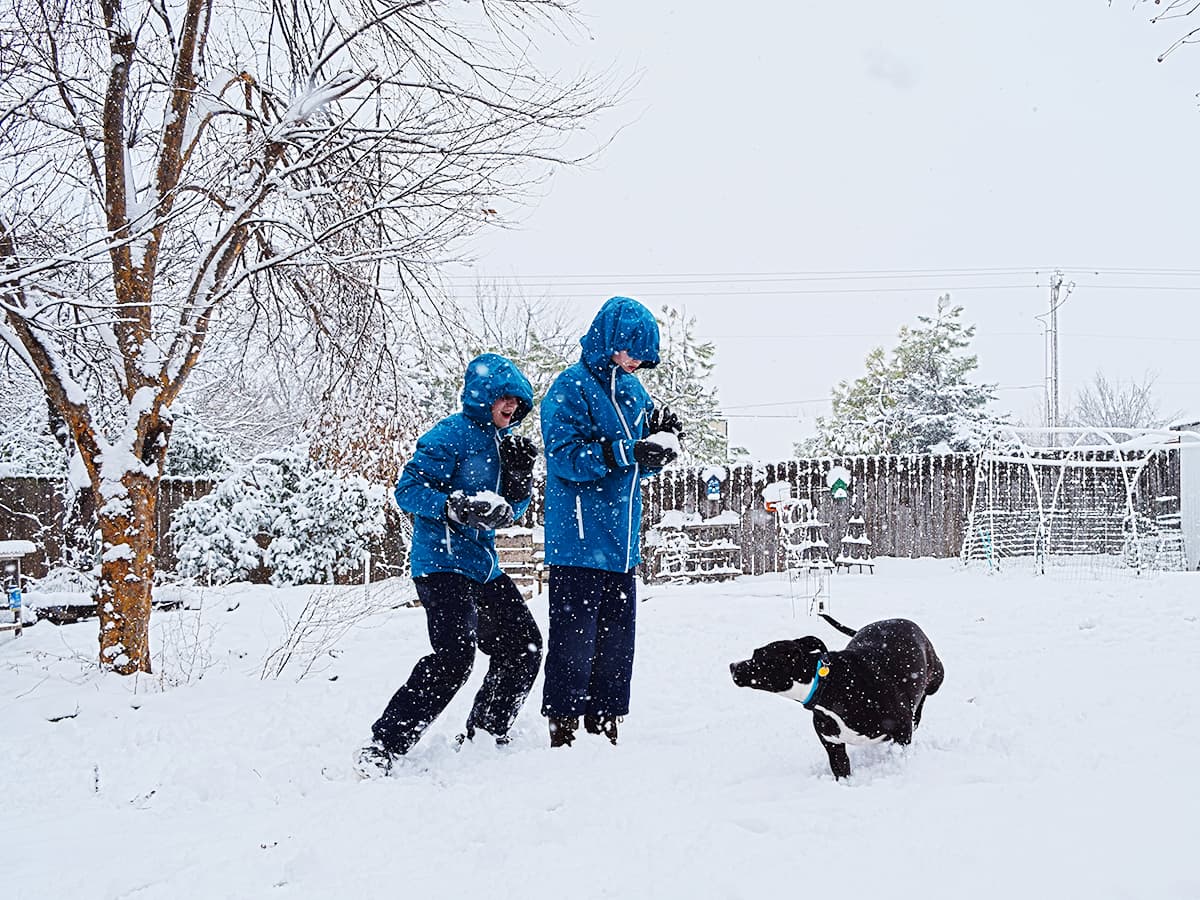 Shred Dog Review
Shred Dog recently sent me their Elevated Hardshell and Elemental Insulator jackets to try out with my youngest son. I loved them so much, I actually got a second set for my daughter. I found they offer the technical features I enjoy in my ski gear, lower pricing than other brands like North Face and Patagonia, and the ability to adjust the clothes as my child grows, thus extending the life of the items. Here's why you'll love them too!
Budget-Friendly, High-Quality Kids Ski Clothes
Shred Dog offers high-quality kids outerwear at 40% off what you'd expect to pay in stores. They do this by skipping retailer stores and instead offer direct to consumer pricing on their website and through Amazon. If you were to buy a full set of outdoor snow clothes for kids from another brand, you could expect to pay over $700. The Elevated Hardshell, Element Insulator jacket midlayer, and ski pants would cost only $426. Plus Shred Dog provides a lifetime guarantee.
Save 35% off any $400 order with exclusive code LFA35. You pay only $255.60!! Shop Here
Boys/Girls Ski Jackets with Features Parents Want
When designing Shred Dog gear, the company sought input from parents who were active outdoors and asked what features they wanted in their kids' snow gear. As you can imagine they requested the same high-performance features seen in adult ski clothing that could grow with their child and be budget-friendly. The features set Shred Dog apart.
Adjust-A-Fit System
Kids grow quickly and can outgrow their clothes and outerwear in a single season. There is nothing more frustrating than buying a winter jacket only to be outgrown in 2 months' time. Several brands use a grow-with-me function that allows you to rip a seam to extend the length of a pant or jacket arm. Shred Dog does things a little differently and goes a step further with their Adjust-A-Fit system.
Shred Dog designed their products to allow sleeves and pant legs to be BOTH extended AND reduced. You can extend the length as your child grows and then reduce it later on for a younger sibling. This greatly extends the life of winter gear. This feature is also perfect for those children who don't fit traditional sizing (slim with long legs, for instance).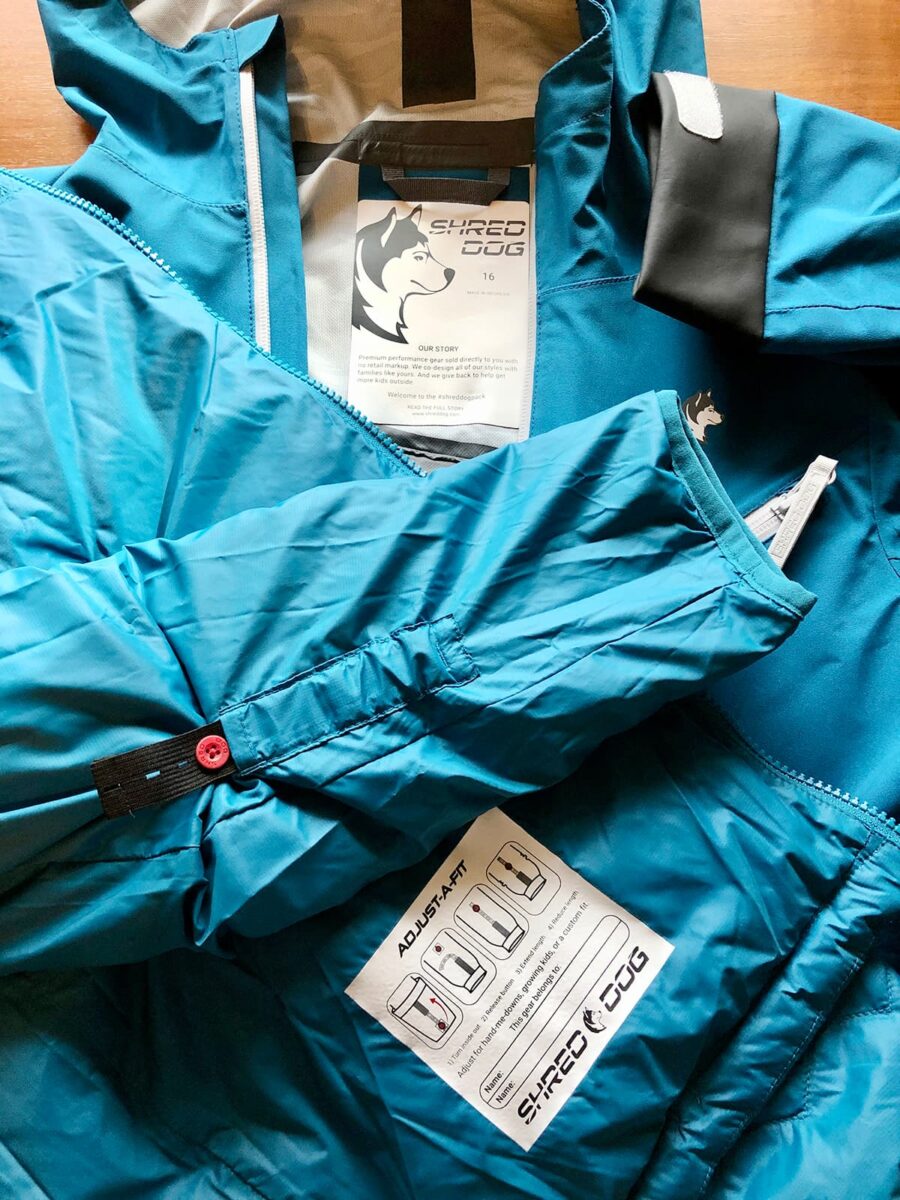 The adjustment system is based on a button elastic closure also found on adjustable waist children's pants. You turn the sleeve or leg inside out and release the button from the elastic adjustable strap, either extend or reduce the length, and then button back in place.
When I shared our experience with Shred Dog on Instagram, a fellow mom messaged me and told me about her experience with Shred Dog. This is the second year her daughter will be in the same hardshell and midlayer. She's been thrilled with the quality and plans to pass these down to her younger daughter in the future.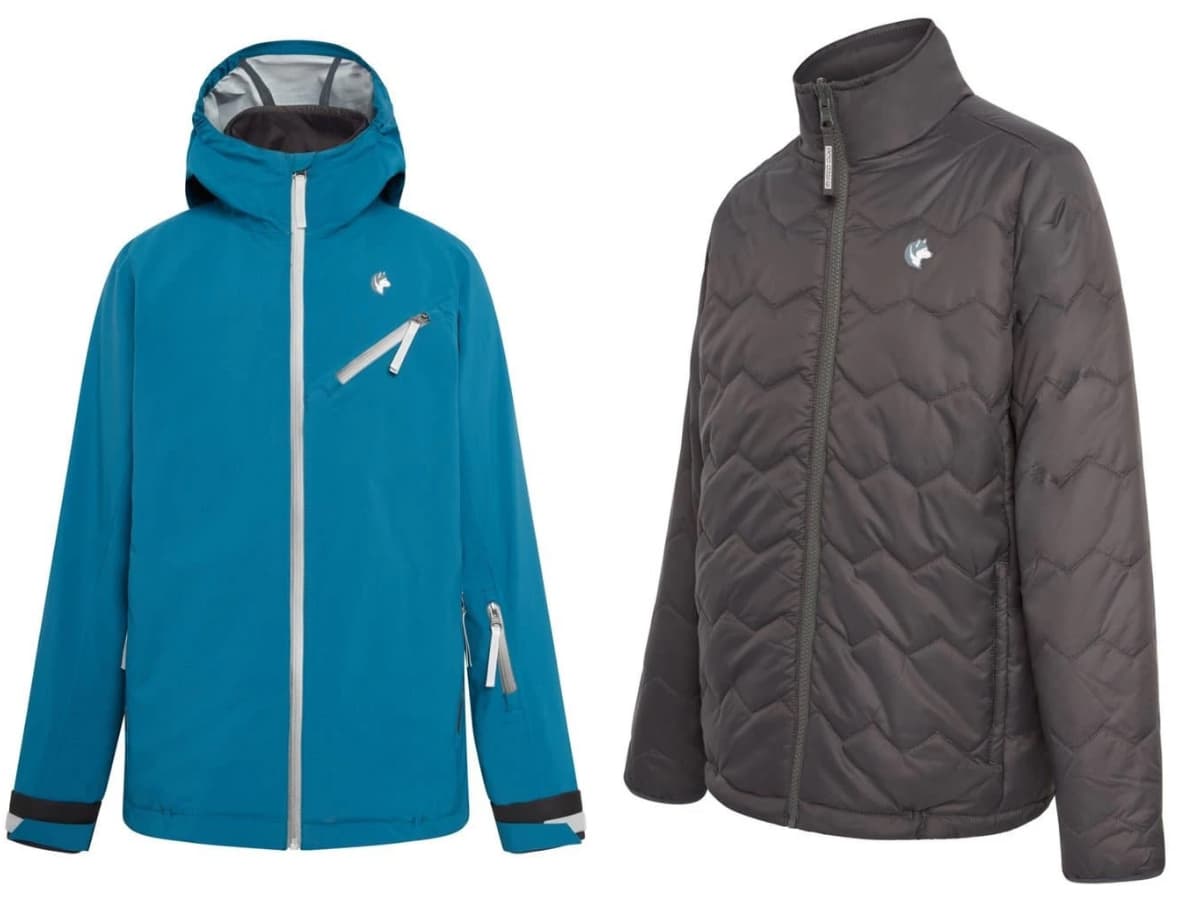 3-in-1 Kids Ski Jacket
For this Shred Dog review, I received the Elevated Hardshell and Elemental Insulator jackets. I love the versatility of this 3-in-1 jacket layering system. This 3-in-1 style is often seen for adults, but not always for children. Most times, boys/girls ski jackets are all-inclusive with the insinuating layer sewn in. Living in Oklahoma, the kids don't always need a thick winter coat like that. So I like that I can use these two jackets and have options appropriate to the weather.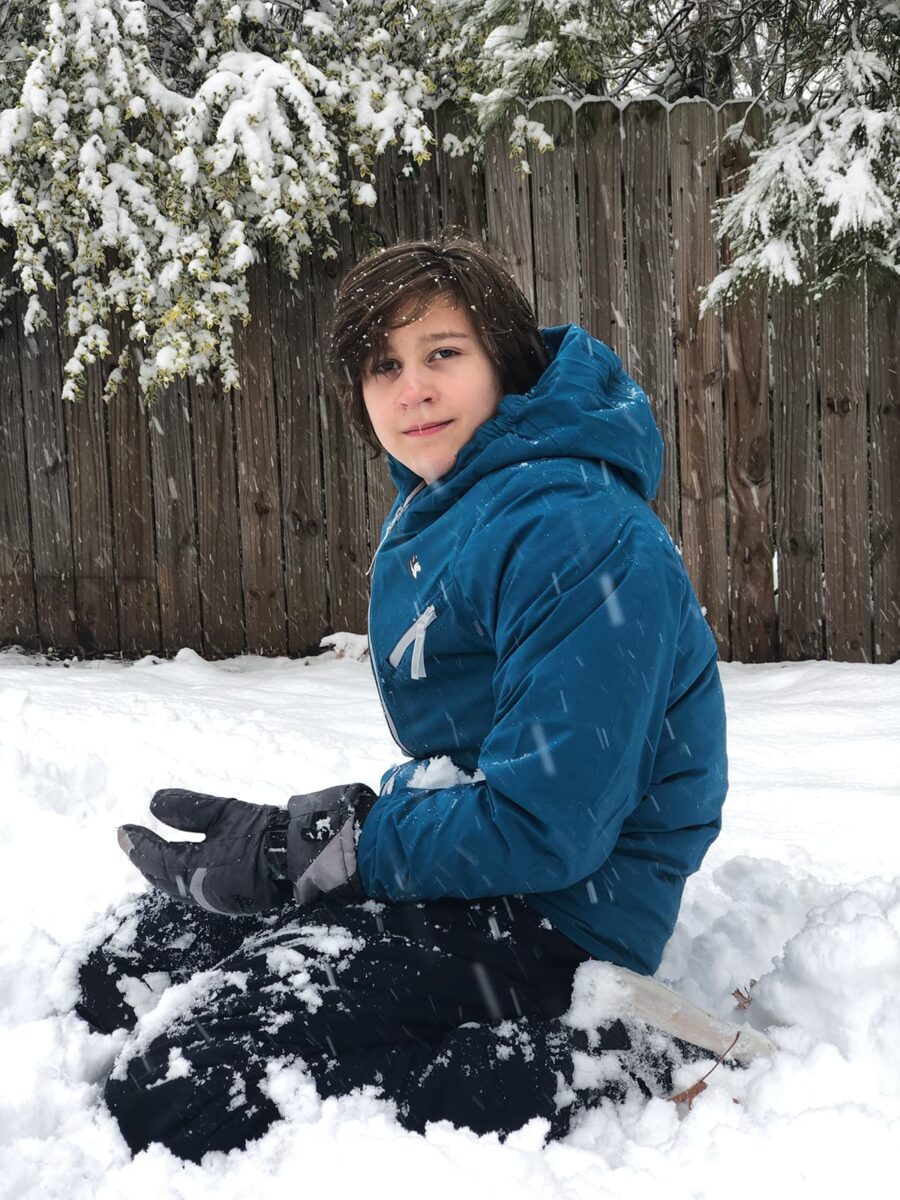 The Elemental Insulator is a great mid-layer for cold weather integrated to zip-into the Hardshell or as a standalone everyday puffy style jacket. Body-mapped 3M synthetic insulation provides breathability and warmth. This jacket is cut with a longer torso, dropback hem, easy pull zippered side pockets, and an interior mesh pocket. Price is a steal at only $66.
The Elevated Hardshell on its own provides waterproofness and breathability. It can also be worn as a rain jacket in the spring or during the winter with the Insulator zipped in. Price $180.
The Hardshell has many of the features I enjoy in my Fjallraven Bergtagen Jacket. These features include:
Fully taped seams
Adjustable wrist adjustments (this jacket also has rubberized gasket cuffs to keep out moisture)
Easy pull waterproof zippers
Chest pockets
Underarm vents with mesh to keep out the snow
Adjustable hood with room for a helmet
Interior mesh pocket
Sizing is available from youth 4 to 16. Youth sizes offer unisex colors and then the larger sizes offer colors for both boys and girls.
These two jackets together total $246. Use our exclusive code LFA 25 to save 25% off and get them for only $184.50.
Elevated Convertible Bib/Pant – Shred Dog does make a convertible bib/pant with features you'd expect from technical adult snow pants for only $180. We did not test these snow pants out, so I won't say more about them here. You can read more about the bib pants and other outerwear products here.
Outdoor recreation should be affordable and accessible to all. Shred Dog has created winter outdoor gear that is affordable, allows for use during multiple seasons, and incorporates features normally reserved for adult winter outerwear or really high end youth gear. When you are ready for that new girls or boys ski jacket, bib pants, or base layer, visit ShredDog.com and save up to 40% off retail!
Remember to use our exclusive savings codes:
LFA25 to save 25% off – LFA35 to save 35% off any order of $400+