When the kids are stuck inside, it's good to have a list of indoor activities you can do with your kids. This is that LIST! There are over 40 things to do with kids indoors that are fun and educational (but you don't have to tell the kids).
We are great advocates for the need to get outdoors to prevent cabin fever, but we know that there are times that it just isn't possible. It doesn't matter if it's too cold outside, or raining cats and dogs, or there's a pandemic keeping you indoors, families need fun-filled activities that will prevent cabin fever and provide hours, days, and even weeks of indoor fun.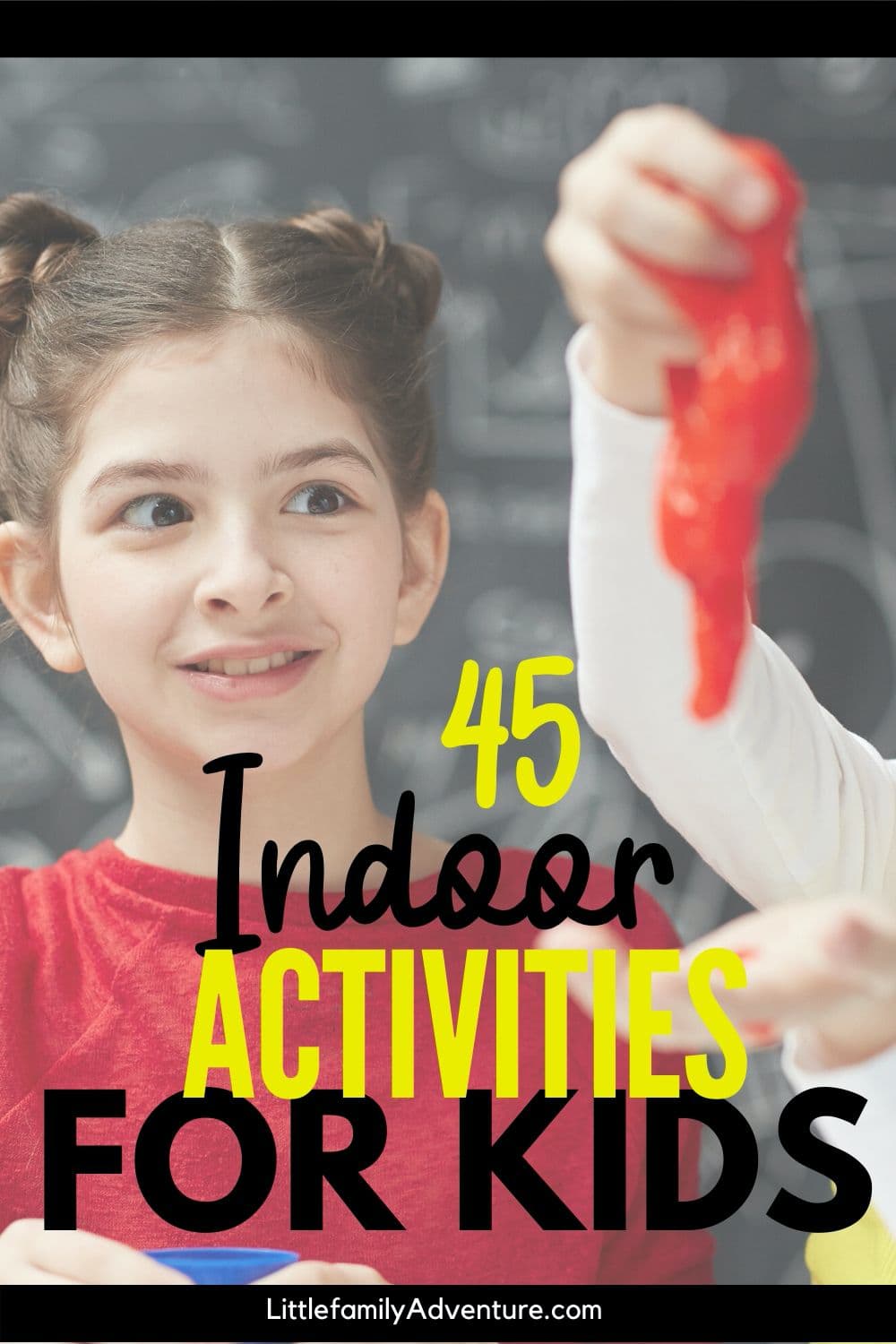 Indoor Activities for Kids
As a former homeschool family, we also know that's it's important to make learning fun. When kids are engaged and enjoying the activity, learning comes naturally. So this list of activities includes:
Science Experiments You Can Eat
Easy Crafts
Free Activity Printables
Art Based Activities
Game Play Activities
Activities that Promote Family Time
Baking and Cooking Ideas
Online Activities
Activities Using Things Around The House
Oh and did I mention, you probably ALREADY have everything you need to make these activities possible? Yup, you can use things you already have like spare socks for sock puppets, use an old top sheet for a DIY fort, and baking ingredients to make cookies.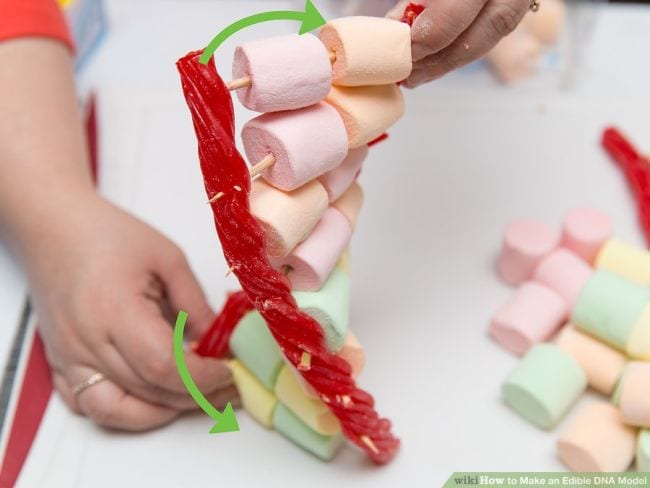 Science Experiments You Can Eat
Create a candy DNA model. Using toothpicks and candy, WikiHow illustrates how kids and have fun with genetics.
Make homemade rock candy using this recipe from Happiness is Homemade
Make edible slime with this safe to eat recipe from Fun at Home with Kids. Also find an edible S'mores slime in our indoor camping activities guide.
Make it a day dedicated to Gummy Bear Science. Learn about osmosis and create your own gummy bears with silicone molds from Playdough to Plato.
Baking Science – There is a science to baking and kids find it fascinating to see it first hand. Create your own sourdough starter using this recipe from King Arthur flour.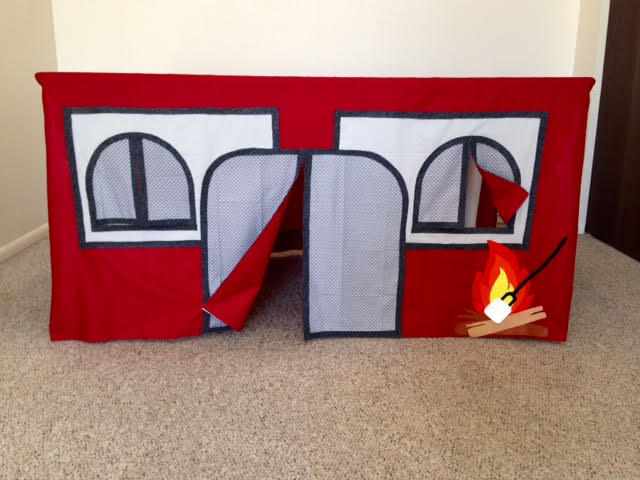 Easy Crafts
Create your own DIY indoor camping fort playhouse. Grab a top sheet or tablecloth, a few pieces of scrap cloth, and a hot glue gun and you'll create this playhouse in no time.
Toilet Paper Crafts – Save those toilet paper rolls and create fun craft projects. Fun Money Mom has ideas for this toilet paper roll crab to unicorns and minions in this article with 25 toilet paper roll craft ideas.
Craft Icicles – Paper, white glue, and salt are all you need to make this easy icicle craft from Inner Child Fun.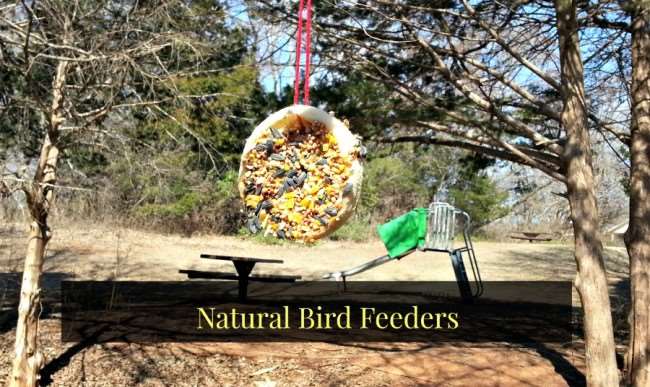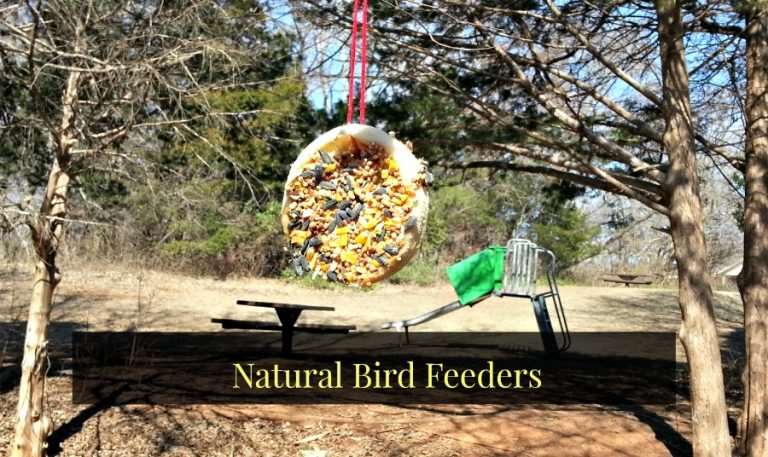 Make a bird feeder and watch the local bords – Using bread, nut butter, and seeds, create an easy bird feeder to hang outside.
Geocaching is a fun outdoor activity that is a lot like treasure hunting. When you can't get outside, you can create your own cache using upcycled materials like deodorant tubes and other items. Then when the weather is good, you can put them out for others to find.
Pull out the washi tape and create a DIY airport. Fun Kawaii takes you step by step through how to set it up and it can be a fun project for an older sibling to do for a younger child.
Free Activity Printables
Alaska Wild and Free Coloring Sheets – Created by fellow travel write, Kristi Trimmer, these coloring sheets featuring Alaskan native wildlife like the Grizzly, Sea Otters, Moose, Orca Whale, and others. Also check out her care packages with stickers and coloring books, starting at $25.
Winter Activity Sheets – With a few clicks on the computer and a few pages from the printer and you have these fun winter-themed activities ready to give to your kids! Print out these free winter activities from Kids Activity Blog.
With creative writing, it can help to have a prompt to get you started. Look We're Learning has this Vacation Creative Writing Activity Printable that I think you'll really like.
Word Scrambles – When stuck indoors, it's nice to dream of other places. Tree Valley Academy has this travel word scramble printable to help.
Vacation Planner for Kids – We3Travel created this activity that asked teens to research and plan out a future vacation. Includes free printable worksheets and instructions.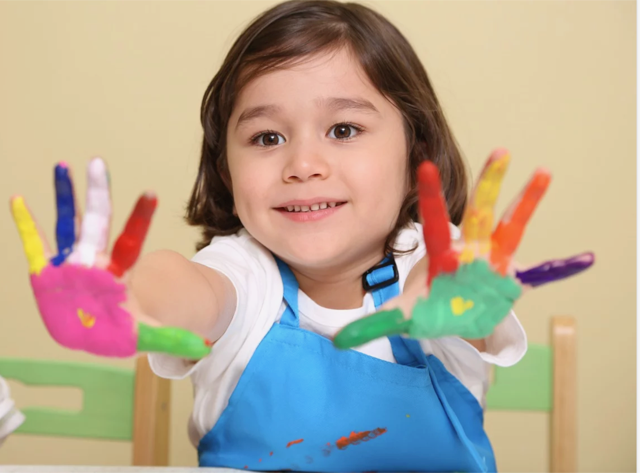 Art Based Activities
Exploring Light art projects – Oklahoma Contemporary is debuting projects for younger and older children inspired by artists in their new Bright Golden Haze exhibit. These two feature holograms.
Make your own finger paint and paint a masterpiece. Even the adults can get in on the fun with this activity. To make homemade finger paint, combine 2 cups of cold water, 4 tablespoons of sugar and 1/2 cup of cornstarch together in a saucepan. Heat over medium heat until it thickens. Allow to cool and divide into 4 containers. Then add a few drops of food coloring to each container.
Create your own bath paints – Central Park Tutors offers a tutorial on all types of art projects from bath paints to marble paper art. Take a look.
Take a virtual tour of famous museums, national parks, and historical sites. This list features over 24 virtual tours, many with interactive features.
Create a clay sculpture using a homemade salt dough. Unsophisticook has this recipe using just 3 ingredients.
Create sock puppets using unmatched or old socks, buttons, pipe cleaners, fabric scraps, or other household craft items. Handmade Charlotte has some really cute sock puppet ideas here including a giraffe puppet.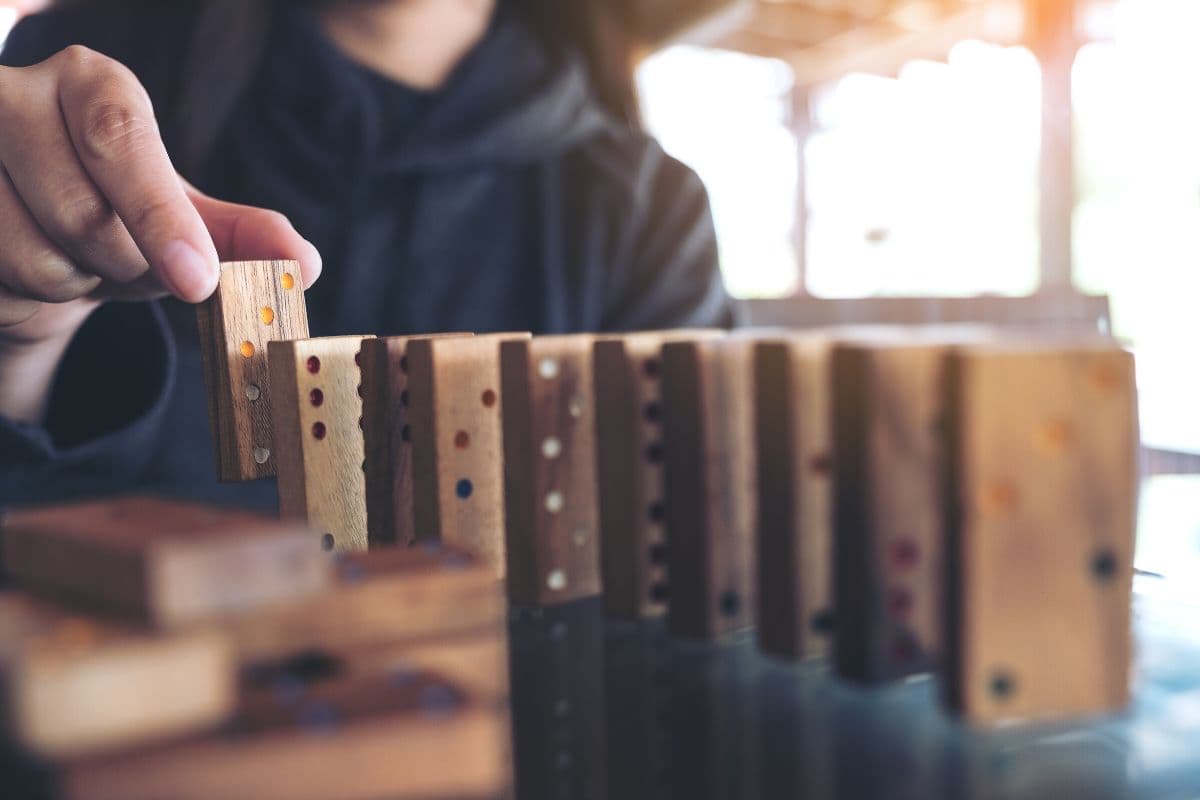 Game Play Activities
One of our favorite family games is spoons. It's played with a deck of playing cards and tablespoons. It is fast paced and perfect for 3+ players. Learn how to play here.
Family-friendly version of "Would You Rather?" My kids love this game and we come up with some wacky situations. Paper heart Family has this great list of questions to get you started.
Play dominoes or line them all up and set them off. The kids will have a blast watching them all fall, free entertainment at it's finest.
Play a game of Disney themed Pictionary. Bomb Shell Bling created these great printables to create the game at home anytime.
Work on silly and free learning play with by walking on pillows.
Make getting active a family game. Set up a challenge or obstacle course in the living room and see who can complete it the fastest.
Play an old fashioned card game. For example: Go Fish or Old Maid. I found you a free template to make your own cards here.
Pull out the puzzles or you can make your own puzzles for free with items you have around the house.
Think of some thought probing questions for family fun "Hot Topics Game" over dinner. You'll learn more about your kids and they will have fun doing it.
Pretend your sled riding. Use an old blanket, have one child sit on it and the other pulling her around the house.
Turn on the radio and challenge everyone to a karaoke contest.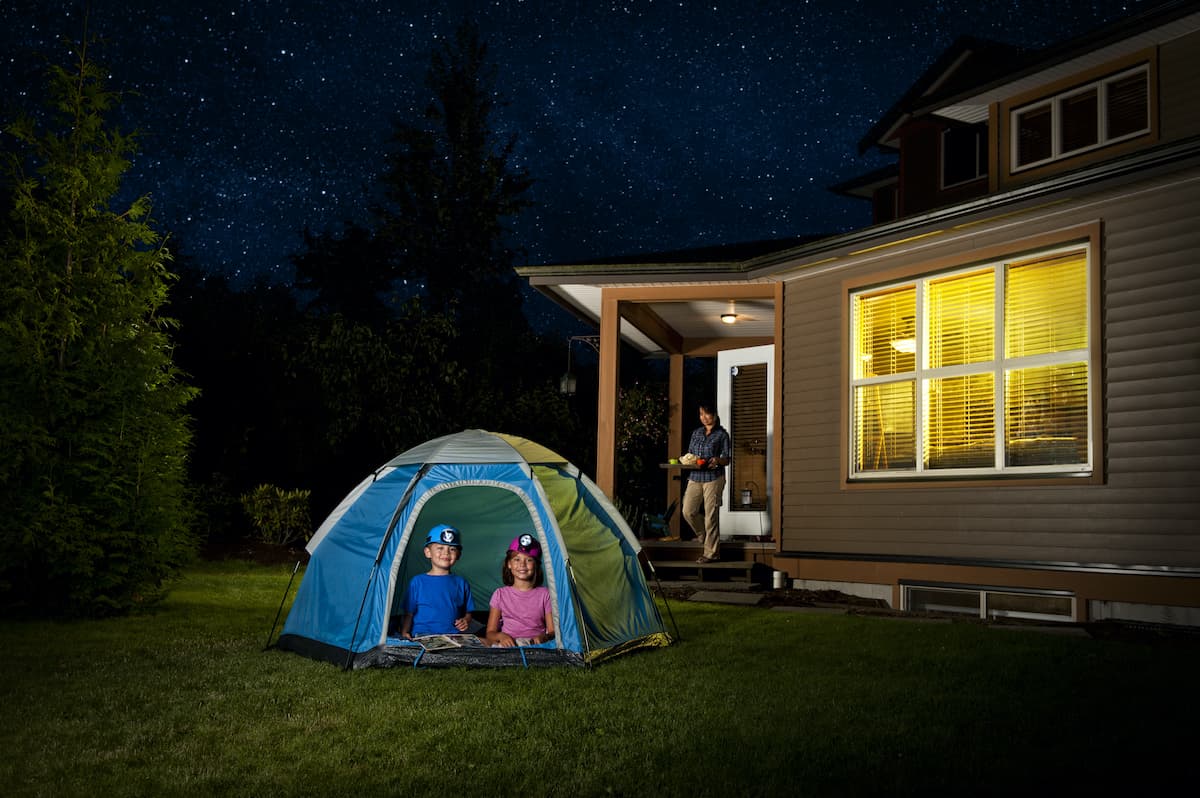 Activities that Promote Family Time
Go Camping at home – Set up the tent in the backyard or create an indoor blanket fort. Enjoy all the fun of camping without traveling.
Camping at Home Activities – Continue the camping at home theme with fun indoor camping activities like star gazing, edible s'mores slime, mock campfires, scavenger hunts, and recipes that can be made at home.
Grab a book and read it out loud together.
Pop some popcorn and have a movie night in. Some of our favorites are on Amazon Prime and Disney+.
Movie Night with Friends – If you want to movies with friends and family that can't be with you, Netflix has a chrome extension called Netflix Party that allows you to sync playback with others and opens a group chat so you can interact together.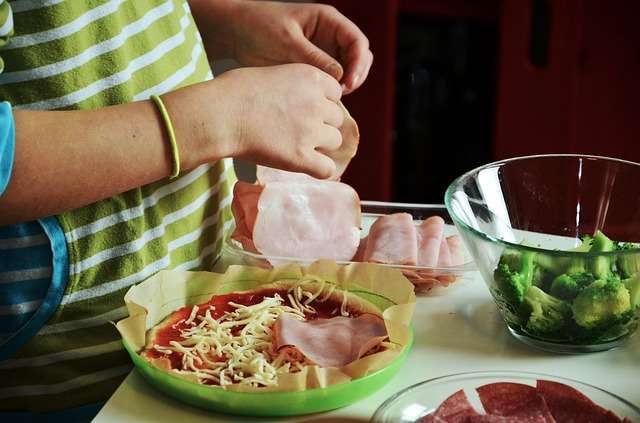 Baking and Cooking Ideas
Have the kids help you put together a family meal plan for the upcoming week. You can print out this blank planner and fill it in together. Then you can create a few of the recipes together.
Bake a few dozen cookies together. These Norwegian Kringlas and Double Dark Chocolate Snickerdoodles are family favorites.
Learn about a new country and create a traditional dish. You can find inspiration in these international recipes that are easy enough for kids.
Practice their measurement conversion skills in the kitchen. Get this printable on how many cups are in a quart, pint, gallon, etc. and put it to use creating their favorite soup recipe.
Make an awesome snack, try Granny's Granola Bars. Not only is this a great indoor winter activity for the kids they are a quick healthy snack too.
Make a homemade hot chocolate bar.
Online Activities
Learn to code with the kids. Khan Academy offers the first hour free.
Imagineering in a Box – Created in partnership with the Khan Academy and Pixar, this interactive series focuses on theme park design and engineering. It gives kids a behind-the-scenes peek into the Imagineering's development process.
Camp Invention – The National Inventors Hall of Fame put together this collection of at-home resources including STEM activities, printables, and vortual field trips.
Active Indoor Play
Pull out all that bubble wrap you have been saving and create a path, road, or run and enjoy!
Host a scavenger hunt. No Time for Flash Cards has ten different ones to choose from.
Play a game of balloon stomp with two or more players where the object is to pop the balloon. Learn how to play here.
Pair up two children to play balloon waddle. It's an indoor race that has to be taken slow. Learn how to play here.
Play indoor sock basketball. Use folded socks as balls to play a game of HORSE. Learn how to play here.
Enjoy these fun kids activities with your family today. There is no better time to make great family memories and have a fun family adventure indoors.