Heading on a family ski trip? You know your kids will need ski boots, warm clothes, and maybe poles (depending on ability), but there are other things they'd also need to keep warm, dry, and happy. When packing for your ski trip, you'll want to make sure your kids have the following 10 ski essentials so they can make the most of their time in the snow.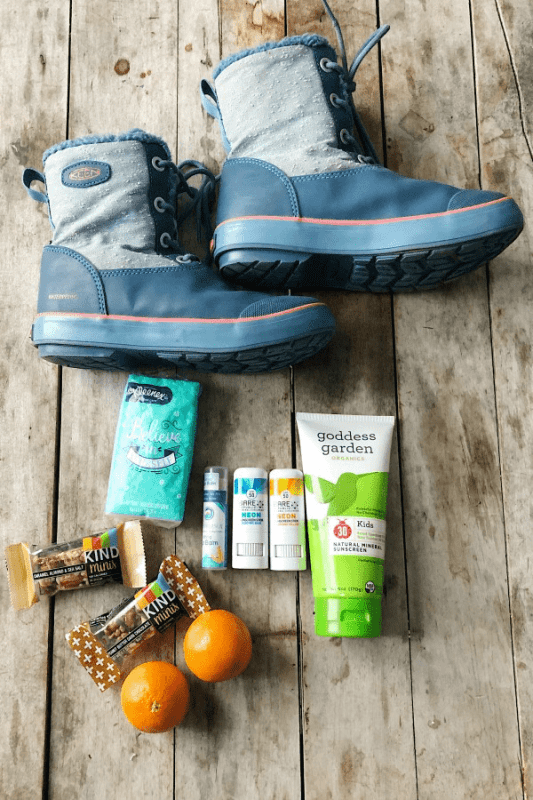 Little Family Adventure some times receives complimentary products, hosted travel, and/or compensation related to shared content. This story may contain affiliate links. Purchase through our affiliate links and we receive a small commission without any extra expense to you!
A great way to ruin a family ski trip is to have a cold, whiny child. Luckily, with a little bit of planning and preparation ahead of time, you can make sure you can create a ski trip packing list and have most everything you'll need to keep your kiddos warm, dry, and happy on your next family ski vacation.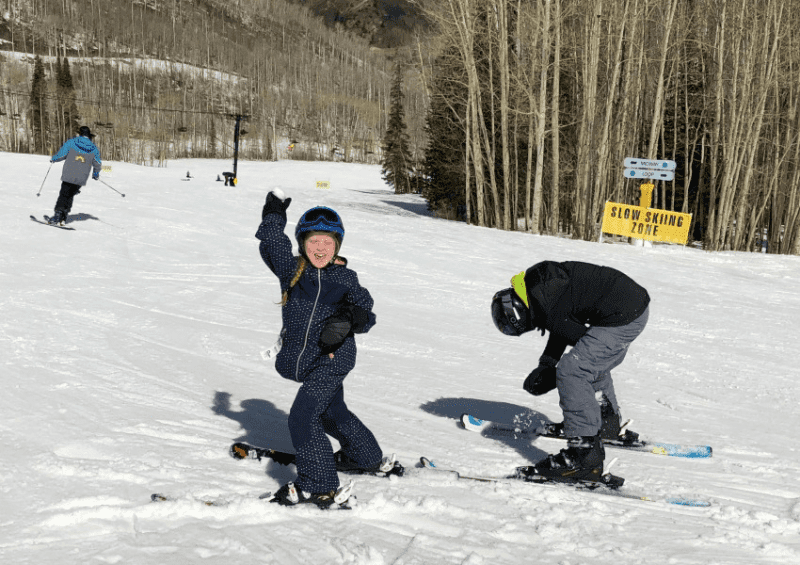 Following are ski essentials I had with me when I skied as a kid (with a couple exceptions) and all are things our kids had on our spring break trip to Colorado on the California Zephyr. We skied at Sunlight Mountain Resort in Glenwood Springs and loved it!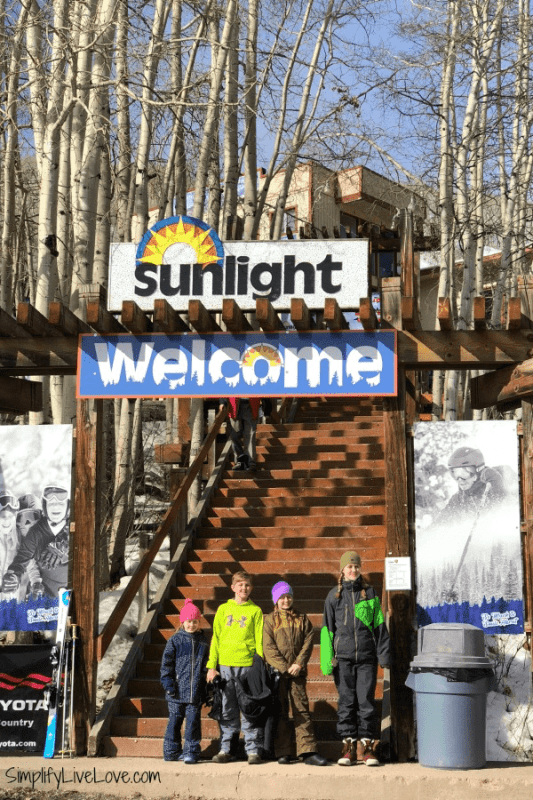 Ski Essentials Every Child Needs to Get on The Slopes

Making your kids responsible for their own items is a big deal and can mean the difference between a peaceful lift ride and a not so peaceful ride. I've found my kids like being responsible for a few items on their own so they can stop whenever they need to access them.

1.Tissues
Trust me when I tell you that snot flows freely on the slopes. That winter breeze just does wonders for making noses run. So make sure you keep tissues or a hanky handy for those nose-blowing sessions from the chair lift. Tissues will also come in handy for cleaning goggles or glasses so I always make sure my kids have tissues in their pockets.

2. Chapstick
I also always give each child a tube of chapstick. Again, the wind just wreaks havoc on lips and checks. If you don't want your kids to end up with dry bloody lips, make sure they have chapstick and know to use it early and often.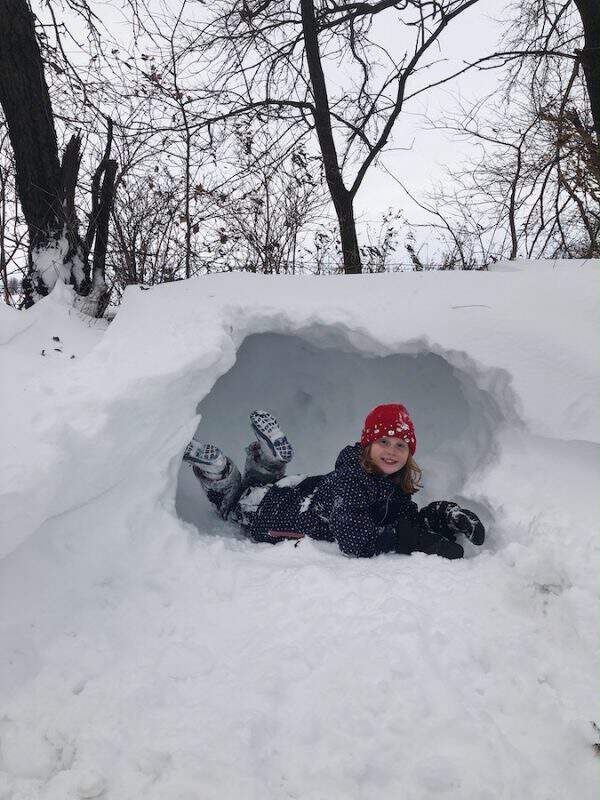 3. Snack
It's always a good idea to have an accessible snack. A small granola bar, quick energy bite, or even a stick of gum is a great way to lift a child's spirit as you're tackling that last run and need to get them down the mountain. Check out these convenient organic snacks.

4. Identification in case of separation
While you certainly don't plan to lose your child, it has happened. It's never a bad idea to make sure they have a way to find you in the unlikely event that one of you gets lost or hurt. We slip a business card in each of our children's pockets, even though they have our names and numbers memorized. That way it's there in case the worst happens.

Travel Tip: It's always a good idea for everyone to keep identification on one's person. It's also advised to label gear and other ski essentials so they are not lost.
5. Sunscreen
That mountain sun is brutal. The combination of being up at altitude and the glare off the white snow can make for some horrendous burns, especially if you're fair skinned like we are. Make sure to slather up with this ski essential before hitting the slopes and reapply at lunch time! The kids love these neon colored sunscreens from Bare Republic. I like this one that vanishes from Goddess Garden.

Related: How Do I Get Started Cross Country Skiing with Kids
6. Sunglasses or goggles
While sunglasses work for sunny days, I prefer goggles. They keep faces a little warmer, and work for sunny and snowy days as well. Whichever you choose, make sure you have some sort of eye protection. Not only is the sun at altitude hard on skin, it's also hard on eyes.

7. Helmet
People didn't wear helmets when I was learning to ski, but they have become much more common now. I highly recommend all skiers wear helmets, but especially little kids. Too many people have been traumatically injured on the ski slopes. And often times those injuries are preventable with a properly fitted helmet. Ski rental shops rent them for a small extra fee (so worth it!) and they'll help you make sure they fit properly too

8. High quality gloves and socks
Keeping hands and feet warm is of the utmost priority. It's your preference whether you choose mittens or gloves, just make sure they are waterproof and warm! I've long been a fan of smartwool socks, but there are all kinds of socks on the market that promise to keep cold feet warm.

9. Layered clothing
It's easier to take clothes off once the slopes warm up than it is to put clothes on. The best way to stay warm on the slopes (or during any outdoor winter activity) is to wear layered clothes. Long underwear, long sleeved shirts, sweaters, pants, always a good idea to have lots of layers.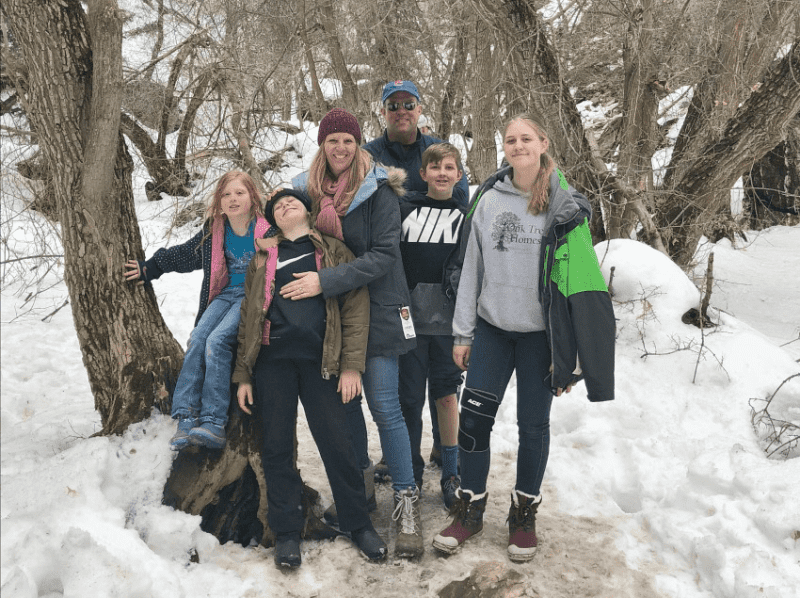 10. Snow Boots
Yes, you'll swoosh down the slopes in your ski boots, but trust me when I tell you that kicking those hard ski boots off will be the first thing you'll want to do when the day is over. Make sure you have a warm and comfy pair of snow boots to put on in place of the ski boots.

We are big fans of Keen boots and each have a pair to keep our feet toasty and dry on cold winter days. Not only are the boots useful on the slopes, but they are necessary for winter hiking and day-to-day winter wear as well. Here are the boots we love wearing:
I'm sporting the Hoodoo III Lace Up
Anna's wearing the Elsa Premium Waterproof
Ben is wearing the beautiful Winterhaven cool boot
Cora's got the Elsa Chelsea
Sara has the super cute Big Kid Elsa boots
Have you skied with your kids? What extras do you include on your family ski trip packing list?
Michelle Marine is green living enthusiast and rural Iowa mom of four. An avid traveler, Michelle has lived on three different continents and has driven all four kids across the entire USA (by herself!). She loves sharing farm-to-table recipes, their family travel adventures, and gardening and homesteading tips on her popular lifestyle blog, SimplifyLiveLove. Connect with her on Instagram, facebook, and twitter!