While there are thousands of subscription options available for adults, such as Butcher Box or Fabfitfun, there are also great subscription boxes for teens and tweens! Whatever young adults are into, be it gaming, beauty, or a love of the outdoors, there's a subscription service for that. I have gathered a list of the 15 Best to treat your teenager to something special!
A subscription box is perfect for birthdays, holidays, or just because. These teen subscription ideas are tailored to an interest so your teen will feel like you actually "get them" and what they are into. There are ideas here for boys and girls ages 12-17 (recommended but I say 12+ because I love many of these ideas for fellow adults too).
Subscription Boxes for Teens
Each of these subscription boxes aims to bring your teen something fun that will love.
Best Box for Gamers & Anime Lovers
Whether your teen is a gamer, an anime fan, or loves pop culture, they will love Loot Crate! You can choose a themed Loot Crate Box that fits your love, and then every month, they send you a box of apparel, figures, collectibles, and/or other fun treasures! The picture shows an assortment of items featured in the standard Loot Crate. Other themes include Wizarding World of Harry Potter, Cruncyroll, Loot Gaming, Pixar, and Fright (horror).
Starts at $24.77/month
Photo Credit: cratejoy.com
Best Box for Sticker Fans
Sticker Savage is a subscription box perfect for the sticker lovers! Each month get 10 unique stickers created by talented artists on Instagram. Many designs are exclusive to Sticker Savage.
Starts at $9.73
Photo Credit: www.universalyums.com
Best Box for Adventurous Snackers
For those teens and tweens that like to try new snacks from around the world, the Universal Yums snack box is just the thing. Each month receive a themed box of snacks from a different country along with information about the country. There are three different sizes to choose from with 5-20+ snacks in each box. It's a great way to snack and learn a bit about new places.
Starts at $14.75 a month
Photo Credit: www.cratejoy.com
Best Box for Crafters
Craftsman Crate is a subscription box for anyone who wants to do more hands-on projects. This would be perfect for any guy and any teen! Past boxes have included soapstone carving, glass etching, mosaics, and basket weaving. You can try out new hobbies and work with your hands while creating something extraordinary in the process!
Starts at $30.77/month
Box for Outdoor Enthusiasts
If your young adult loves camping and the great outdoors, they will love this box! Nomadik is a subscription box that delivers monthly goodies that outdoor enthusiasts will love!
Starts at $29.95 - Use code LILFAMILYADVENTURE to save 10% off
Box for Yoga Lovers
If you have a teen who enjoys yoga, meditation, or being active, YogaClub is a great option. Each box delivers the best in stylish, comfortable athleisure and activewear at up to 50% off retail. You can read about what we received in a previous box here.
Use code YOGI69 to get first box for $69.
Best Box for Makeup Lovers
Makeup lovers will love this beauty box that delivers five new personalized beauty products right to their door! Ipsy is one of our favorite beauty boxes at just $12/month and always has high-quality products inside!
Photo Credit: sockpanda.com
Best Box for Sock Lovers
With Sock Panda, you'll get fun socks for him and her delivered straight to your door every month. Choice the style you want like wild and crzy, seasonal, or patterns, then select the number of sock pars you want to receive. It's fun and a colorful for your teen to express themselves.
Starts at $11/month - Use code Bestgift15 to save 15% off
Photo Credit: www.cratejoy.com
Best Box for Relaxation
Gift your teen the chance to relax and unwind after a long day of school and exams with Spa in a Box. Each month the box includes 5-7 handmade, natural, and/or organic products. It has everything you need for a relaxing spa day at home!
Starts at $23.99/month.
Photo Credit: www.cratejoy.com
Best Box for Comic Book Fans
Every month, Comics Fan Box will deliver new premium comics right to your door! This box comes with novelty goodies and three new comics every single month!
Starts at $18/month
Photo Credit: lootcrate.com
Best Subscription Box for Harry Potter Fans
Every other month, get a special delivery featuring officially licensed Wizarding World collectibles, apparel, figures. All boxes are themed and designed to feature favorite Potterverse creatures, characters, spells, and more. Each month include 4-6 items for your teen.
$39.99/bi-monthly
Best Box for Organizers And Journalers
If your teen loves journaling and wants to be more intention, give them a monthly subscription to Silk and Sonder. Each month a new themed wellness planner arrives with weekly, daily calendars, gratitude prompts, habit trackers, and dot grid pages for anything else. This gift encourages their creativity, promotes self-care, and builds positive life skills.
3 month set is $54
Photo Credit: www.kiwico.com
Best Box for Aspiring Artists
If your teen loves to draw or has taken up art recently, why not give them a subscription box to encourage their creativity! Doodle Crate is an art subscription box for ages 9-16+ that delivers tools, inspiration, and new drawing techniques to your teen.
Starting at $16.95
Photo Credit: www.bookofthemonth.com
Best Box for Book Lovers
If your teen loves to read, they will love the Book of the Month. Each month, you get to pick a new book to be delivered right to you!
First month is $9.99 and then $14.99 after that.
Photo Credit: www.kiwico.com
Best Box For Teens Who Love STEM
From tinkering teens who love engineering projects, there's Tinker Crate from KiwiCo. Each month, a new box arrives to your door that infuses STEM concepts in fun and engaging ways. Boxes include everything you need plus detailed blueprints. Past boes have includes a ukuele, hydraulic, and walking robot. For a harder challenge, look at the Eureka Crate.
Boxes start at $16.99
No matter what your teenager is interested in, something on this list will be the right fit for them! There is something on this list for every interest your teen might have, from relaxing spa nights to books and outdoor gear!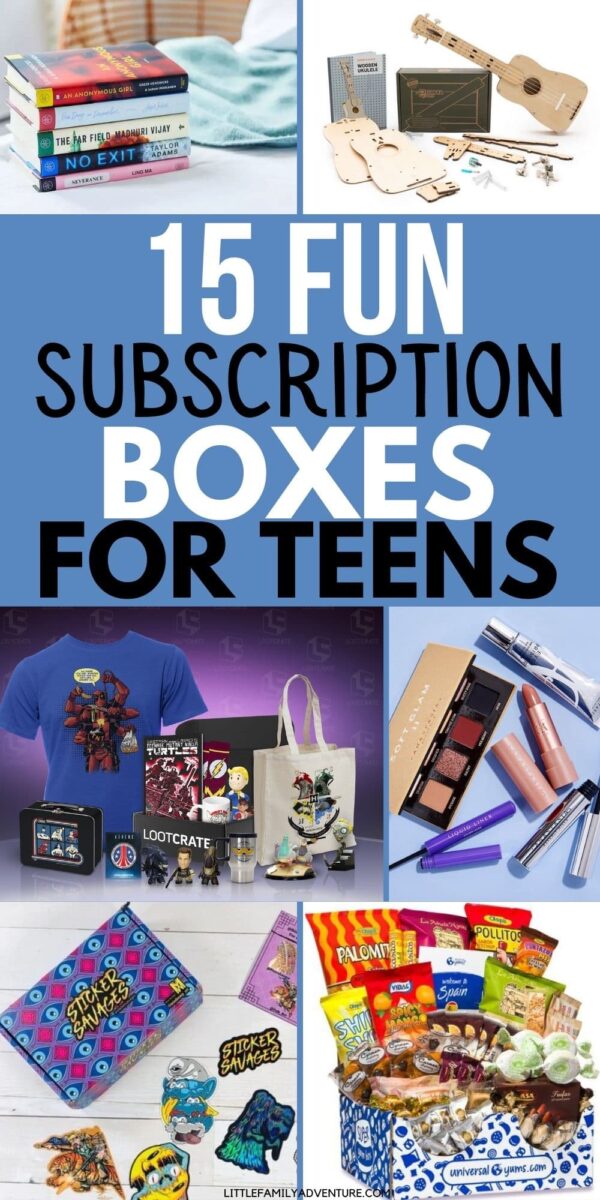 For more gift ideas, take a look at: