Disclosure: This gift guide filled with travel related gifts for families contains affiliate links. They help pay for the coffee that keeps us turning out adventures week after week. Products below have been provided for review purposes. I'll only recommend and share products that I use and love myself. Thanks!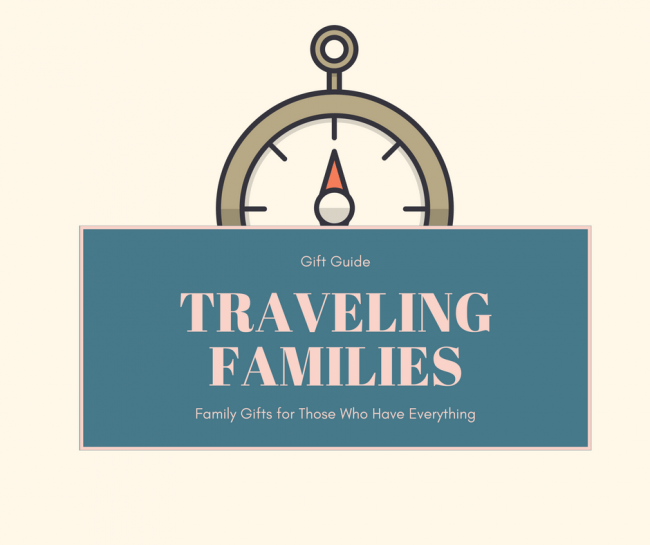 What do you get the family who travels often and has everything?
The answer lies in finding something that speaks to what they love. Whether it's photography, nature & the outdoors, bucket list destinations, road trips, or just creating memories, we have a few ideas for you this season. Here are our picks for travel related gifts for the family.
Travel Related Gifts for Families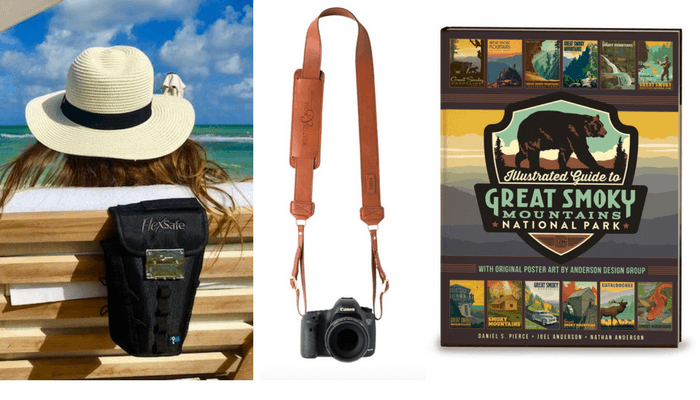 FlexSafe by AquaVault
A unique gift that offers travelers safety and piece of mind. This portable vault is made with a flexible, cut-resistant, RFID blocking material that keeps valuables safe. It can be attached to a beach chair, stroller, bicycle, golf cart, closet rod, and many more.
Retails for $59.95, but you can get it here for $38.95.
Customized Fotostraps from FOTO
Where ever they go, the camera goes with them to capture family memories. Give the family a beautiful leather or canvas camera strap for their DSLR. The James Fotostrap (shown above) combines form and style with genuine leather and brass hardware. These straps are timeless and can be personalized with a family name, monogram or business logo.
Get yours here for $125
Illustrated Guide to the Great Smoky Mountains National Park from the Anderson Design Group Store
This 128-page coffee table book shares the nation's most visited National Park. It includes 40 award winning, full color posters, beautiful wildlife and scenic photography from the Smokies, travel tips and trail tours, an illustrated Park Map, an historic overview of Great Smoky Mountain National Park and compelling stories from former Park Rangers. Available in hard and soft cover.
Get yours for $29.95 – $39.95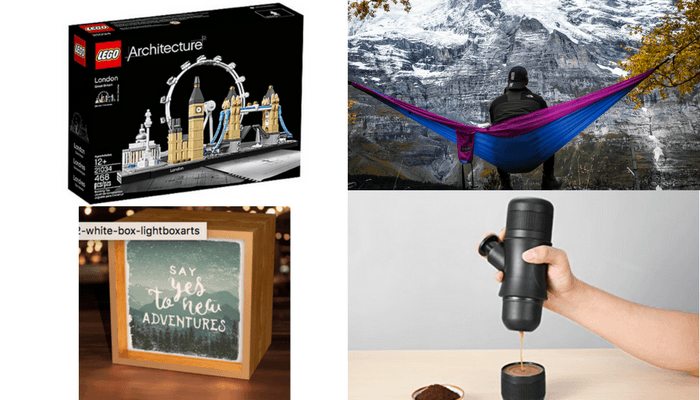 LEGO Architecture London set
Whether they had been to London or dream of exploring there one day, they will love this set from the LEGO Architecture Skyline Collection. The model of the London skyline is scaled to give an accurate representation of the comparative size the National Gallery, Nelson's Column, London Eye, Big Ben (the Elizabeth Tower) and Tower Bridge. Age 12+
Get your set here for $39.99
Sequoia XL Double Hammock from Serac
Designed to be both rugged and comfortable, this hammock is suited for the backcountry or the backyard. Set up is a breeze with included tree straps and attached gear hooks are convenient for gear, as an anchor, or other use.
Get one at ExploreSerac.com for $59.95
Say Yes to Adventure Light Cube from Light Box Arts
lluminate a space with an innovative and creatively designed LED back-lit cube. This quote is perfect for travelers, but there are over 200 interchangeable designs to choose from. Whether decorating the house for the holidays or just want to show off a favorite Instagram photo – just switch out the print and enjoy!
Light boxes are just $20 and $12 for additional artwork.
Portable Espresso Maker from Wasserstein
Fuel outdoor adventures with a perfectly brewed espresso anywhere you are. No batteries are required for this portable handheld espresso maker. Just add coffee powder and hot water, then the manual, high pressured pump creates a perfectly brewed espresso every time.
Get it here for $29.99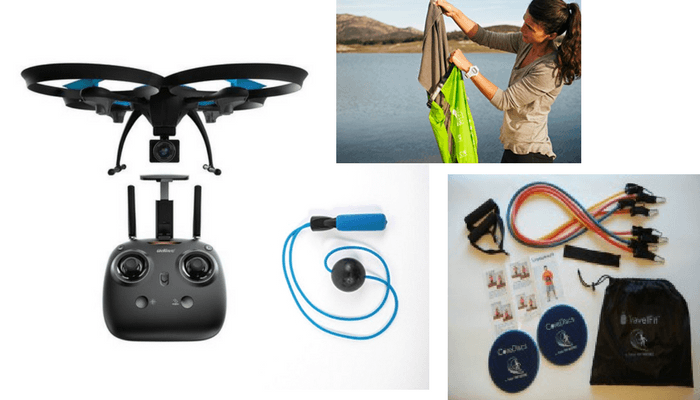 Blue Heron Drone from USA Toyz
Soar through the air and capture video with this quadcopter drove with live 720p HD camera. Everyone is going to love flying this first person view drone. Features like one touch takeoff and touch down, altitude hold, and low speed mode make it a great drone for beginners. Imagine the images and video you'll capture on the adventure!
Get this drone here for $179.99
Scrubba Portable Laundry System Wash Bag
Perfect for families! This is the world's smallest washing machine and is great for camping, travel, backpacking, small apartments, etc. Weighing less than 5 oz., this wash bag doubles as a dry bag when not in use or can be folded up to pocket-size.
Retail $55 On Sale at Amazon $38.75
TravelFit
This lightweight, exercise solution includes everything you need to stay healthy when traveling. An easy to carry tote bag includes exercise bands, a door anchor, core discs and 52 video workouts that you can view on your phone. It's easy to see why it on USA Today's list of the Top 10 Travel Must Haves.
Find it here for $59.99.
BodyworksBall Portable Self Massage Tool
Picked at Yahoo Health's wellness must have, this is a great gift for a co-worker, client, boss, or self. This portable self massage tool provides for instant relief of neck cricks, shoulder knots, and relief to sore aching hands and feet. Can be used at home, office, gym, while traveling, and more.
Get it here for $34.99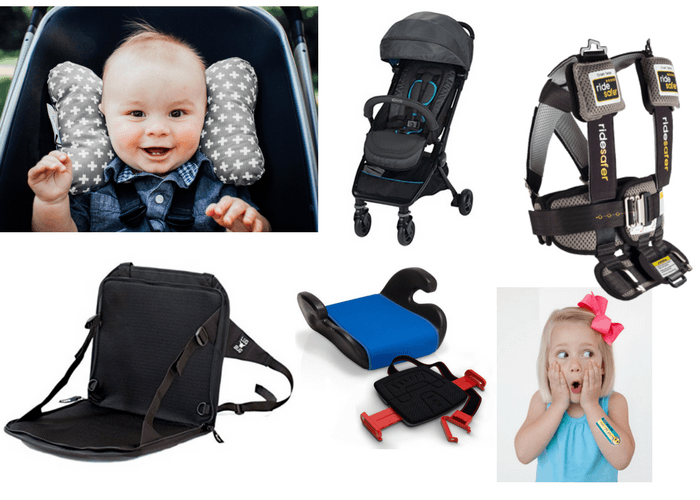 Travel Gear for Kids
Baby Elephant Ears Infant Support Pillow
This is a must for families traveling with infants. This multi-use headrest is chiropractor inspired & mom-designed to provide spinal/neck alignment and maximum comfort for your little one. Use it in a car seat, stroller, changing table, etc. Comes in a variety of fabrics.
Find it on Amazon for $21.95
Jetsetter Ultra Compact Stroller from Graco
Every traveling family needs an ultralight stroller that can go anywhere. The Jetsetter is under 14 pounds, features one-hand fold, and comes with a tote-style carry bag when not in use. Compatible with any Graco Click Connect infant car seat.
Get it on Amazon for $129.12
RideSafer Travel Vest from Safe Ride 4 Kids
The RideSafer® Travel Vest is a easy, safe, convenient and, yes, legal child restraint crash-tested for children ages 3 and older. The vest is a great solution for those parents who travel and don't want to lug a traditional car seat. (The vest also is great for carpooling families or when different caregivers do pickup and parents don't want to buy extra or transfer seats. Also easy to use for grandparents who take care of the grandchildren on occasion.)
Learn more and purchase (starting at $145) from SafeRide4Kids.com
Lugabug Child Travel Seat
Make traveling with kids easier and less stressful with this child's travel seat that secures to your luggage. Kids will love sitting on it and parents will love that it secures to the side of your suitcase/carry one in seconds without taking up extra space. It is multi-functional and versatile and can also be used as an extra pocket when hung over luggage, a camp chair and/or a sitting pad. Intended for children aged 2 or older;
Find it on Amazon for $64
Grab-and-go booster seat from mifold
For traveling families with children 4+ who need a car booster seat, give them the most compact and portable child car safety seat in the world. This one from mifold is more than 10x smaller than a traditional booster and it's just as safe. When not in use, it folds up super small to fit in a glove box or backpack. Perfect for rental cars, taxis, etc.
Find it on Amazon for $39.99
Quick Stick WriteOn Safety Tattoos from SafetyTat
These peel and stick tattoos/stickers stick to kids because they don't always stick to parents. When you are outdoors or traveling, it's good to have piece of mind knowing your information is highly visible. Great for allergy alerts, special needs or other alerts.
Starts at $6.99
Luggage and Packing Gifts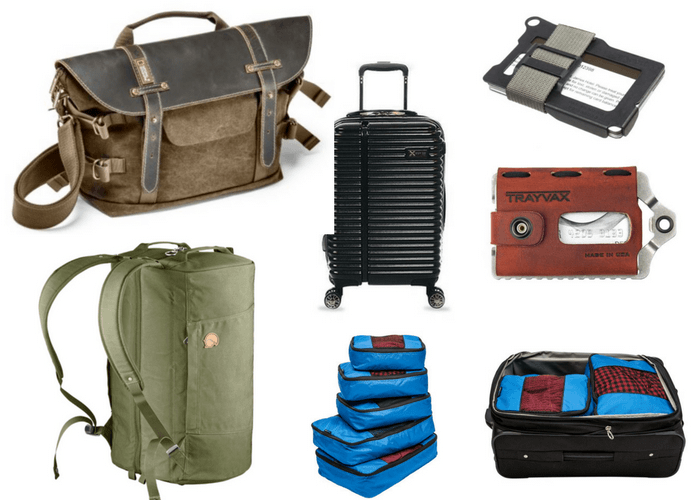 Africa Midi Satchel from National Geographic
For the explorer who loves photography, get them this ruggedly designed messenger style camera bag. It's water repellant fabric will keep up with any adventure and the padded removable insert helps protect your DSLR camera or camcorder. Plenty of pockets and modular divider make it convenient for storing accessories and other travel items.
Get yours here for $139.
Fjallraven Splitpack
Whether for a family camping trip or a weekend getaway to the city, this zip-up travel duffle is easy to pack up and ready to go. The traveler and outdoor enthusiast will love that this duffel is rain resistant thanks to Fjällräven's original, G-1000 HeavyDuty Eco fabric. Unlike a traditional duffle, this bag unzips down the middle like a suitcase into two separate compartments, making organization much easier. Shoulder straps and large handles make it comfortable to carry in different ways. This bag is extremely durable and ready for the adventure that awaits.
Get this bag here from $148-$175.
X Series by iFLY Luggage
Designed for the traveler who is on the go for both work and play. Functional, stylish luggage with features ranging from USB ports and electronic identity theft protection to integrated garment suiters and multiple zipped interior packing compartments. Available in both hard and soft sides.
Starting at $89.
Summit and Element Wallets from Trayvaxx
Give the gift he'll use every day and is built to be passed down for future generations. Trayvax offers two wallets that he'll love.
Summit Minimalist wallet – Engineered to be lightweight, low profile and carry just what you need. The Summit is made in the USA, designed to withstand at least 65 years of use, comes backed by a lifetime warranty, and is only $19.99.
Trayvax Element The Element is slim enough to slip in your front pocket, tough enough for any outdoor pursuit, but stylish enough for date night or everyday carry. It is packed with features including a built-in bottle opener, integrated money clip, attachment point, and RFID-protection. $79.99-$84.99
Travelwise 5 Piece Packing Cubes Set
Make a traveling family stay organized and avoid baggage overage fees with these packing cubes. These cubes will help stay organized for all kinds of trips and avoid over packing. This set makes traveling easier and that is something everyone traveler will appreciate.
Buy it now at Amazon $24.95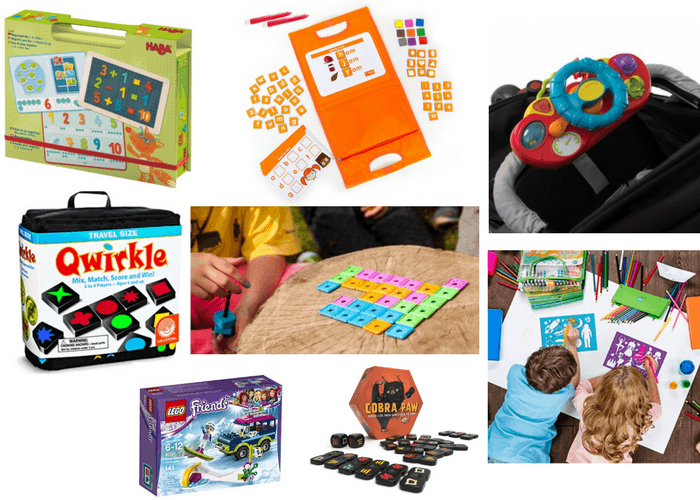 Travel Games and Gift Ideas for Traveling Families
Magnetic Game Box 1, 2 Numbers & You from HABA
Educational fun on the go! Children will spend hours playing with numbers on the set's different activity boards. Perfect for early STEM learning. Convenient cardboard carrying case and magnetic pieces make it perfect for planes, trains, and automobiles. Ages 4+
Find it at HABA.com or on Amazon.com for $19.99
Learning On The Go from Teach My
Never hear "I'm Bored" with this portable learning set. Children will love learning their numbers and letters with a coordinated set of magnets, learning cards, and magnetic dry-erase board. Lightweight carrying case (just over 1lb) makes it easy to take along on any trip. Ages 3+
Learn more and get your own ($19.99) at teachmy.com
Jerry's Class Music Drive and Go from Playgro
Little ones 12 months and older will love "driving" with this fun travel themed toy. Squeak the horn, turn the wheel, and play with the dashboard buttons to provide hours of play. Attaches easily to a stroller or car seat if desired.
Find it at BuyBuyBaby.com for $29.99 or on Amazon for $19.54
Travel Qwirkle from MindWare
A mini, travel friendly version of the best-selling board game. This family friendly game has players build lines by matching wooden tiles by color or shape. Convenient zippered pouch makes it easy to carry and play anywhere. Suitable for all ages.
Find it for $14.95 at MindWare.com or Amazon.com
OK Play from Big Potato Games
Think off-road Connect Four where to win the game you have to get a straight line of 5 tiles in a row. Only problem is there is no board to prevent tiles from going in all directions. But that's part of the fun. Plastic tiles and handy carabiner make it a great travel game.
Get it exclusively at target.com for $16.99
Creativ'Craft Drawing Art Set for Kids.
Whether dining out, in a car or on a plane, this art set with keep your child creatively entertained for hours. Designed for children 4-8 in contains stencils, drawing paper, colored pencils, and a pencil sharpener. All combined in an easy to carry case for easy transport.
Find it on Amazon for $28.90
LEGO Friends Snow Resort Off-Roader set
Imaginative play from the world of LEGO. This winter themed set is a fun way to play in the snow without getting suited up. It can also be a conversation starter to help new skiers to ease into your first pair of skis.
Find it for $11.99 at target.com or amazon.com
Cobra Claw from Bananagrams
The winner of this game will be the one with Ninja-like reflexes and a keen eye. Platers snatch tiles that match a specific pattern. The first player to snatch 6 wins! Quick paced game for ages 5+, 2-6 players.
Get it at target.com for $14.99
Travel Experiences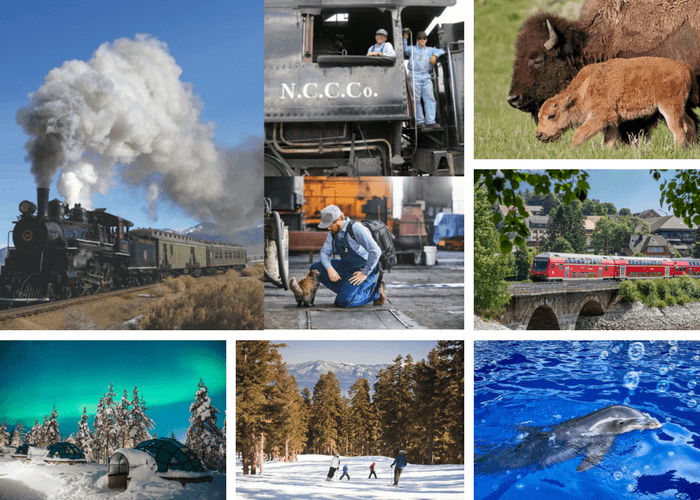 Continue for more travel related gifts for families. Click here ⇒ family travel experiences.
Continue for stocking stuffers ideas perfect for traveling families. Click here ⇒ Stocking Stuffers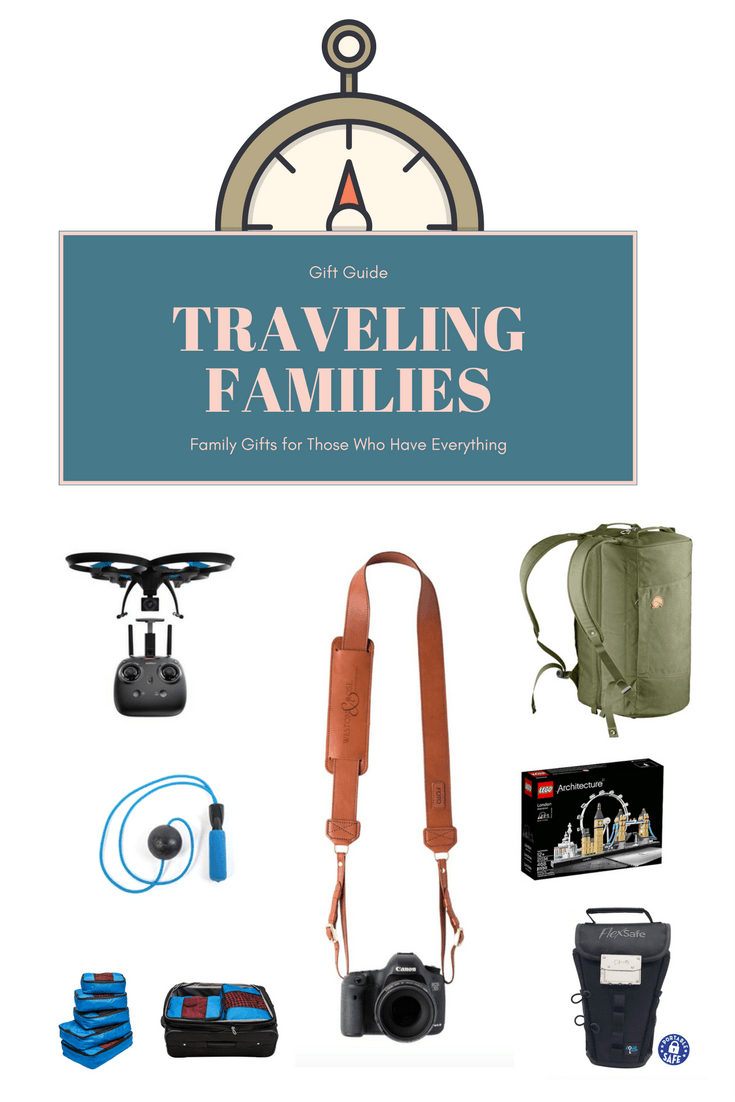 SaveSave
SaveSave
SaveSave