Planning a trip to Kansas City? Search for fun things to do in Kansas City with kids and many of the attractions that come up are all on the Missouri side. There is a lot of love about this area but people often forget that there is a Kansas City Kansas and Kansas City Missouri. Two separate cities, each with its own unique attractions and vibrant history.
On your next visit, you'll want to come and explore the Kansas City west of the river in Kansas. Here you'll find one of a kind experiences: watch an artist demonstrate glass marble making at Moon Marble, hunt for art murals created by local youth, go apple picking, and learn how this was a station on the Underground Railroad. I recently visited the area on a press trip thanks to Visit Kansas City Kansas and I can't wait to go back again with my family. This list of unique things to do in Kansas City, KS will entertain the whole family and is waiting for you to come and explore.
This article contains affiliate links. Purchase through our affiliate links and we receive a small commission without any extra expense to you!
Unique Family Experiences in Kansas City Kansas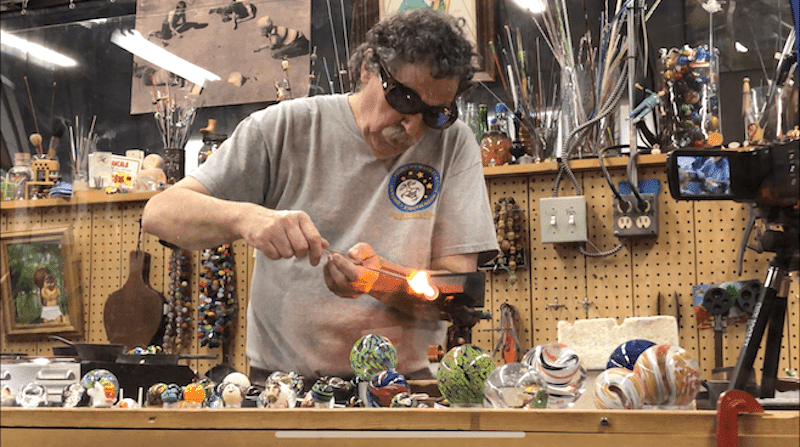 Moon Marble Company Store
It's all fun and games here at Moon Marble, located in Bonner Springs just outside Kansas City Kansas. It's part artist glass studio, toy store, and marble museum. Here you'll find glass marbles in every shape and size, timeless games that don't require batteries, and much much more. It's one of the few places where you can watch an artist create one of a kind glass marbles and learn how to play marble games. It's educational to see the process and fun to watch. Currently marble making demonstrations happen Tuesday, Friday, and Saturday at 3pm.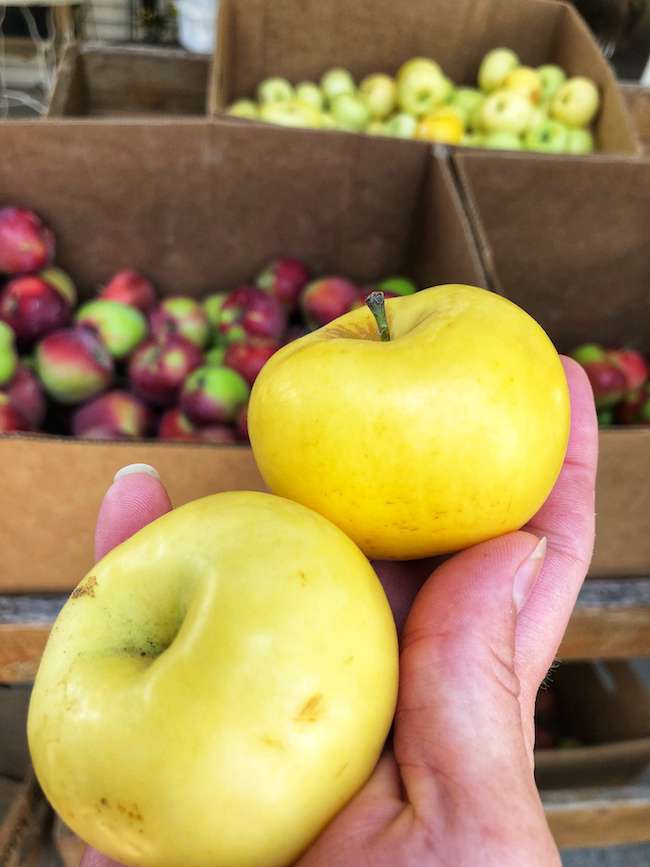 Cider Hill Family Orchard
Make a trip out to the farm for U-Pick apples and berries, seasonal pumpkin patch, fishing pond, hay rides, and ample amounts of family fun. This 38 acre farm features an apple orchard with over 1500 trees in 18 different varieties. Their apple picking season runs July to November. During spring and summer, come pick fruit or vegetables like asparagus, berries, and cherries. During your visit, enjoy a fresh pressed apple cider slush or freshly made cinnamon cider doughnut.

Fritz's Railroad Restaurant
Stop into this local burger joint and have your food delivered by electric train. The owners of this locomotive themed restaurant built overhead train tracks across the dining room. Trains leave the kitchen and deliver their cargo (your food box) direct to your table. It's a fun experience for all and if interested you can don a locomotive engineer hat.
If you're not in the mood for burgers and shakes, check out Italian Delight for authentic New York style pizza and Italian dishes. It's a local favorite.
Walk/Skip Down the Yellow Brick Road
Kansas is the land of Dorothy and Oz. At Legends Kansas City outlet mall, you can walk or skip down the Yellow Brick Road. The road isn't very long, but it's a fun place for a photo op. It's also one of the many stops on the center's walking tour through Kansas City. The self guided audio tour has 28 stops featuring murals, sculpture, medallions, and posters. For children, there is a Legends scavenger hunt that accompanies the tour. While you are there, stop in one of the many stores for some shopping or food.
Note: Find the Legends Outlets Kansas City in Village West, an area on the western edge of Kansas City, KS. Here you'll also find the Kansas City Speedway, countless hotel options, restaurants, and more. When I stayed in Kansas City, Kansas, I stayed at the Homewood Suites by Hilton Kansas City Speedway. It's the newest all-suites hotel in the area (at the time of publication). It's a great central location to stay and explore the attractions listed on this things to do in Kansas City with kids.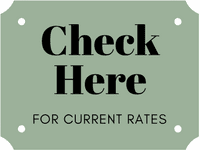 Visit Farm Town USA
Step back in time for a living history lesson on the grounds of the National Agricultural Center and Hall of Fame. Farm Town brings visitors into a turn of the century town complete with a one room school house, blacksmith shop, hatchery featuring the National Poultry Museum, and train depot complete with a miniature Union Pacific Train. The center and its exhibits allow families to learn about farming and agriculture and provide special events throughout the year.
Tour the Wyandotte County Historical Society and Museum
Walk through a history of the area and see exhibits highlighting area industry and people. The vintage firefighting equipment and Civil War cannon are not to be missed. In summer 2018, the city celebrated the Summer of Oz. A special Wizard of Oz exhibit here highlighted an original Flying Monkey costume from the movie and other memorabilia.

Go on a Hunt for Kansas City KS Street Art
You'll find art murals through the city. But for a large concentration, head to downtown Kansas City Kansas for the Avenue of Murals. The 8 murals created as part of the Avenue of Murals Project sits within a 4 block radius on/around Minnesota Avenue between 6th and 10th Streets. A local artist with the help of local high school students tells the story of local culture and history. Each of the clans is represented here.
Historic Wyandot National Burying Ground
While you are downtown searching for art murals, you'll also find the Wyandot National Burying Ground on Minnesota Street. Listed on the National Register of Historic Places, informational plaques tell the story of the Wyandot Indian Nation. For a history lesson, hear the story https://www.kcur.org/post/story-behind-historic-american-indian-cemetery-downtown-kck#stream/0 of the cemetery's history and the Conley sisters who fought to protect it.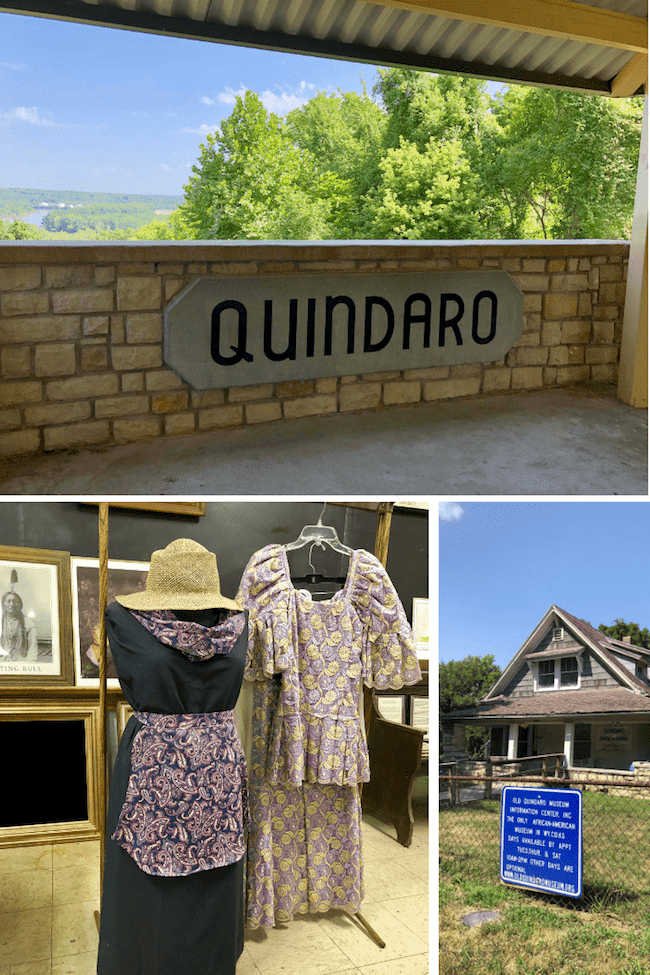 Underground Railroad Historic Sites in Kansas City Kansas
Kansas was a free state during the Civil War and served as a station on the Underground Railroad. The township of Quindaro was the first free port along the Mississippi River for escaping slaves seeking freedom. Today the Quindaro Township Ruins are all that remain on site. An overlook pavilion on North 27th Street provides a view of the area and the river. Informational plaques also provide a brief history. The site is currently undergoing the process to be approved for National Landmark status. Nearby the Old Quindaro Museum showcases the community's history through pictures and artifacts featuring families that sought freedom. The Quindaro Underground Railroad Museum inside the local community center has additional artifacts and documents.

Walk in the Footsteps of Lewis & Clark
Back in 1804, the Lewis and Clark expedition stopped at Kaw Point where the Missouri and Kansas Rivers meet. They spent several days there repairing boats and gathering supplies. Today the Lewis & Clark Park at Kaw Point is a designated Lewis & Clark Destination Site recognized by the National Park Service. This 10 acre park is complete with walking and biking trails, informational plaques detailing the Lewis and Clark Expedition's time in the area, and amphitheater. Come for a walk/bike ride and see beautiful views of the rivers and Kansas City, MO.
This are just a few of the unique things to do in Kansas City KS. I wanted to thank you VisitKansasCityKS.com for hosting me on this recent press trip. All opinions are mine and based on my most recent adventure. So now that you know what fun awaits you, when's your next trip?
If you are flying into the area, compare airlines, dates and prices all in one place with our partner, Skyscanner
. You can also check out car rentals here from our partner, Alamo Rent a Car.
Interested in other destinations in Kansas? Take a look at: