My name is Kelly, the Simple Life Mom, and though my parents are full Kentuckians, I grew up in Southern Africa. My most memorable and delicious meals where eating traditional foods with my friends and family. This Zimbabwe food recipe for Sudza and Curried Chicken was a favorite and is common meal amongst local people.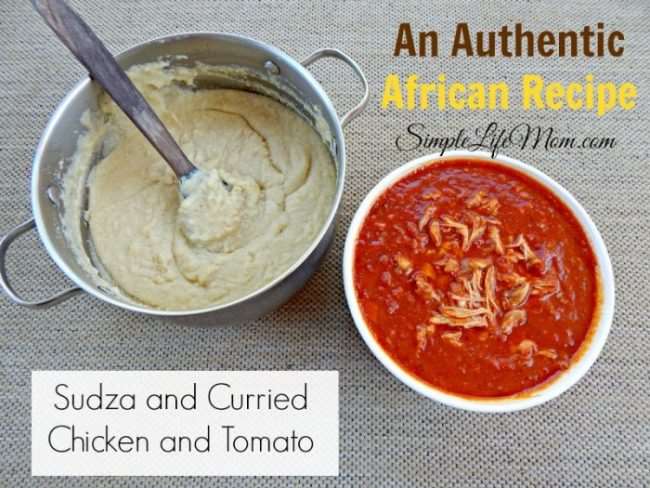 Since returning to America, I still make sadza and curried chicken and tomatoes for my family. It's a recipe that my kids ask for every other week at least. The sauce is super flavorful and one that you can kick up in spiciness if you like. The sadza may be new to you though. Let me explain…
Popular Zimbabwe Food
Sadza is a popular Zimbabwe food. It is simply cooked cornmeal in water. That's it; a sort of thick porridge. It is actually cooked slightly different all over Africa under multiple names, but it boiled down to a corn porridge.
Similarities you may know: A lot of people know what Southern Grits is. If you like grits, then you MUST try this Cajun Shrimp and Grits recipe. Well, if you cook grits until they are bit thicker, then you've got sudza. A number of people from Europe eat Romanian Polenta, a dish made with boiled cornmeal that often has cheese added (So good!). It's like porridge, only cooked thicker so that it sets up and can be molded in the hand.
African Chicken Stew
You can cook a lot of things that to go with sudza. My favorite, though, is this African Chicken stew recipe. It's curried tomatoes and chicken. This chicken stew recipe reflects the area's history and people. Zimbabwe was colonized by the British, though they have had independence for over 30 years. There has been quite a mixture of influence on the traditional eating habits and flavors. There are a number of people from India and the middle east who have brought their fabulous spices. This recipe refelcts all of that.
I grew up eating this African Chicken Stew and tomatoes with sudza and crave it often! I hope you enjoy it!
Zimbabwe Food: Sadza and Curried Chicken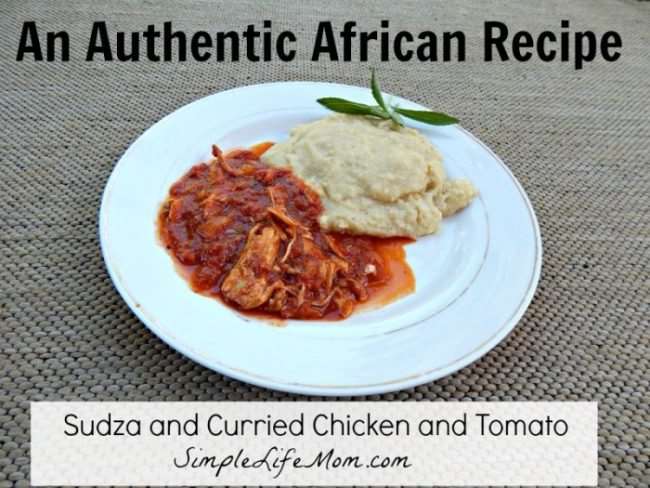 Yield: 6
African Curry Chicken Stew with Sudza (Grits)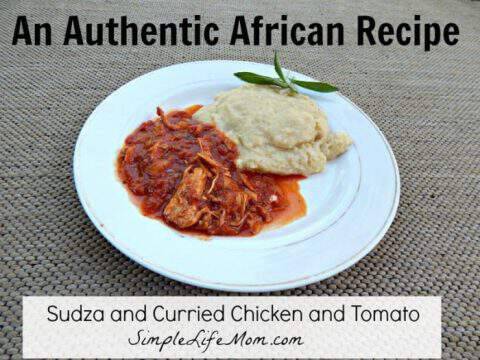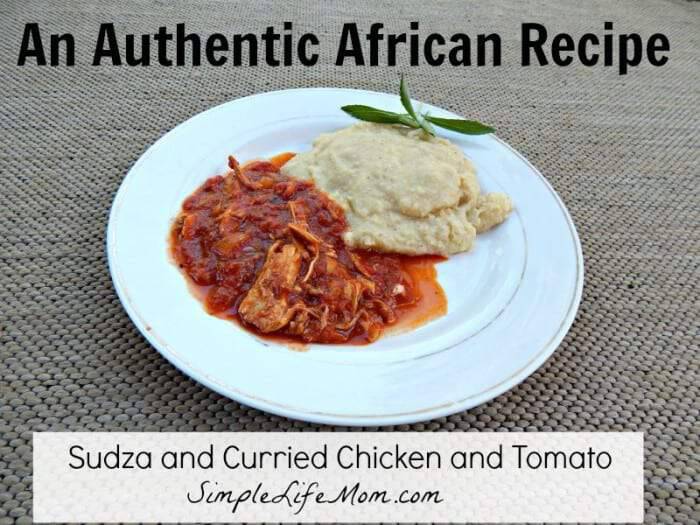 An Authentic African Recipe
Ingredients
Sudza
3 cups corn meal
8 cups water
Curried Chicken and Tomatoes
3 lb chicken thighs, breast, or leftovers (anything goes)
2 - 28oz cans crushed tomatoes
1/4 cup olive oil
1 medium onion, diced
2 garlic cloves, minced
2 tsp salt
1/2 tsp pepper
2 tsp curry powder
Instructions
Sudza
Bring water to a boil and whisk in 2 cups of cornmeal (plain, no baking powder added) slowly. Whisk constantly to avoid clumps.
Cook for 10 minutes over medium heat.
Slowly stir in 1-2 more cups of cornmeal using a large wooden spoon. Cook for 5-10 more minutes to insure all cornmeal is cooked and remove from heat.
It will continue to thicken as it cools. You will know how much cornmeal you will need, because it will be thick to stir, but not soupy at all.
Curried Chicken and Tomatoes
Place onions, garlic, and olive oil in large sauce pan and brown onions over medium heat.
Add chicken, tomatoes, salt, pepper, and curry powder and cook over medium to low heat for 20 minutes or until chicken is fully cooked.
Remove chicken and cut into bite sized pieces if desired or needed.
Be careful to scoop sudza carefully into a bowl or plate. It will be internally hot for a long time!
Dip/scoop curried chicken and tomatoes with sudza.
Nutrition Information:
Serving Size:
1
Amount Per Serving:
Calories:

5320
Total Fat:

259g
Saturated Fat:

68g
Cholesterol:

1140mg
Sodium:

8418mg
Carbohydrates:

441g
Sugar:

3g
Protein:

278g
How to Eat it?
It's not often that I describe how to eat something. To eat sudza you'll have to let it cool slightly. It will be like molten lava when you first take it off of the burner. Once it's cooled enough to touch, take a golf ball size into one hand and work it slightly so it's pliable and form it into a scoop. the traditional way is to take this "Scoop" to get your sauce and enjoy. When you're done you can pass around a basin of water for everyone to wash their hands.
I hope you enjoy this authentic African recipe. SimpleLifeMom.com has more recipes, but is primarily a natural living body, home, and health website with recipes for making lye soap, lotion, and even homemade makeup. Thanks so much for this opportunity to share with you all!